Add an additional description to your product option. Ex: Size guides, and other common questions.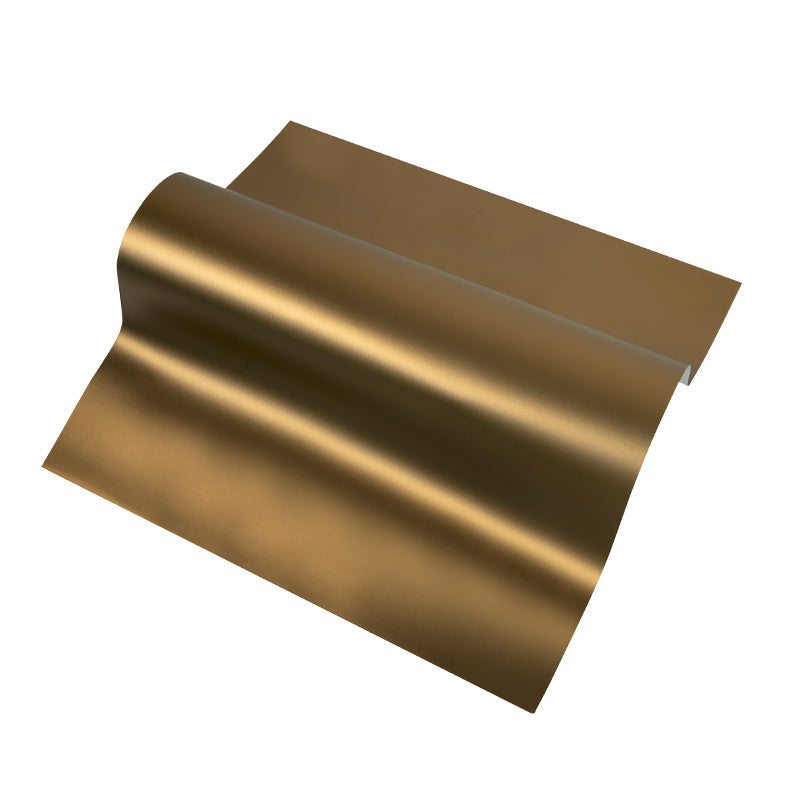 Satin Chrome Silk Champagne Gold Vinyl Wrap
Description
w
A vehicle draped in the elegant Satin Chrome Silk Champagne Gold vinyl is always a fascinating sight that exudes an aura of elegance and sophistication. This amazing film available at Vinyl Frog can truly transform the appearance of your ride giving it a luxurious finish that combines the warmth of champagne with the timeless appeal of gold. The corollary is a stunning aesthetic that catches the eye and evokes a sense of opulence. 
The satiny smooth surface of our wrap enhances the curves and lines of your vehicle, giving it a sleek and exquisite look as if it is swathed in silk. Whether applied to a sports car, a luxury sedan, or an SUV, our Satin Chrome Champagne Gold vinyl wrap radiates a sense of prestige and class. It also pairs exceptionally well with darker or contrasting accents, further accentuating its regal charm. 
The satin chrome finish of our Champagne Gold vinyl presents a smooth and muted surface that gives the vehicle a distinctive matte sheen. This not only looks incredibly modish but also minimizes glare. The wrap provides a subdued look that stands out without being overly flashy. Satin chrome's versatility gives your vehicle a touch of refined aesthetics while preserving its originality. It is perfect for capturing the essence of contemporary automotive fashion, making it a favorite choice of many car enthusiasts.
Features And Specifications:
Durable and long-lasting.

Eco-friendly high-grade polymeric vinyl.

Water and weatherproof.

Heat and UV resistant.

Easy to apply and maintain.

Pressure-sensitive, robust acrylic adhesive.

Easy to reposition and slide.

Medium stretchable, up to 30%.

Equipped with air-release channels for bubble-free installation. 

Sizes available: 5ft x 3.28ft. 5ft x 10ft, 5ft x 16ft, 5ft x 33ft, 5ft x 49ft, and 5ft x 59ft.

Color: Champagne gold.

Finish: Smooth silken finish with moderate sheen.

Packaging: Roll
Things You Should Know:
How Much Vinyl Needs To Wrap Your Vehicle
Video
Structure
Material
High Grade Polymeric Calendared Vinyl Film
Fashionable, Stunning Color
With Air Release Channel
Bubble-free Application
Slideable; Repositionable
Medium Stretchable
The Maximum is 30 %
Easy To Wrap
Functions
▲ Standard Size & Appearance
Physical properties 
▲ General Properties
Beyond its aesthetic appeal, this wrap often provides excellent durability and protection for a vehicle's original paint, making it both a stylish and practical choice for those who want to be distinctive on the road. You no longer have to worry about minor scratches, dents, road debris, and rock chips leaving marks on your paintwork. The wrap will bear the brunt bravely preserving the resale value of your vehicle. 
Our superb's vinyl is weather and water-resistant as well. Come rain, hail, snow, or harsh UV rays, it endures all maintaining its pristine condition. It also forms a shield against tree sap, bug splatter, and bird droppings; however, it is recommended to clean these as soon as possible with a 50/50 mixture of isopropyl alcohol and water, and a microfiber cloth. 
Our Satin Chrome Champagne Gold wrap is made with high-grade polymeric calendared vinyl film that boasts a long-lasting performance. It does not get scratched easily and has anti-corrosion and anti-stain properties. It is equipped with a pressure-sensitive acrylic adhesive that forms a strong bond with the exterior of the vehicle upon application of heat. This is protected by a 160g double-sided silicone-coated release liner that ensures the longevity of its tack.   
Application of our vinyl film is a breeze as well. Whether you are a novice or a professional, if you have the right tools and practice, you can install it yourself. It is equipped with air egress technology that enables a bubble-free installation. Simply apply and squeegee it putting in slight pressure and you will be able to remove all the creases. 
In case of an error, you can easily slide or reposition the vinyl for a flawless look. Just lift and place until you are satisfied with the position of the vinyl. With quite a few size options, you can get the roll that best suits your needs and will give your car a full wrap. Wrap your ride in our opulent Champagne Gold vinyl and make it the talk of the town!
Recommended application tools: Squeegee, buffer, knife, masking tape, heat gun, magnets, gloves, IR thermometer, IR heater
Application method: Standard methods for calendered films. No overstretching and overheating and Post heating is necessary.
Post-heating temperature: 110°C flat surfaces, 130°C curves, and overlaps
Aftercare: PH neutral, Avoid wax or solvents

CAUTION!
The images, colors, and finishes on the screen are approximate. For the real representation of the product always check the color swatch.