Black Vinyl Wraps for Car
Featured

Best selling

Alphabetically, A-Z

Alphabetically, Z-A

Price, low to high

Price, high to low

Date, old to new

Date, new to old
LETS DISCUSS IN DETAILS
"An Indepth Guide to Black vinyl wraps for Car"
Switch on the aura of mystery, power and elegance, and give your car a glamorous new look with the majestic Black Vinyl Wrap!
Black vinyl wrap epitomizes pure luxury and sophistication. With every curve and contour accentuated, the vehicle exudes charm and grace in all its glory.
Black is one of the most popular colors when it comes to car wrapping.
After all, it is Henry Ford's favorite too for more reasons than one as he quoted:
"Any color, so long as it is black!"
Variety in Black Vinyl Wraps
There is an array of different finishes available in black vinyl. You know you want to wrap your car black, but what kind of black? Before deciding, it is imperative to research and see which is the one and the very best for you!
Black vinyl films differ from each other visually and texture-wise. Their cost differs too accordingly. The baseline cost for a black vinyl wrap ranges from $500 to $3000 depending on the size of the car and the kind of wrap chosen. This is just a ballpark figure as many factors affect it. Following are the different types of black wraps available:
Gloss Black

Matte Black

Metallic Black

Satin Black
Brushed Metallic Black

Matte Metallic Black

Gloss Metallic Black

Super Matte Black
Gloss Black Vinyl Wrap
If you want a smooth texture and a lustrous finish, Glossy Black Vinyl Wrap is the one for you. It has a classic sheen that will make your vehicle stand out from the crowd making it appear sturdy yet elegant. It costs around $59 for a 5ft x 3.28ft roll. Glossy black cars mean business hence it is the most sought after finish. At Vinyl Frog, we have High Glossy Paint Black and Super Glossy Piano Black - both offer a chic and glamorous look.
Super Glossy Piano Black Vinyl Wrap
Gleaming with ultra-gloss, piano black is the most popular color. Just like the very shade piano black is an emblem of class and beauty, our premium quality vinyl also outshines the rest and is top tier. It is the deepest and most glossy black wrap available.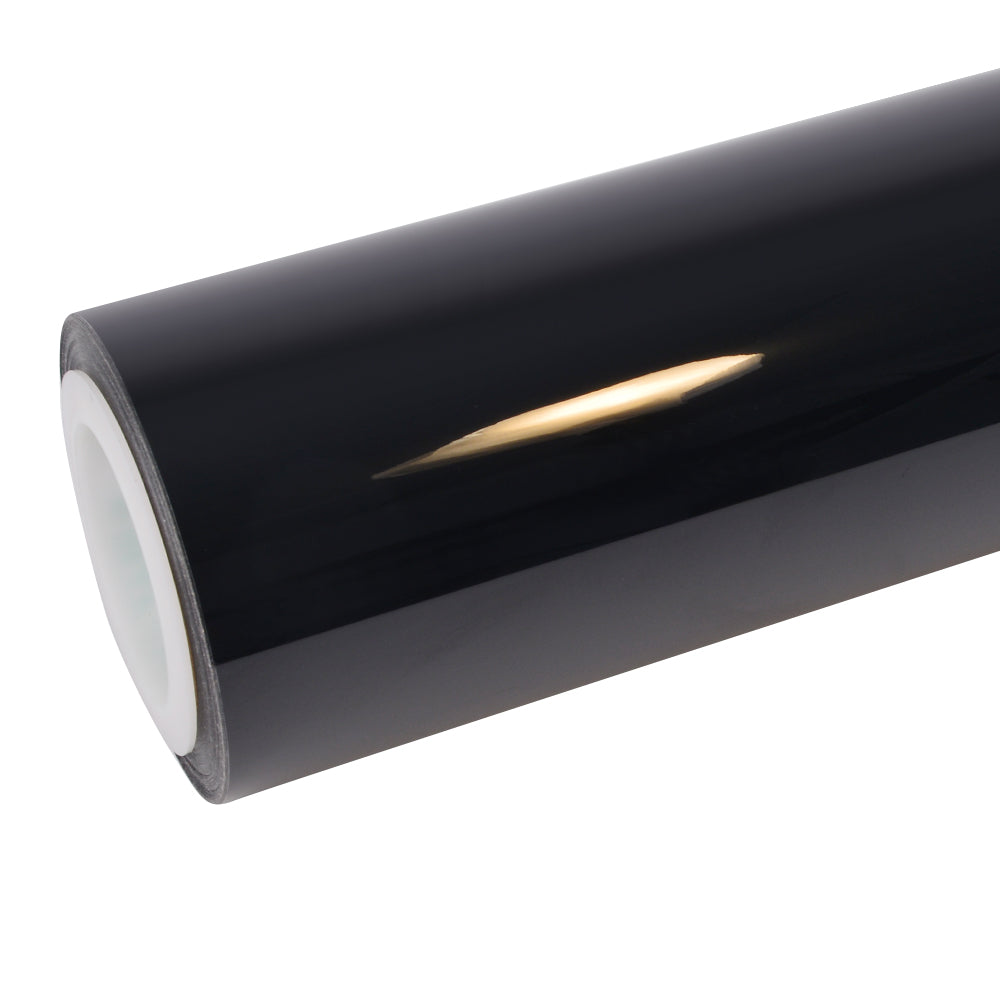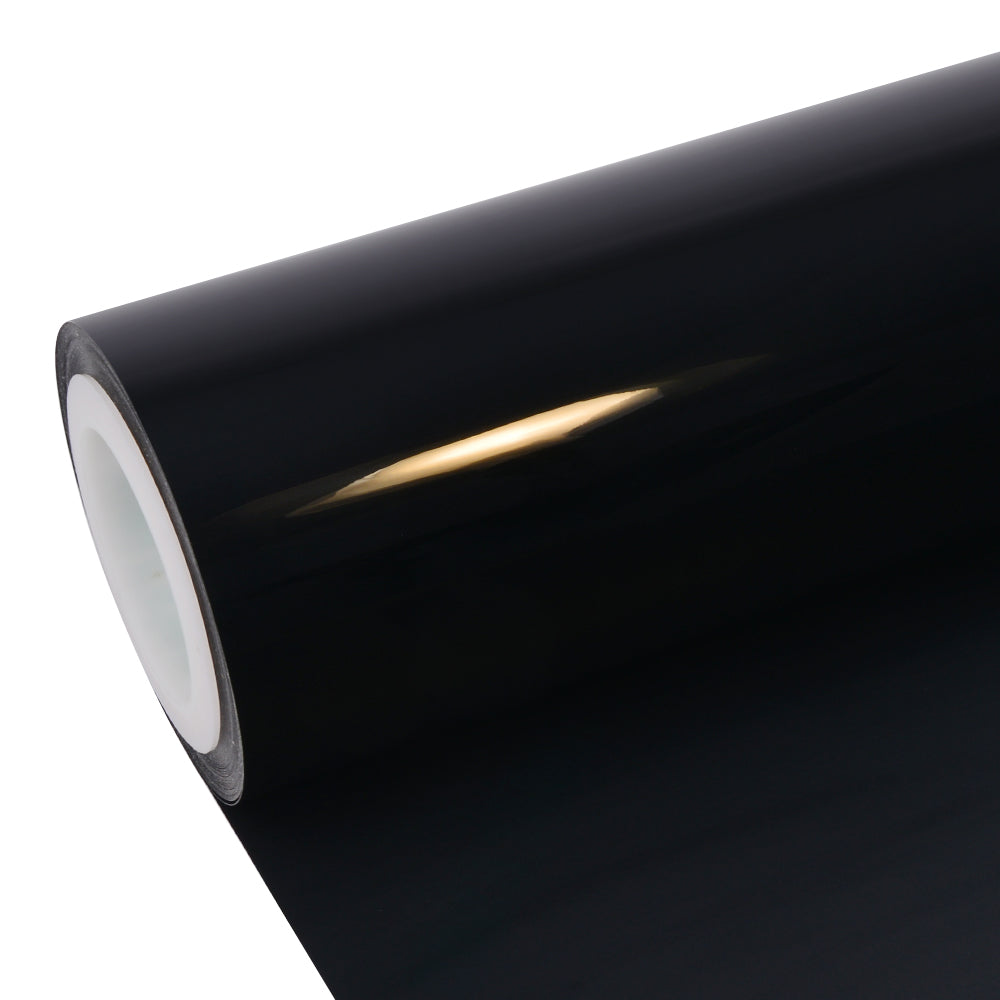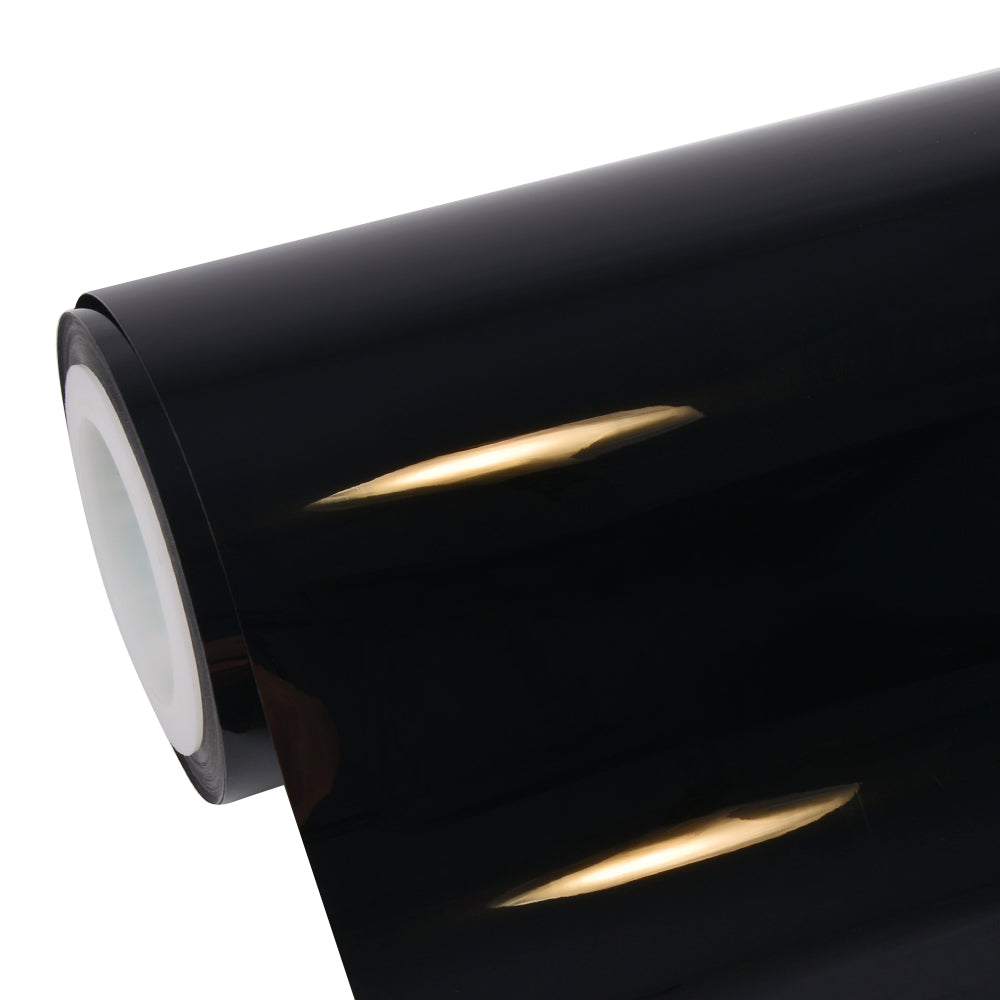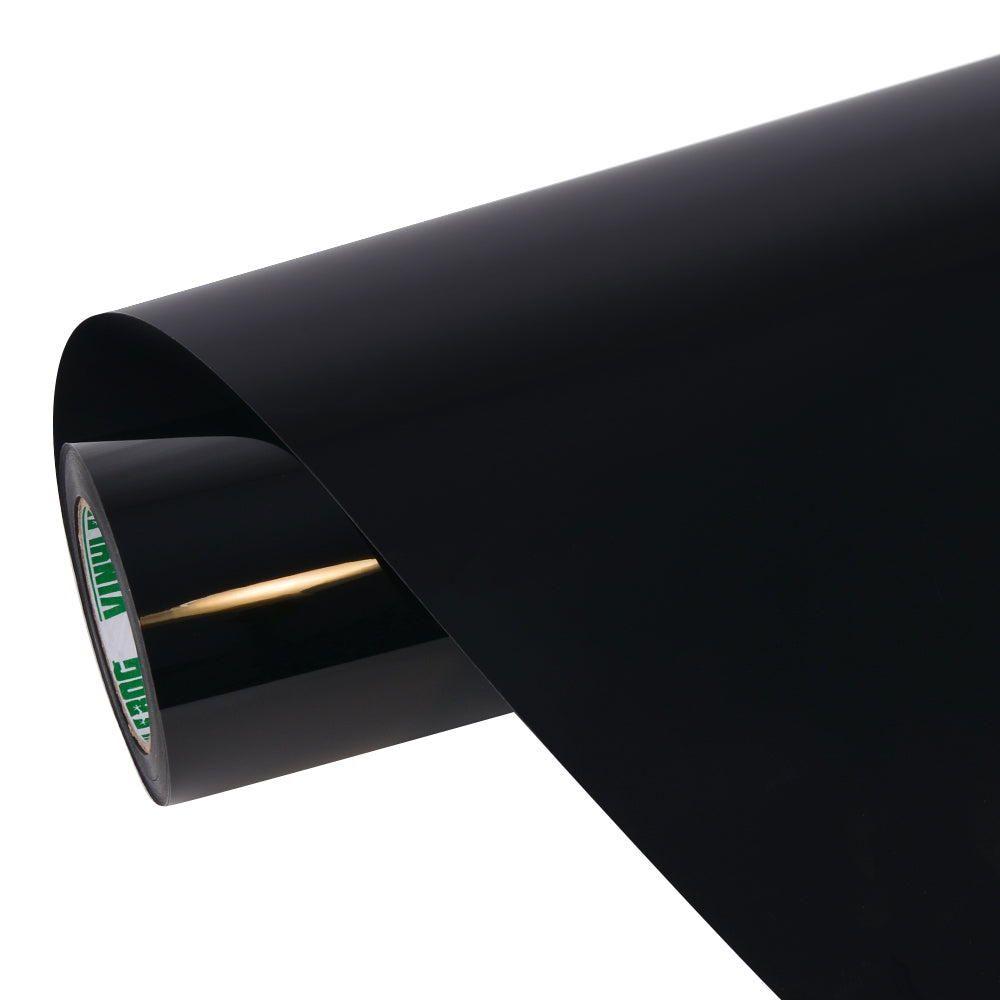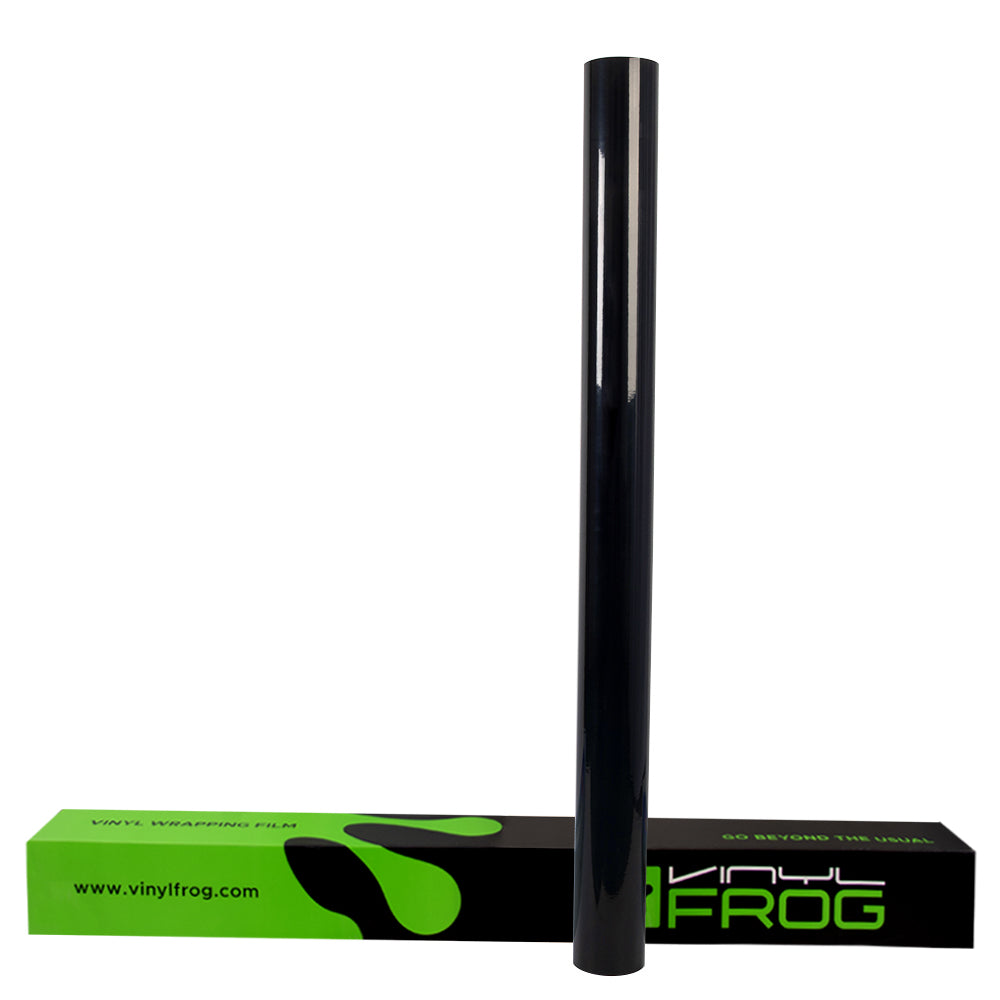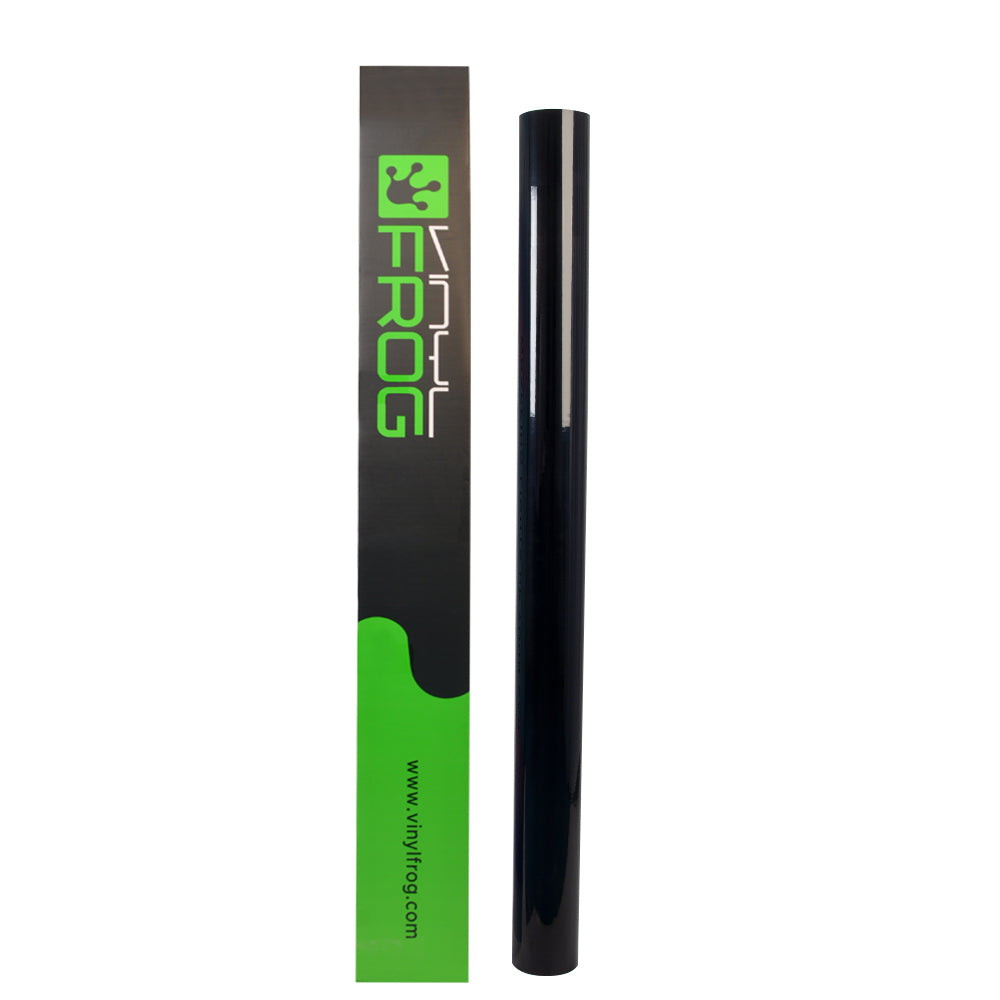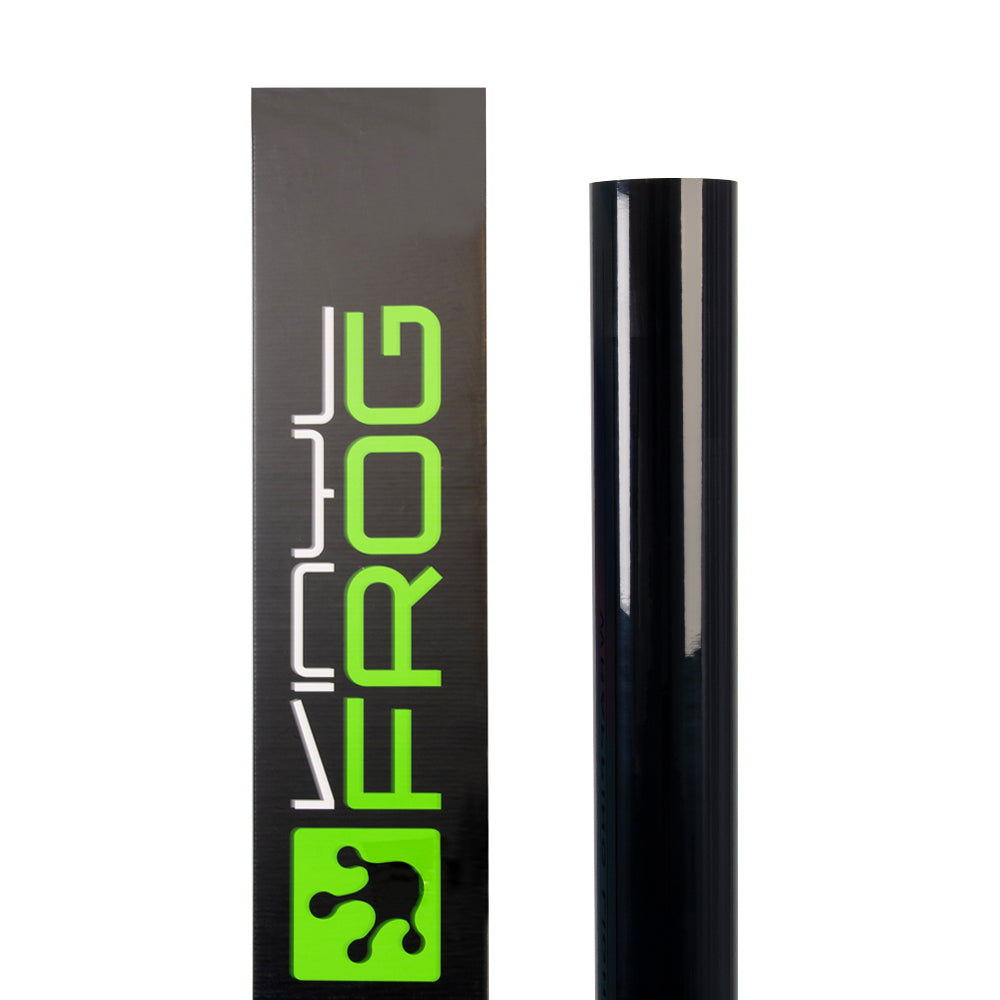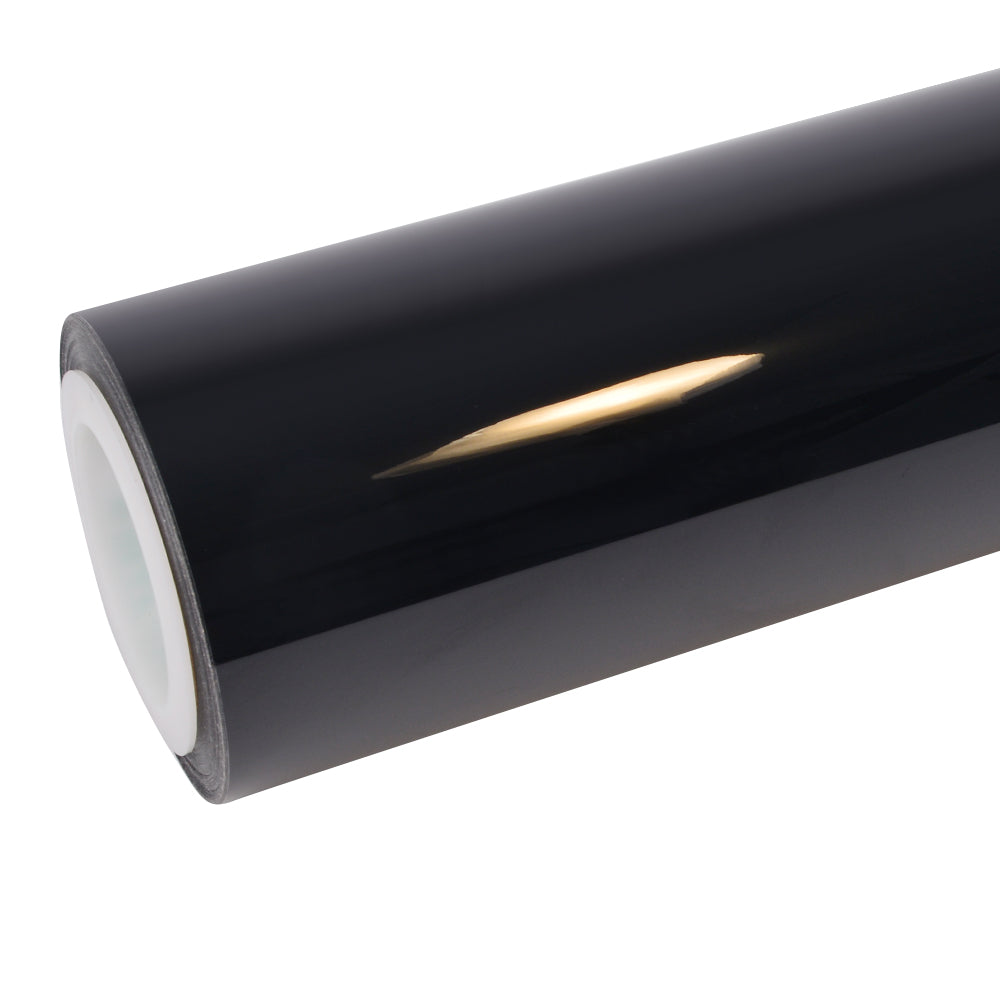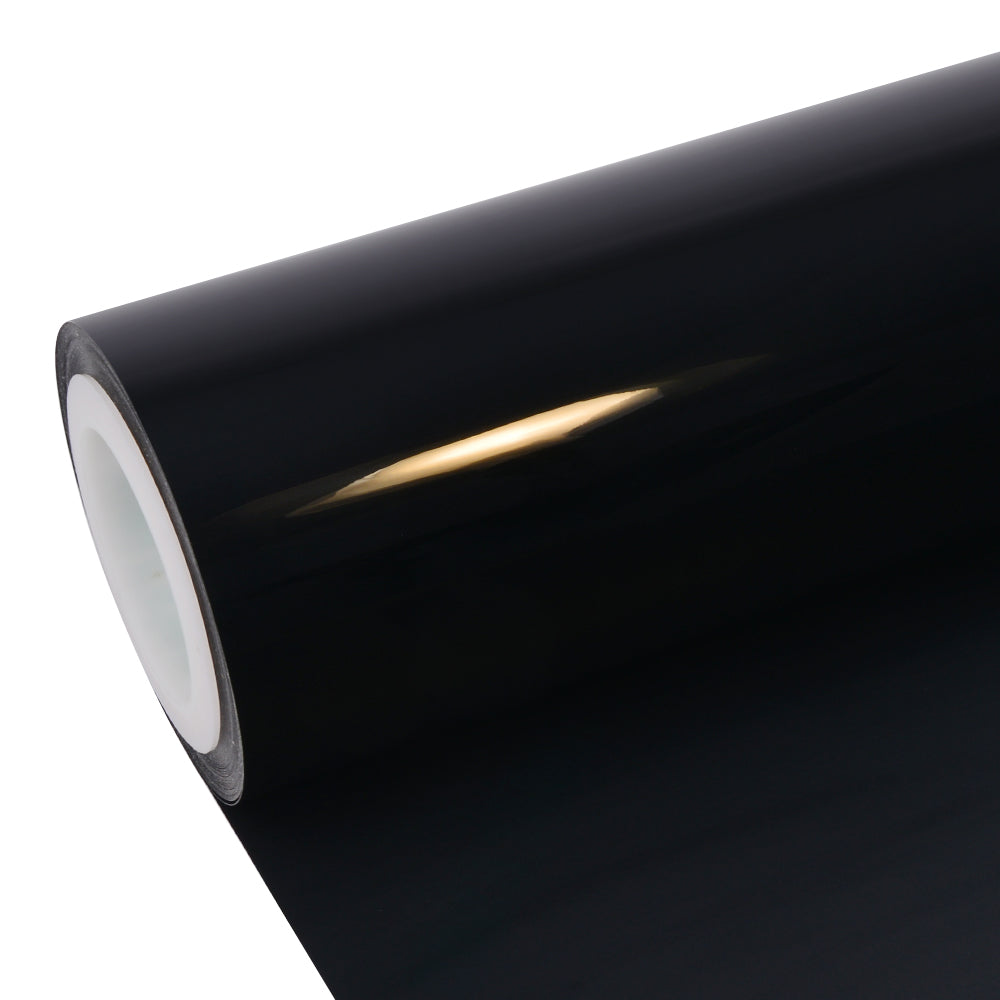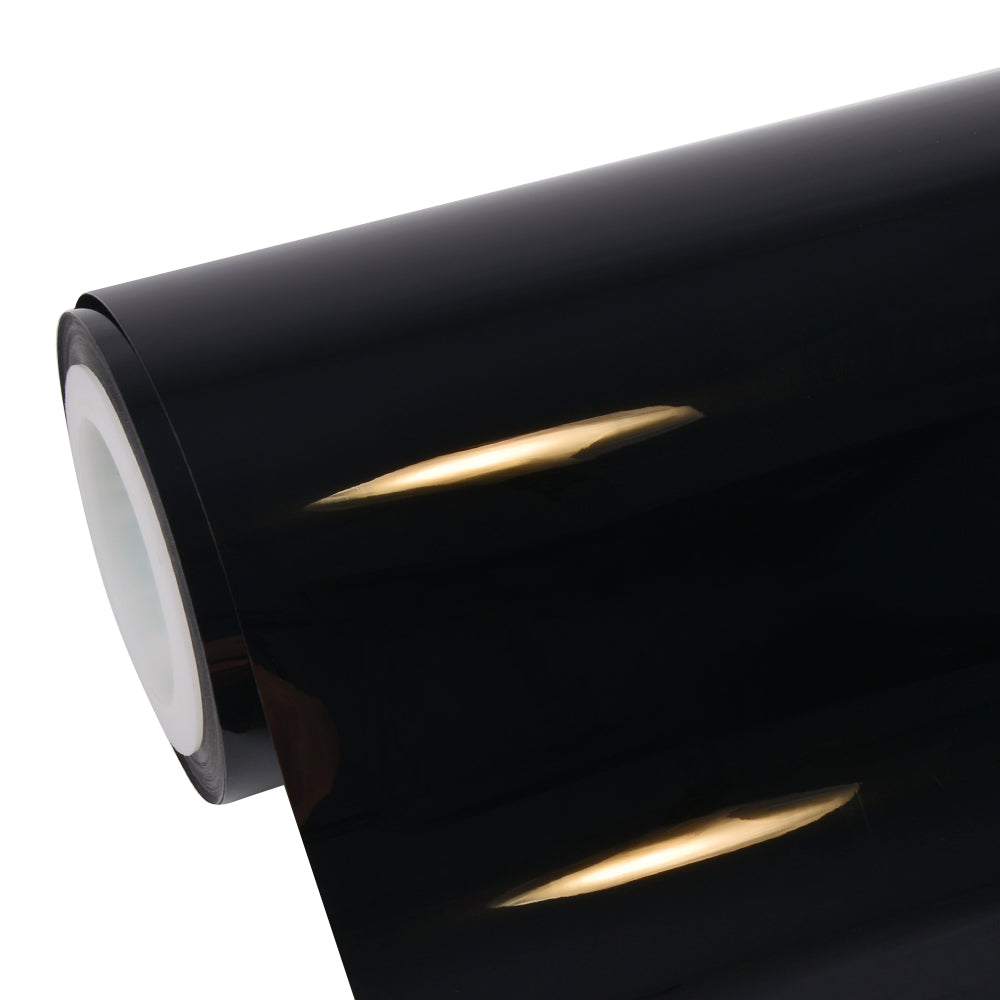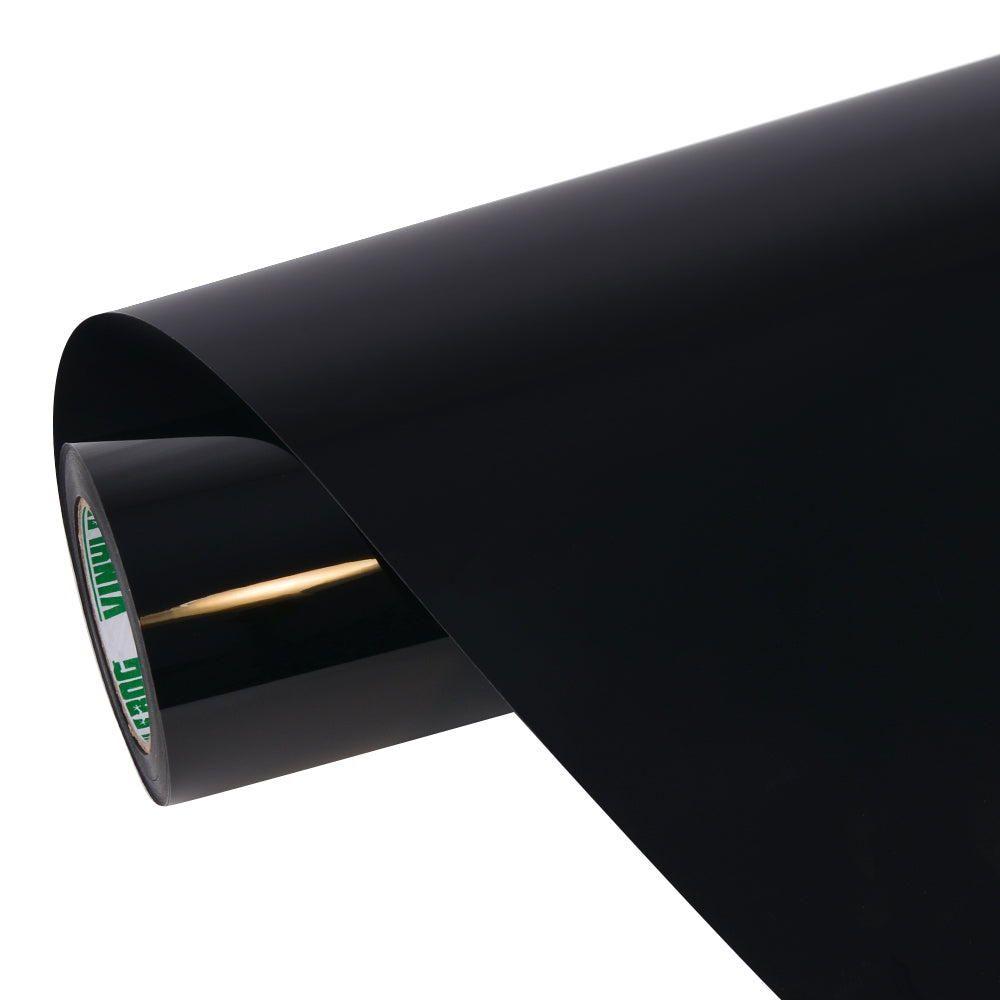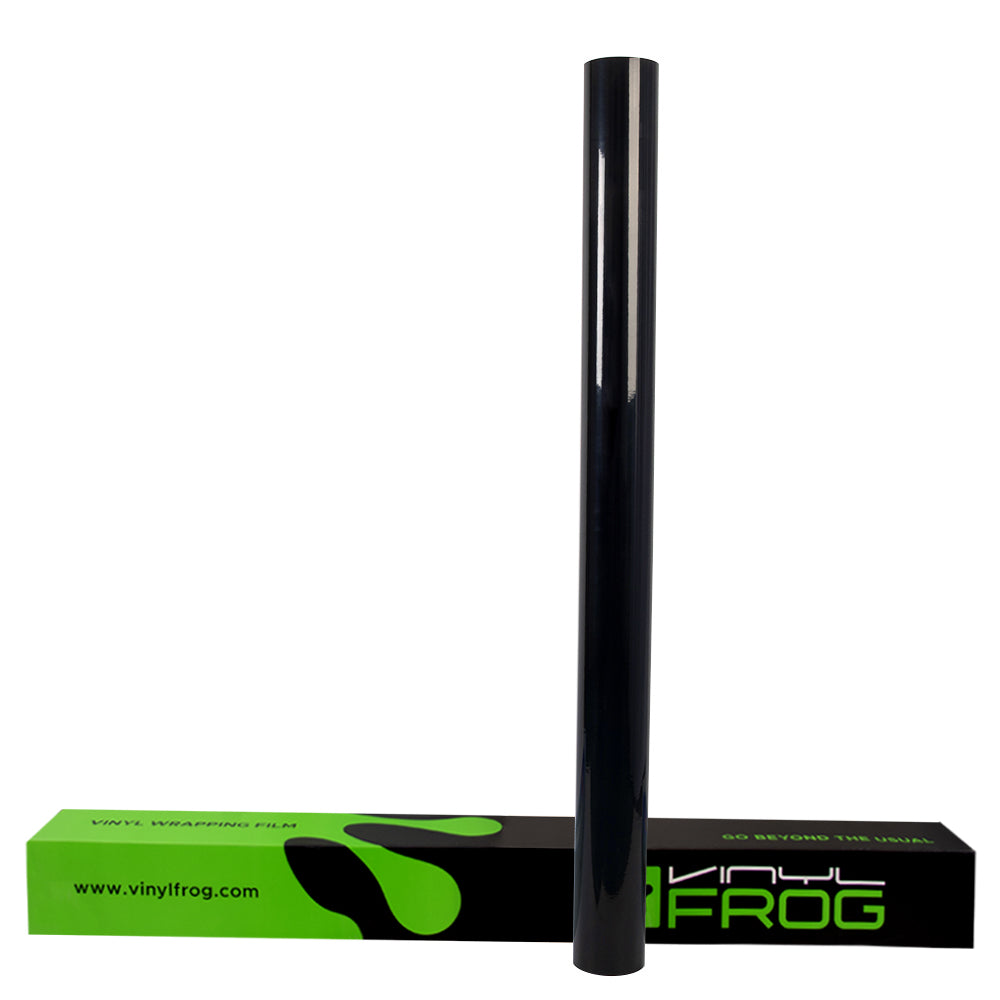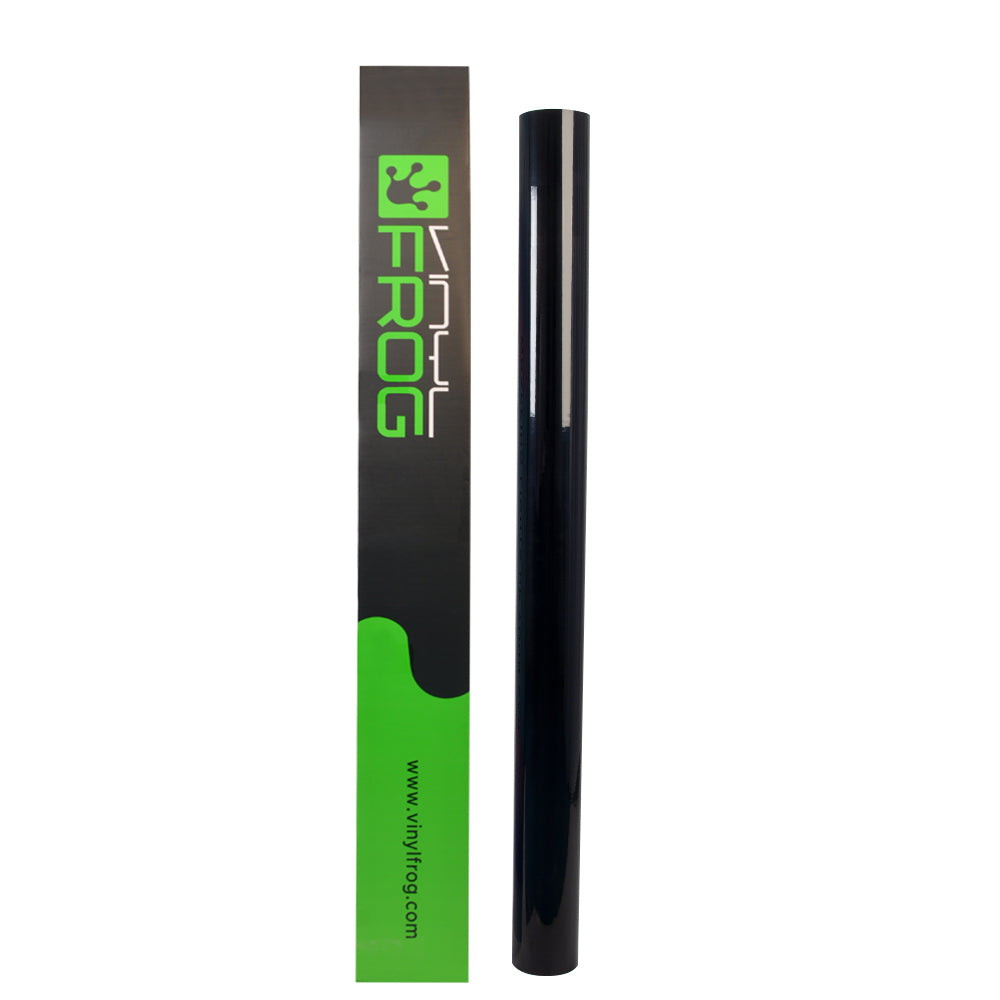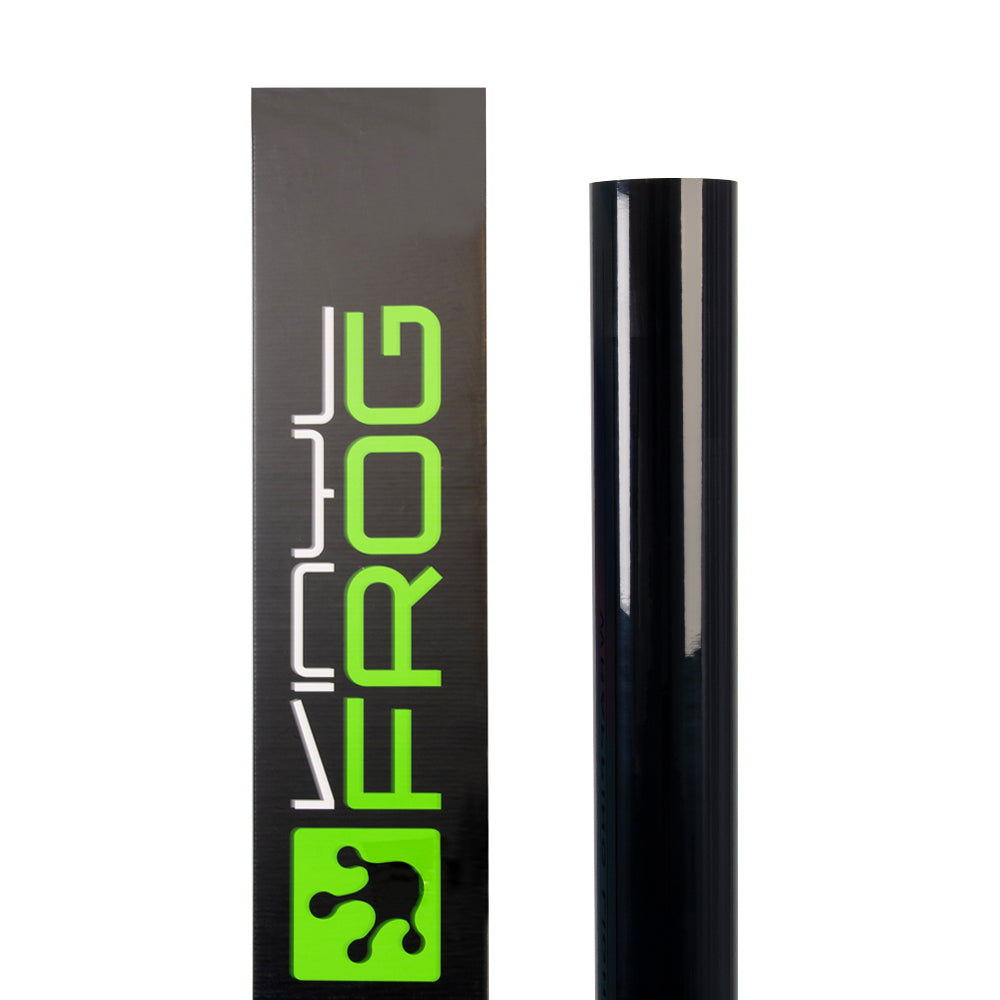 Glossy Metallic Galaxy Black Vinyl Wrap
The durable vinyl with ultra-high shine and a galaxy effect, it makes your car gloriously sparkle like a jewel. The film is recommended for full wraps and can be applied to any non-porous surface for a super shiny look.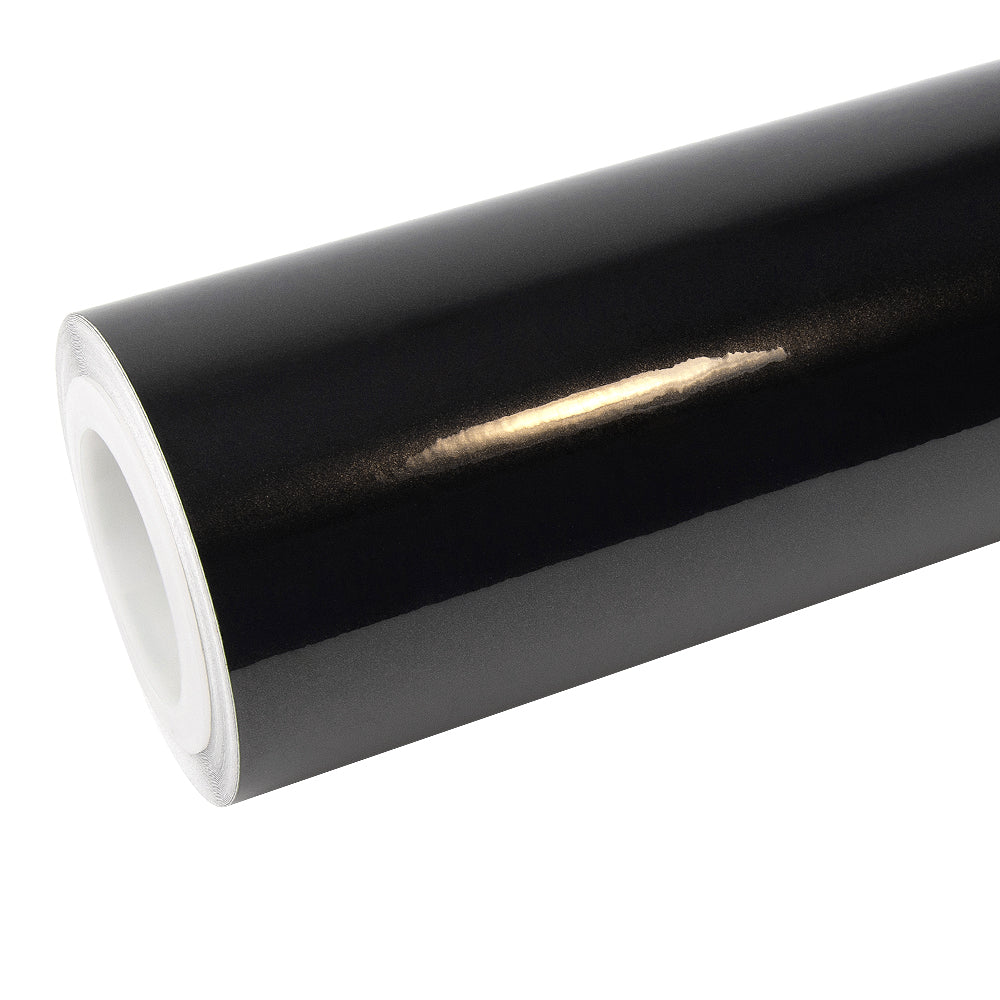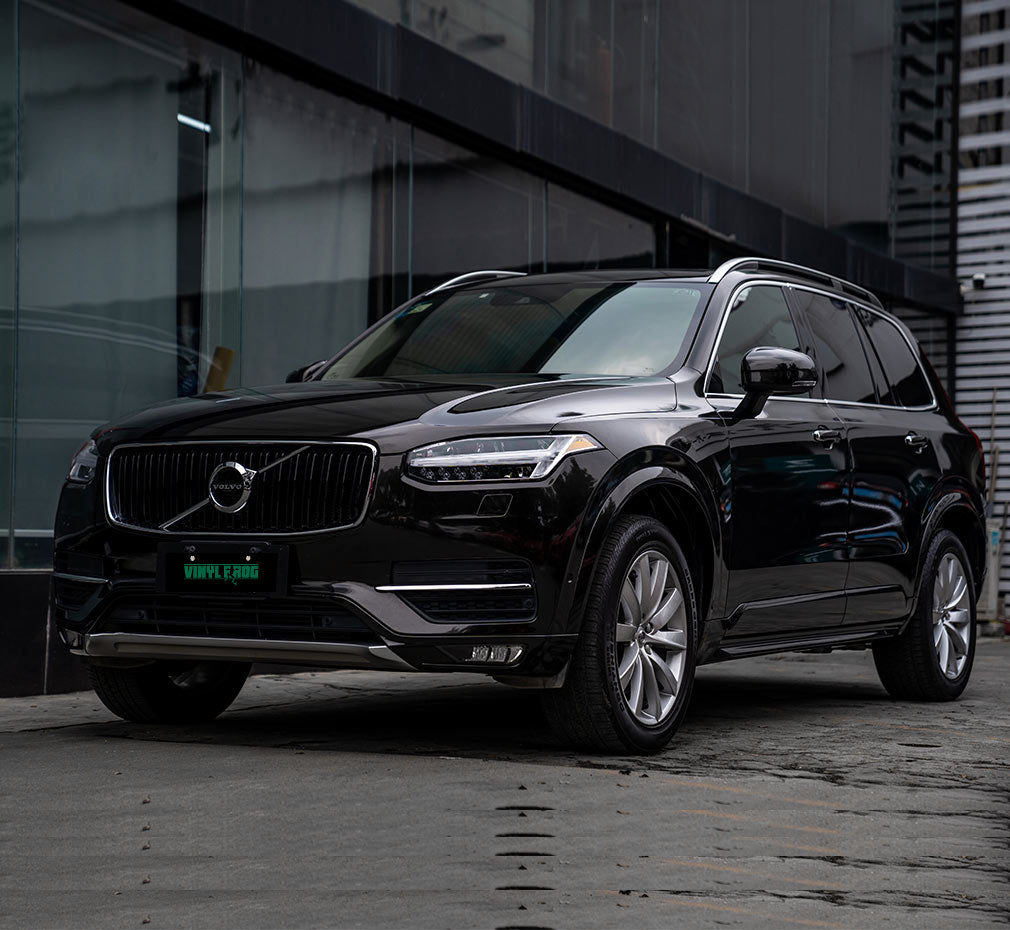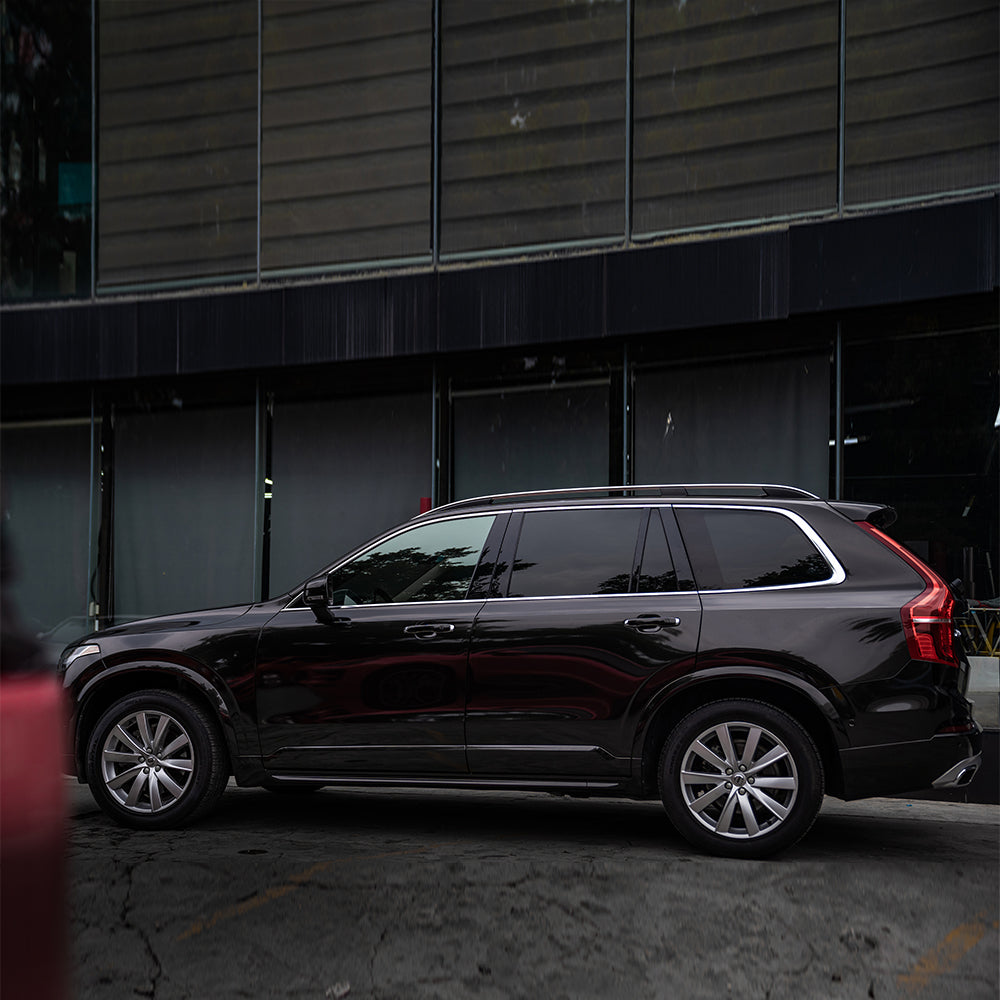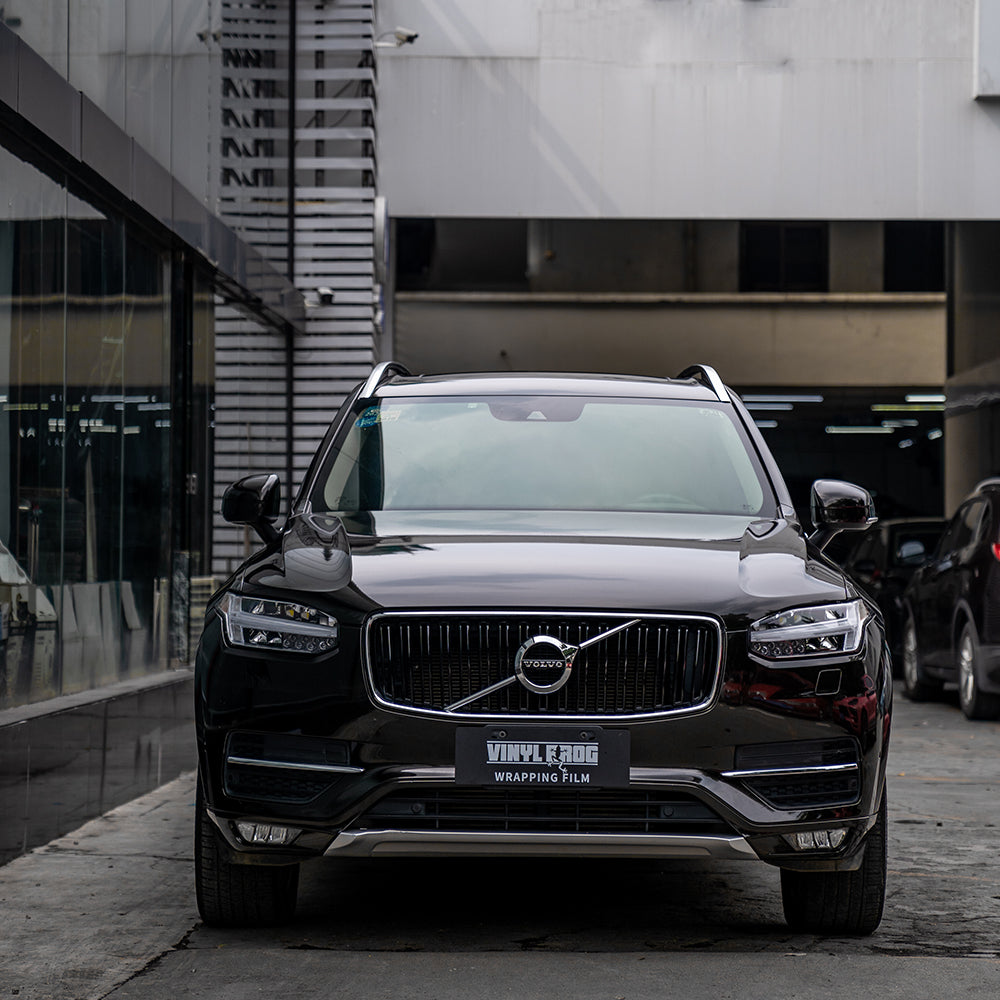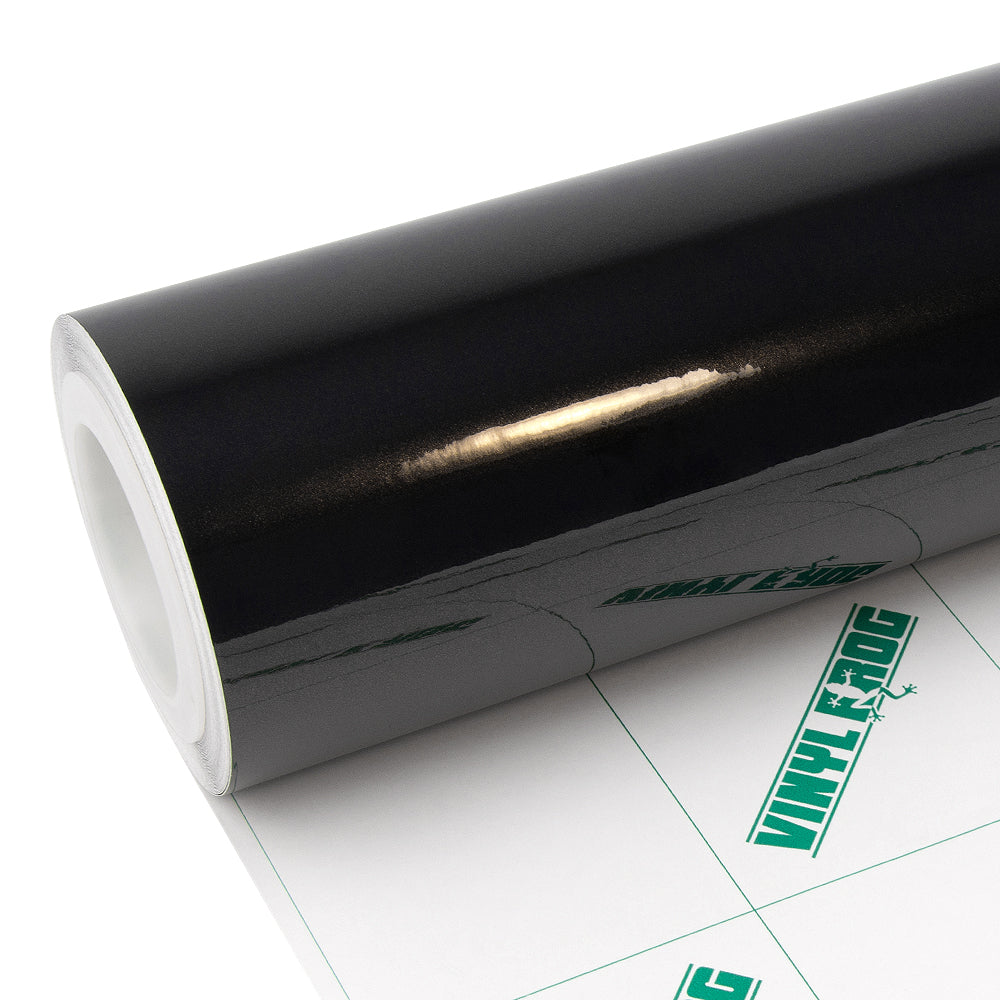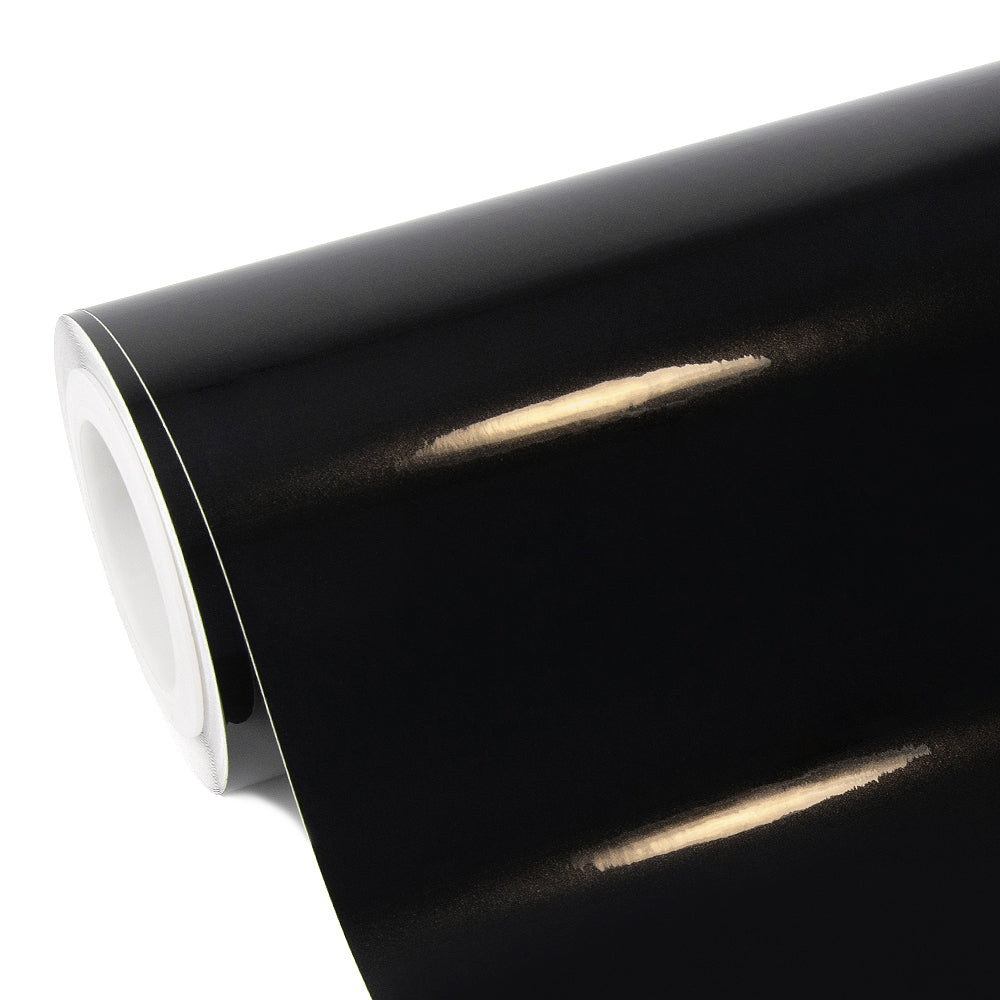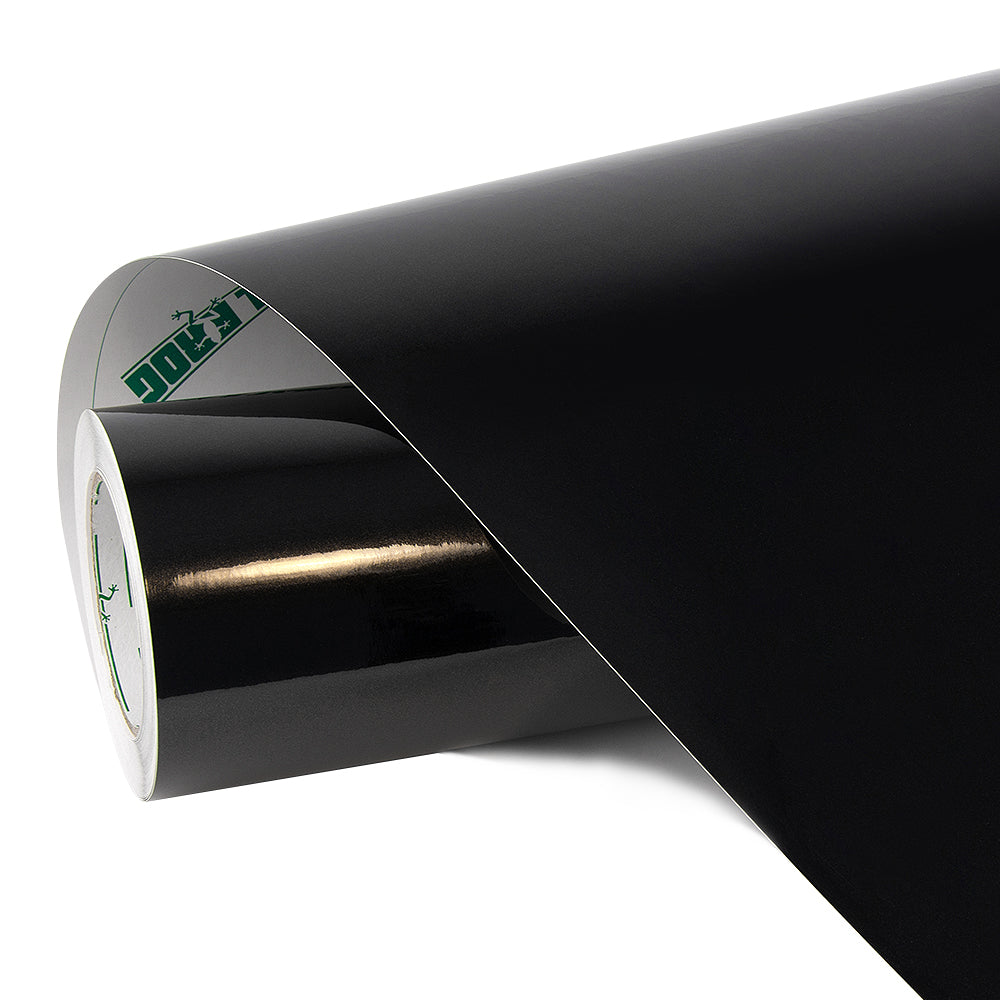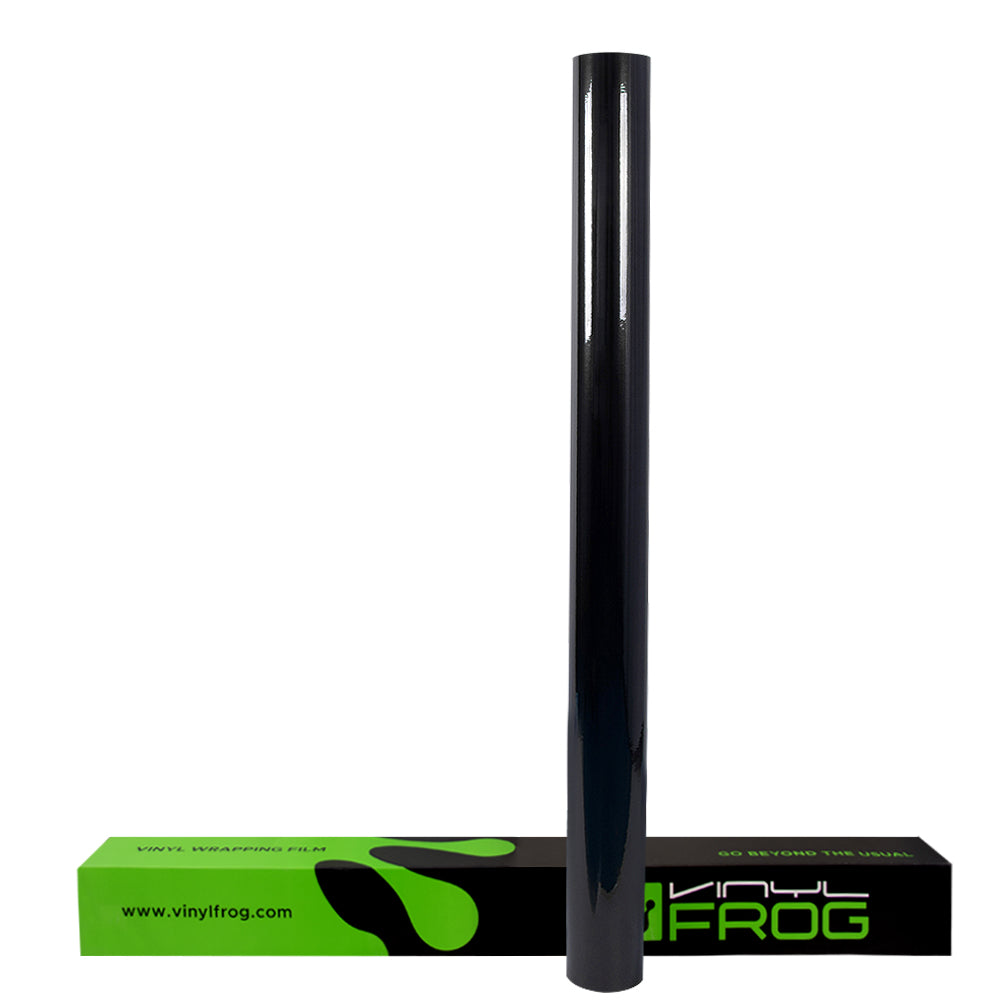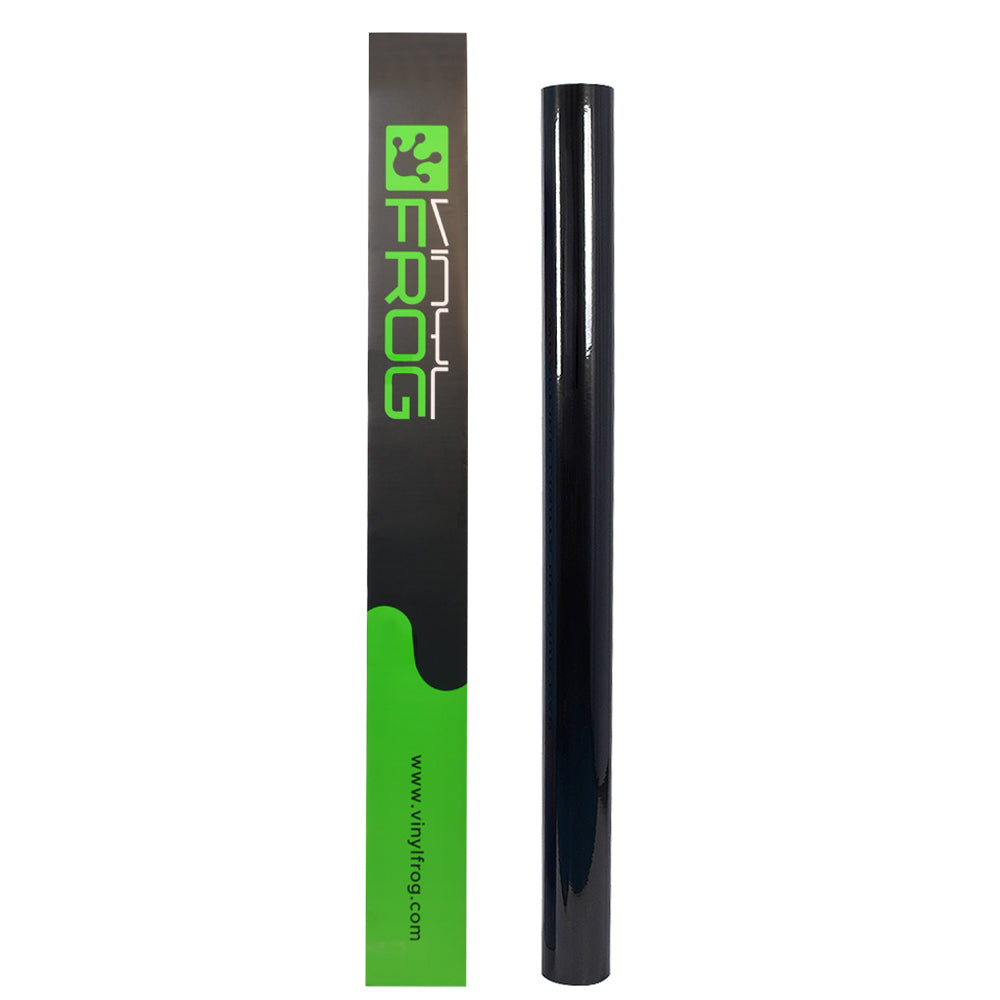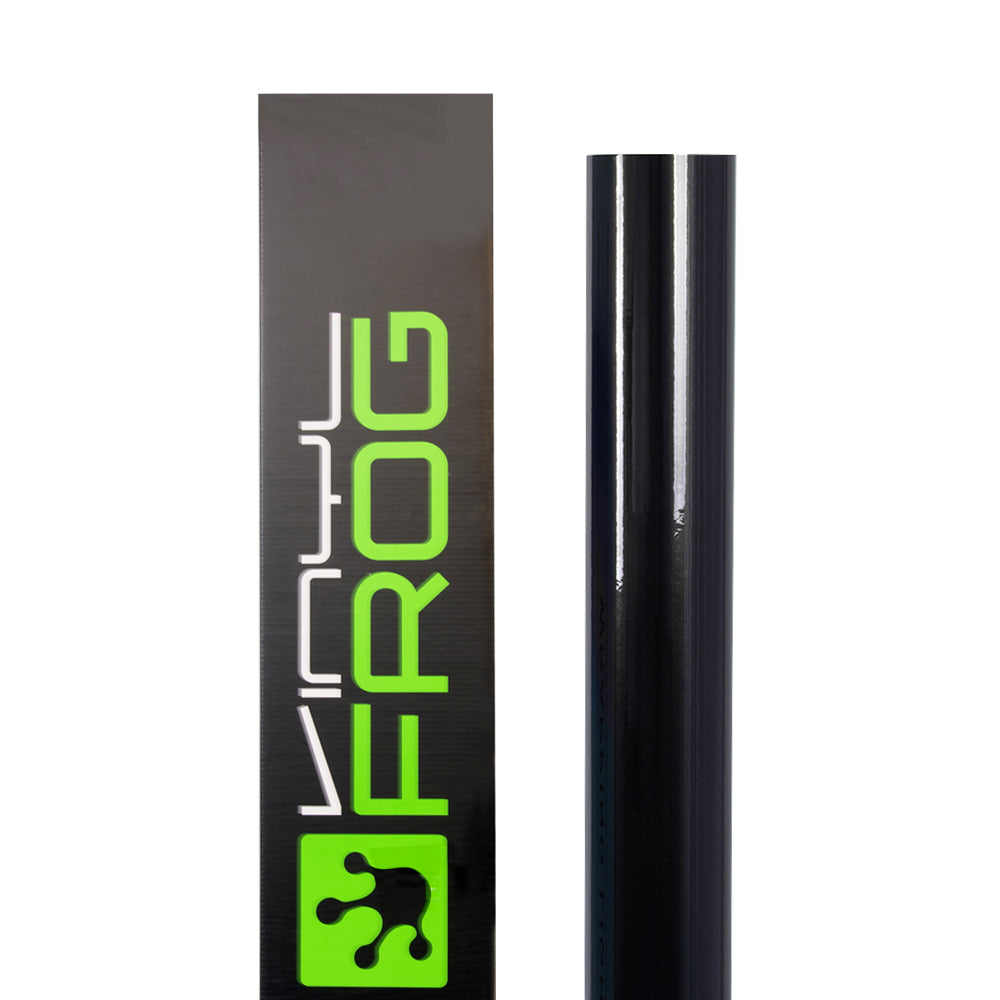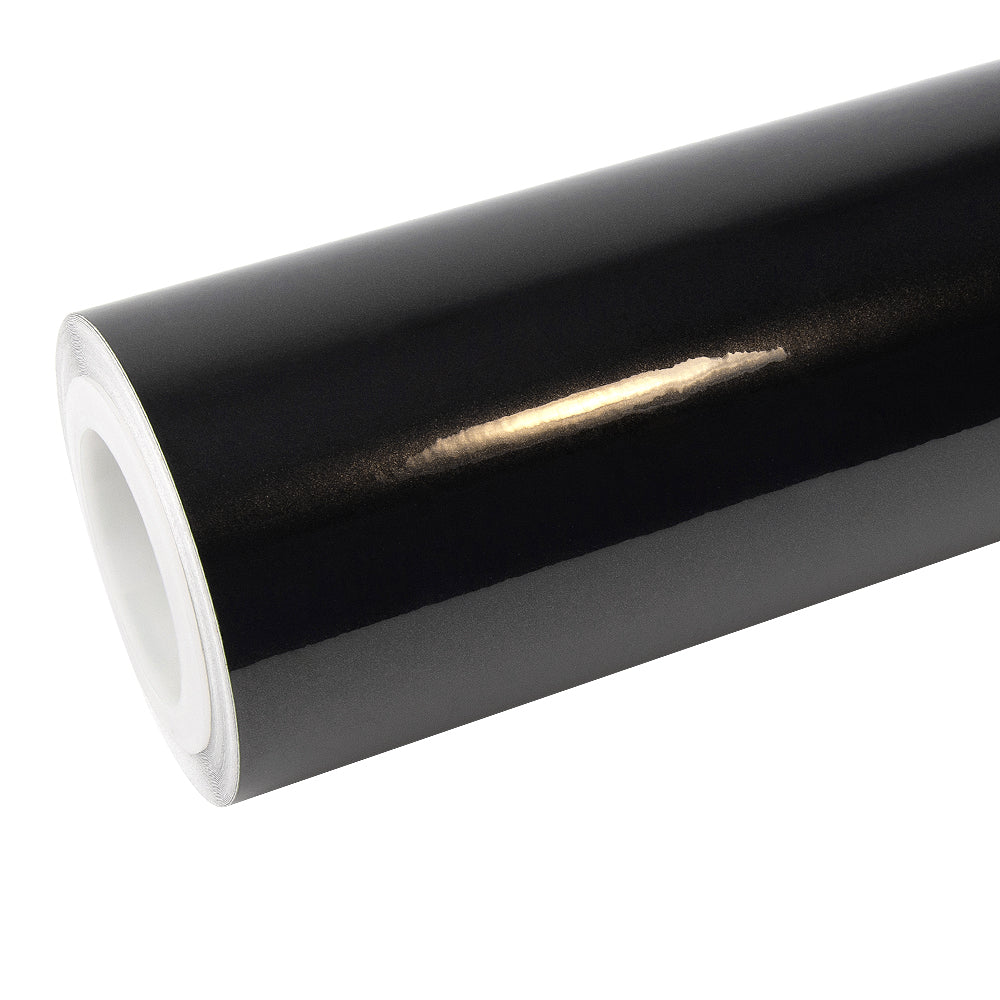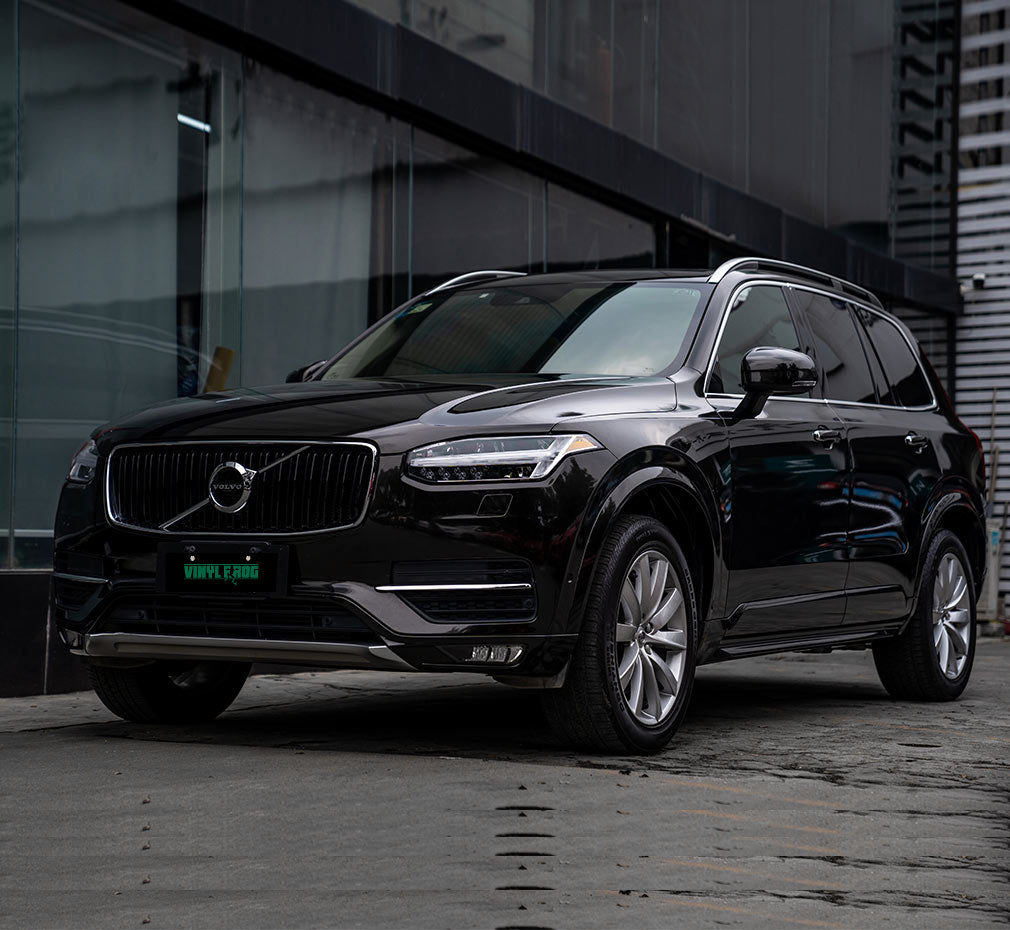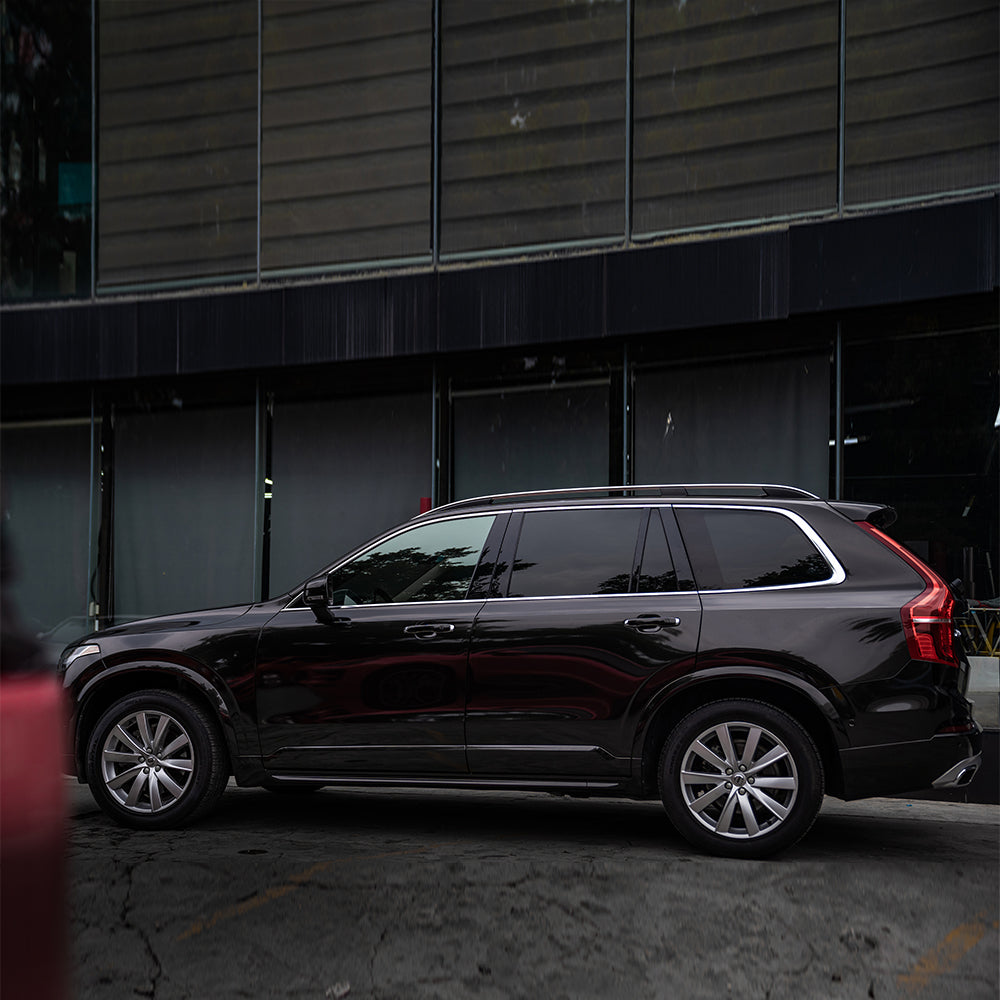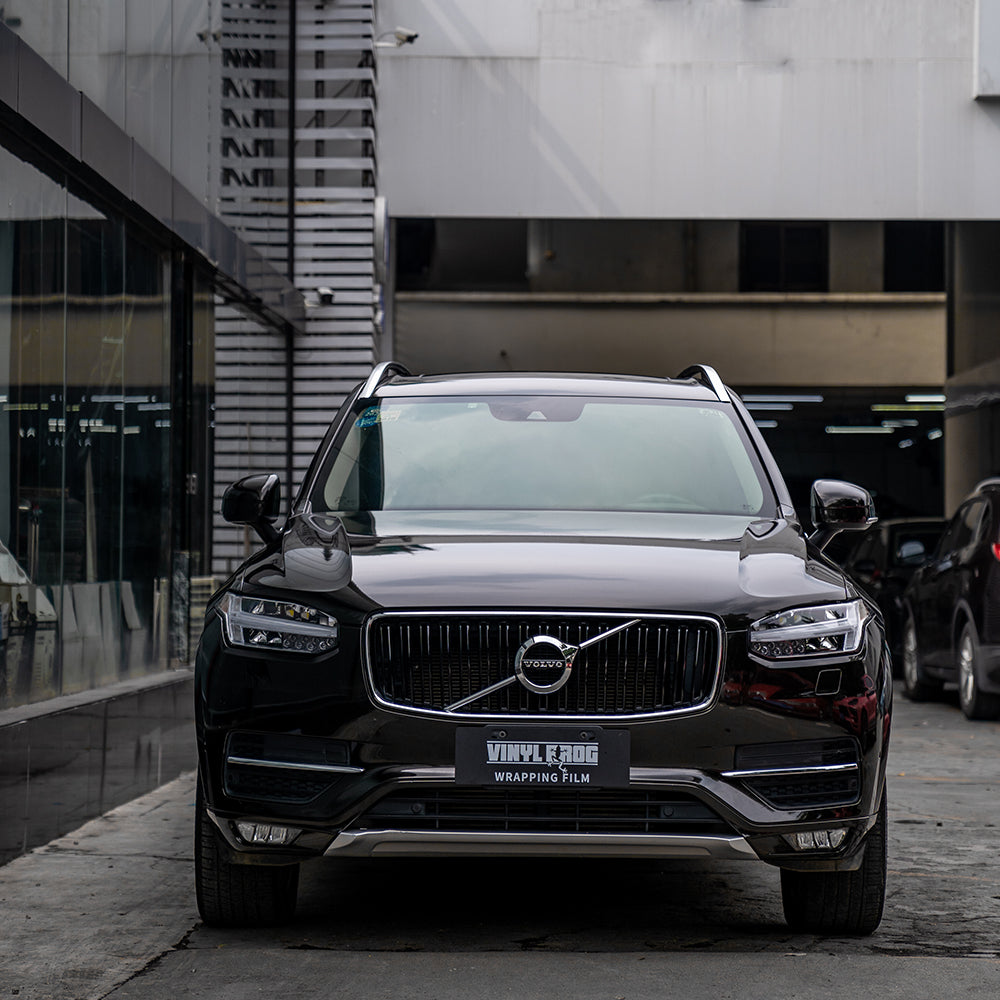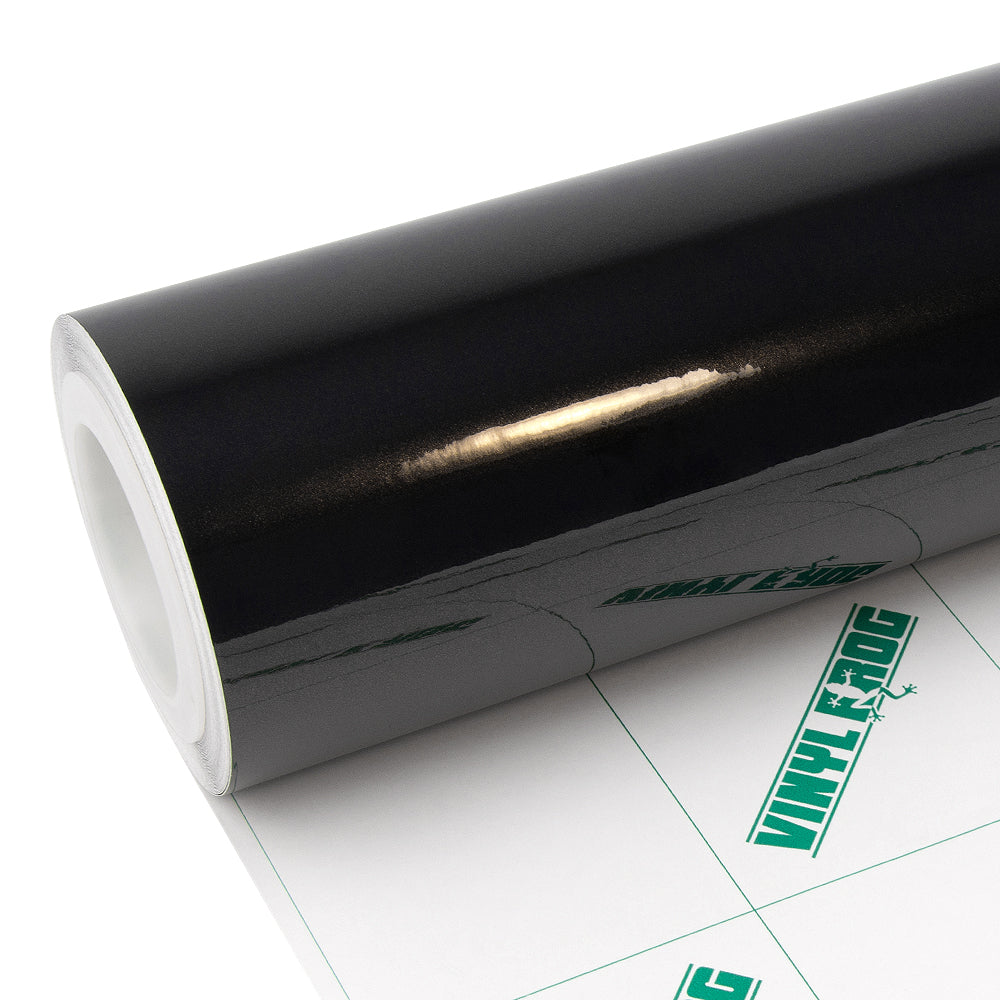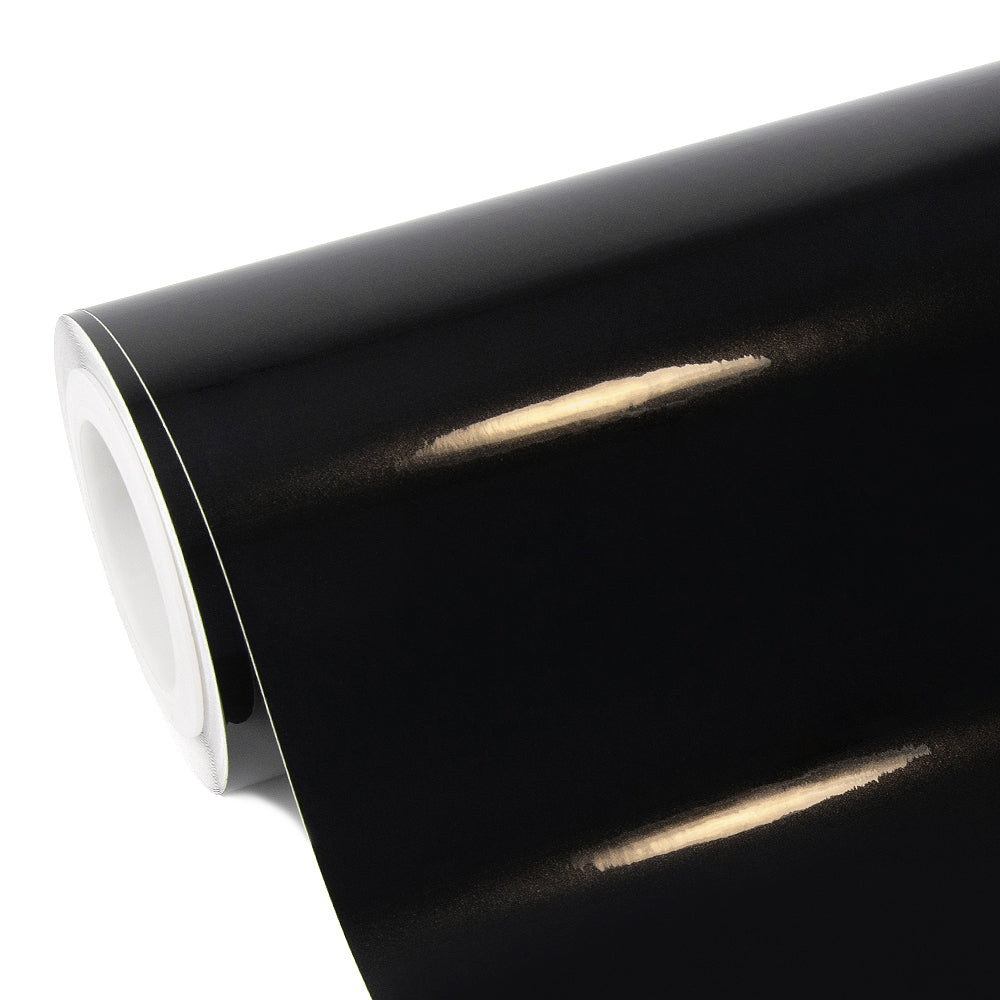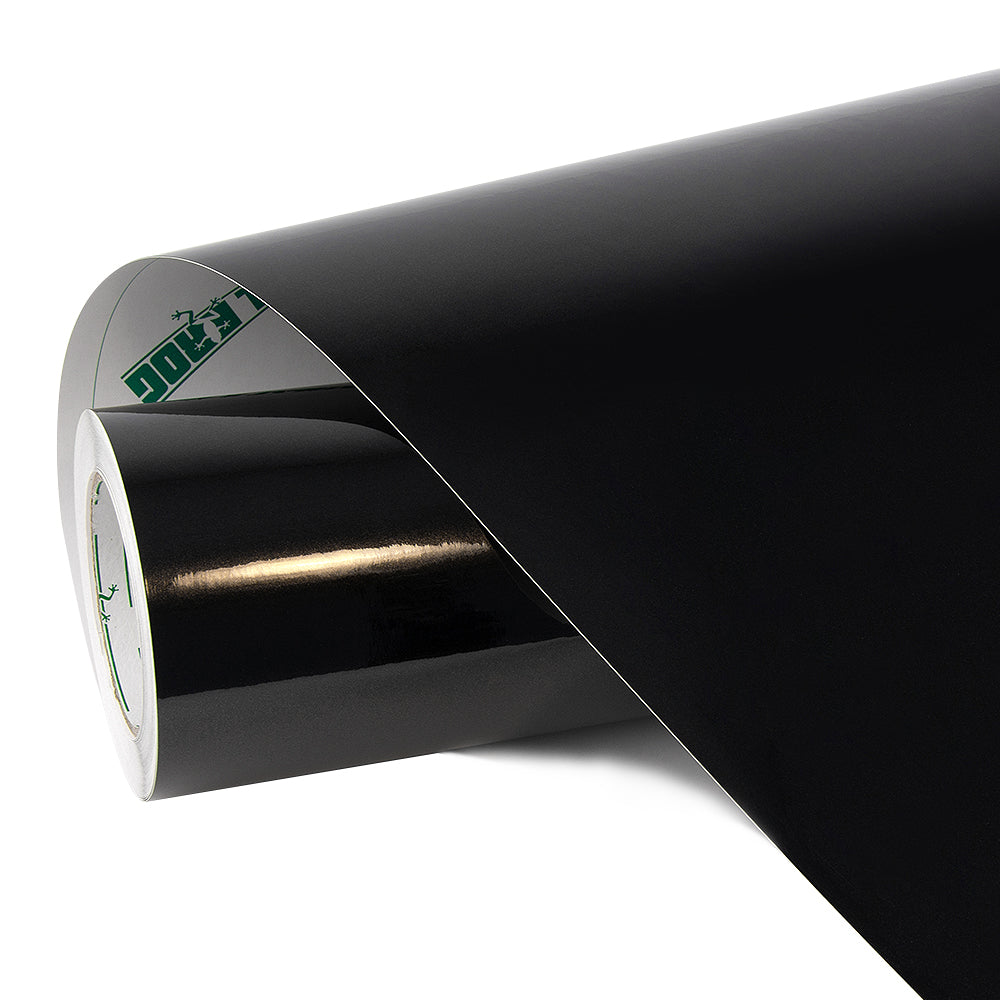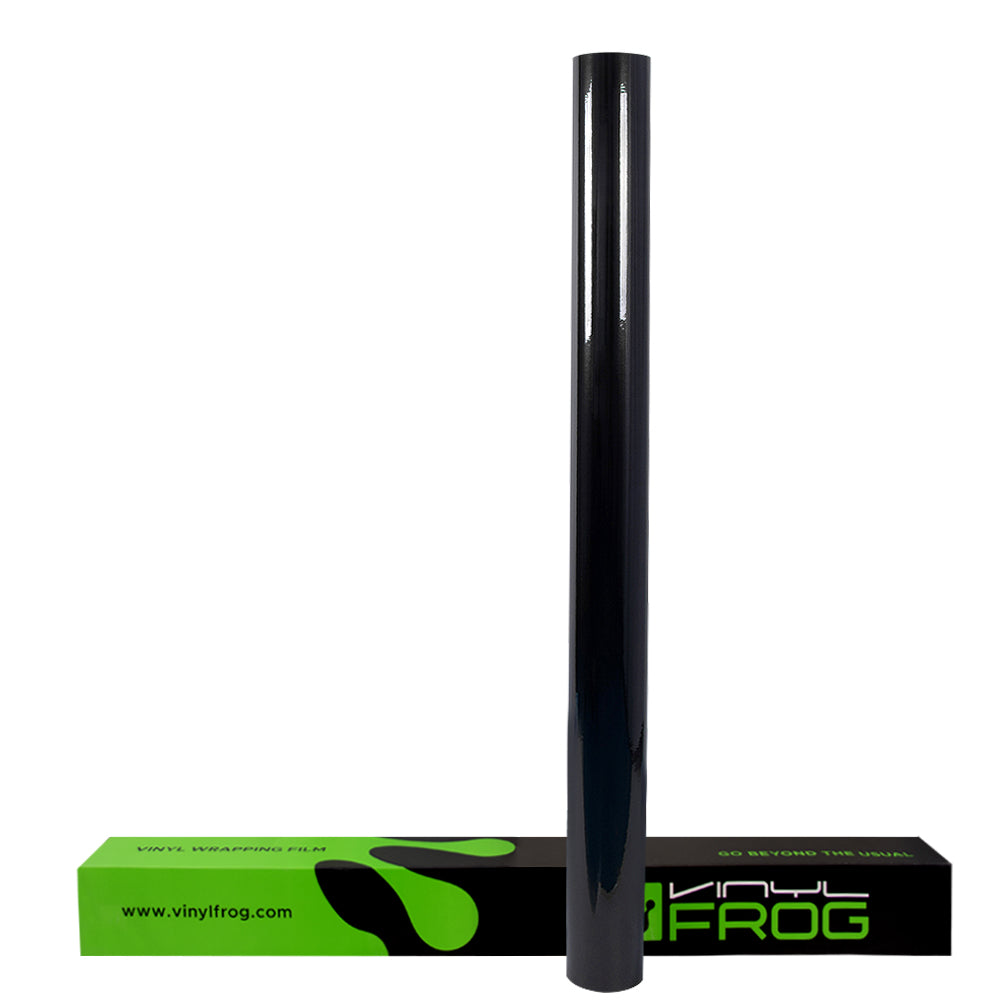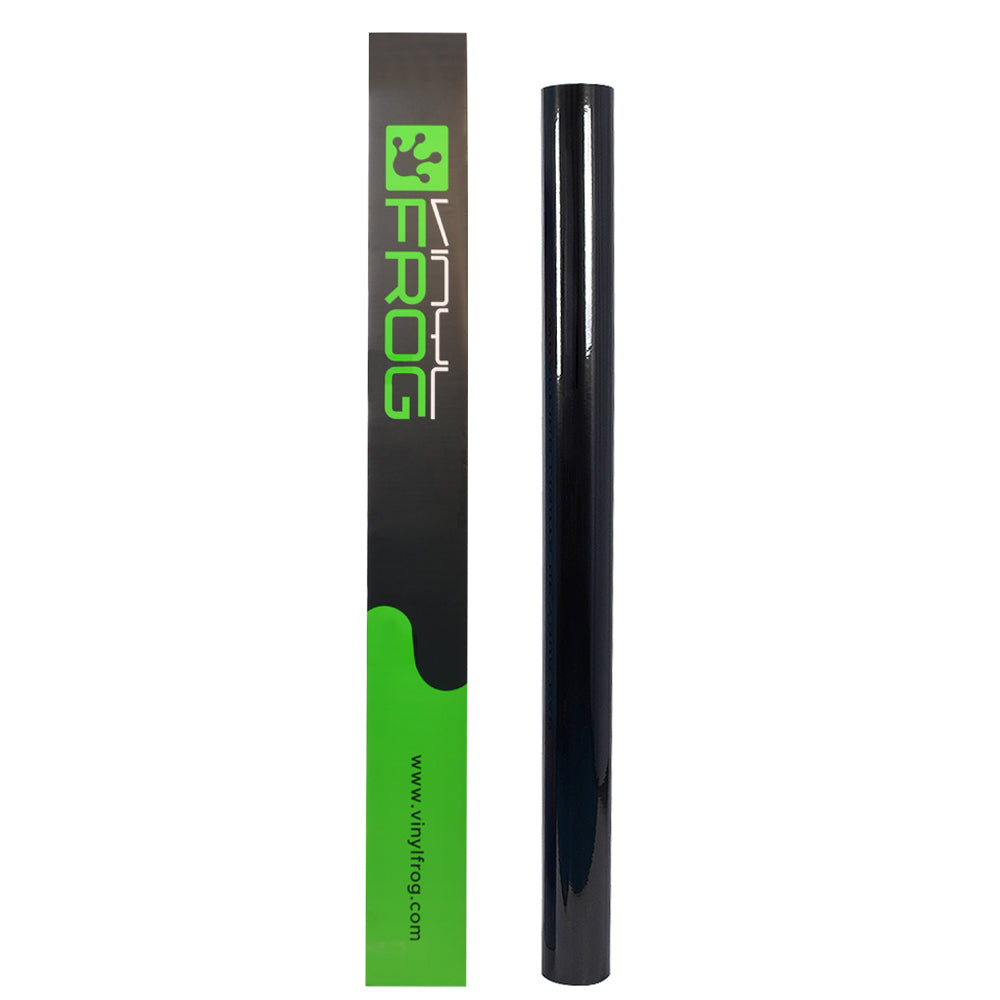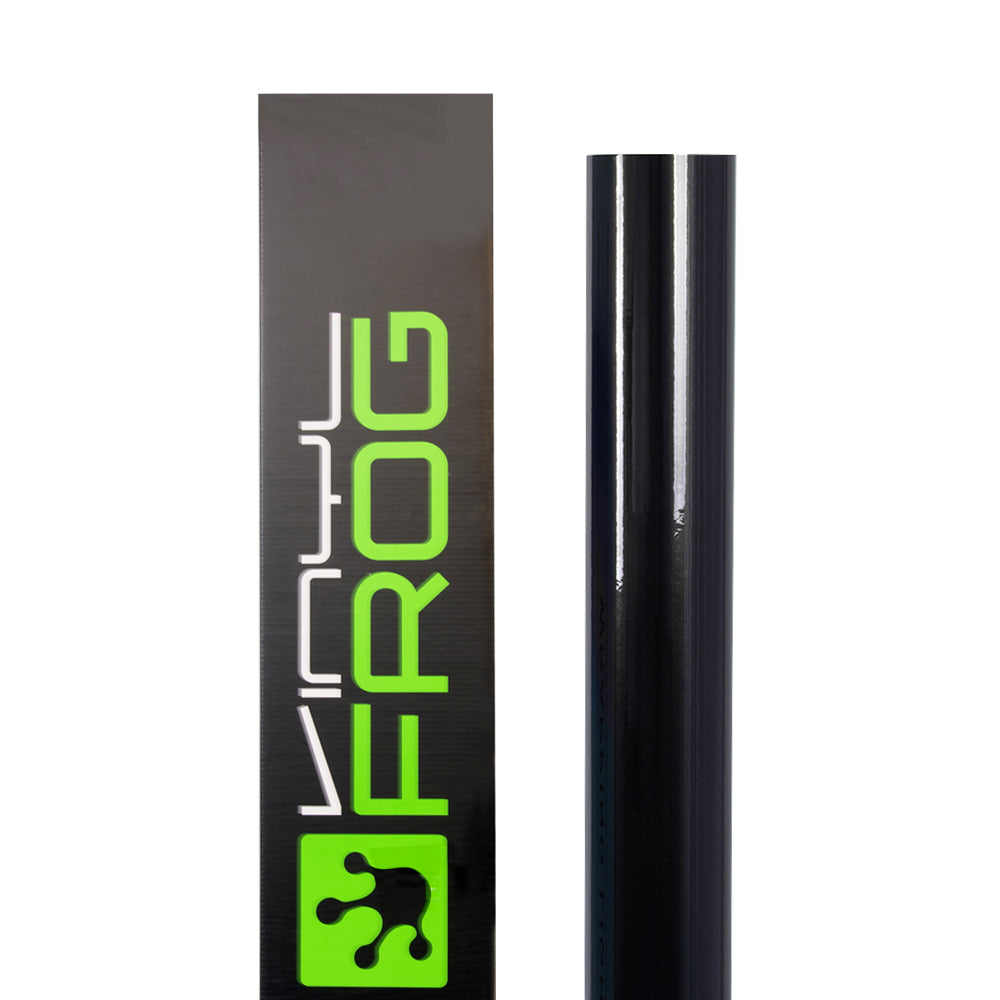 High Glossy Paint Black Vinyl Wrap
The vinyl with a realistic black paint-like finish, it looks as if your vehicle had a perfect glossy paint job from afar. The sturdy film is ideal for long-term application and is an economical alternative to paint.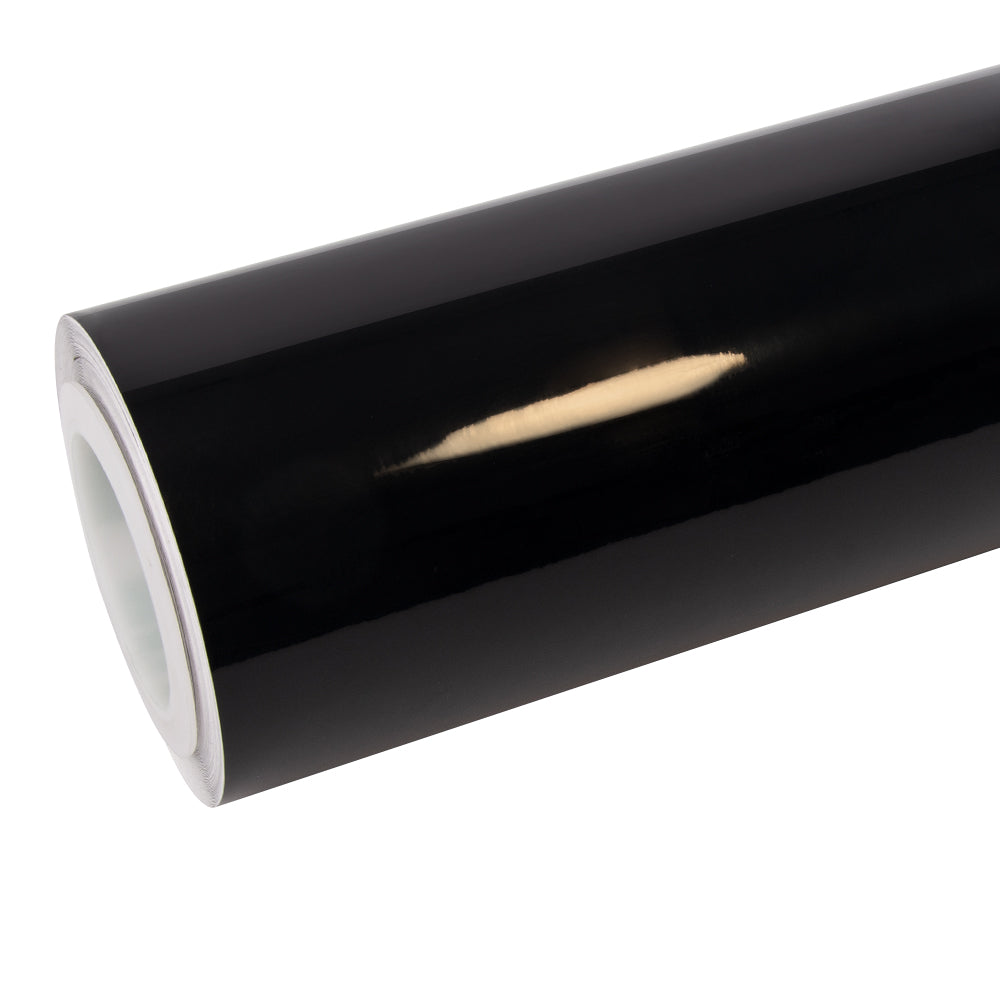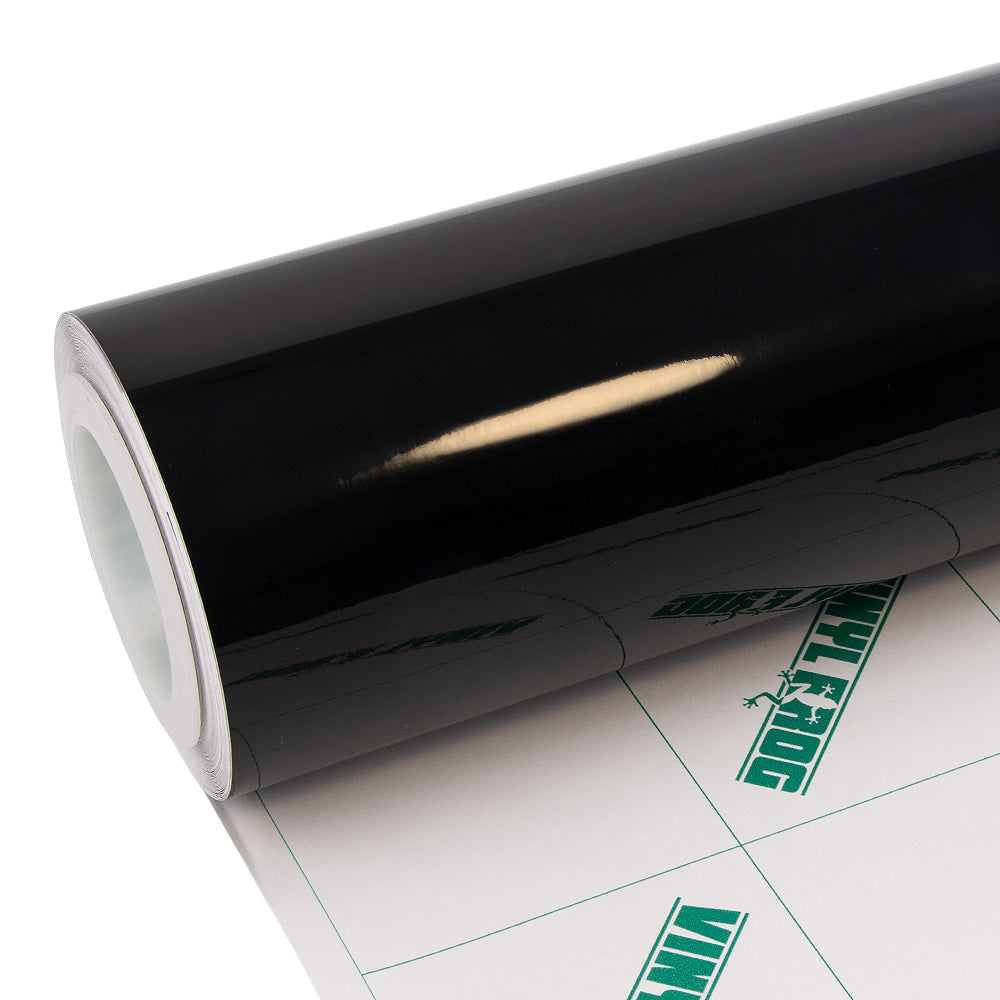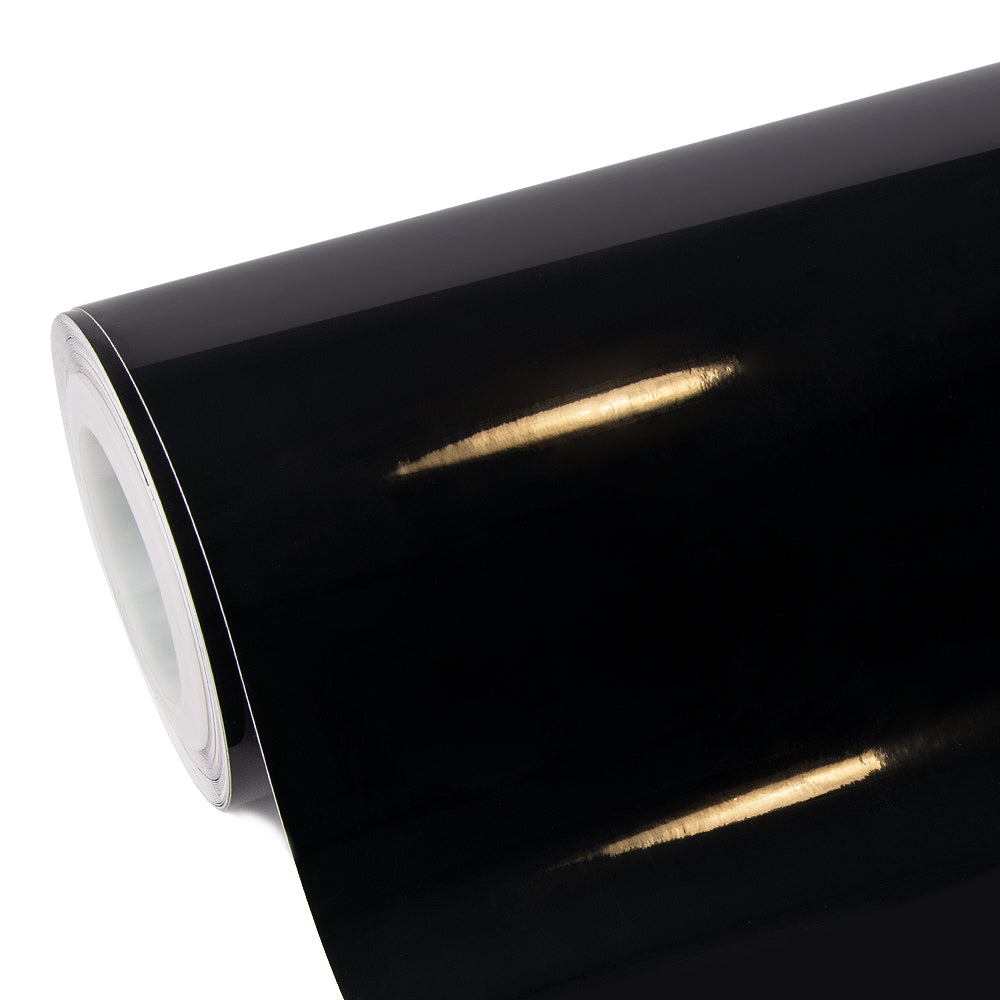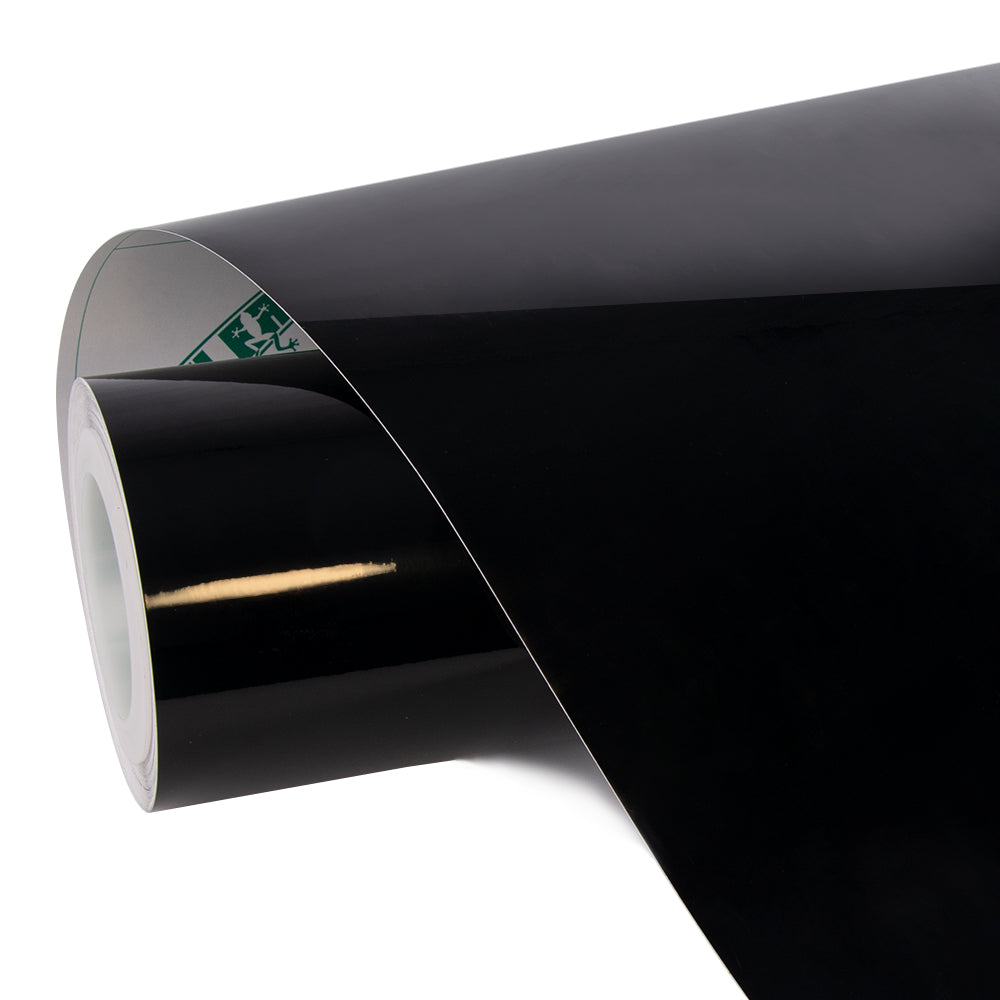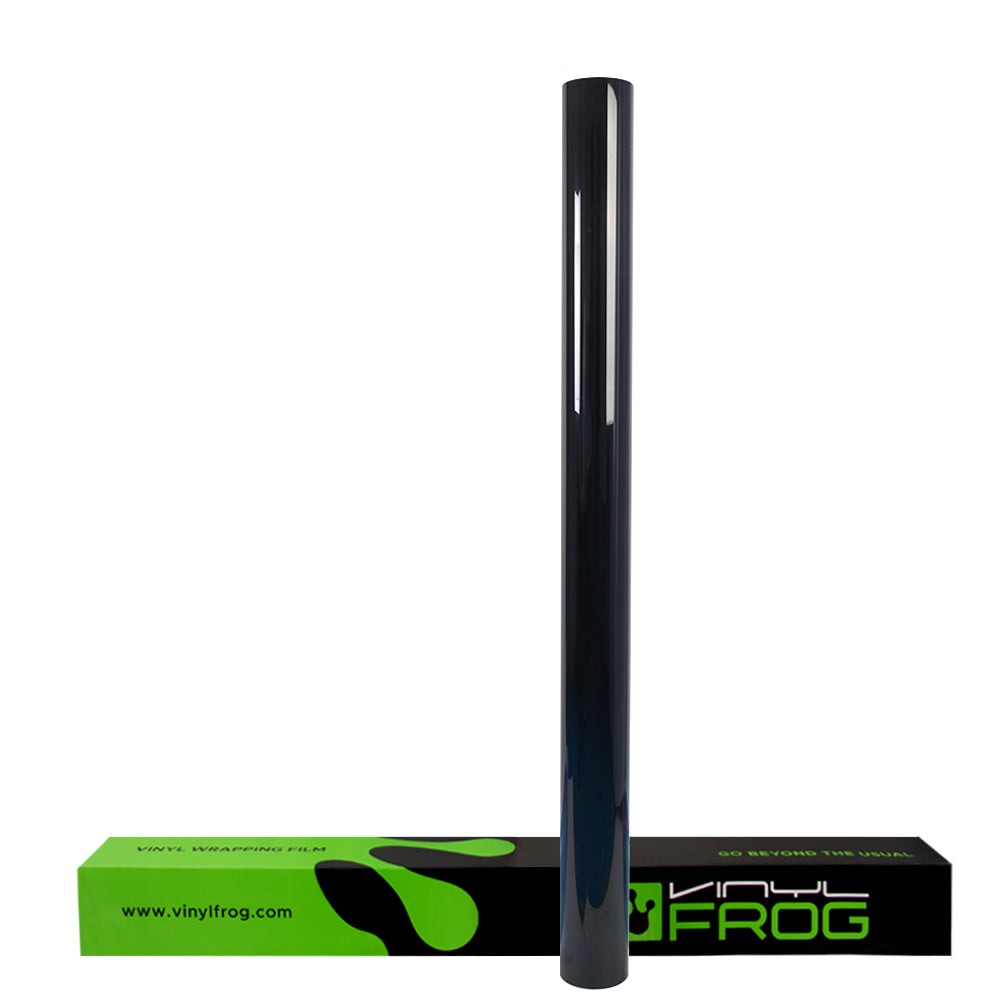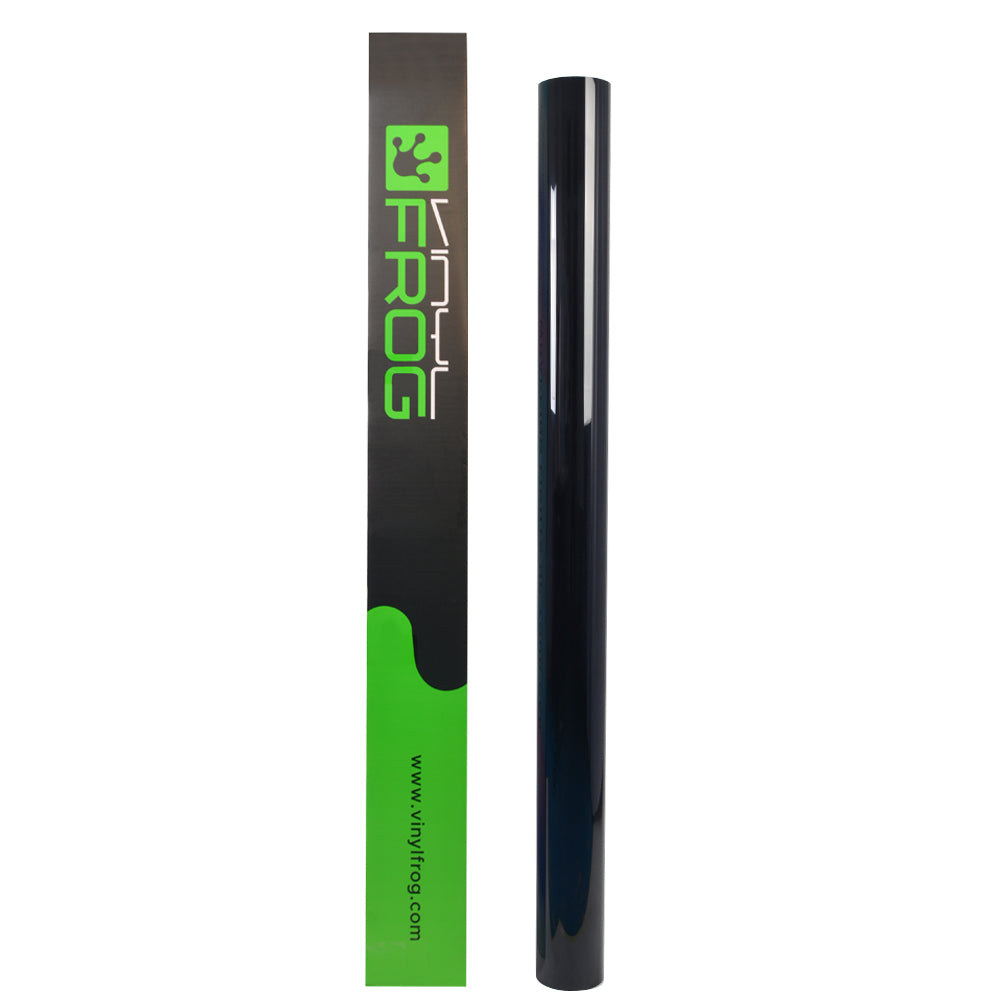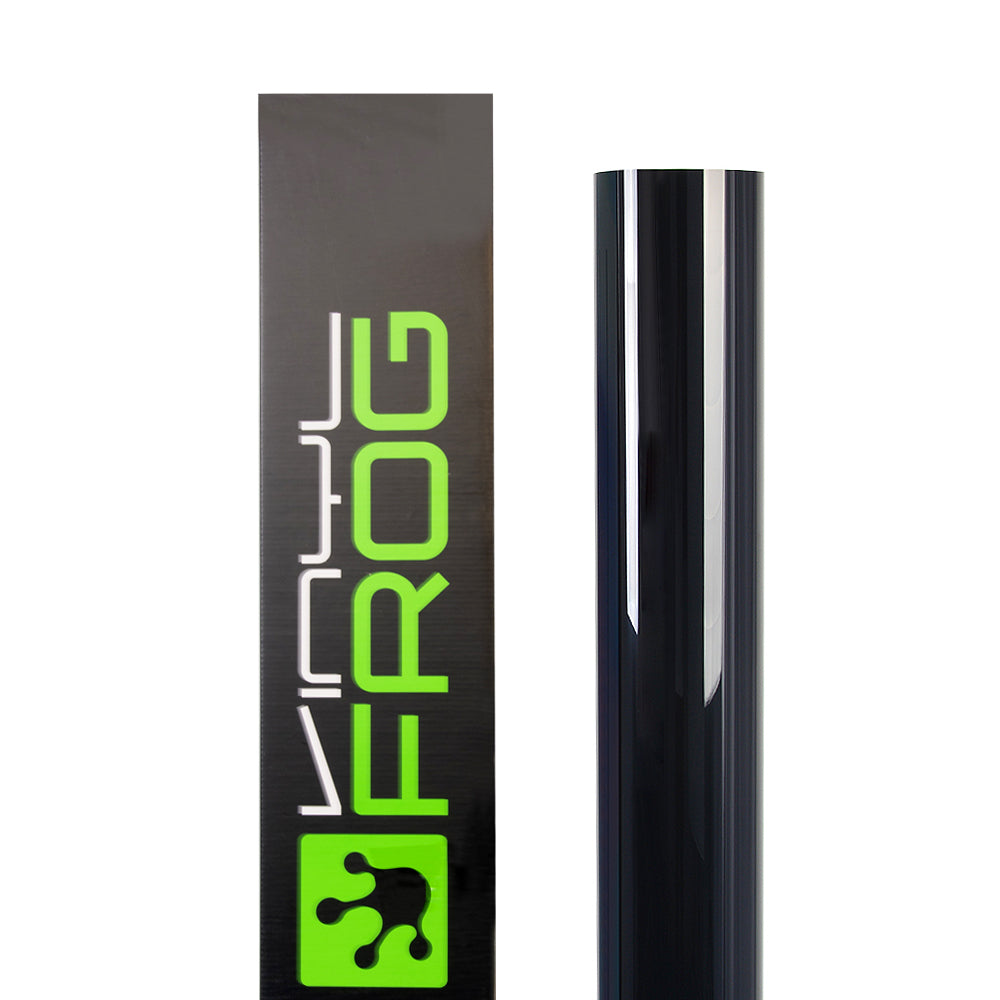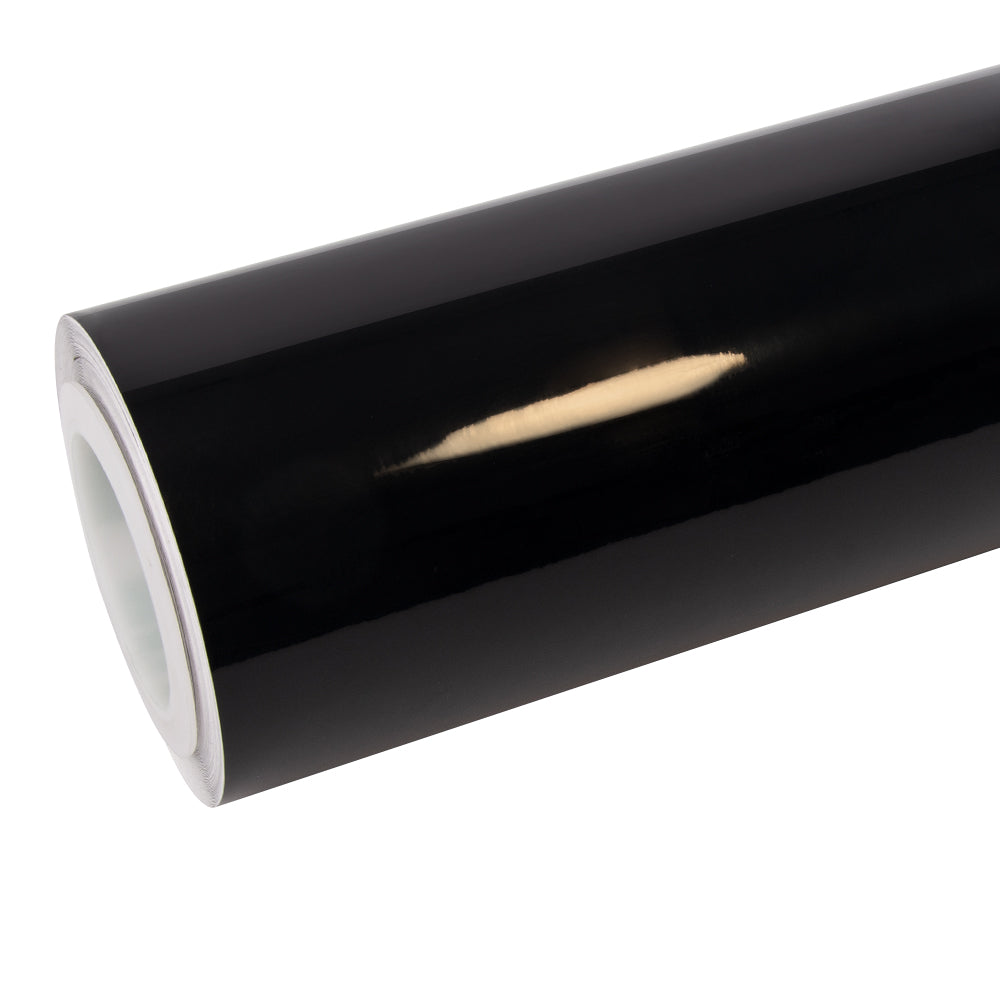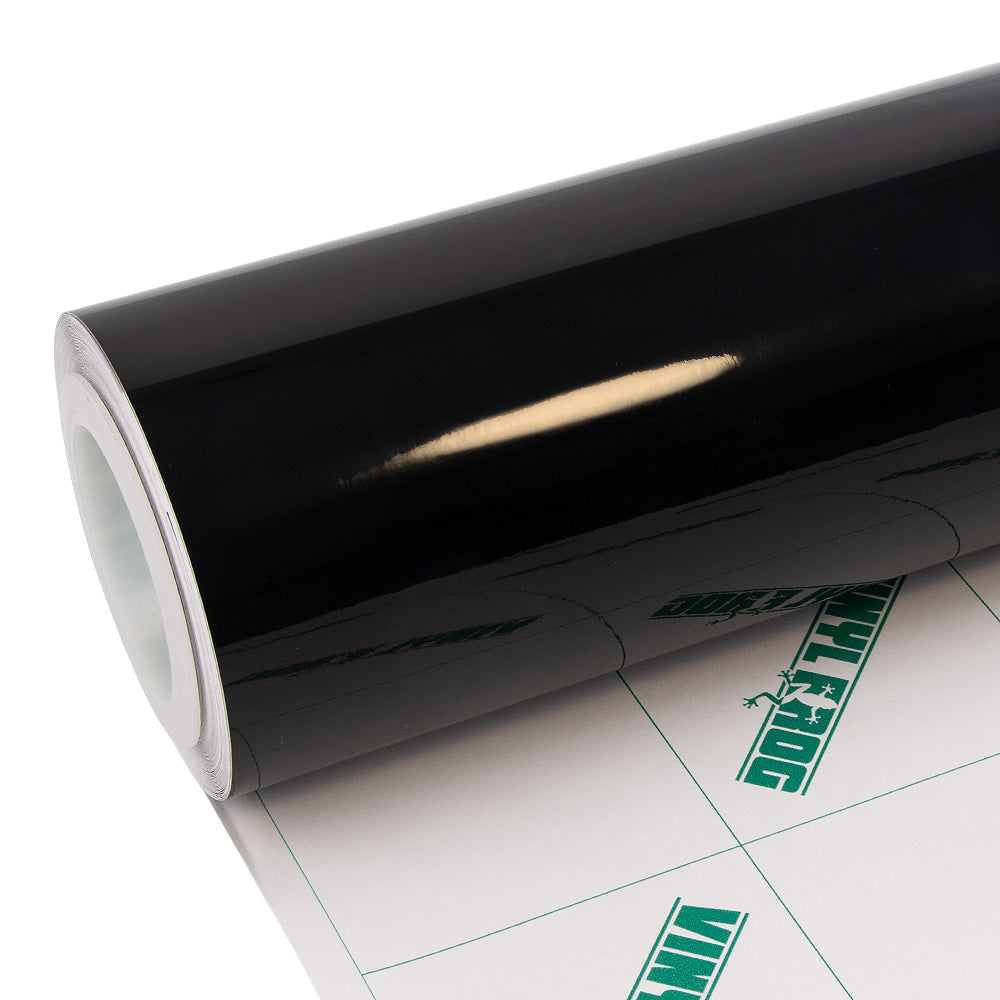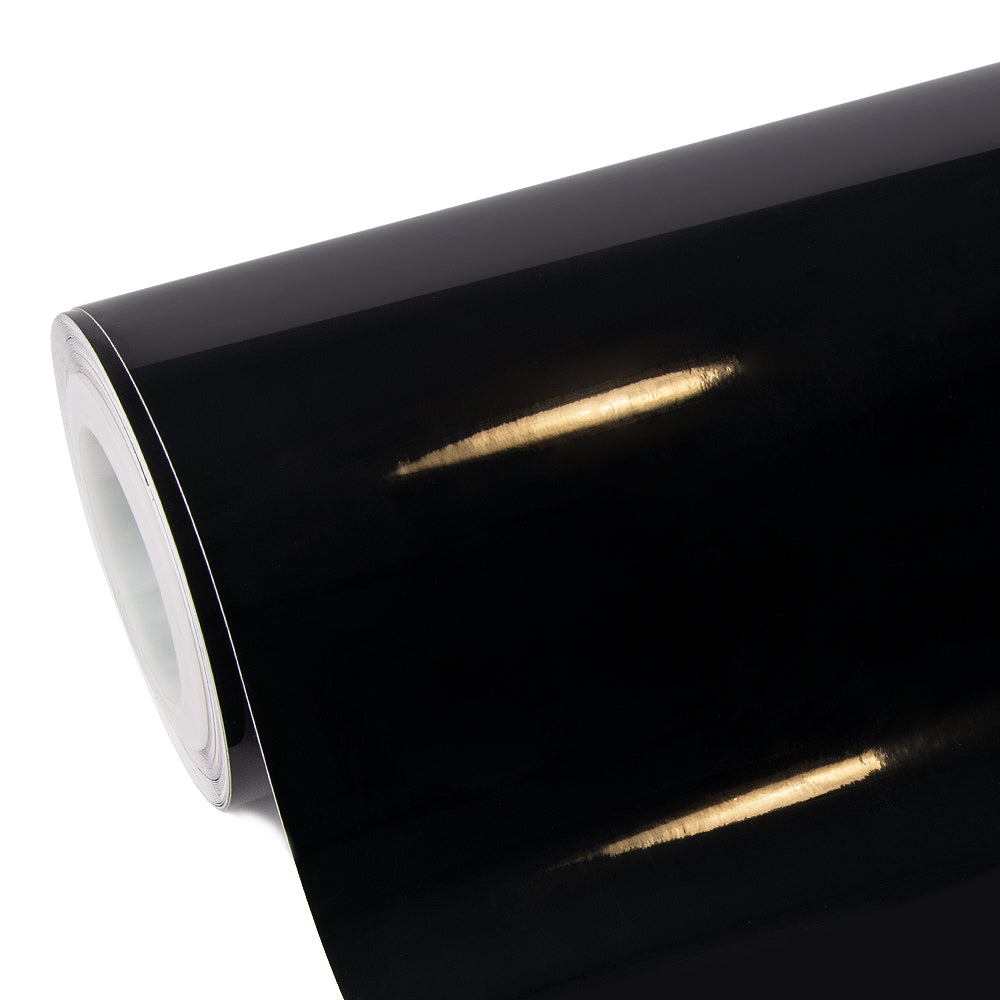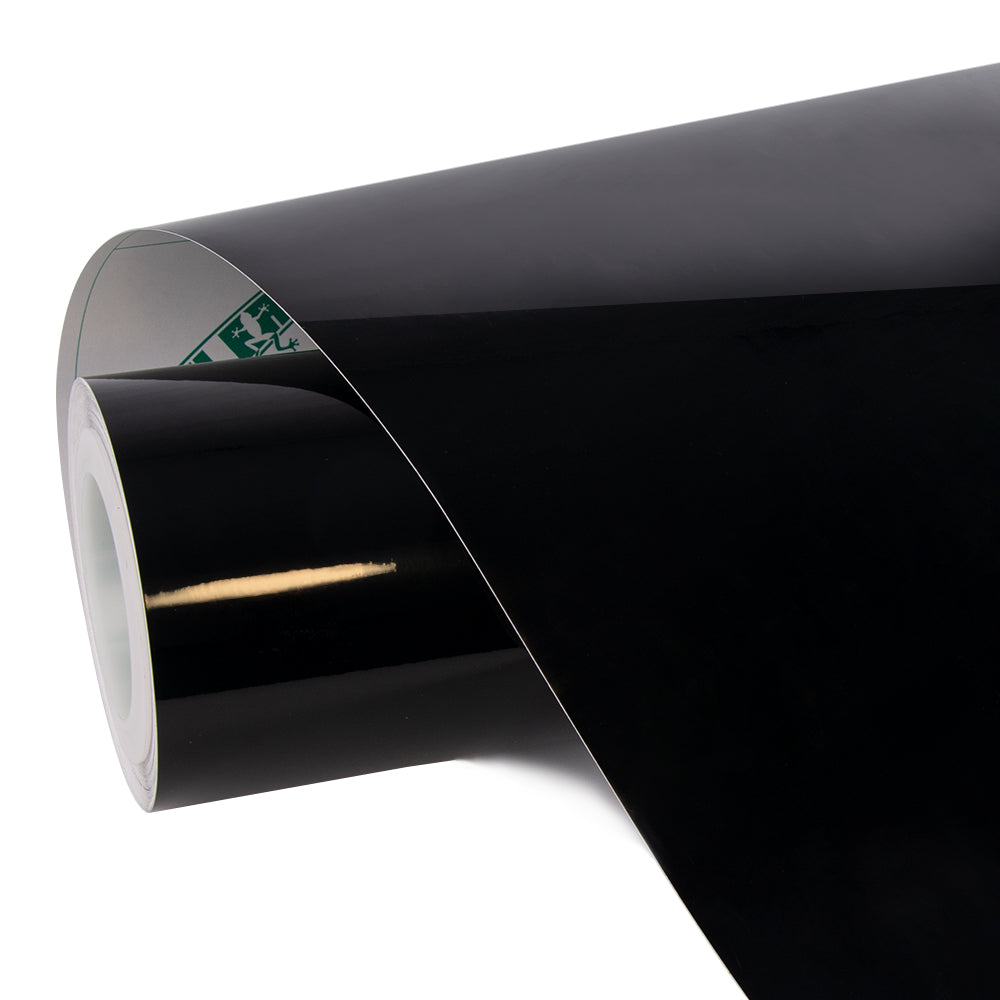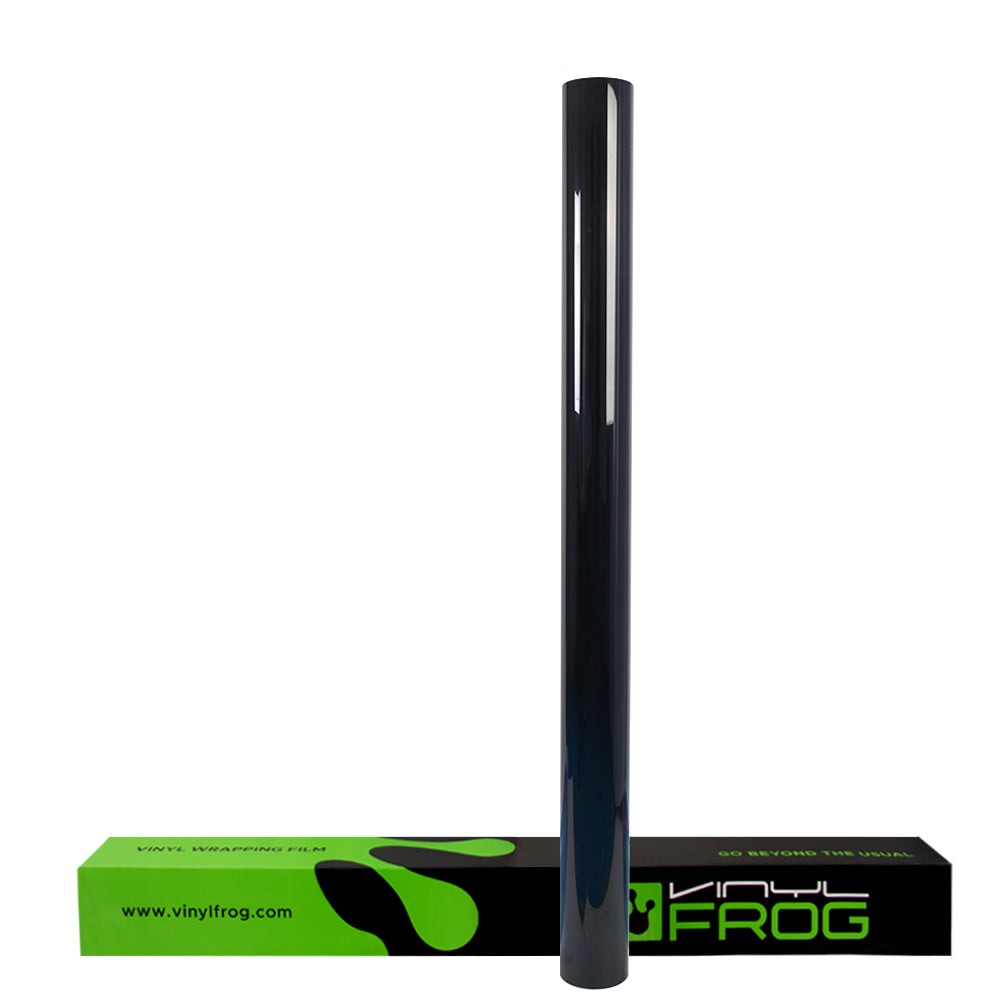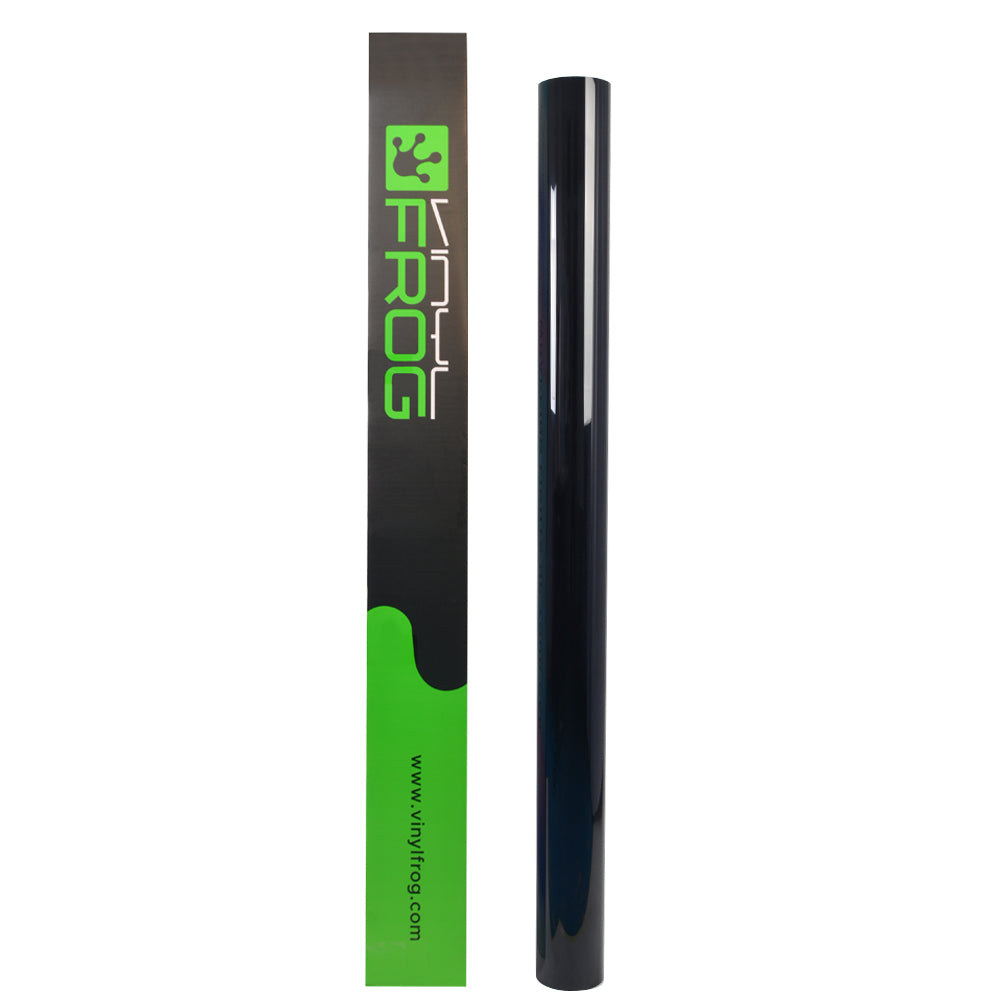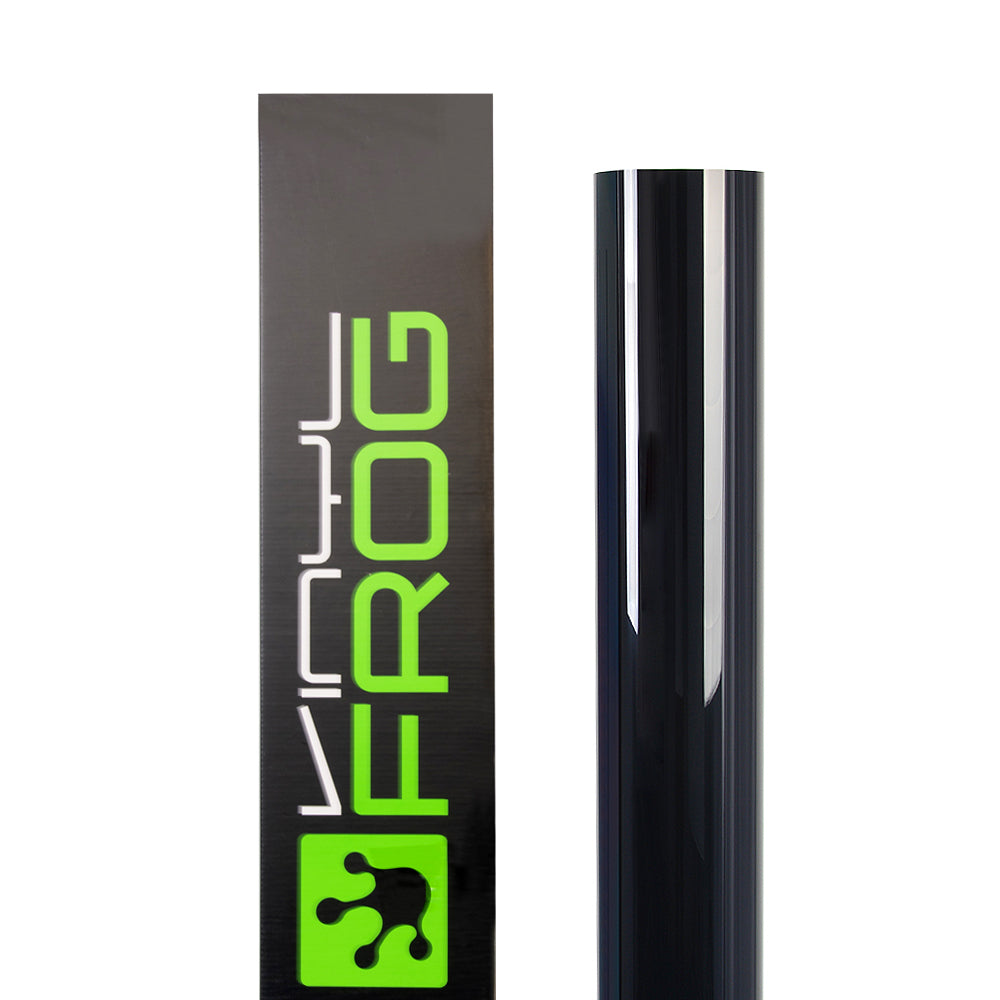 Matte Black Vinyl Wraps
Matte Black Vinyl Wrap is for those who want a sensual silhouette and a stealth look. It is not shiny at all; in fact, it absorbs light adding an aura of mystery and futuristic appeal to the vehicle. It is slightly less expensive than other categories of black wraps, say around $58 for 5ft x 3.28ft, due to its muted finish. It is not high maintenance as well.

Matte black wrap suits high-end cars that have a complex body shape since it makes the curves and contours prominent. Vinyl Frog does not only offer Matte Black Vinyl but also Matte Pearl Black and Matte Black Olive Vinyl which are simply different versions portraying the same elegance and charm.
The vinyl will give your vehicle a high-end classy look. Being super matte it has that extra muted effect that heightens the elegance. With good conformability and durability, the stretchable material wraps around edges and recessed areas easily.
Matte Black Olive Vinyl Wrap
The stunning vinyl wrap has a unique black olive shade. This retro-like color is strong and rich with a smooth toned down finish. It adds oomph to your vehicle making it a class apart.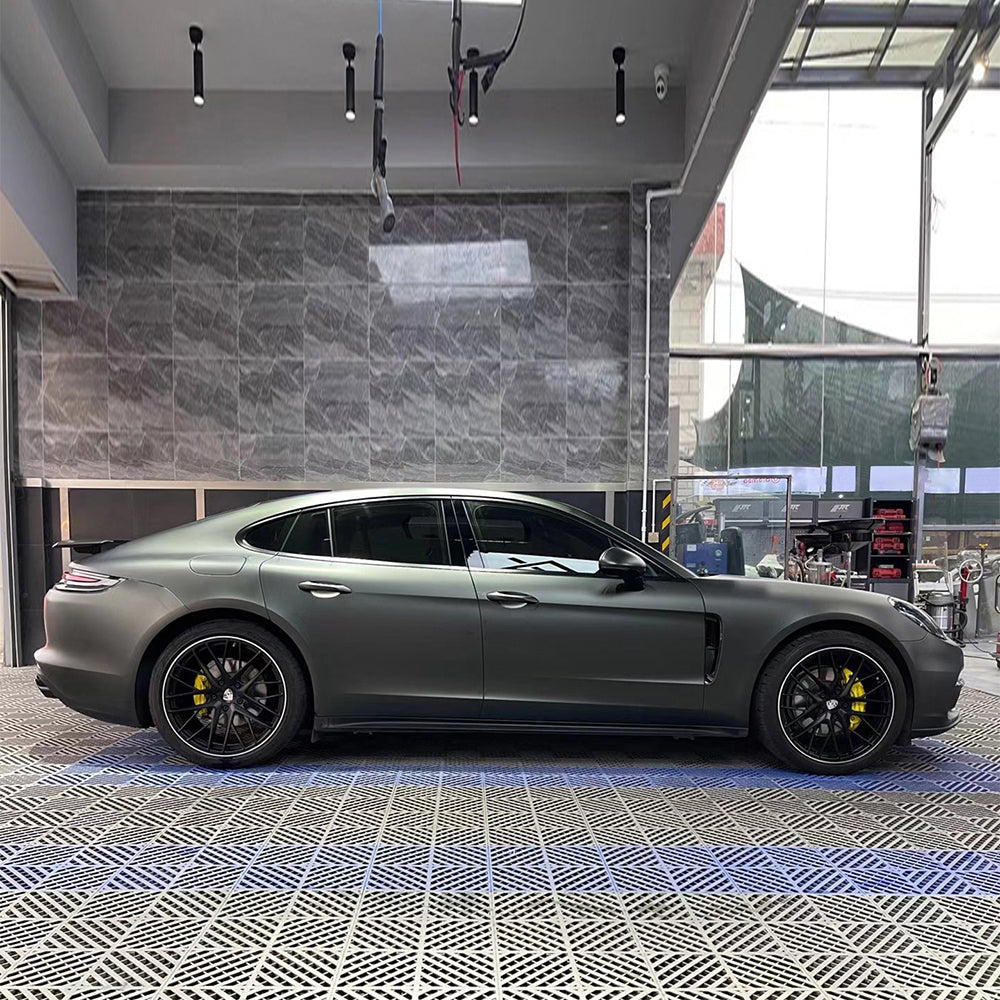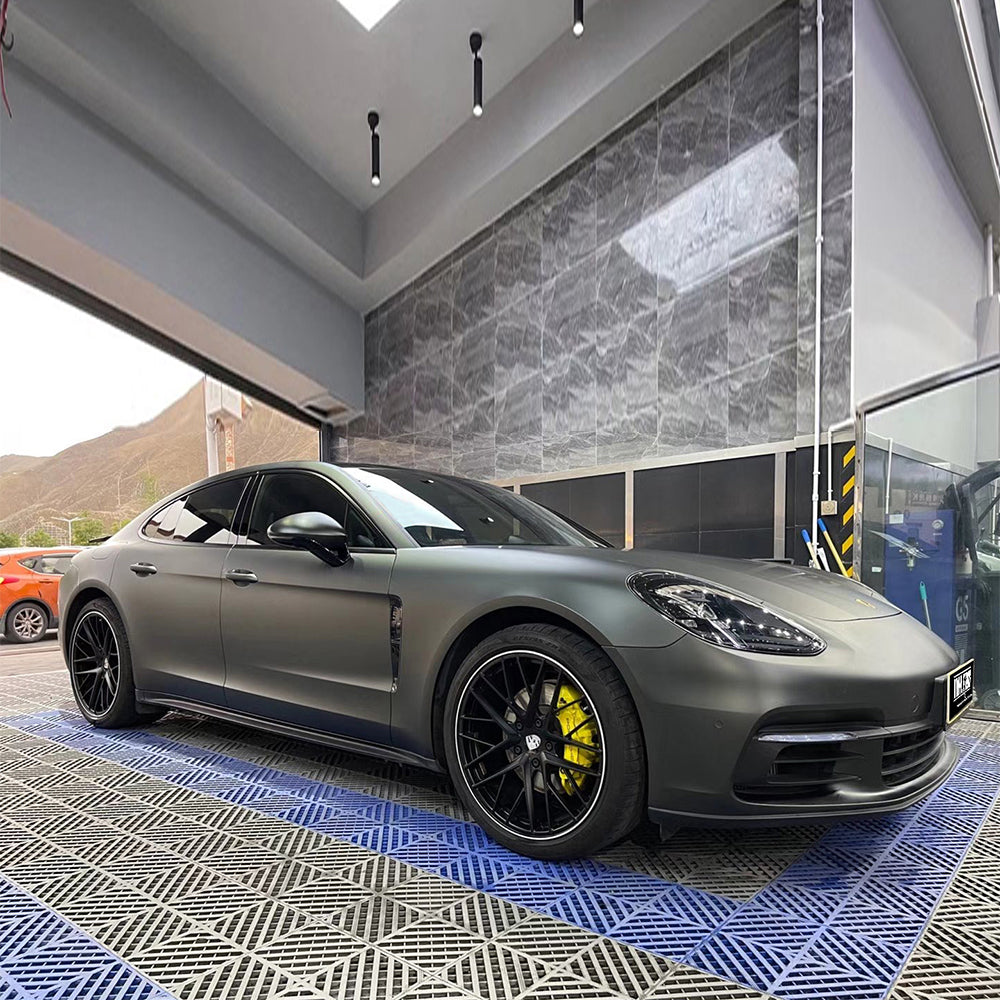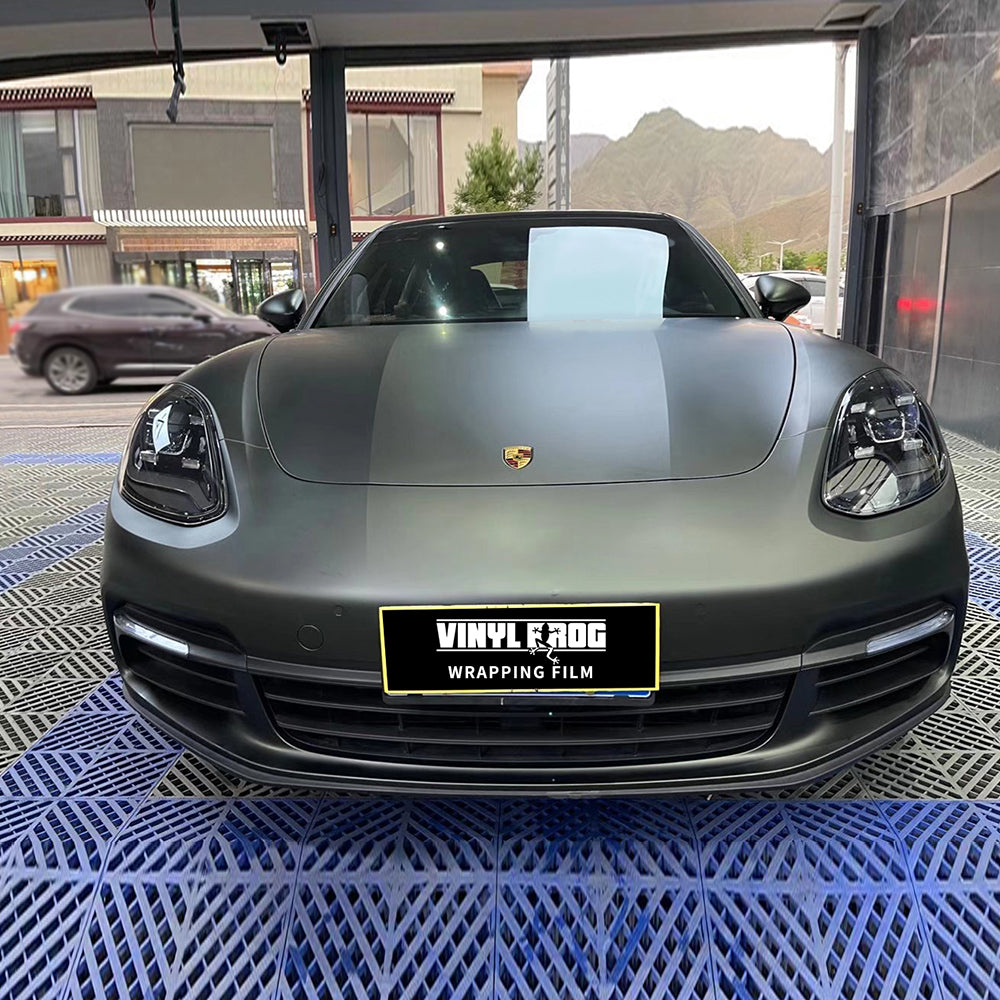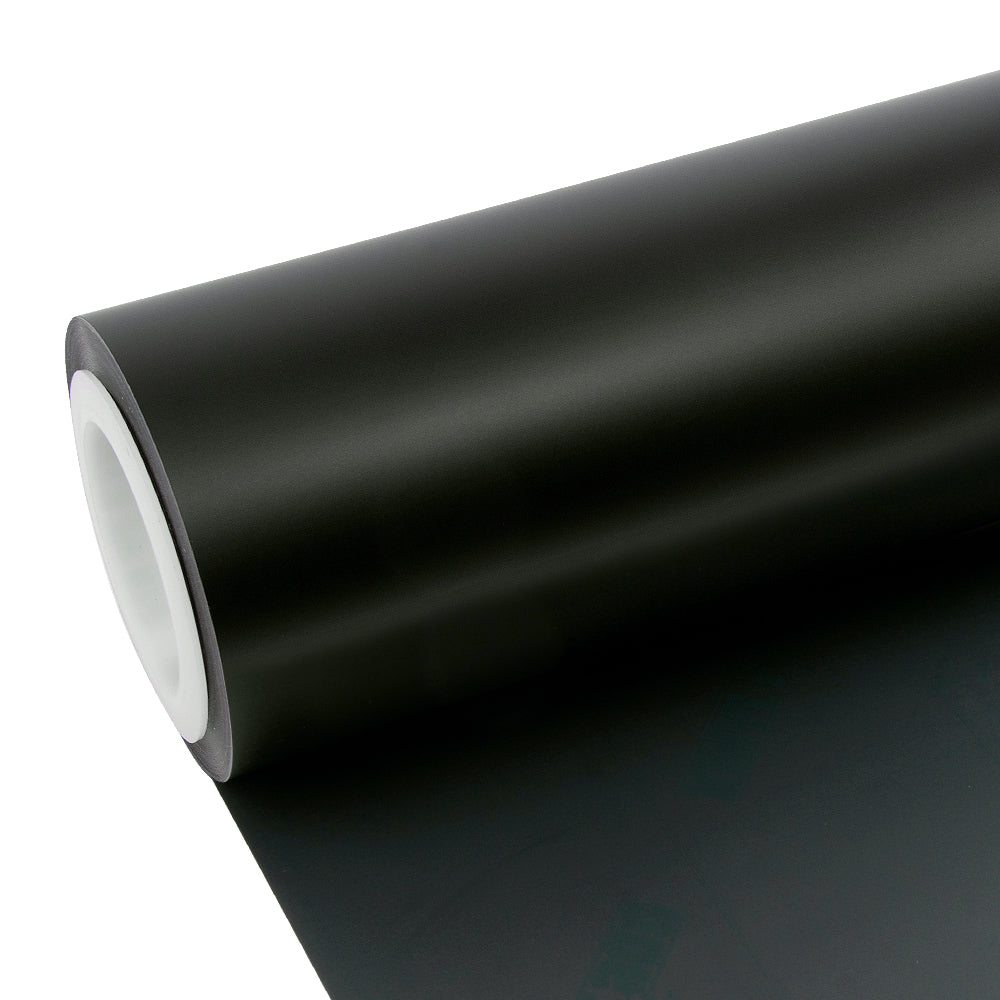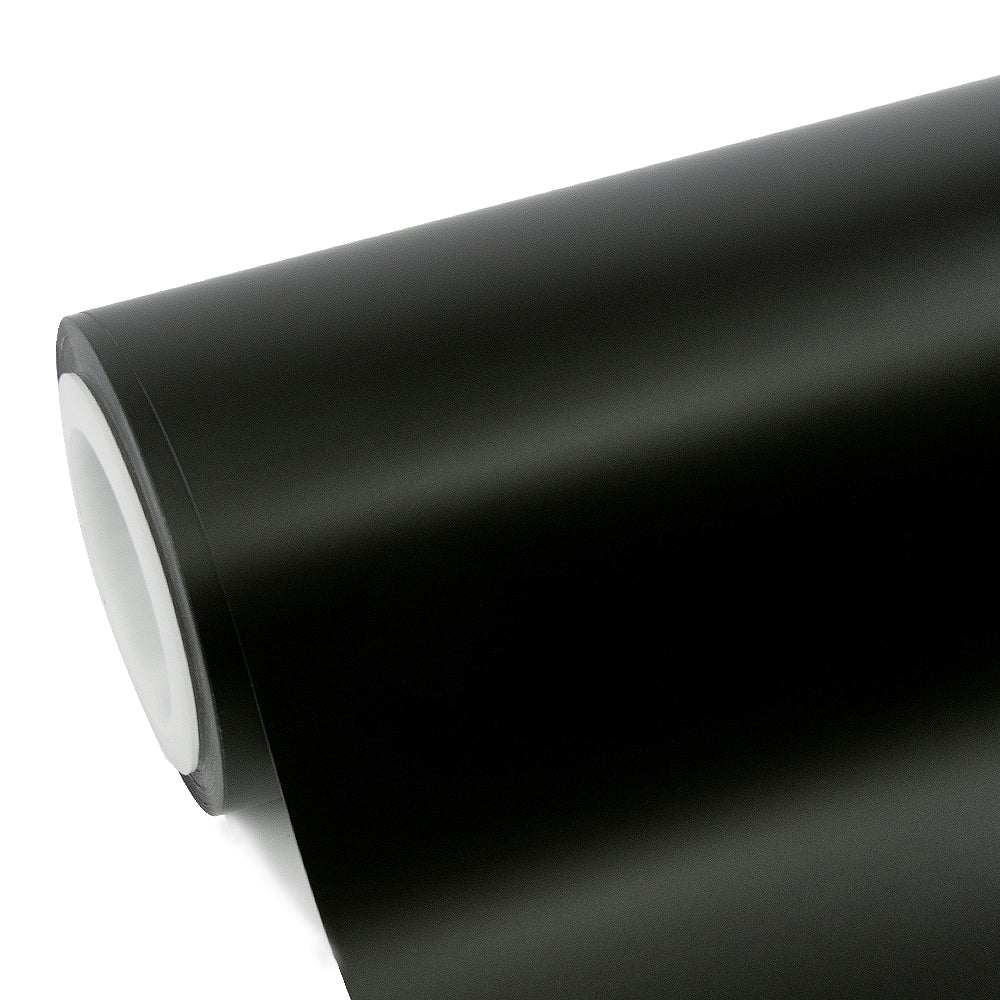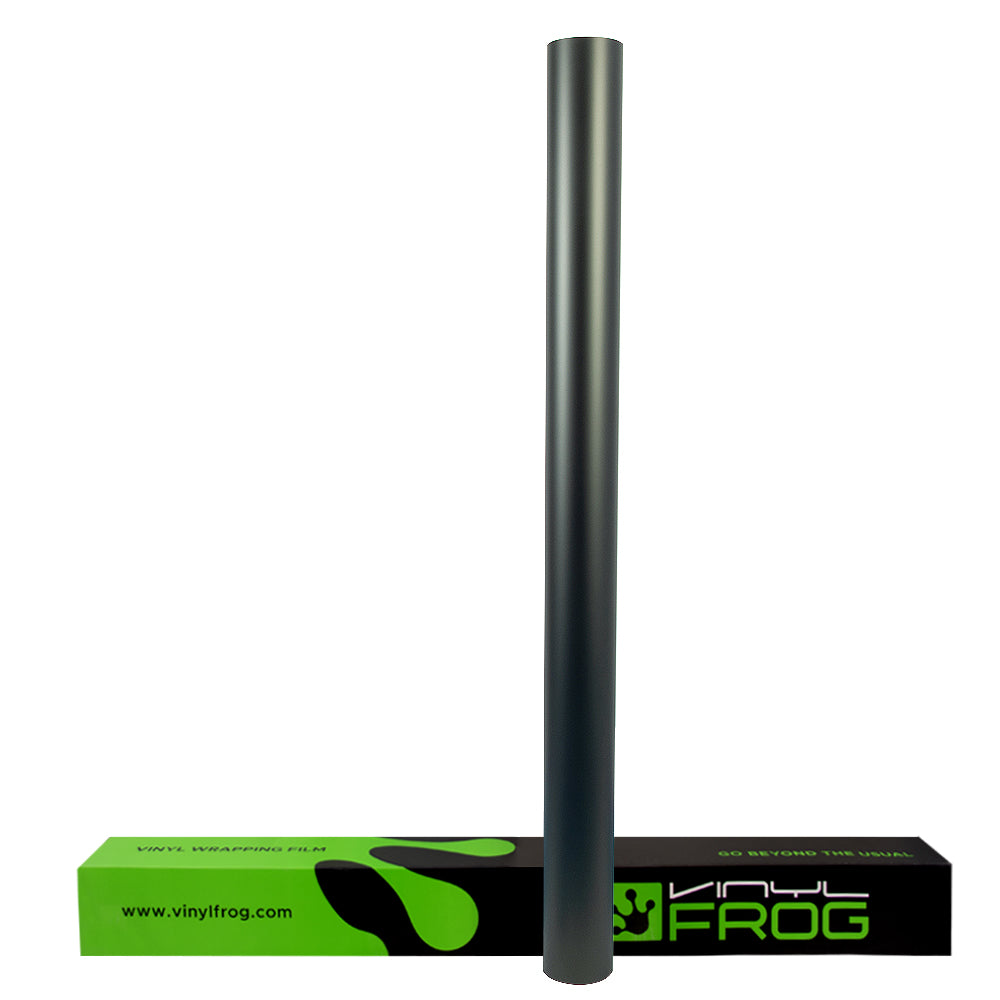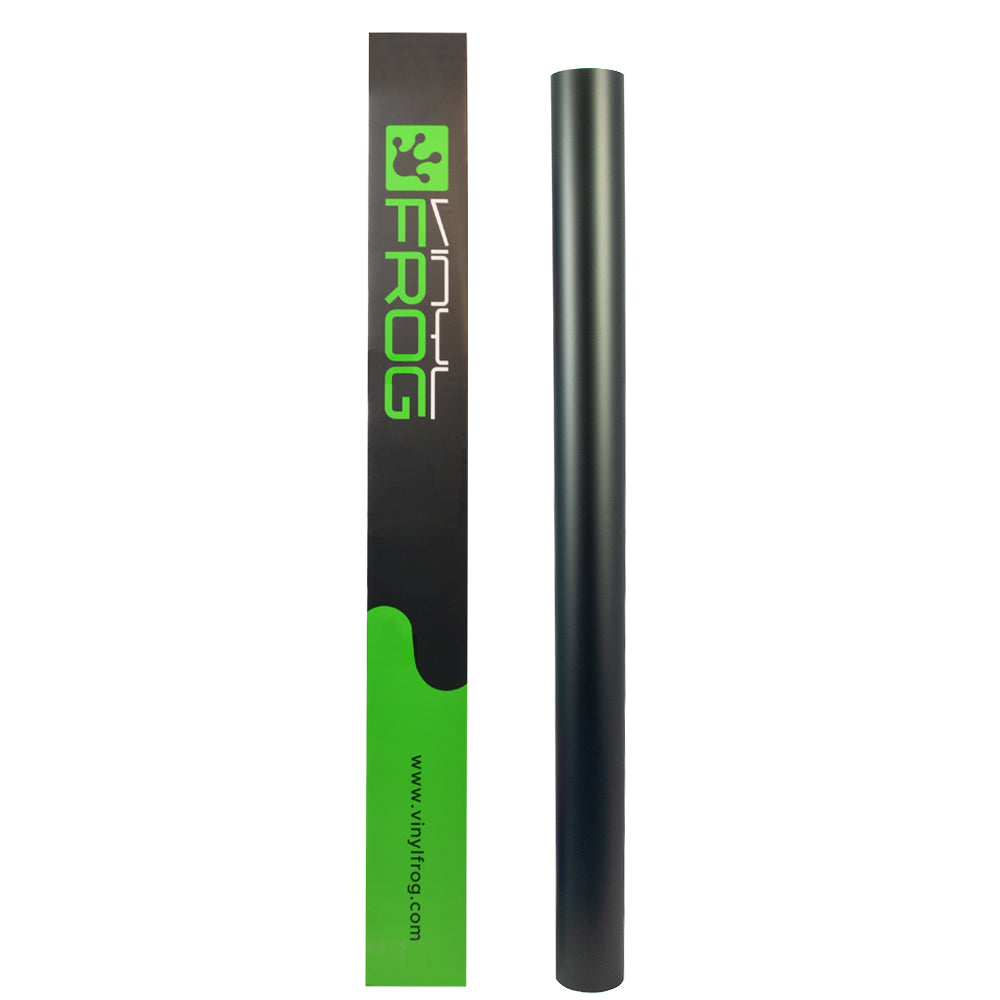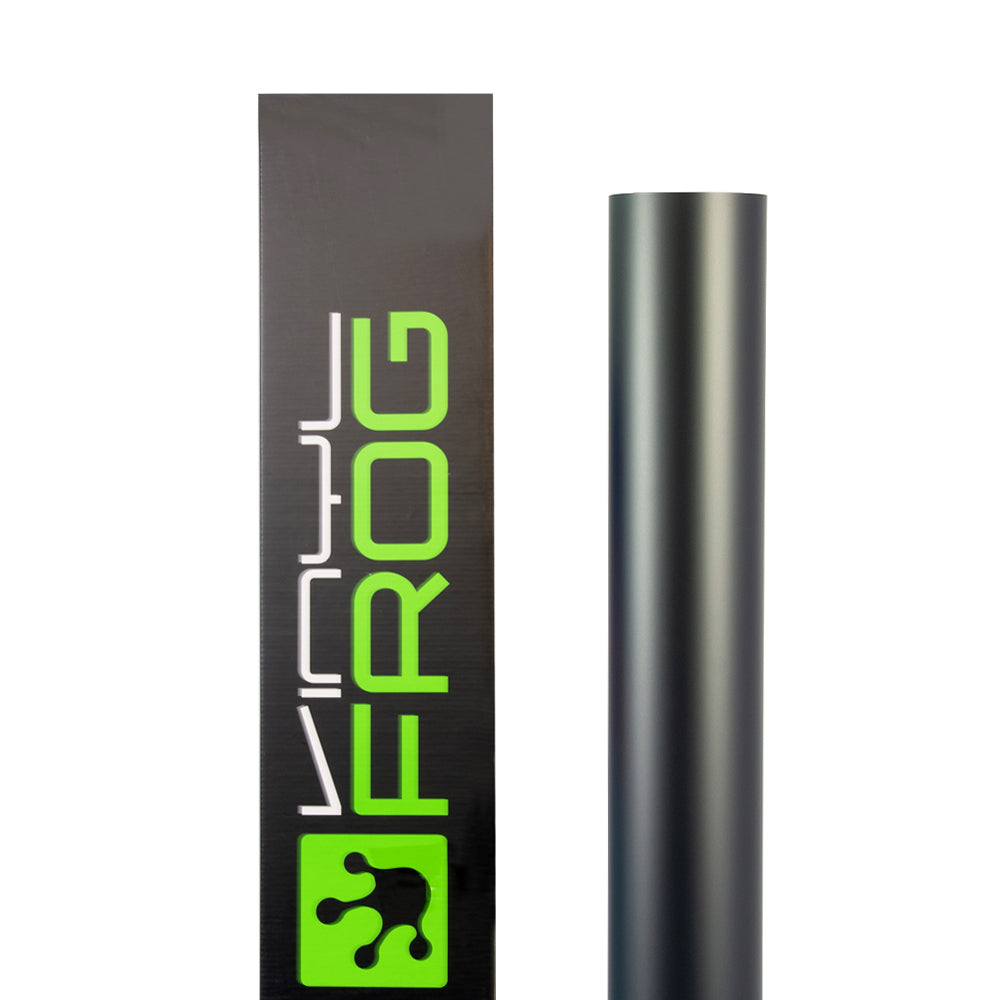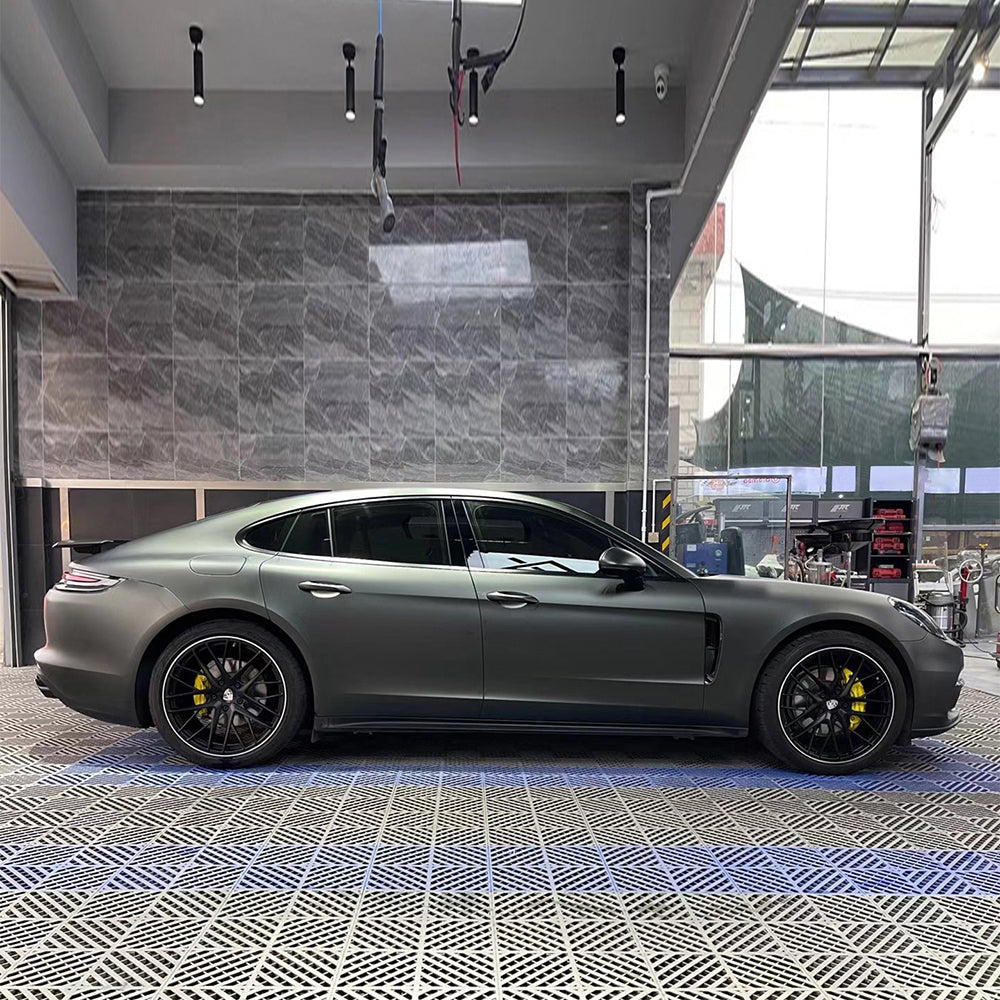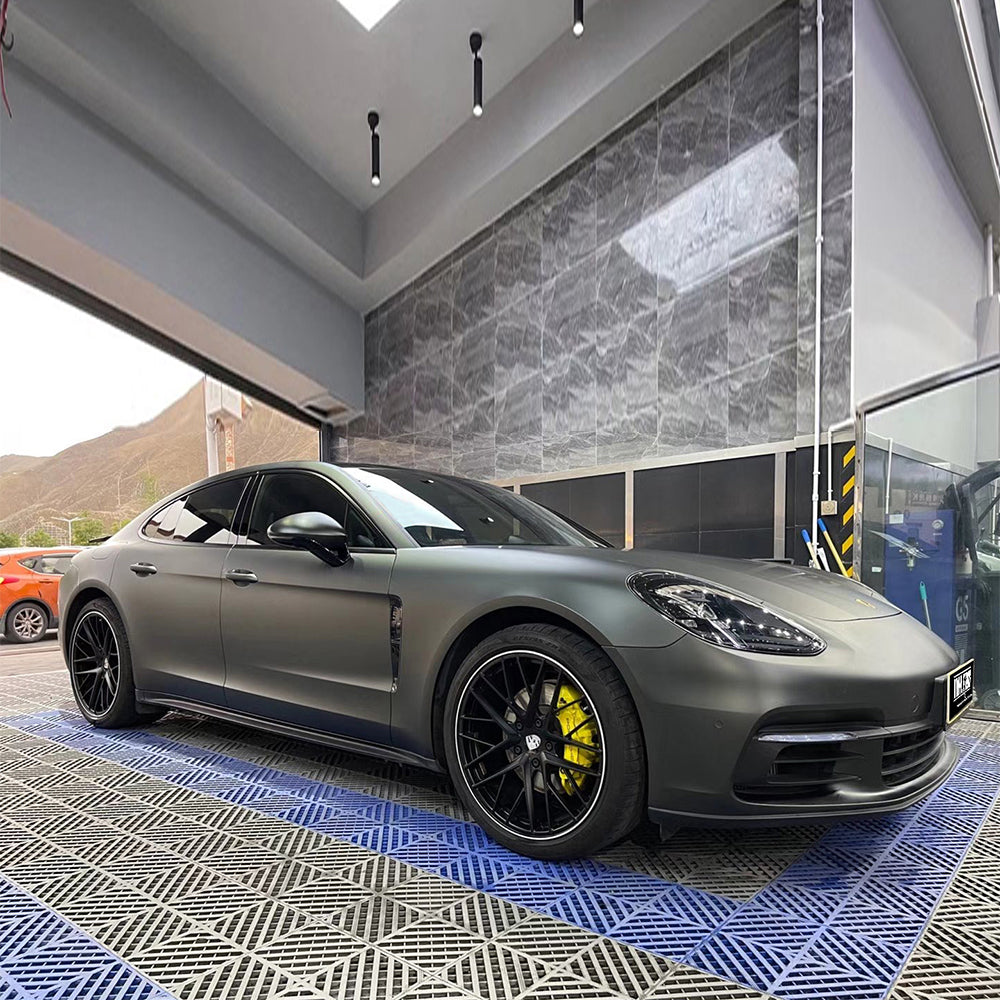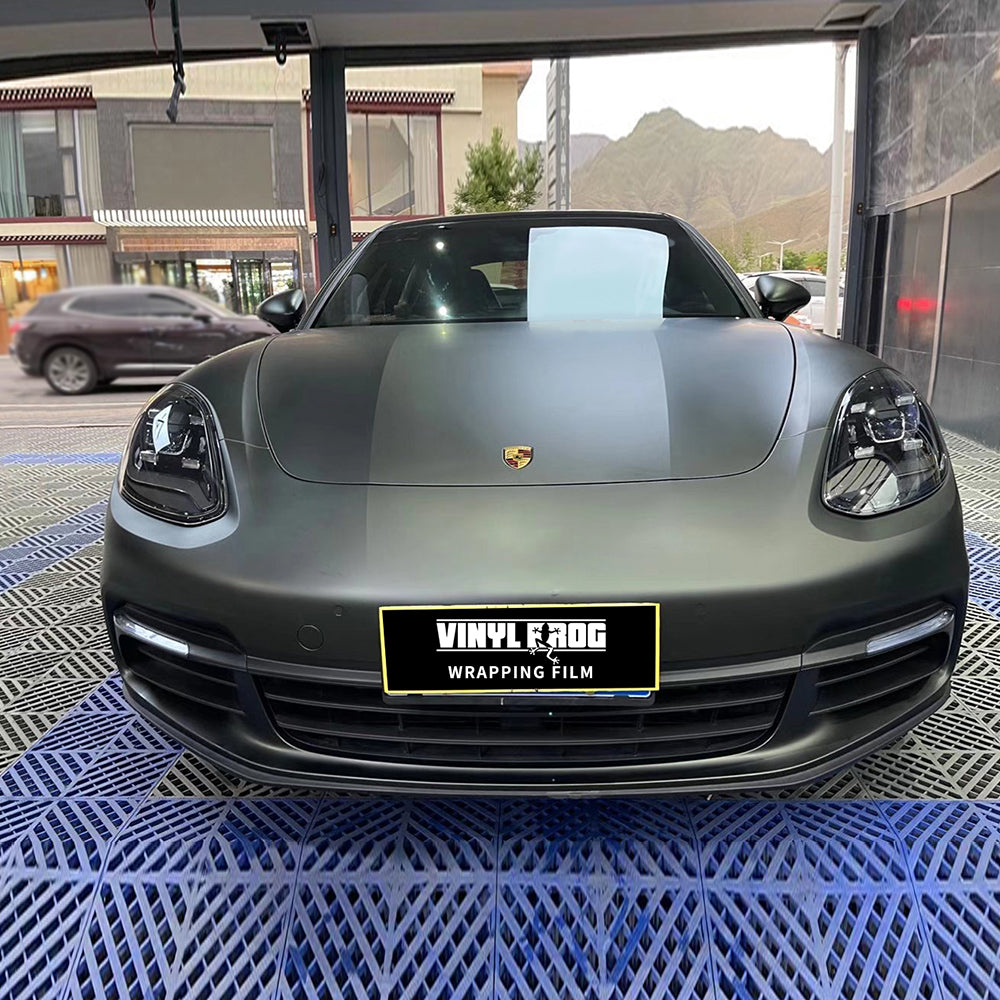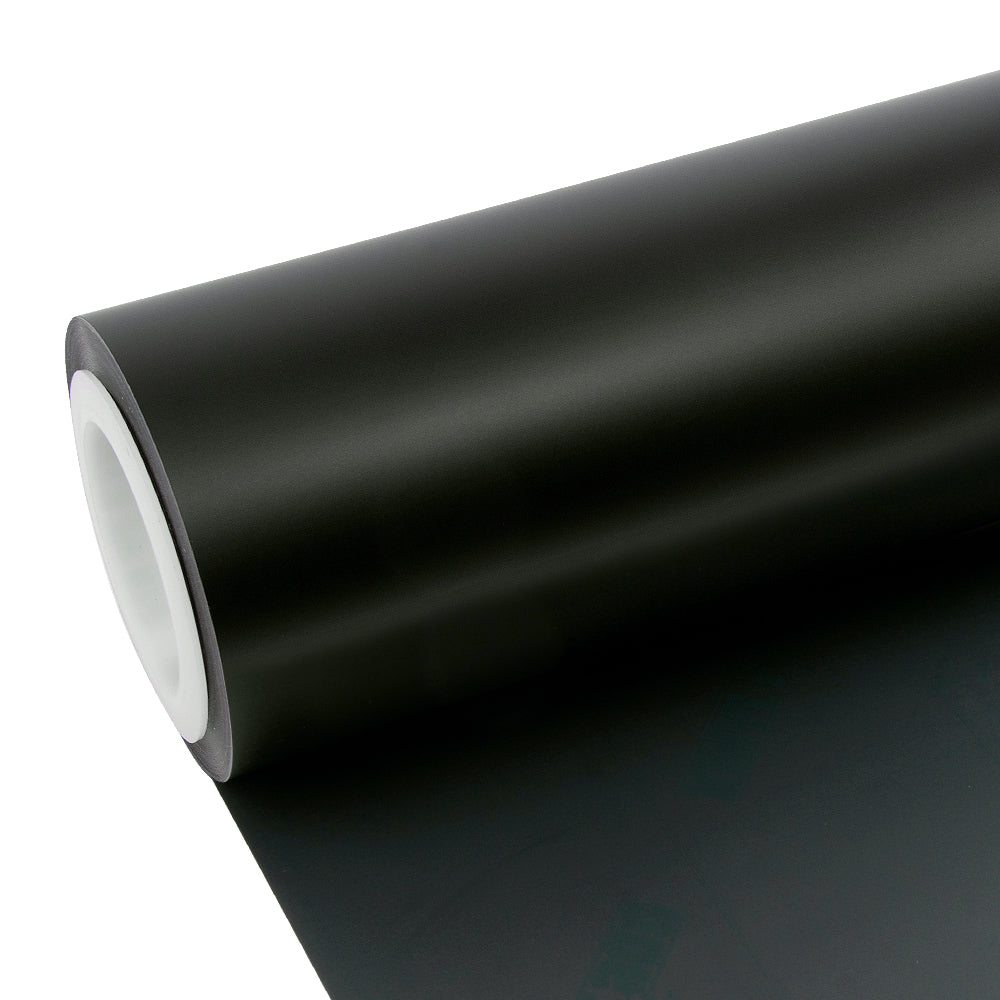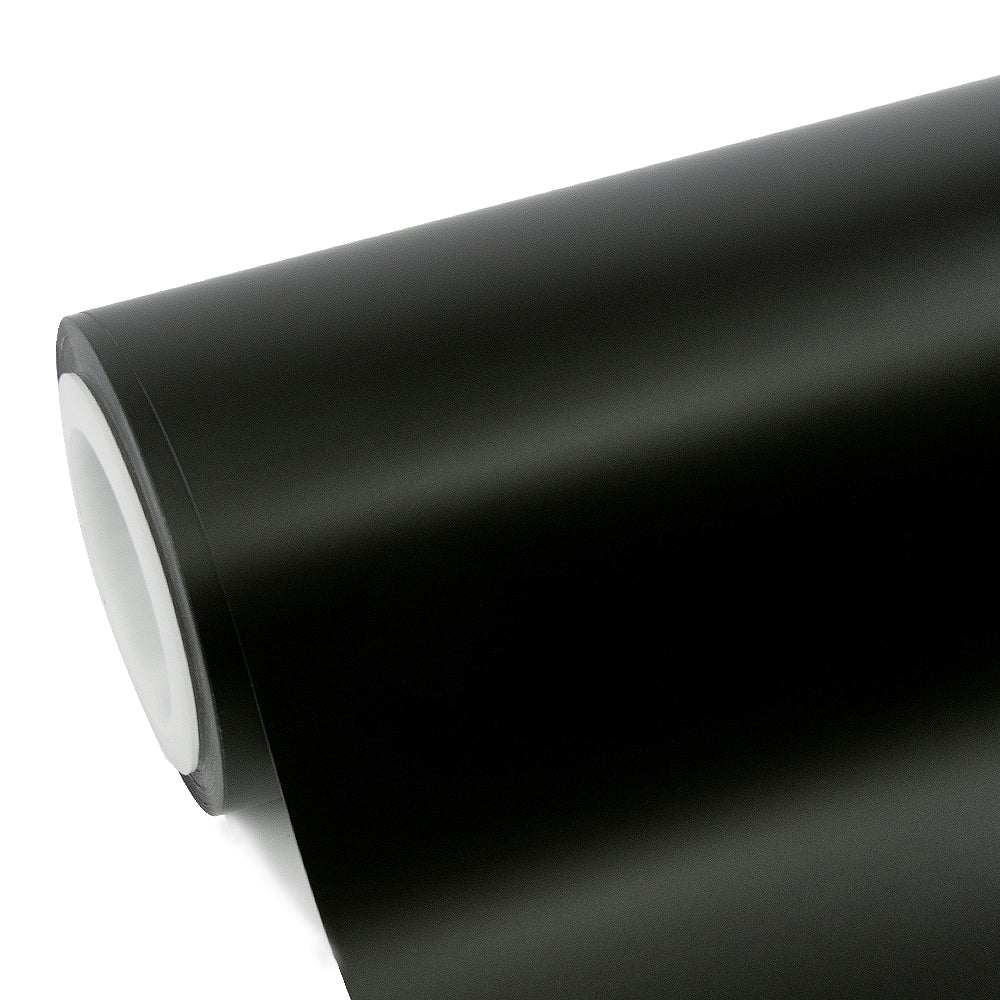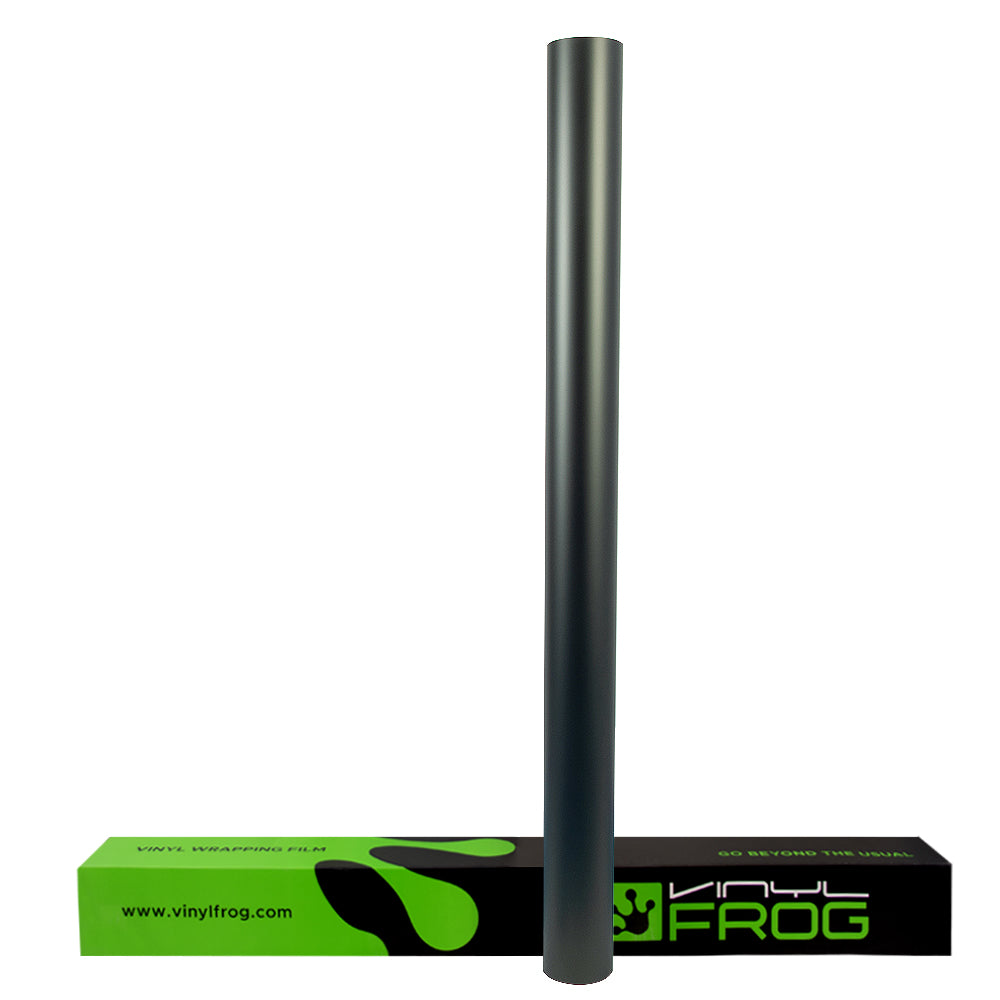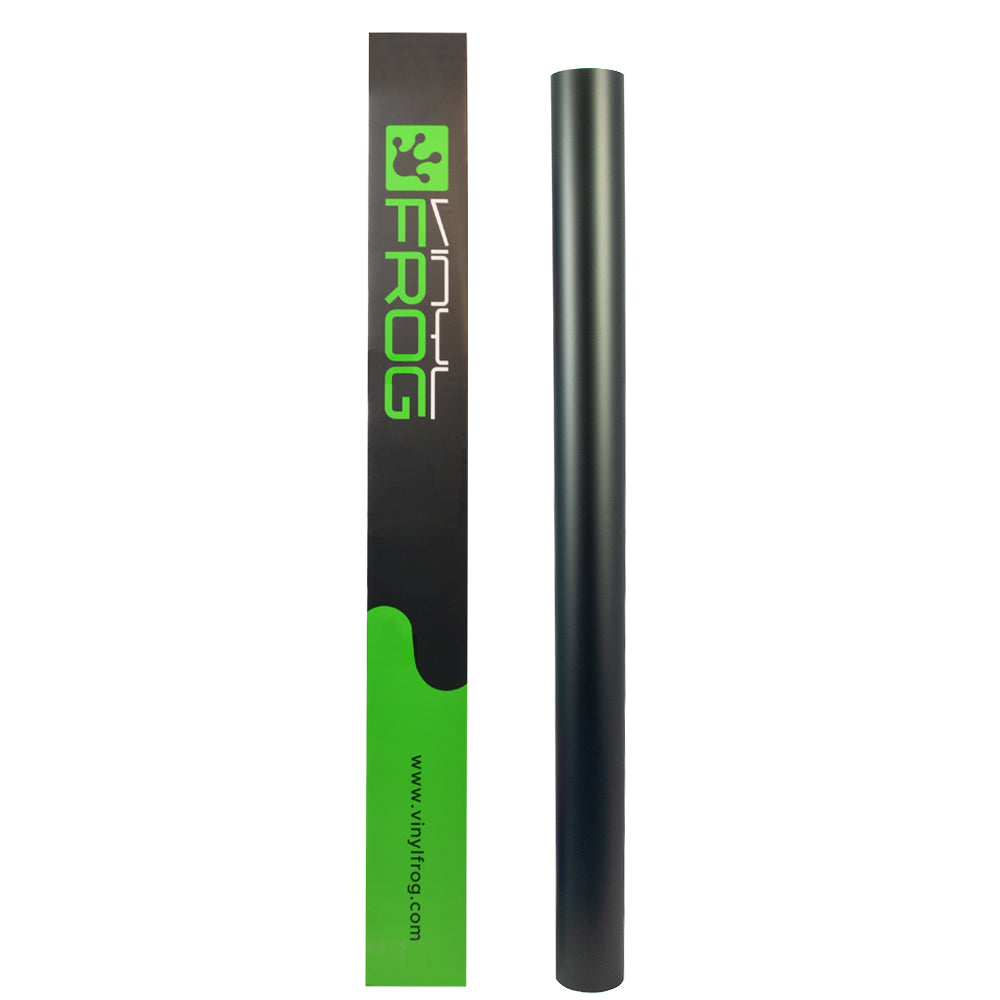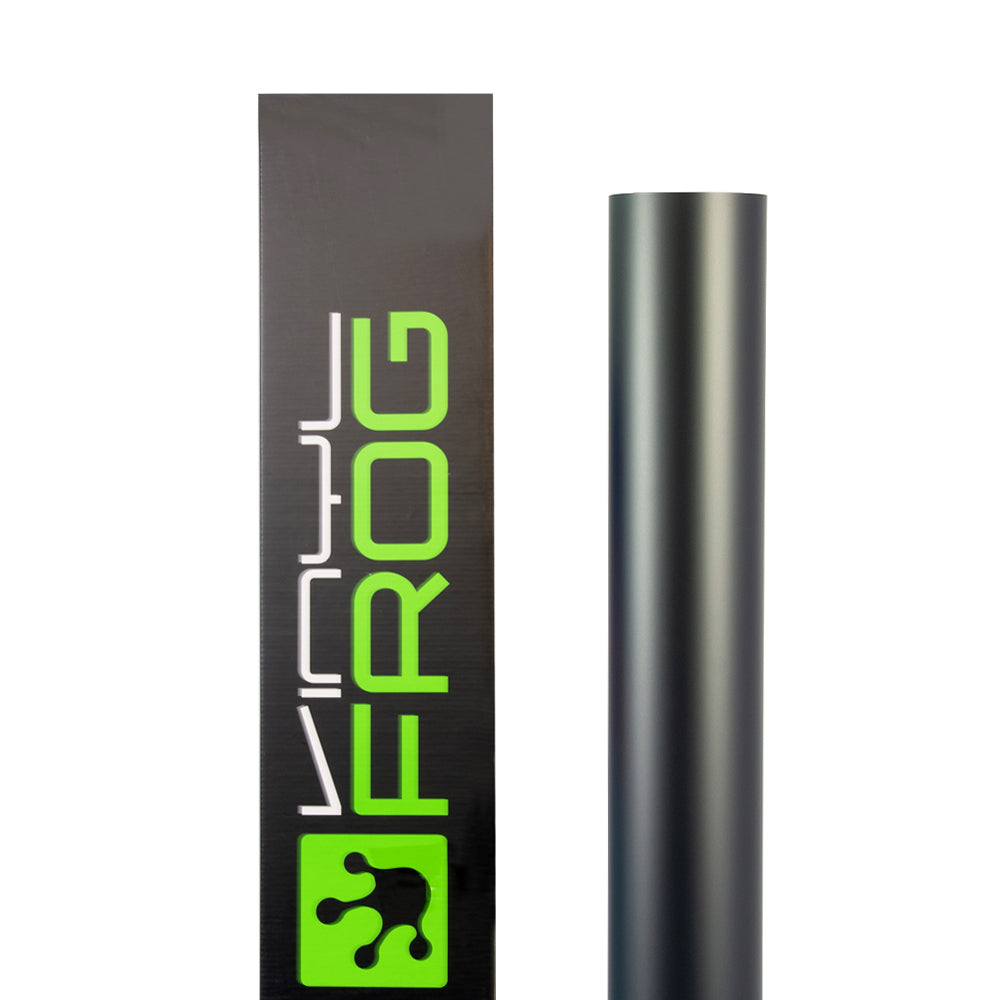 Matte Black Vinyl Wrap
Matte black vinyl adds a significant wow factor to your vehicle. It is elegant, sophisticated and gives your vehicle an expensive look. It is gaining a lot of popularity and is a highly attractive option.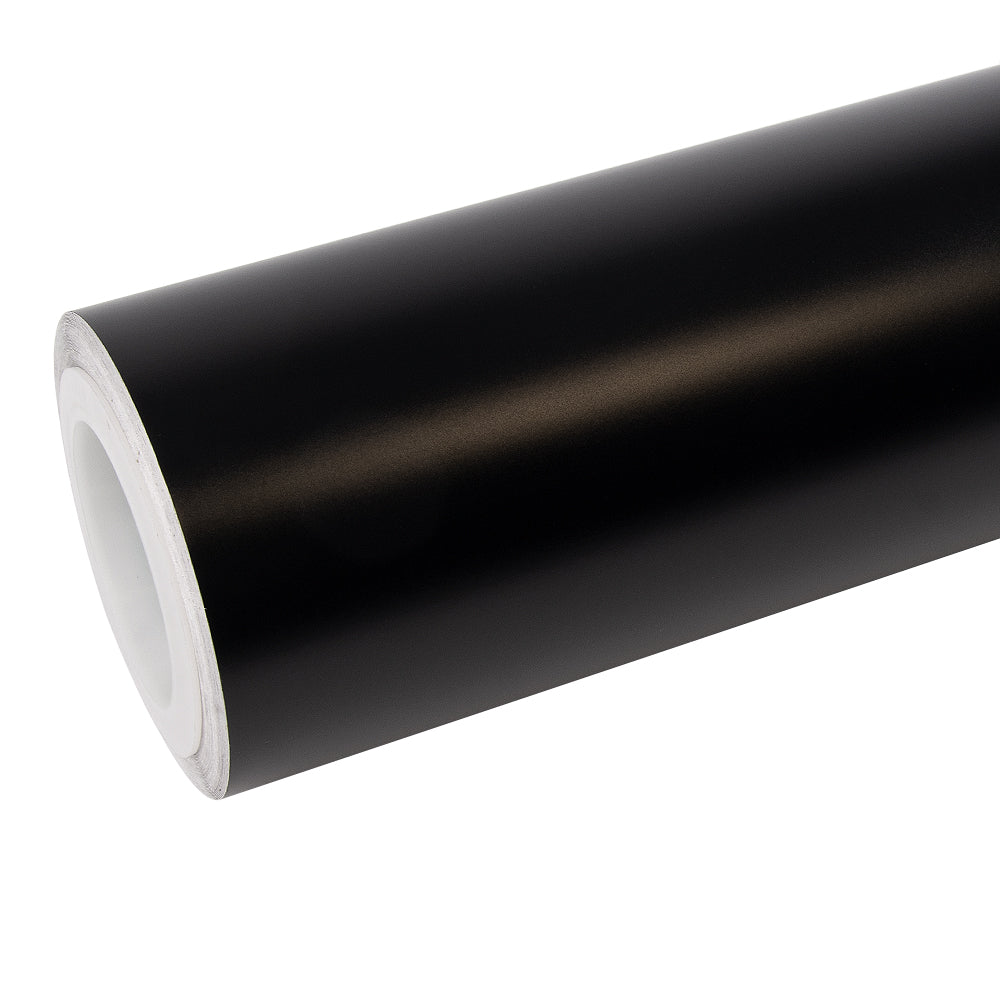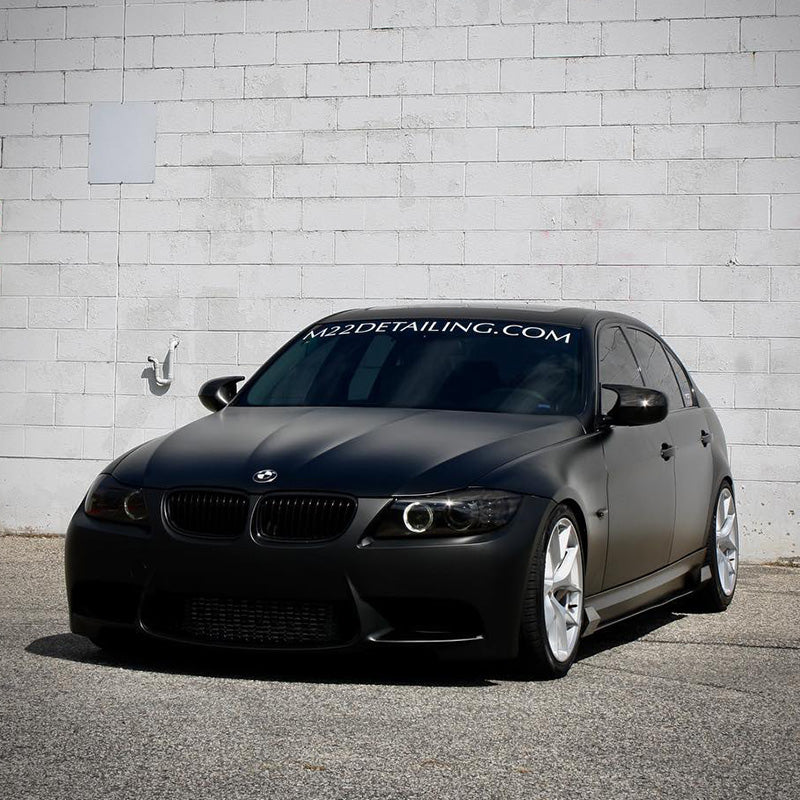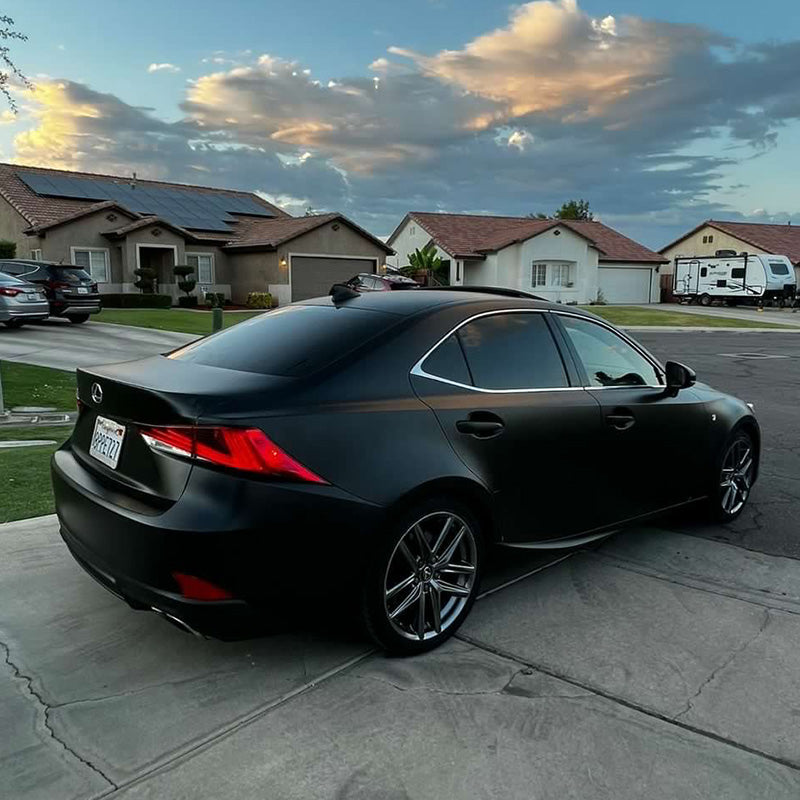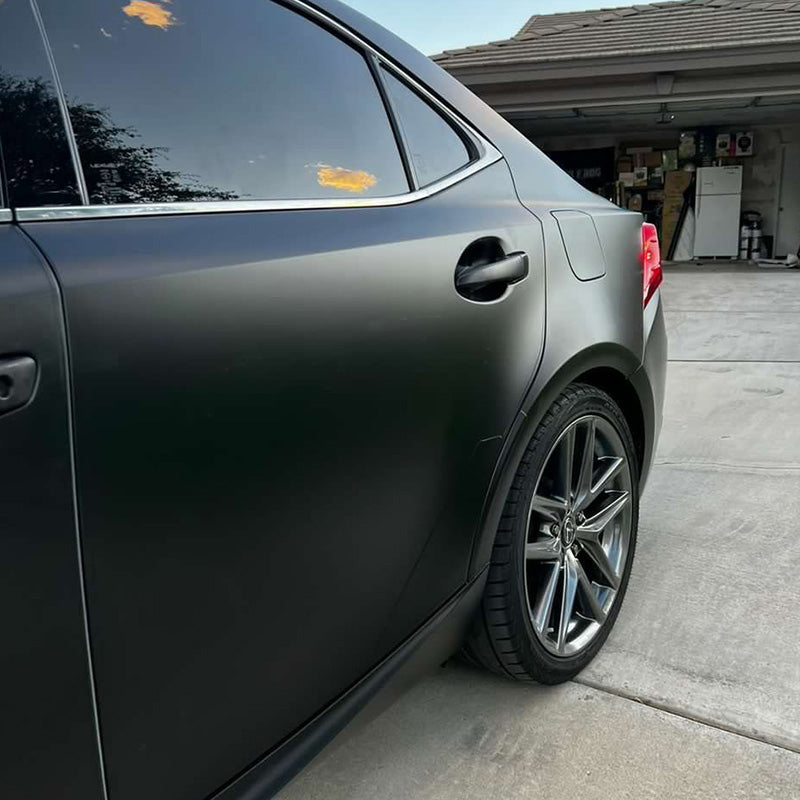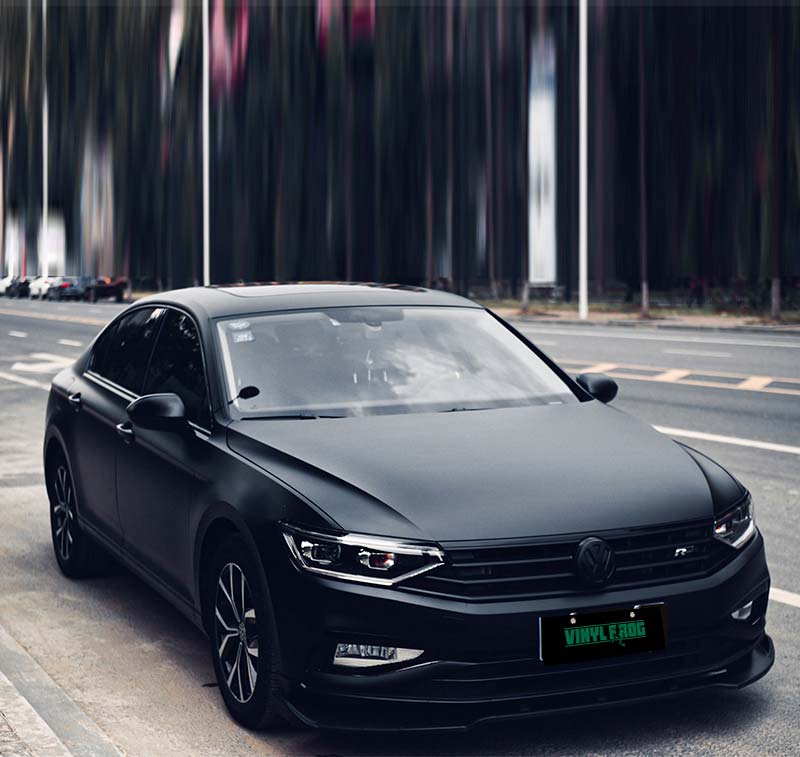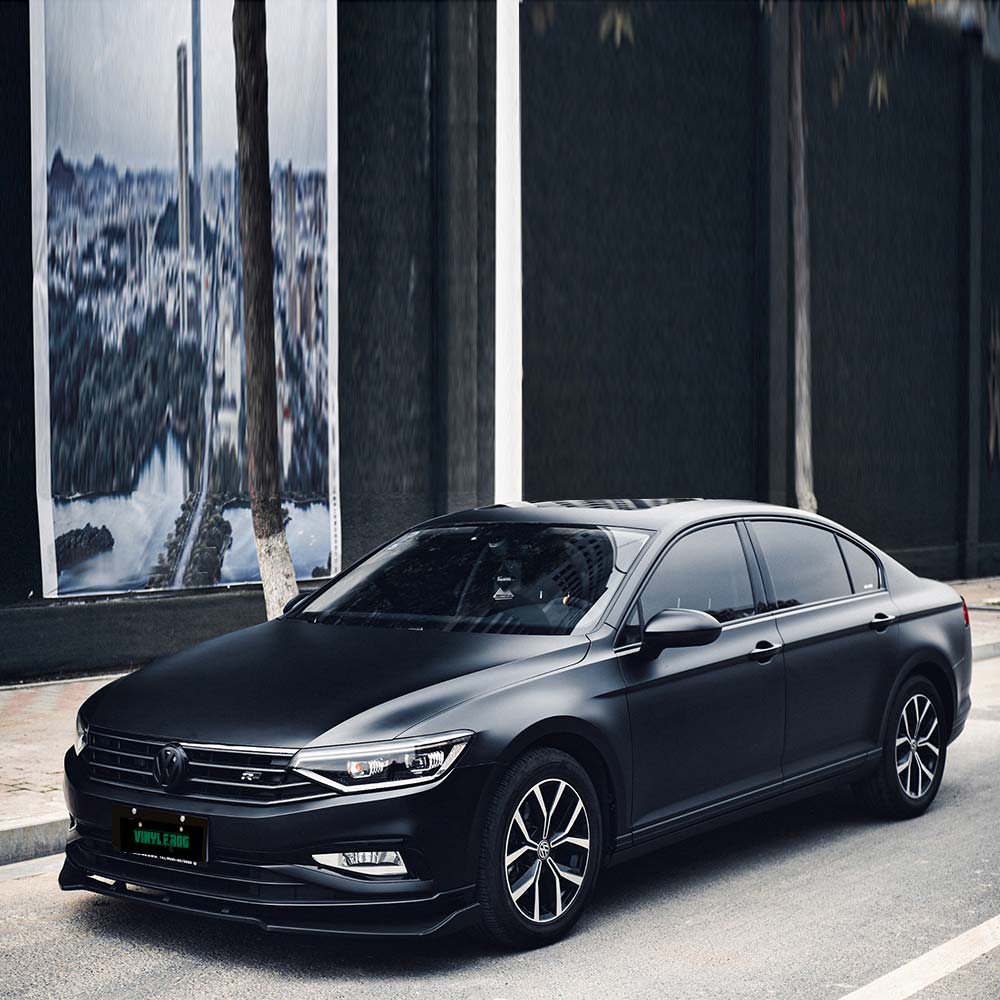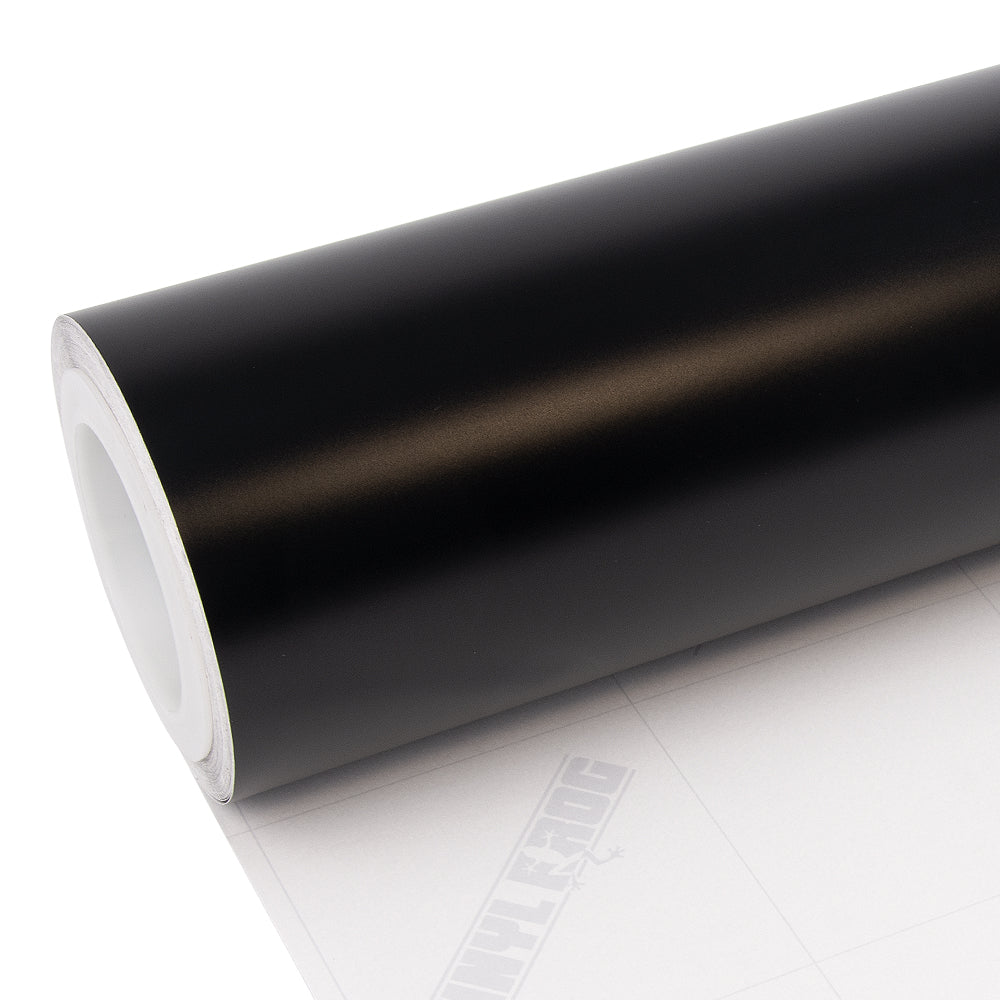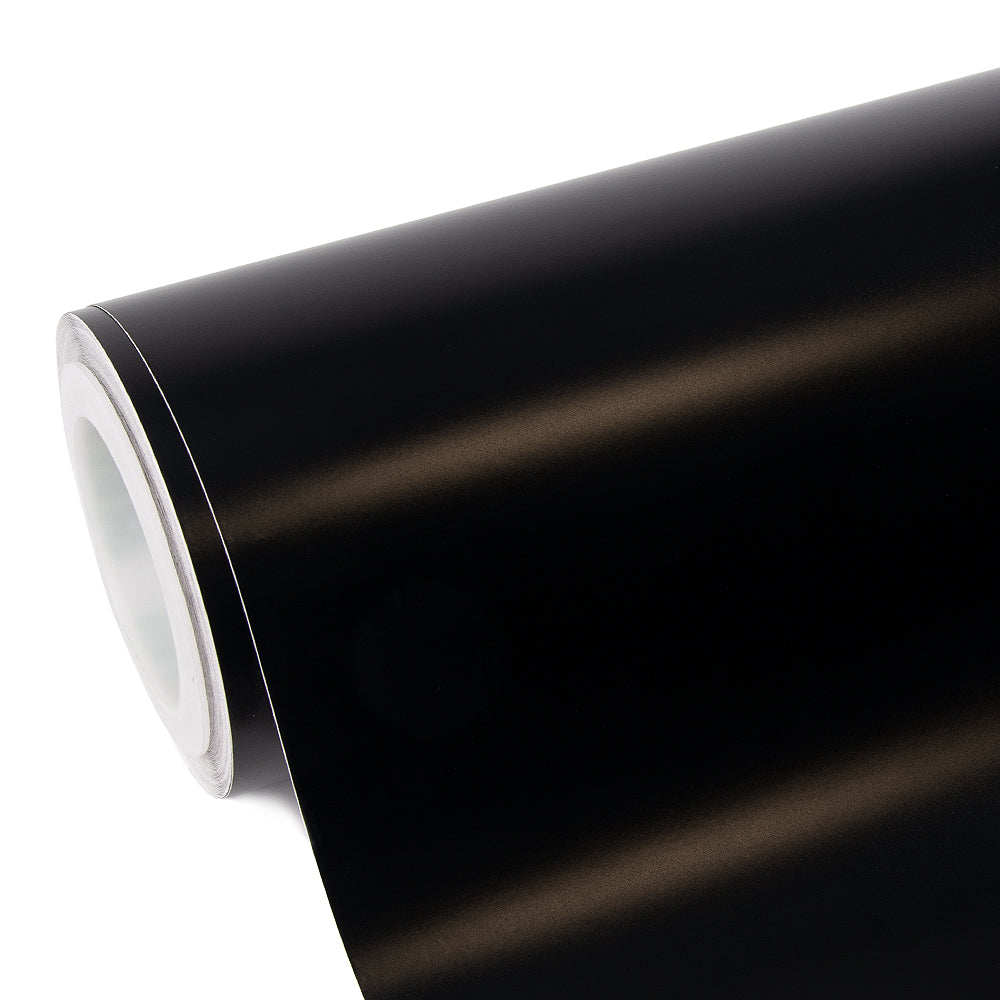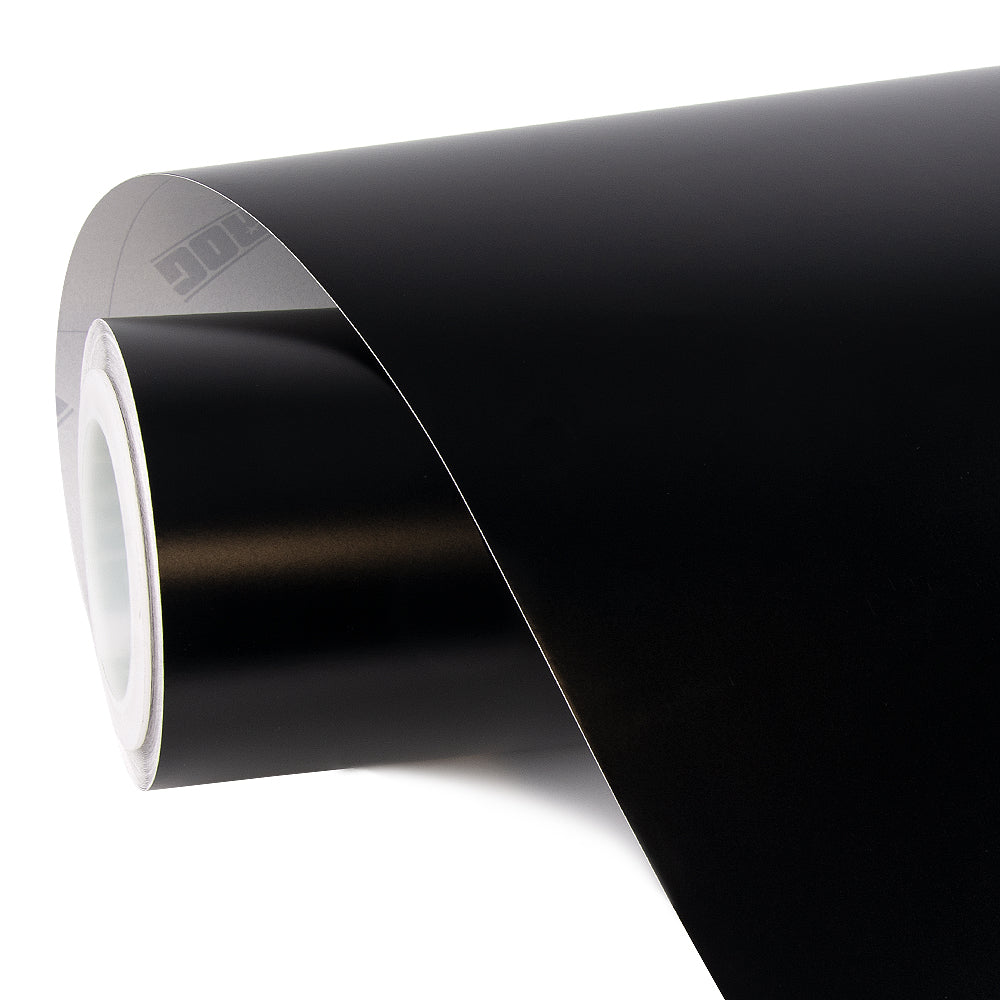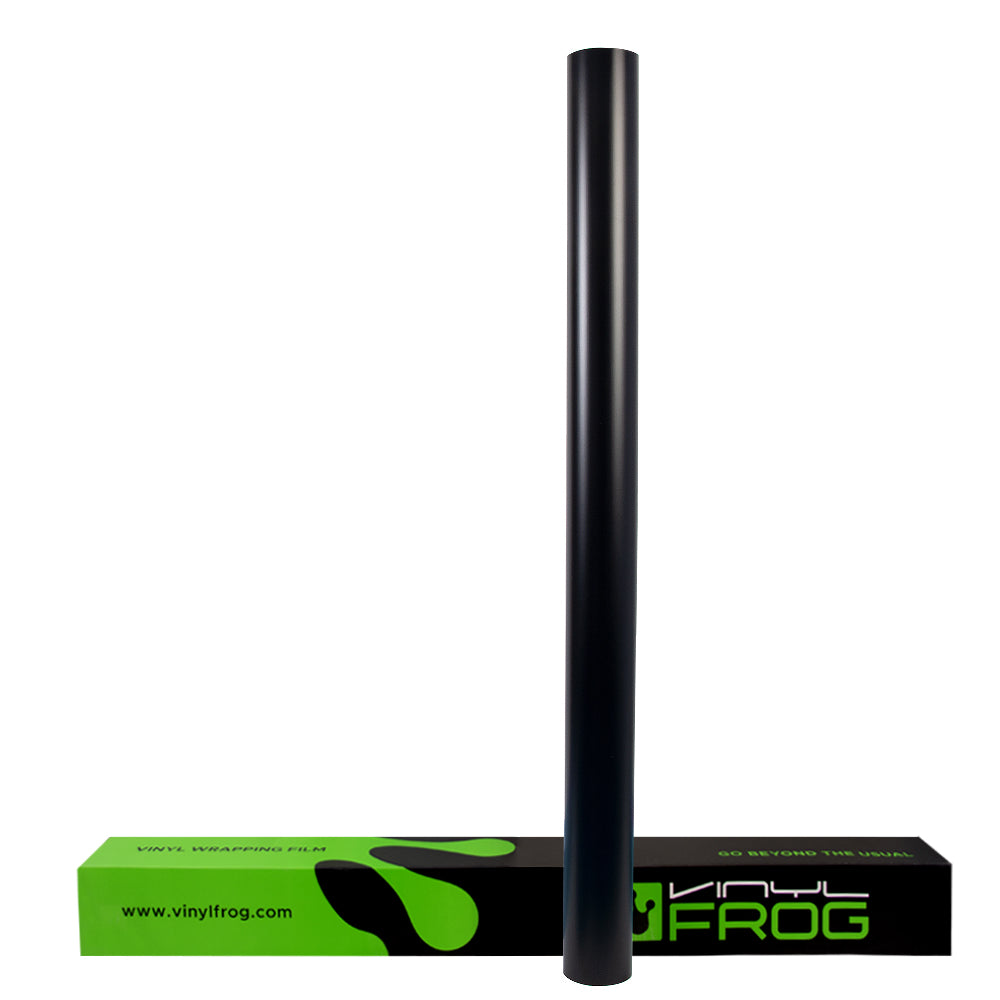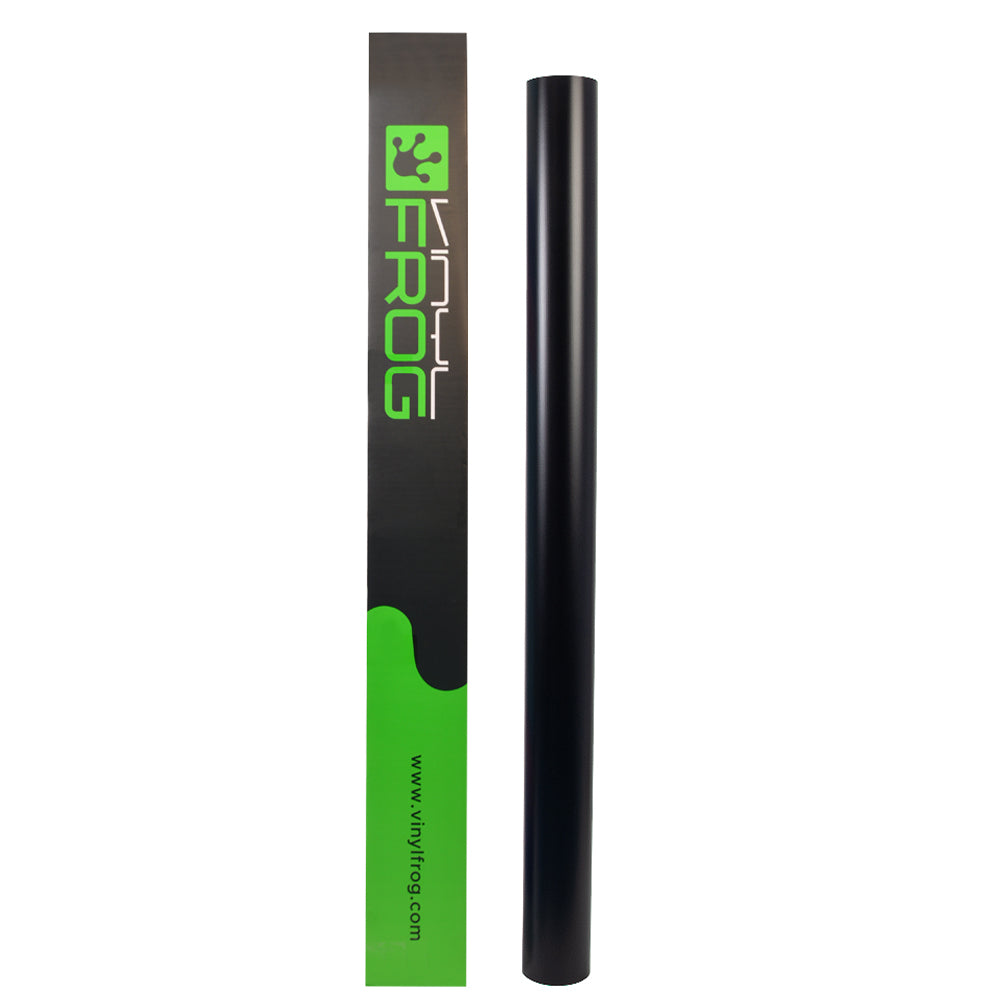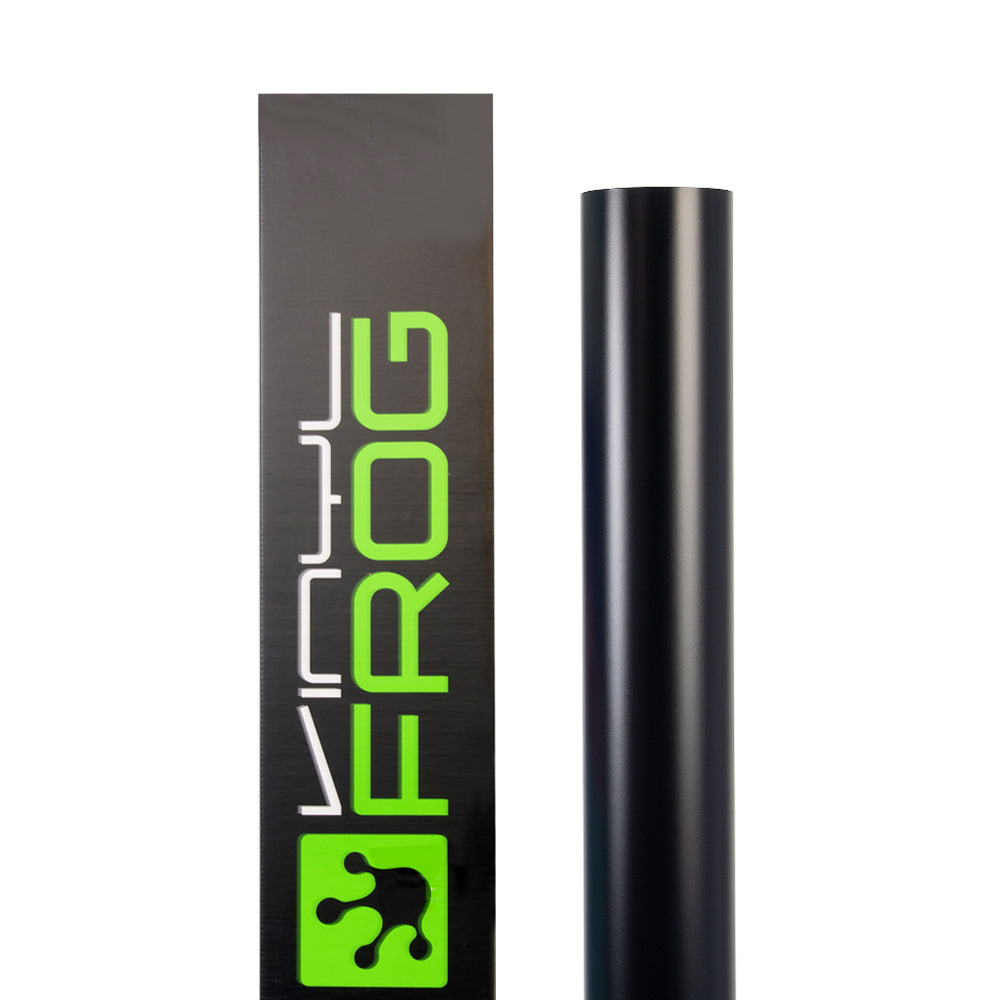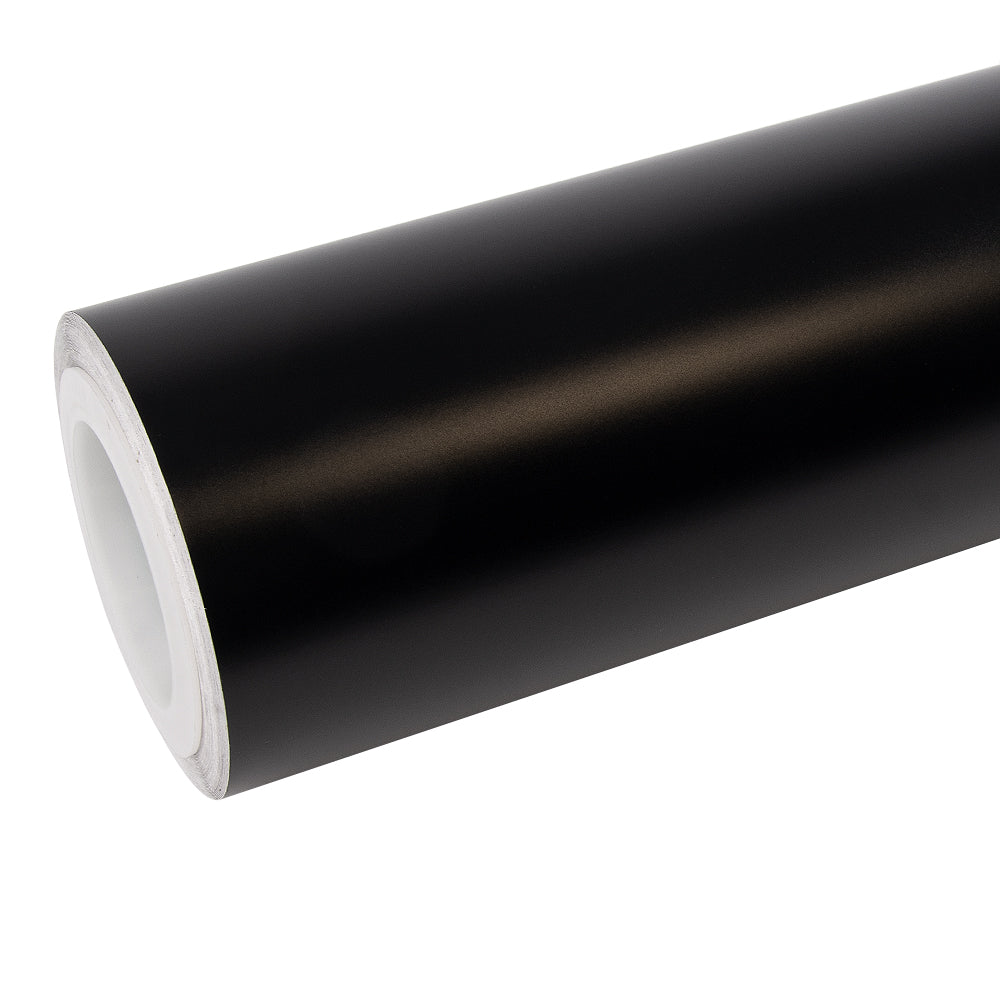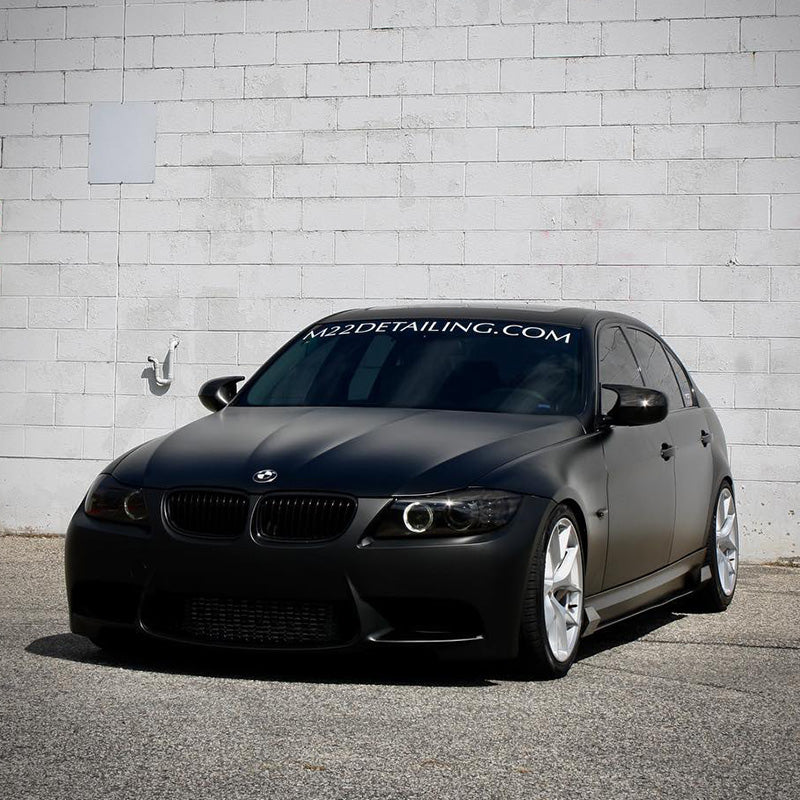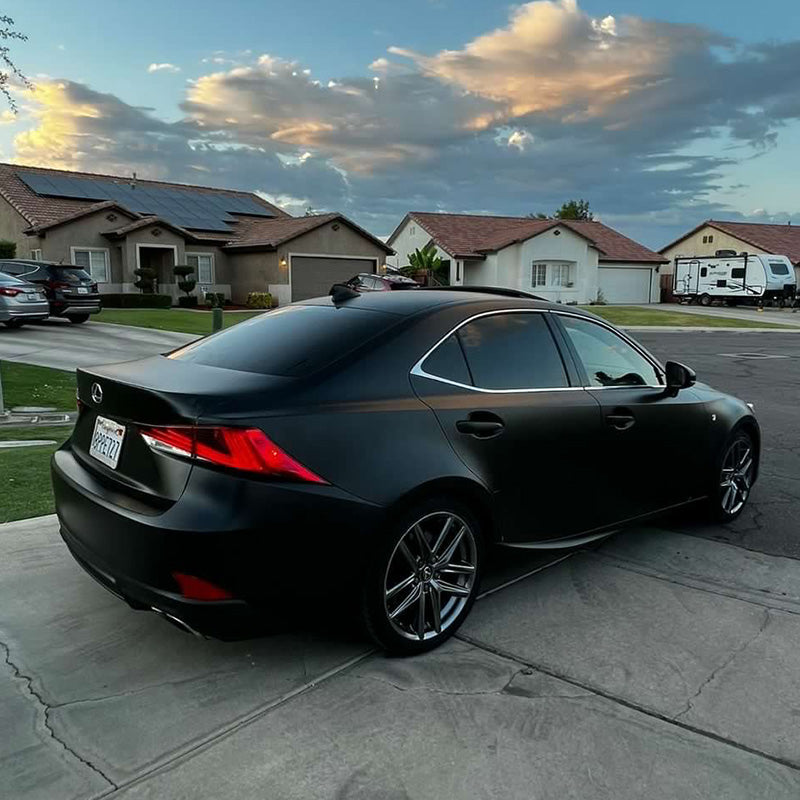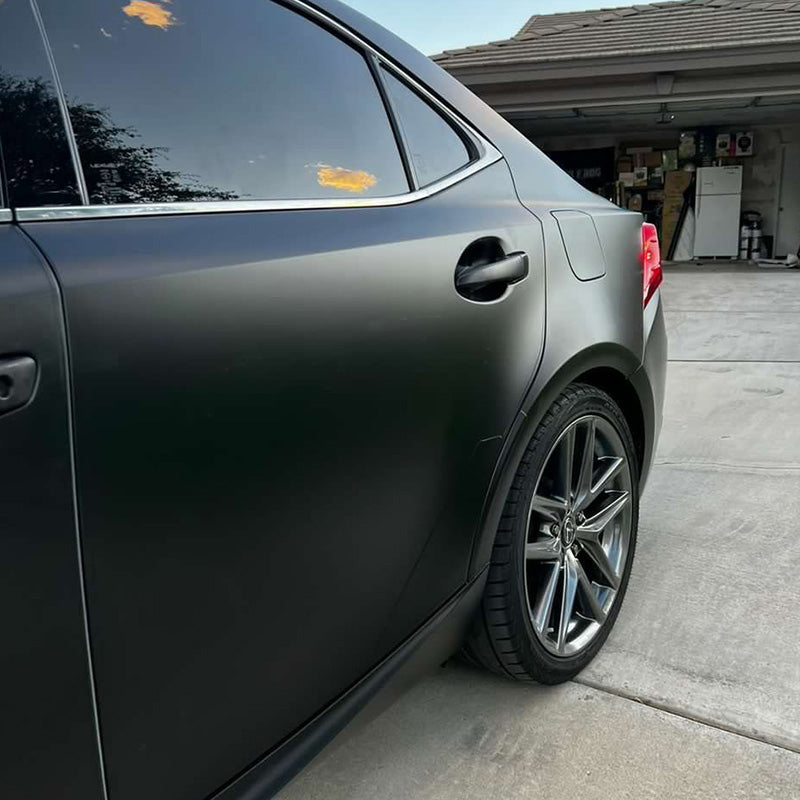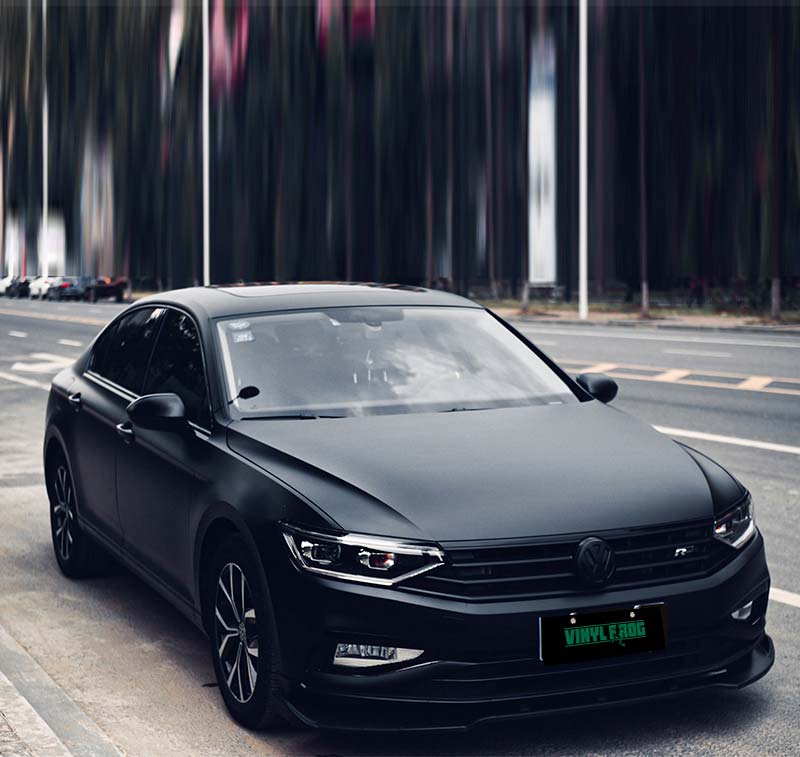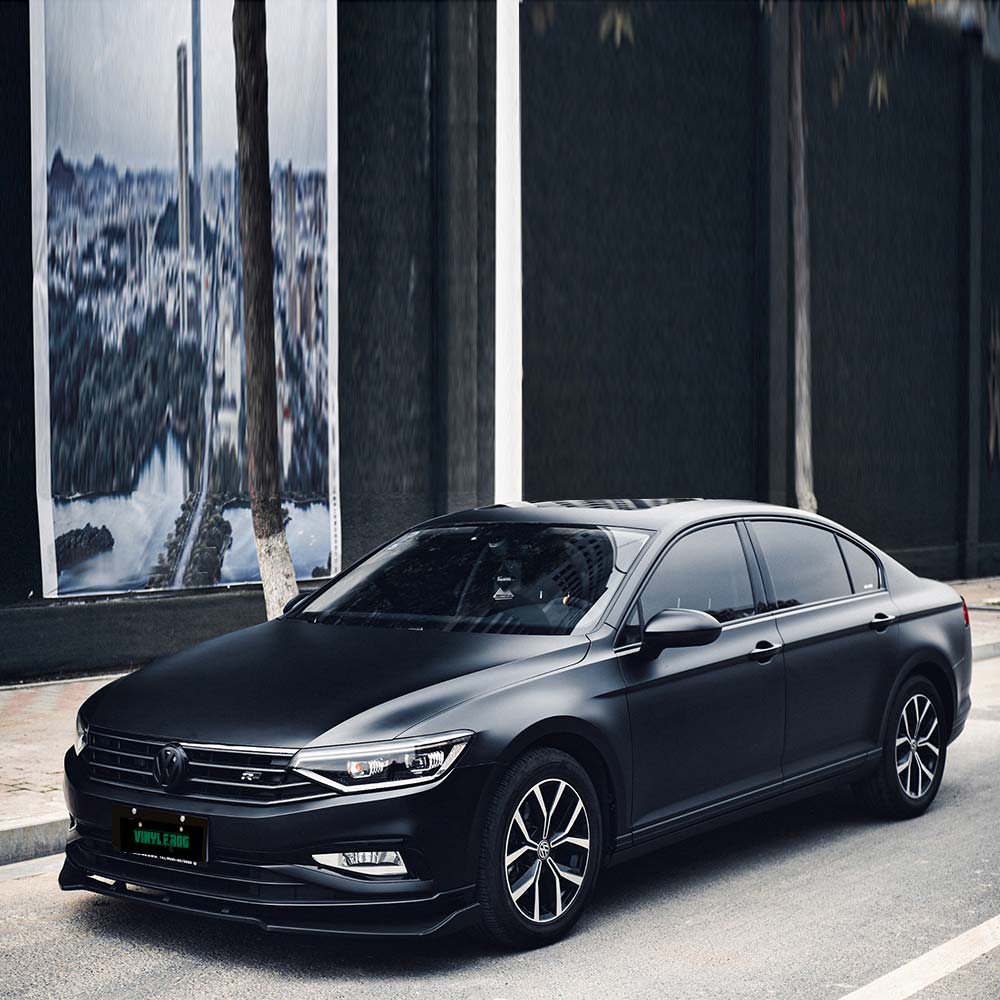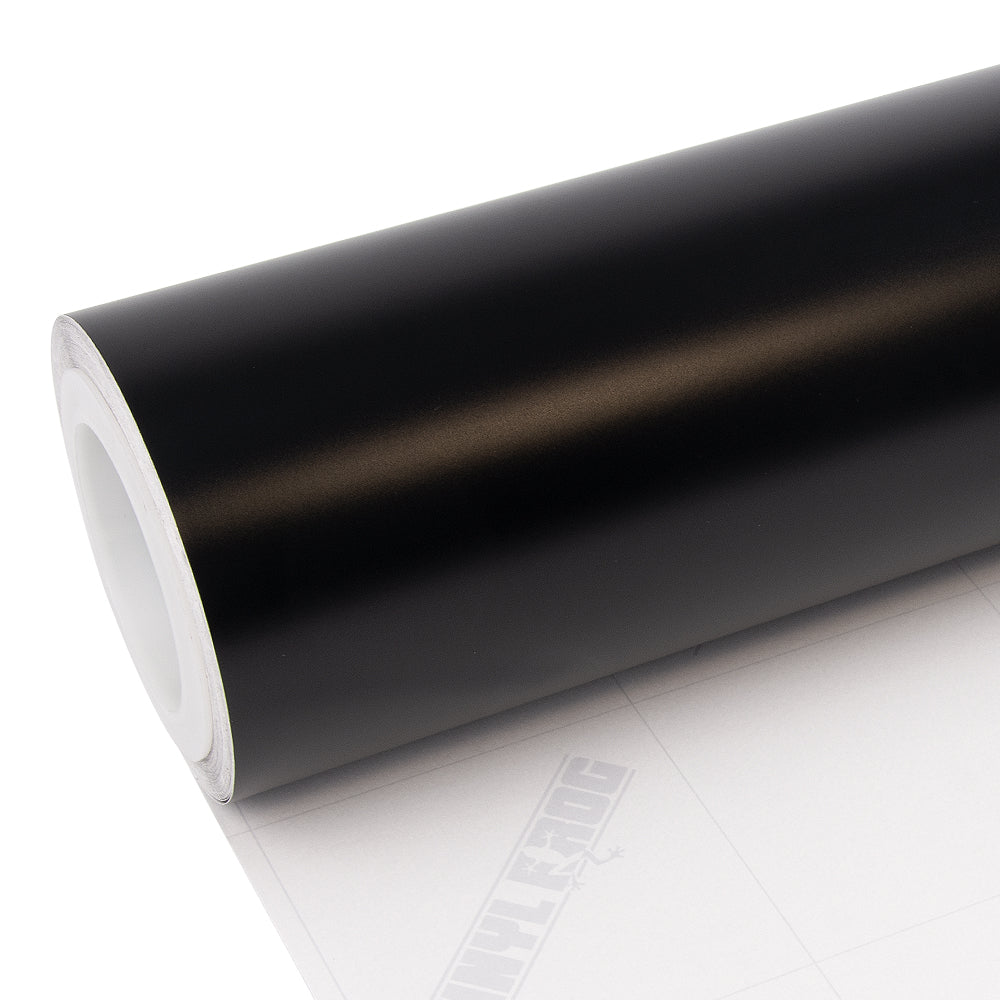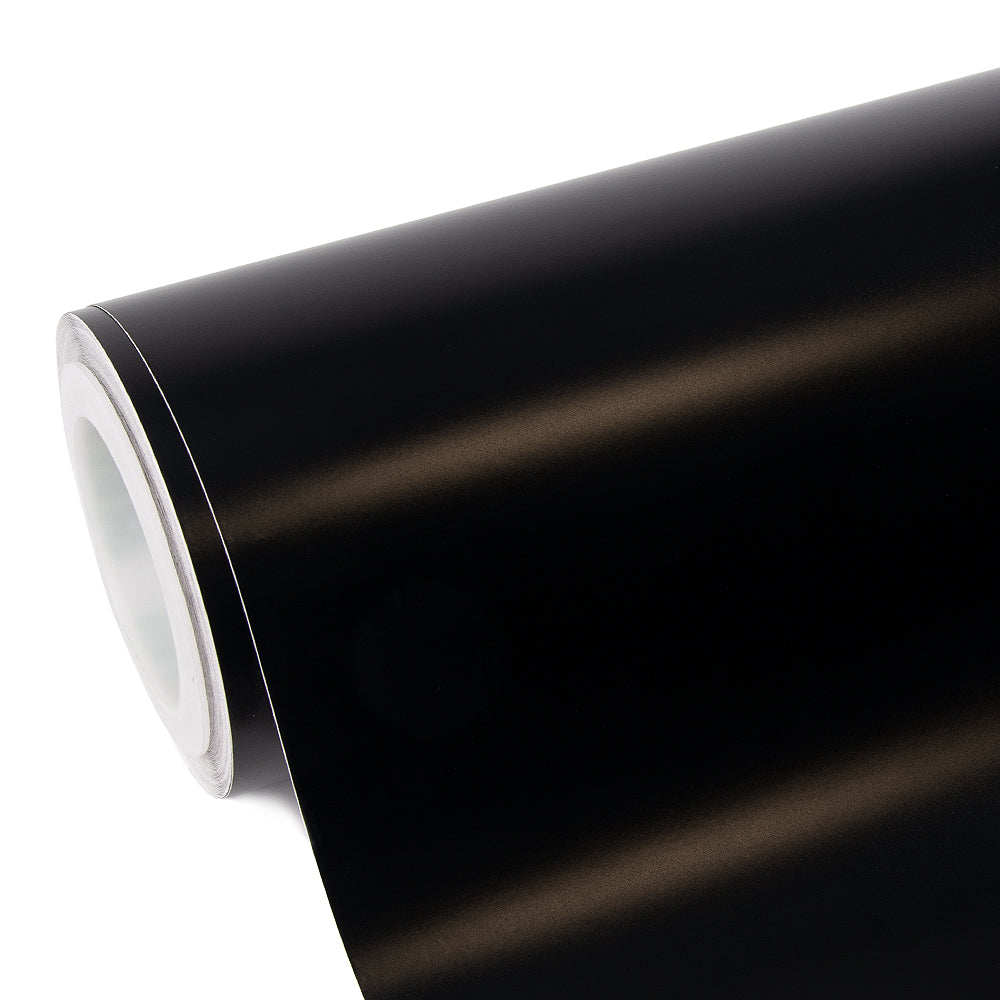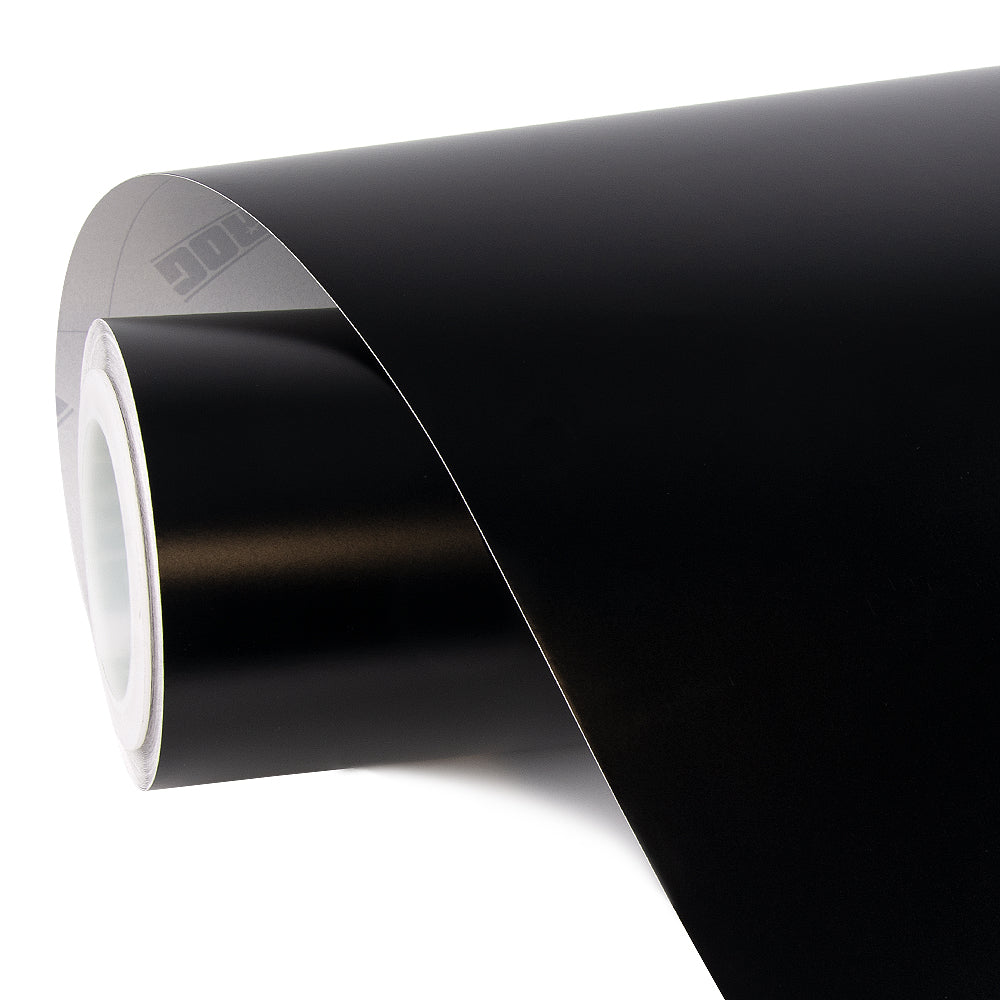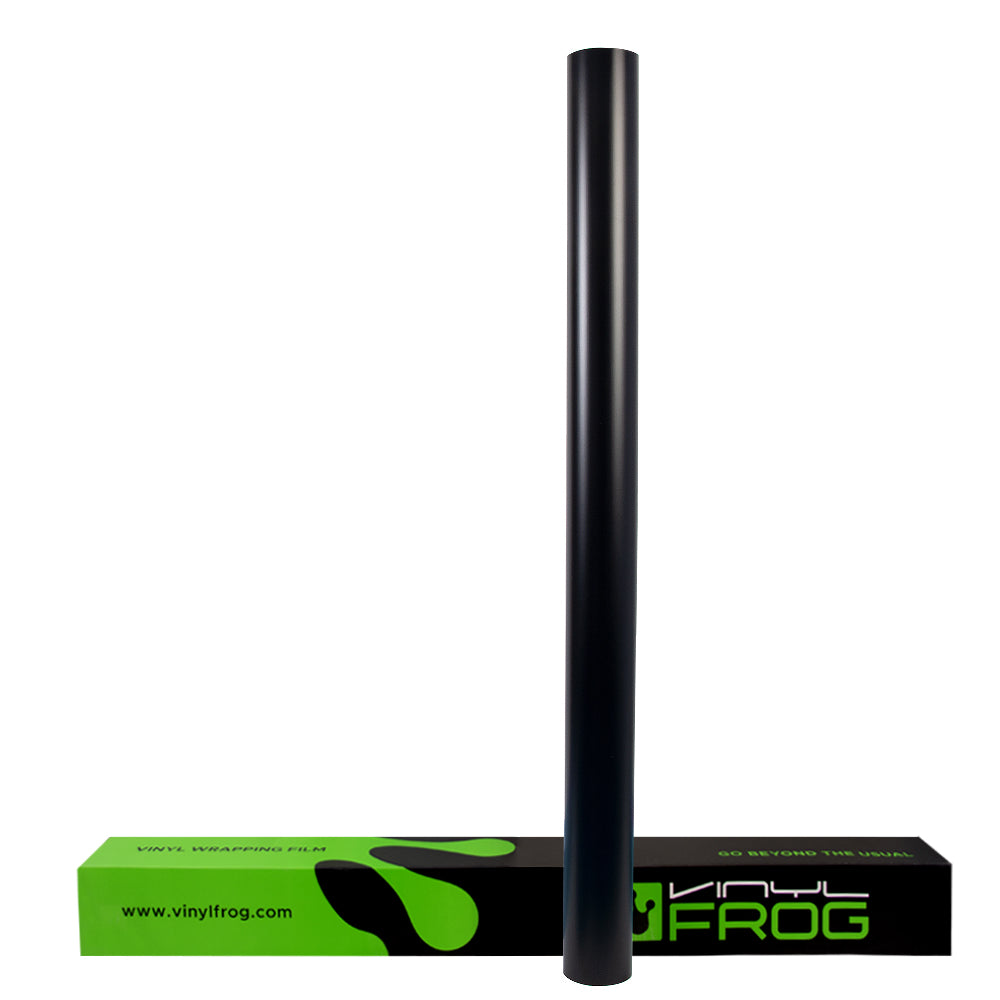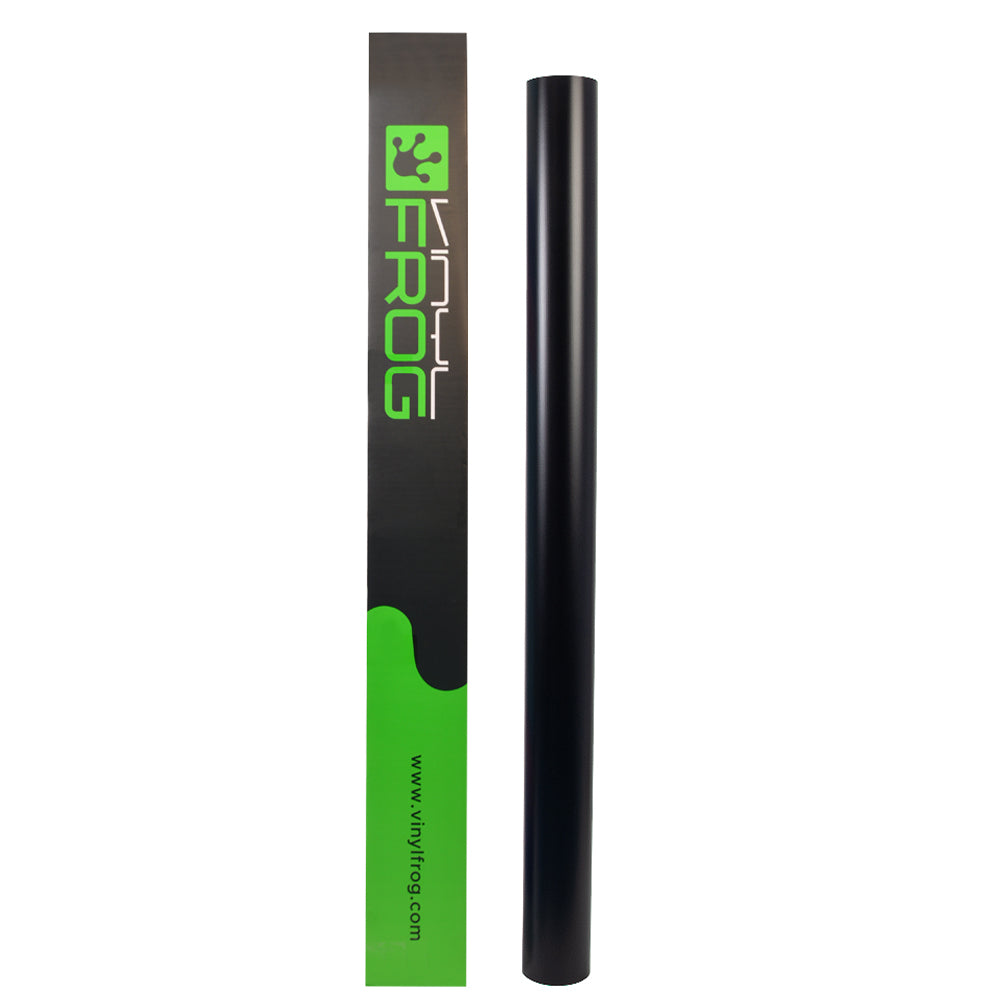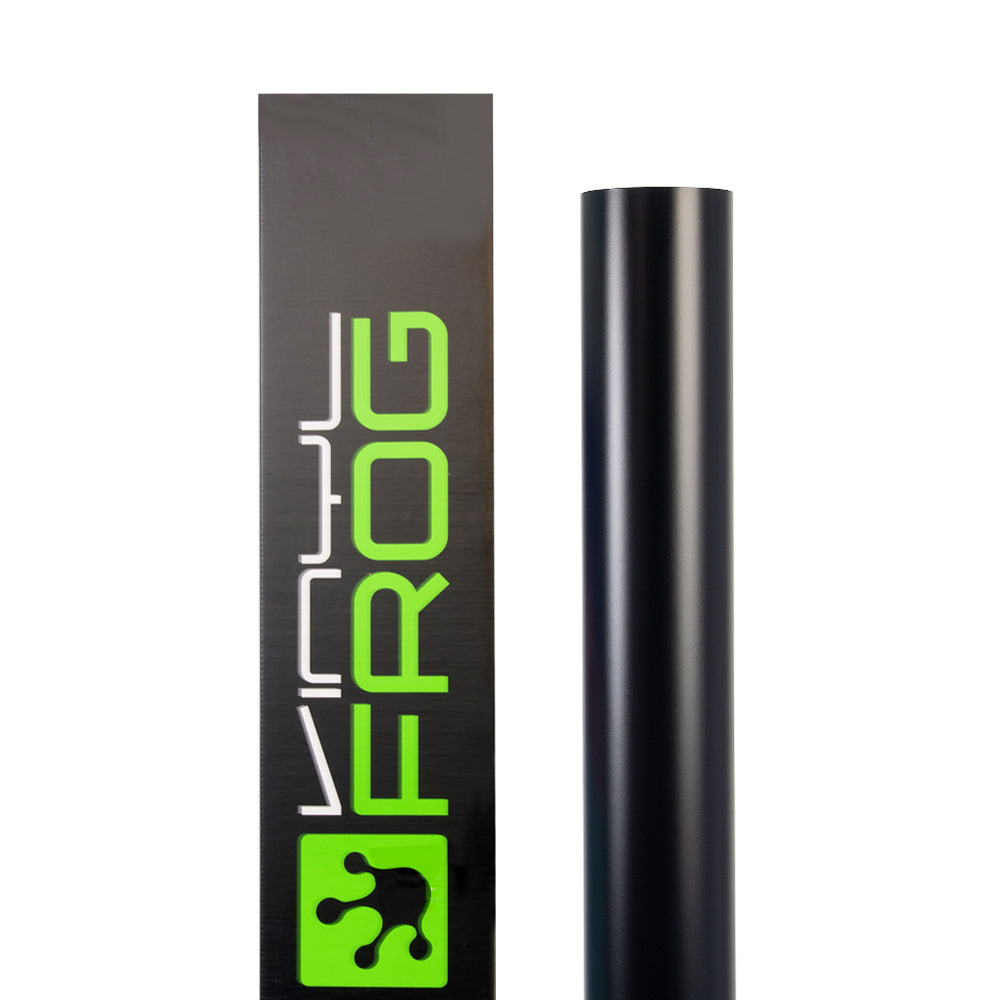 Metallic Black Vinyl Wraps
Metallic black wraps transform a vehicle into a gleaming jewel with their spectacular sheen. The minute metal flakes embedded in the film have high reflective qualities making the vinyl sparkle brilliantly in light. Metallic black is slightly more costly than glossy black that is $61 for 5ft x 3.28ft.
Glossy Metallic Black: It has a brilliant shine and a glossy finish.

Matte Metallic Black: Its shine is toned down to a considerable extent making it nearer to a matte finish than a reflective, gleaming one.

Satin Metallic Black: It takes a middle path. It is neither highly glossy nor completely matte. It has a slight sheen like that of satin and silk.

Glitter Metallic Black: As the name suggests, this has a glittery finish with brilliant shine properties.

Brushed Metallic Black: This is a textured finish that replicates brushed aluminum.
Vinyl Frog offers a wide range in this category: Glossy Metallic Metal Black, Rainbow Metallic Majestic Black, Glossy Metallic Black Rose, Glitter Metallic Diamond Black, Matte Metallic Pearl Black, Glossy Metallic Galaxy Black, and Brushed Metallic Black.
Glitter Metallic Diamond Black Vinyl Wrap
The sheen of metallic mixed with the glimmer of glitter, this exquisite vinyl will surely turn your vehicle into a scintillating diamond. It is perfect for those who want a flashy, shimmery vehicle – a real attention grabber.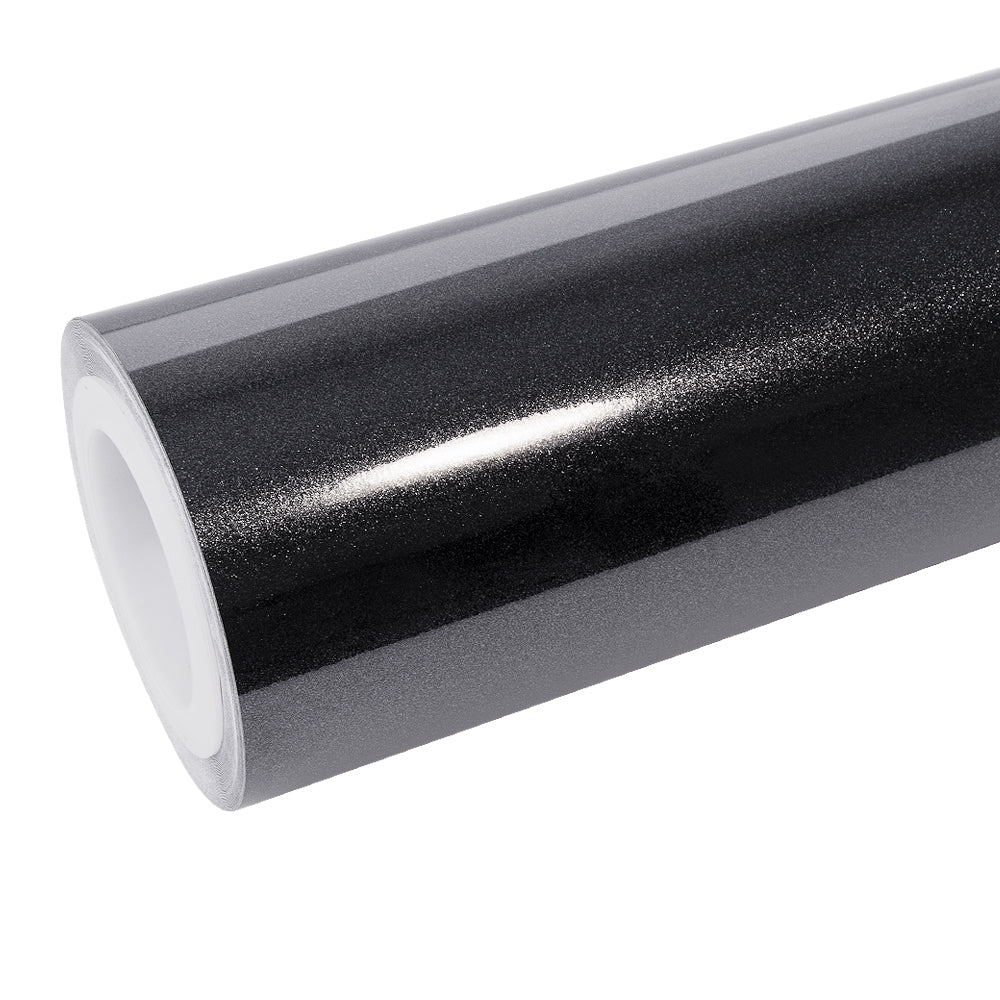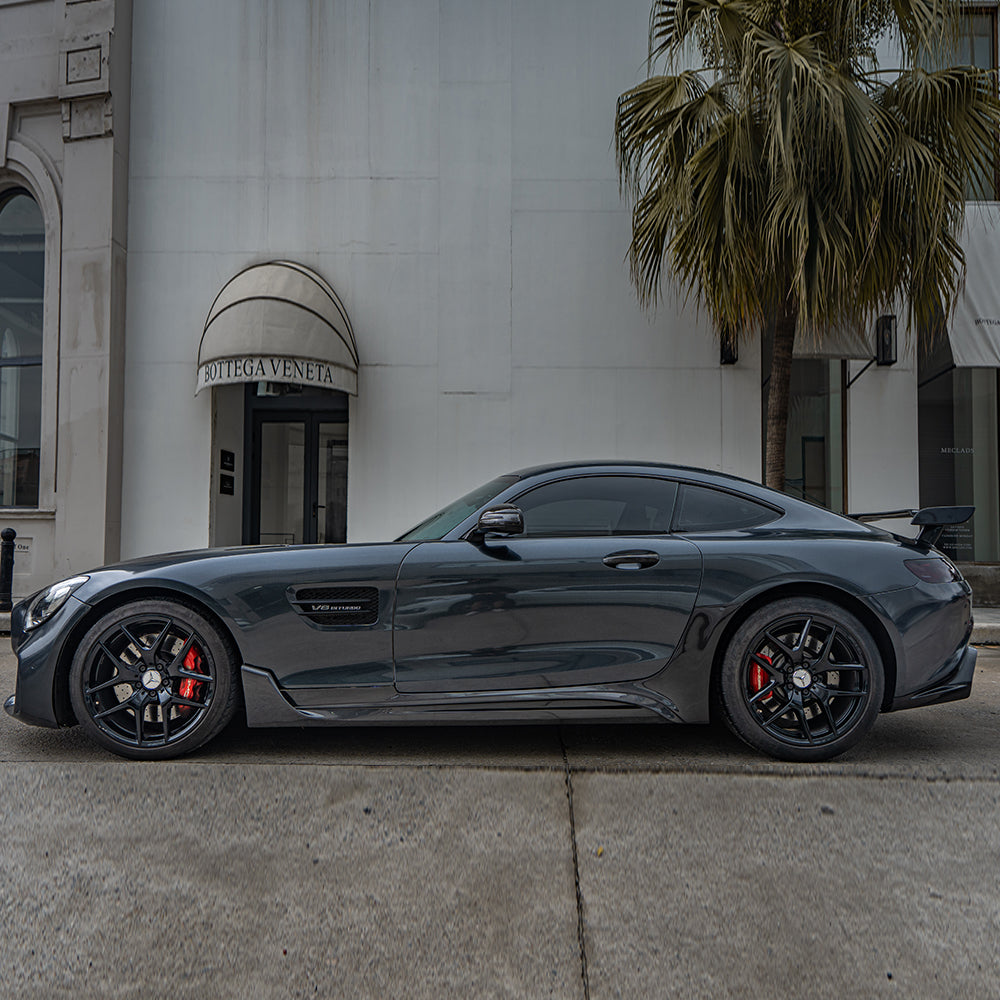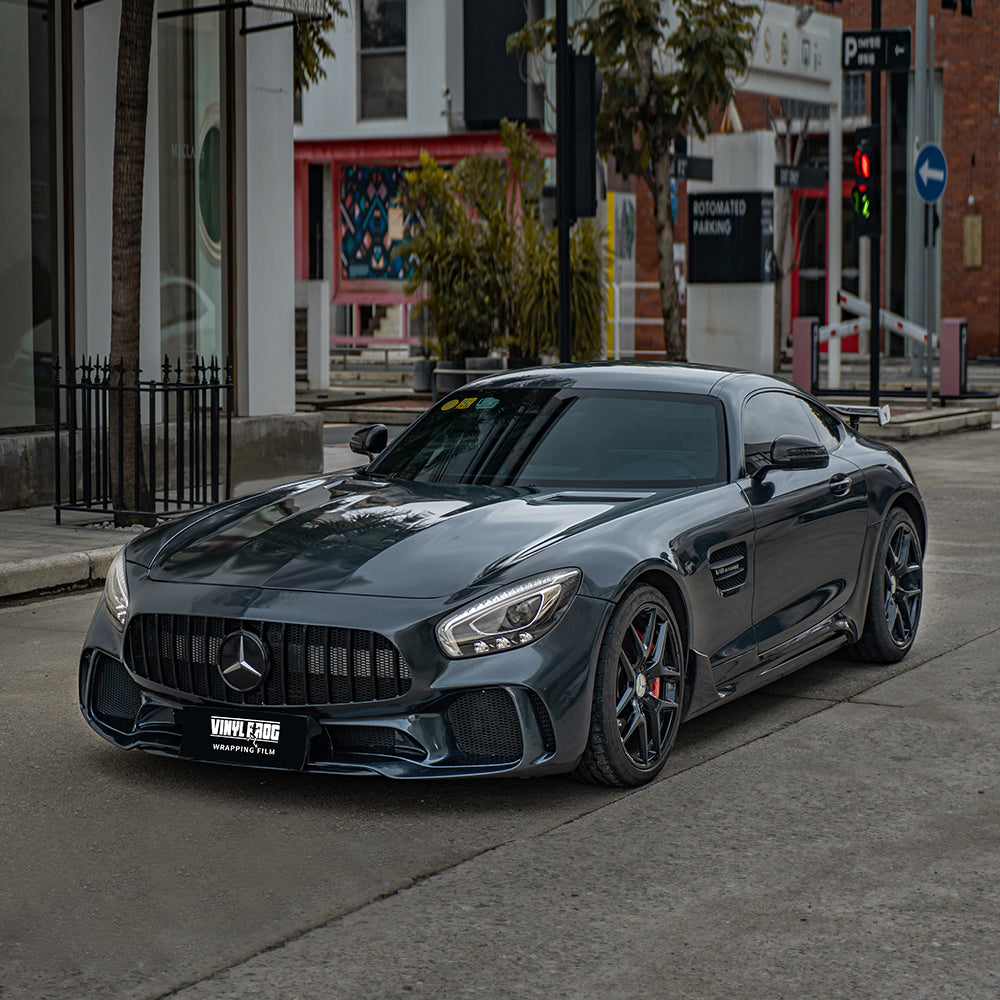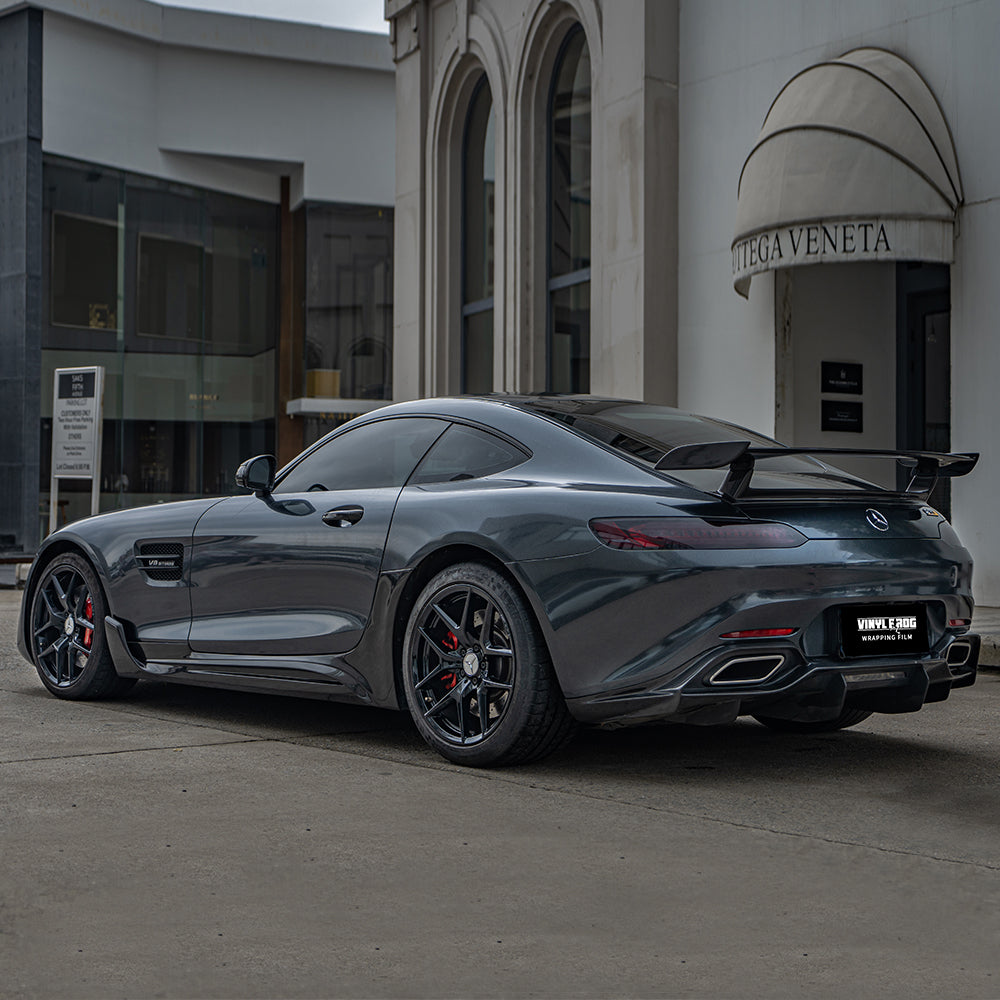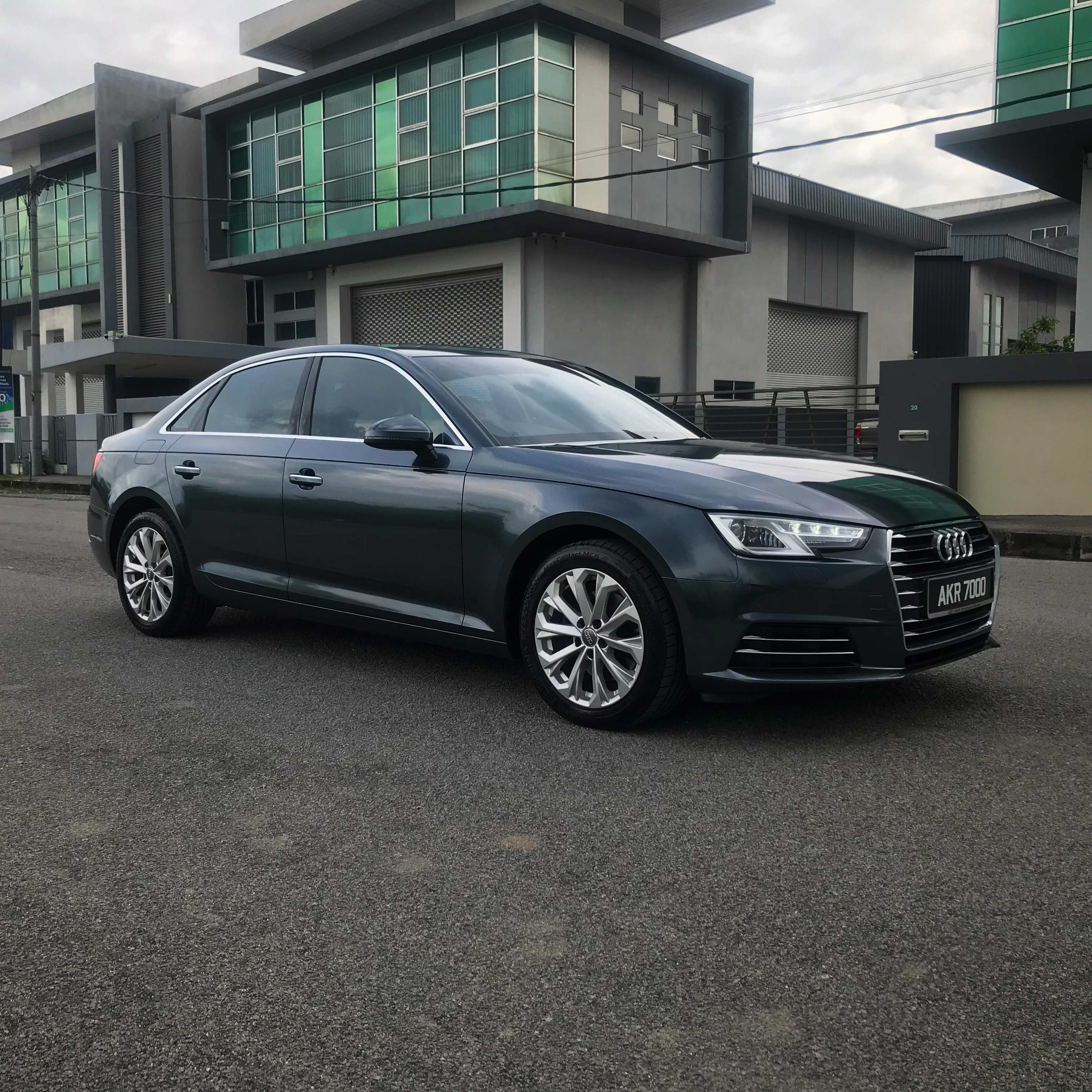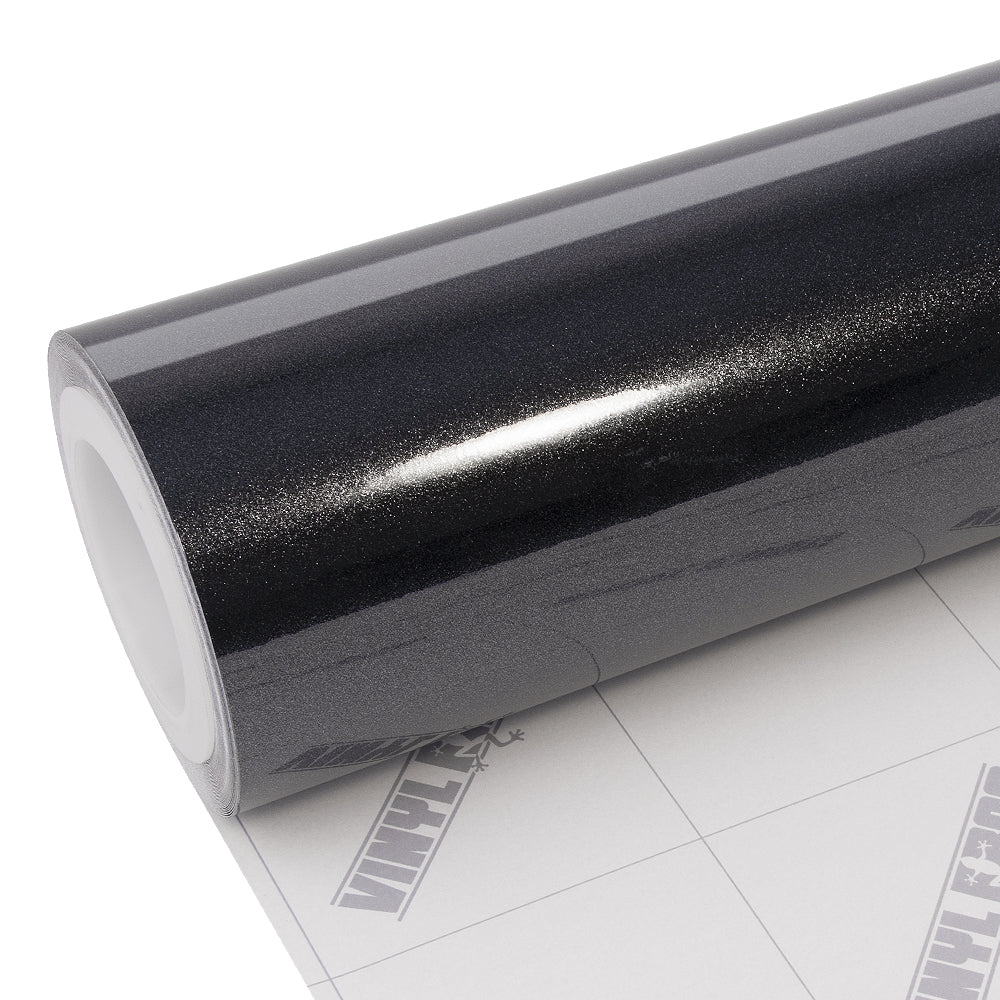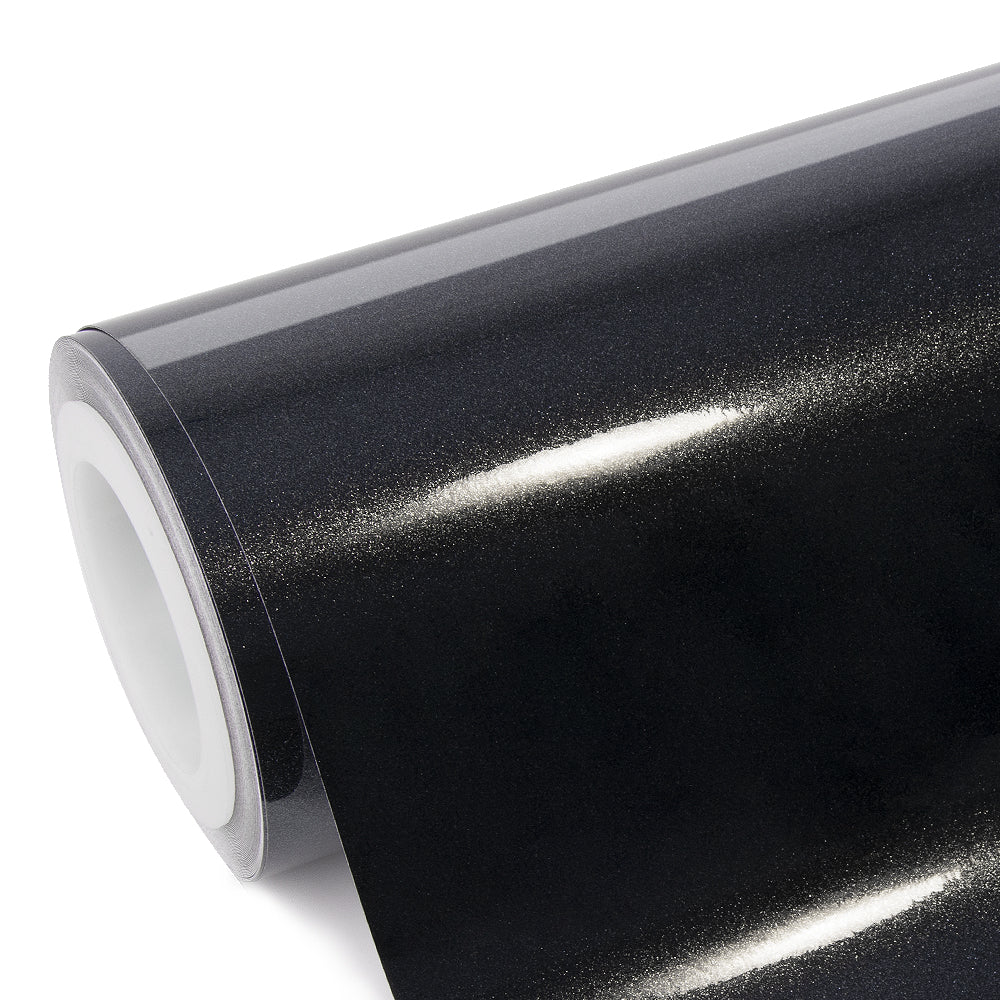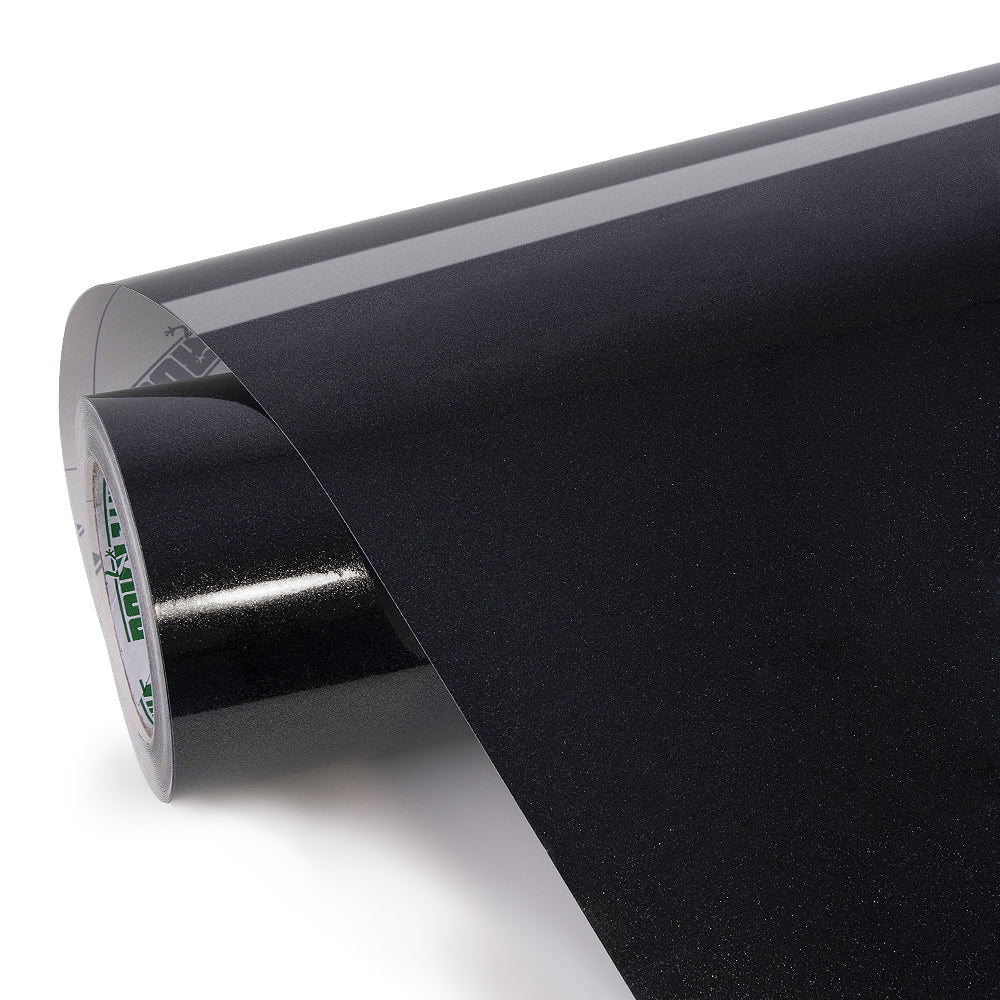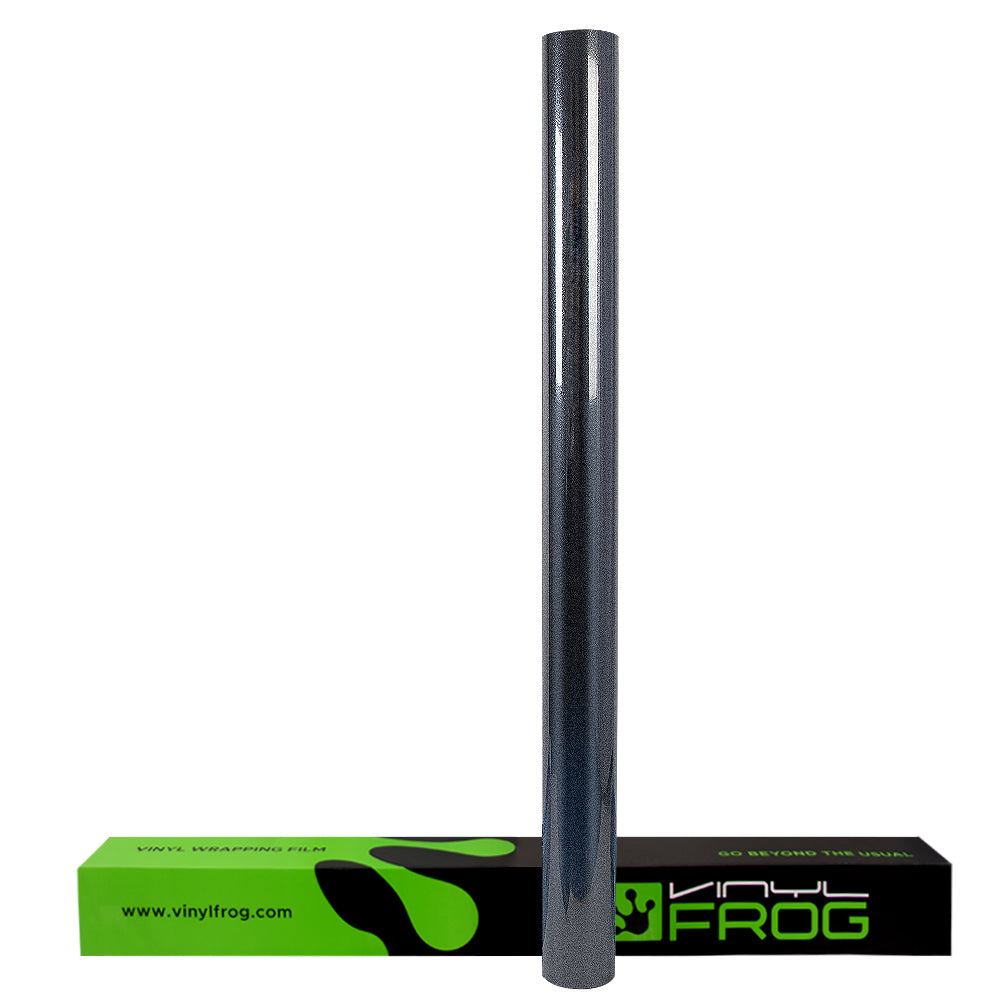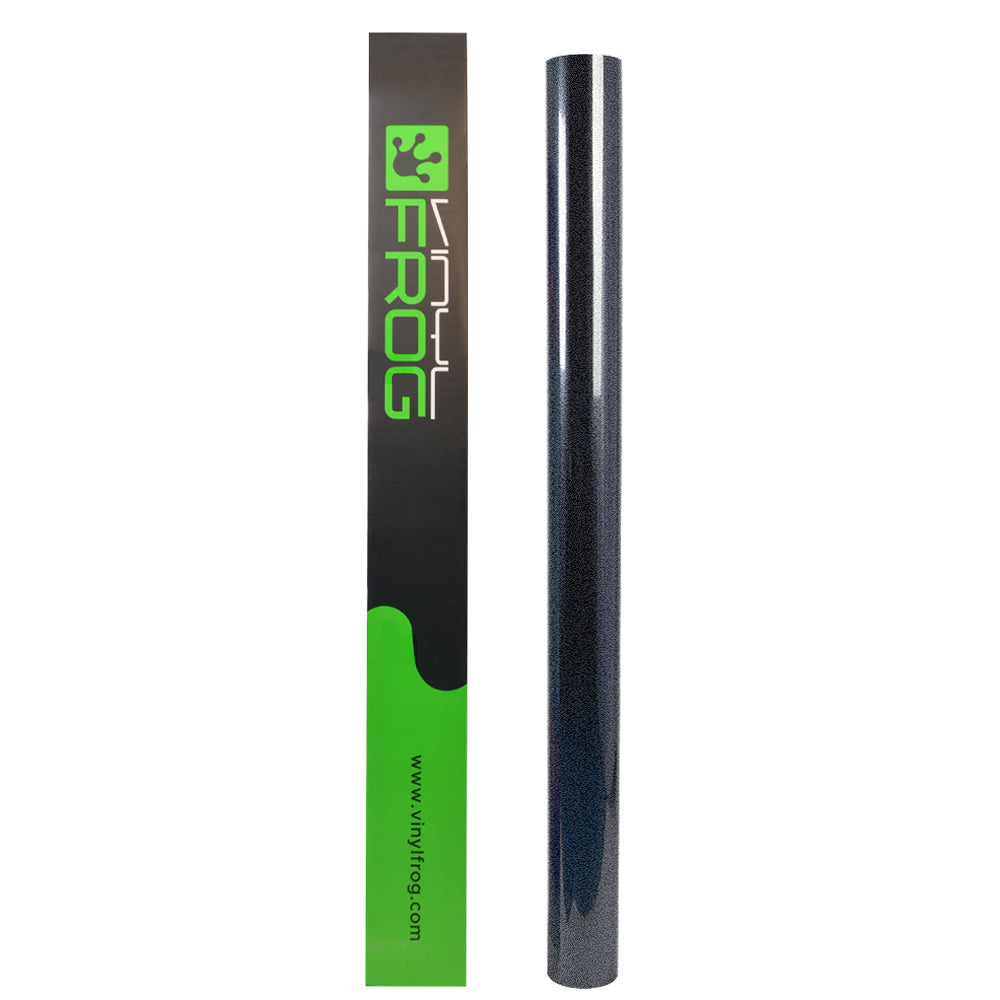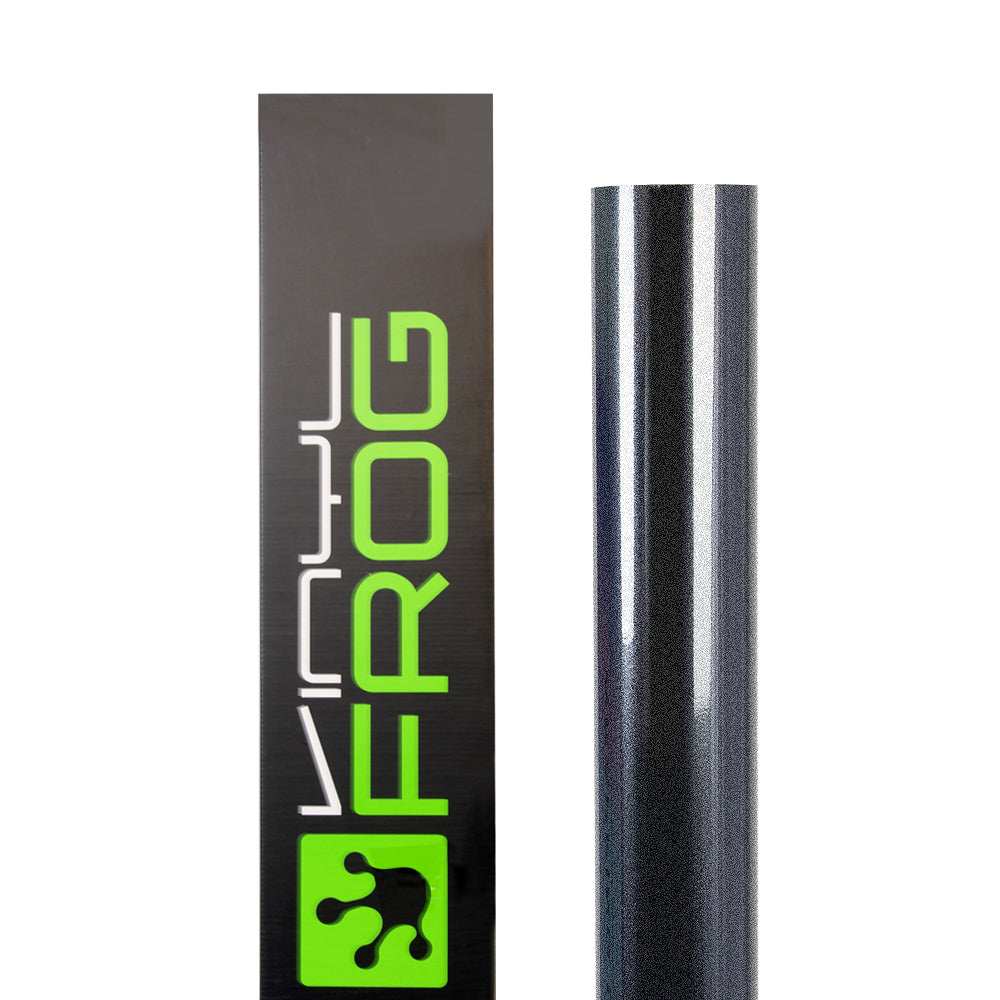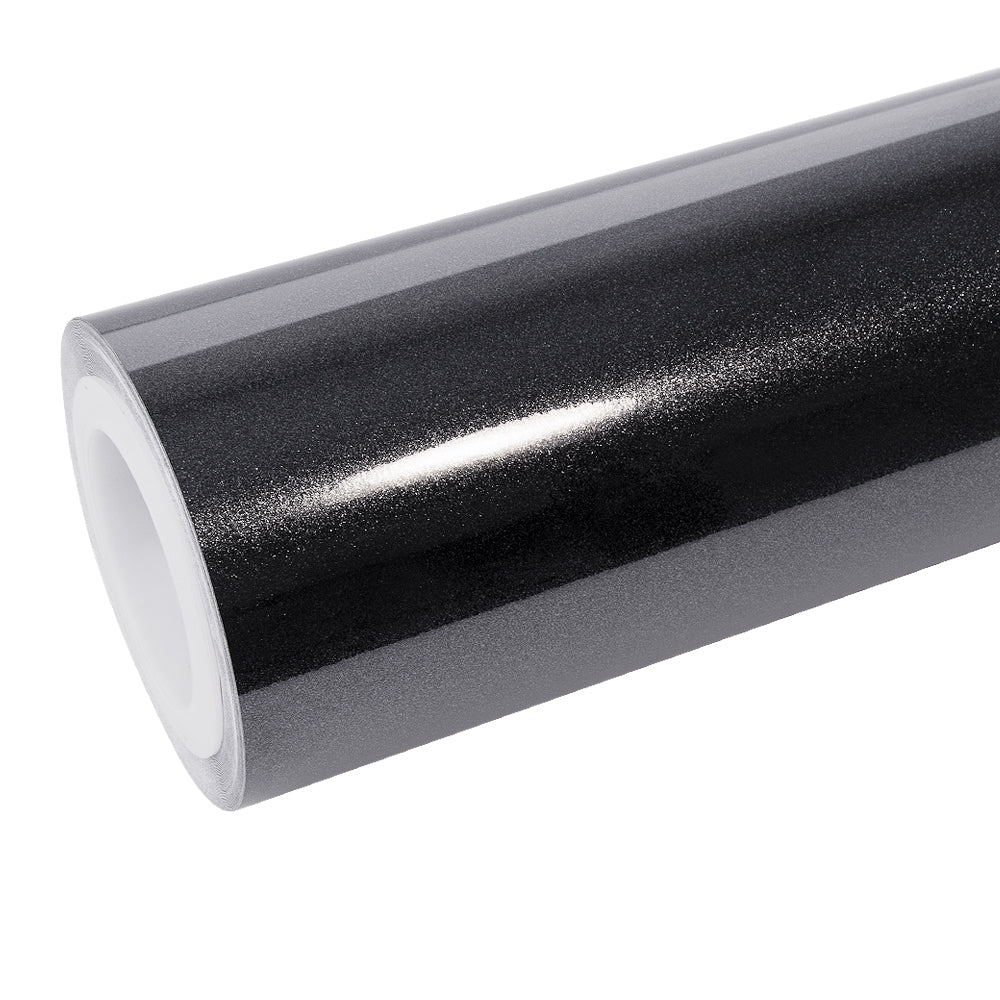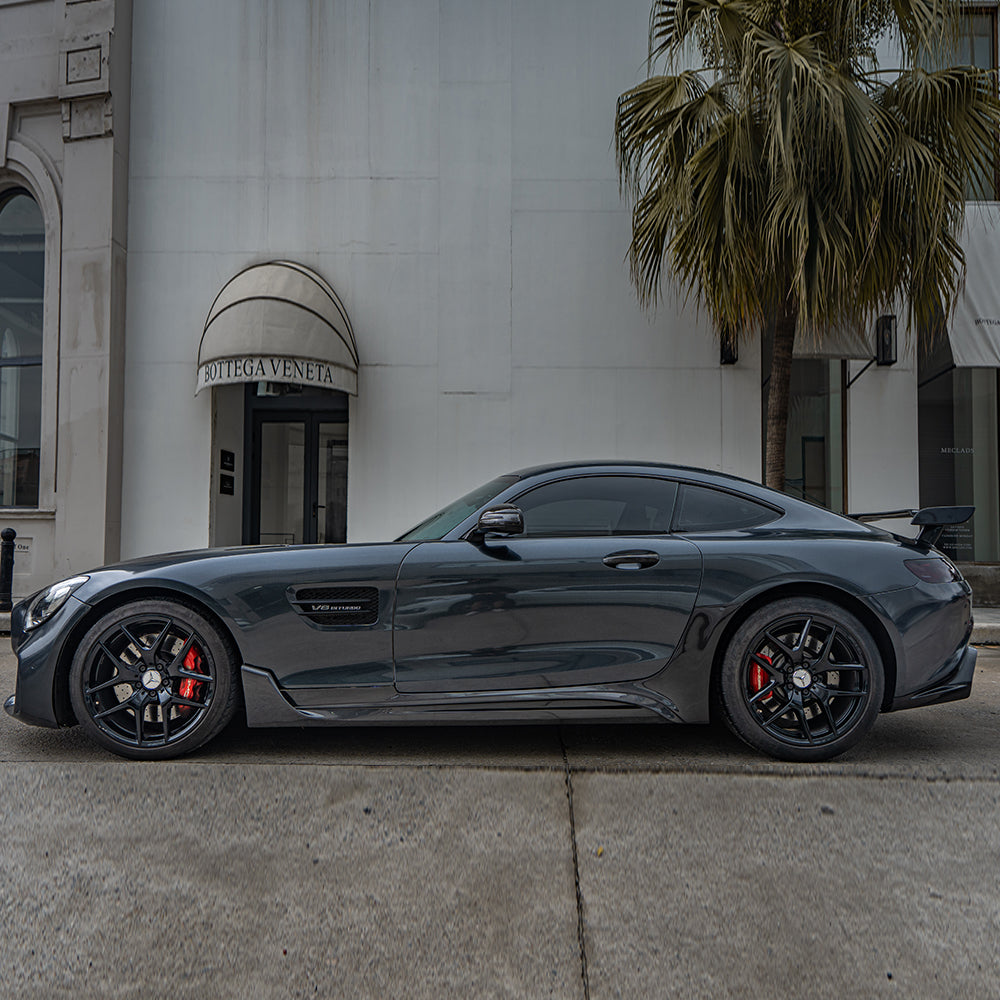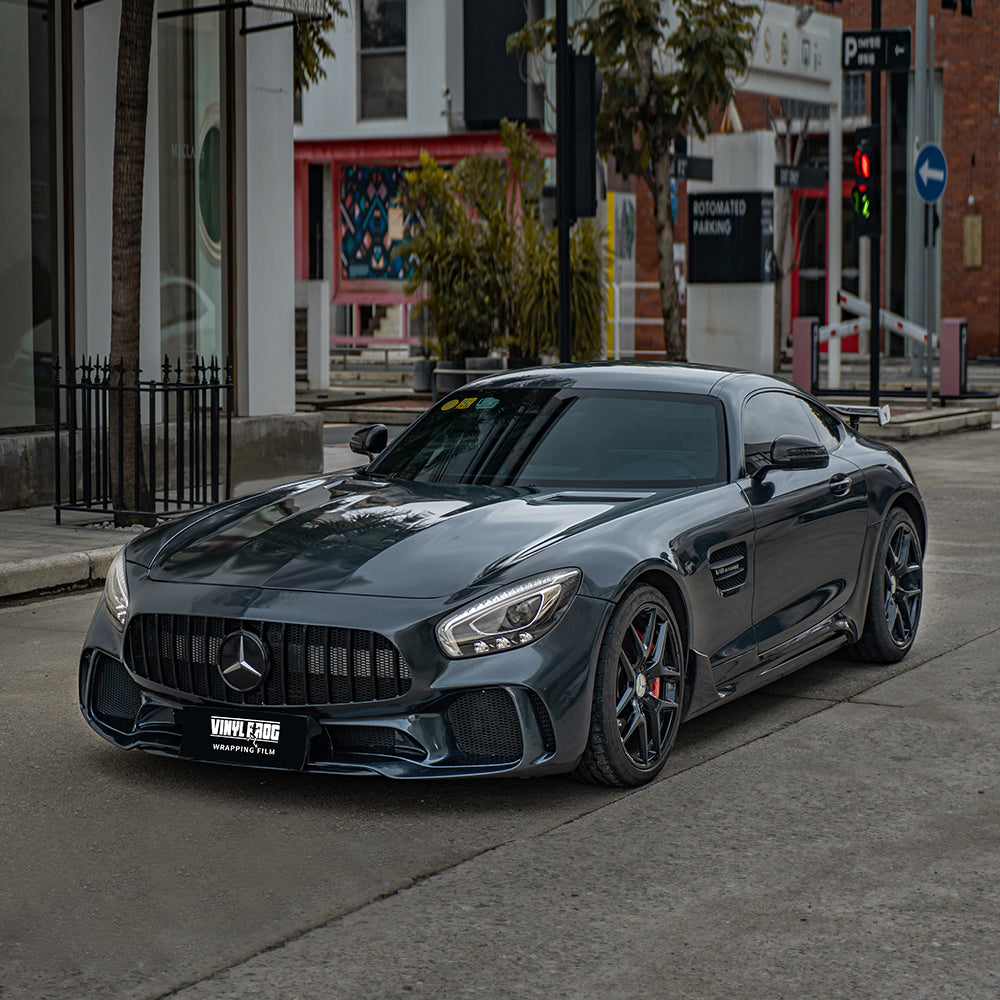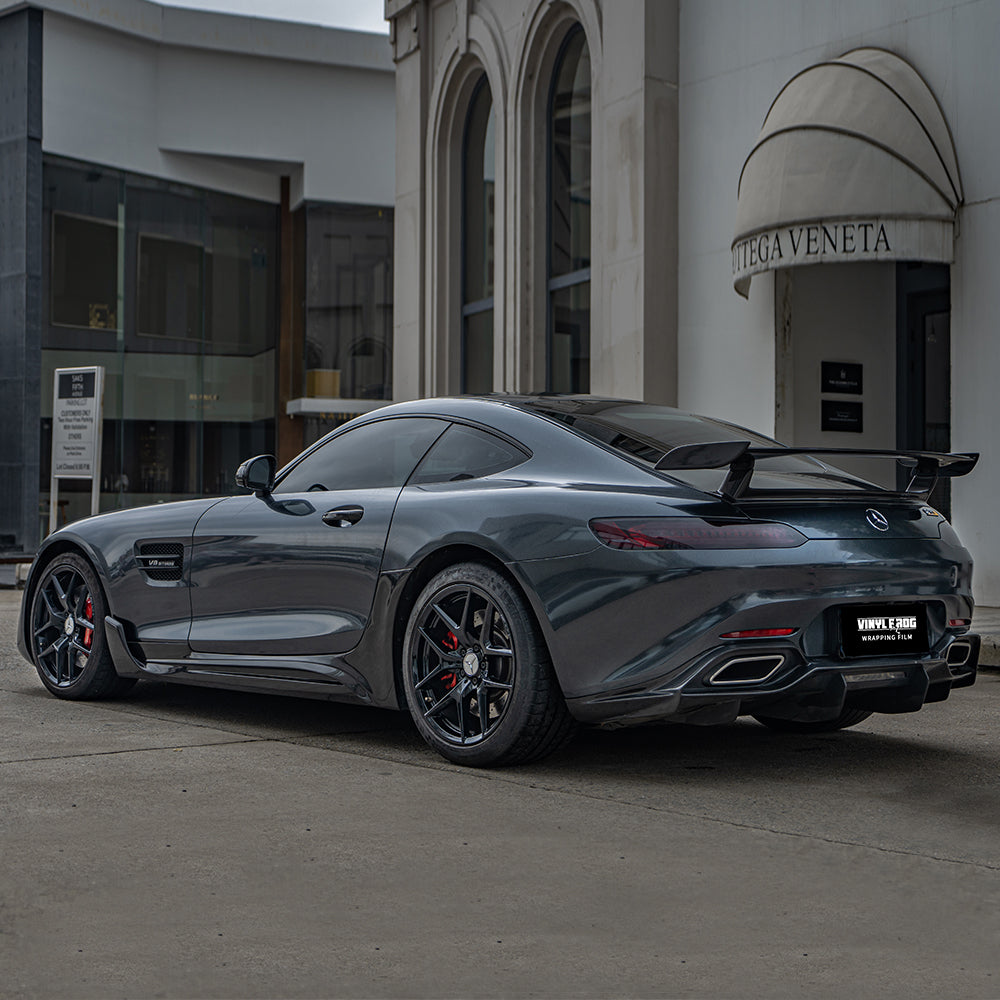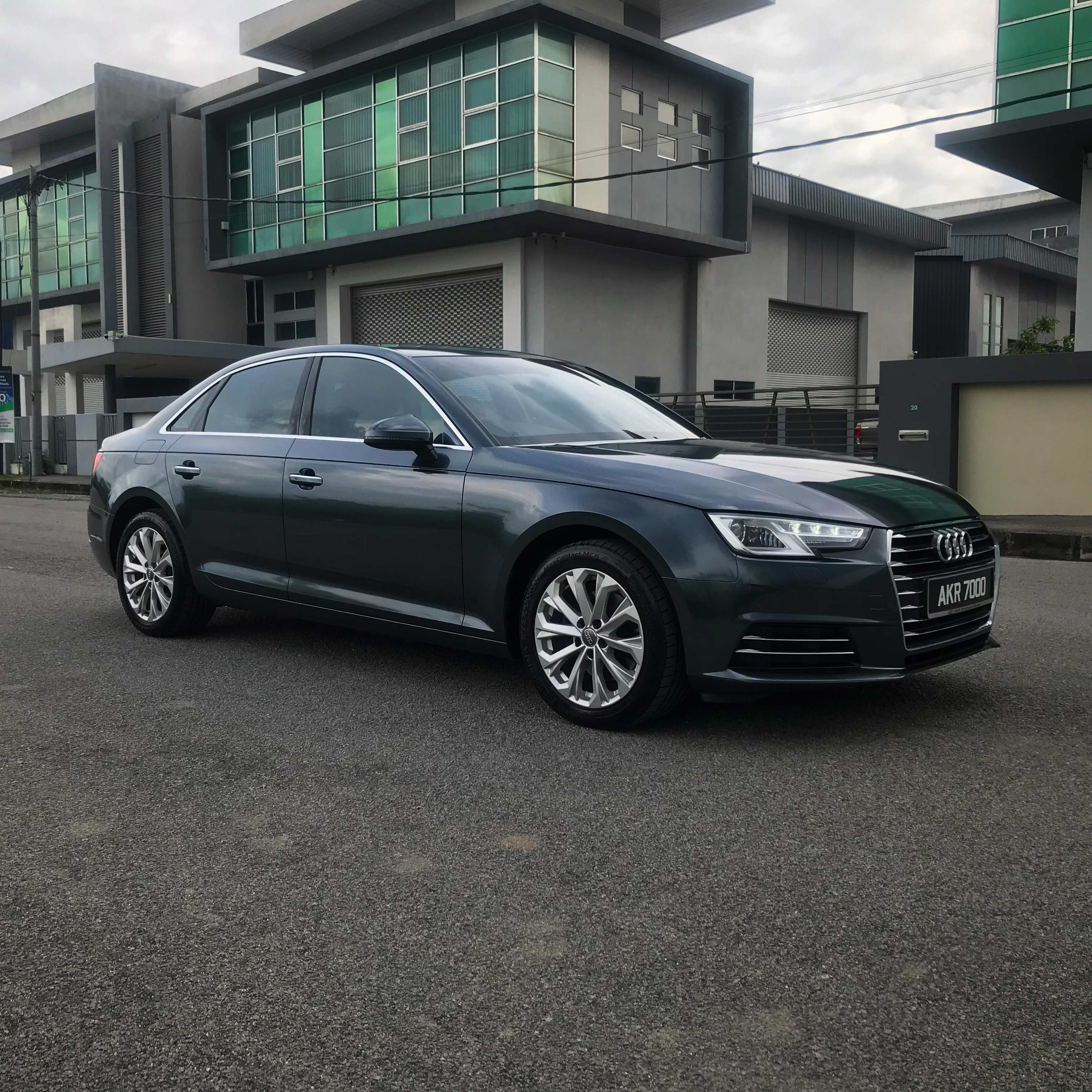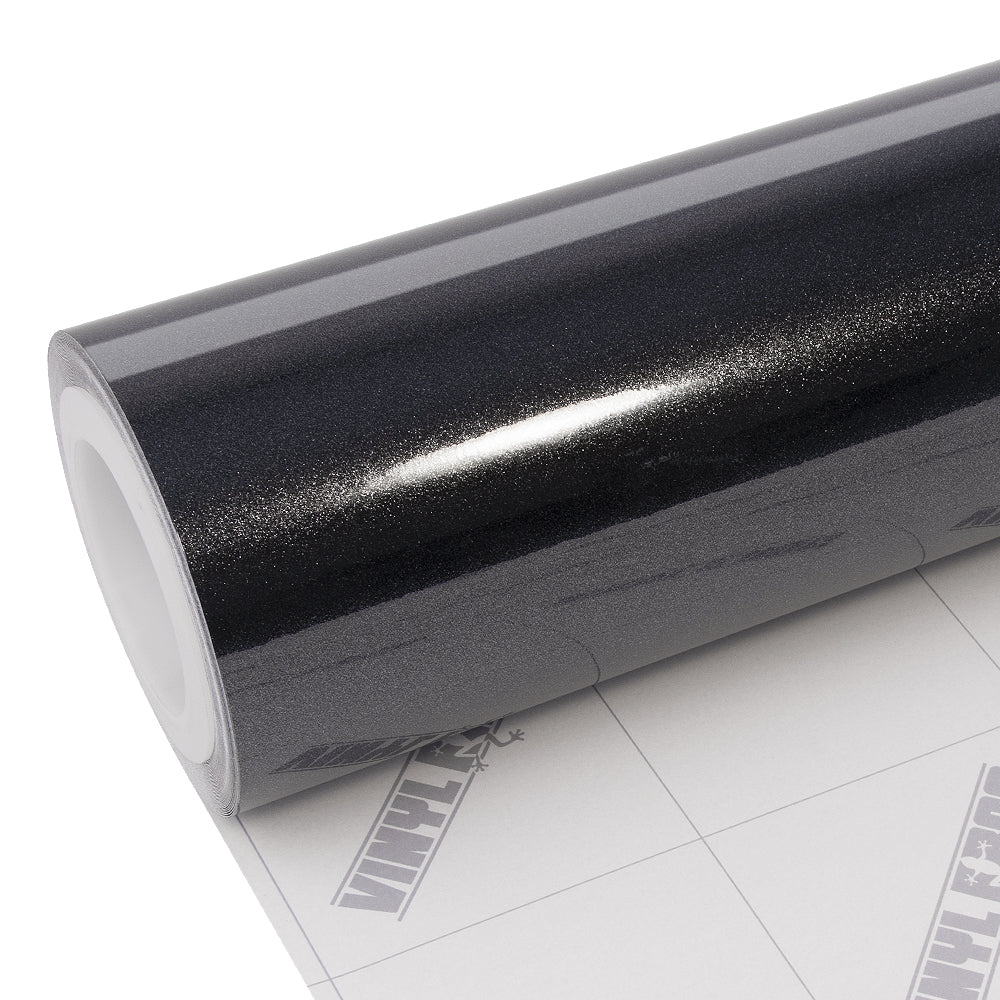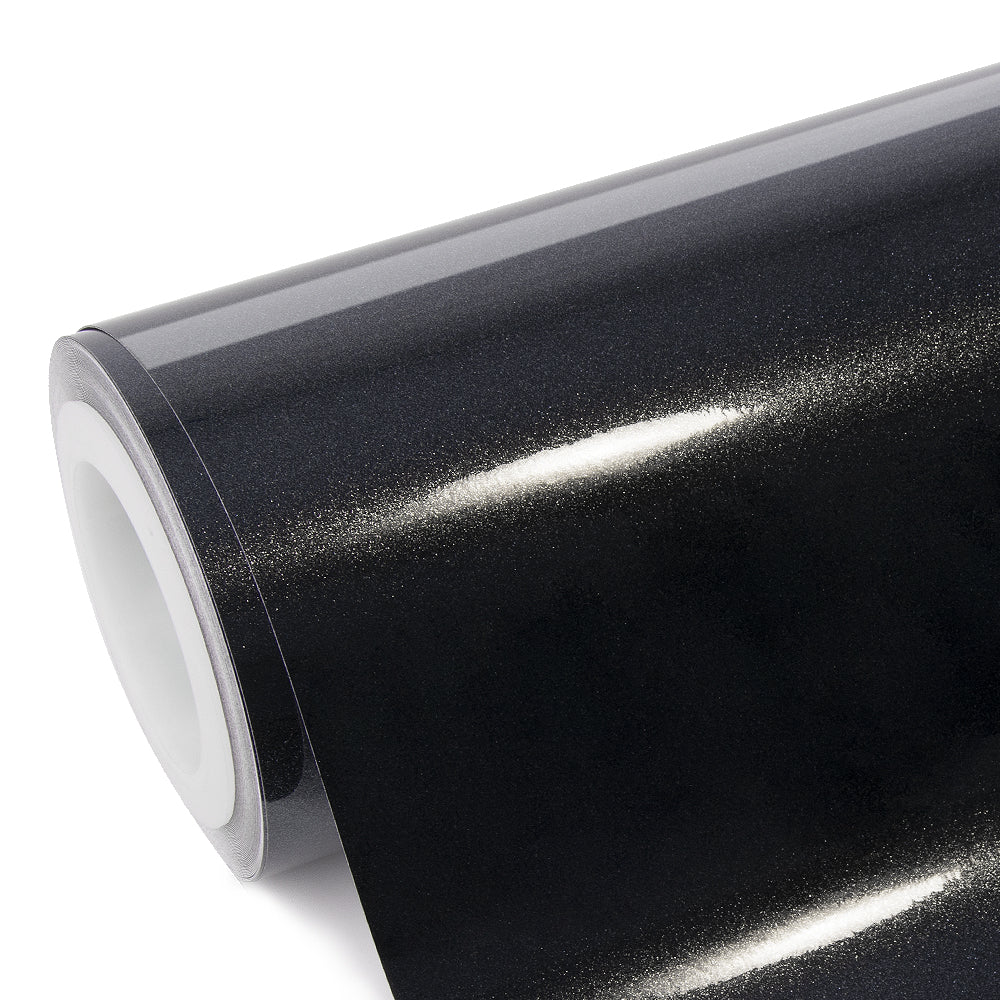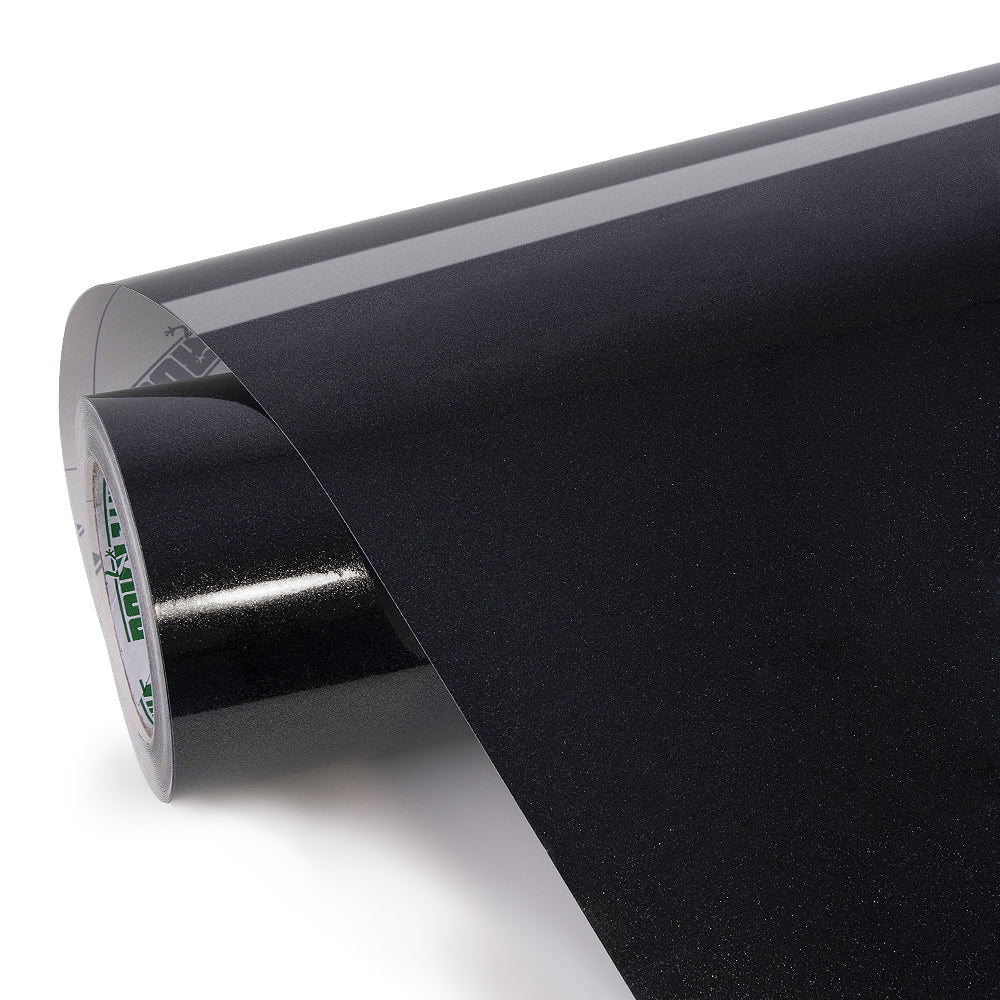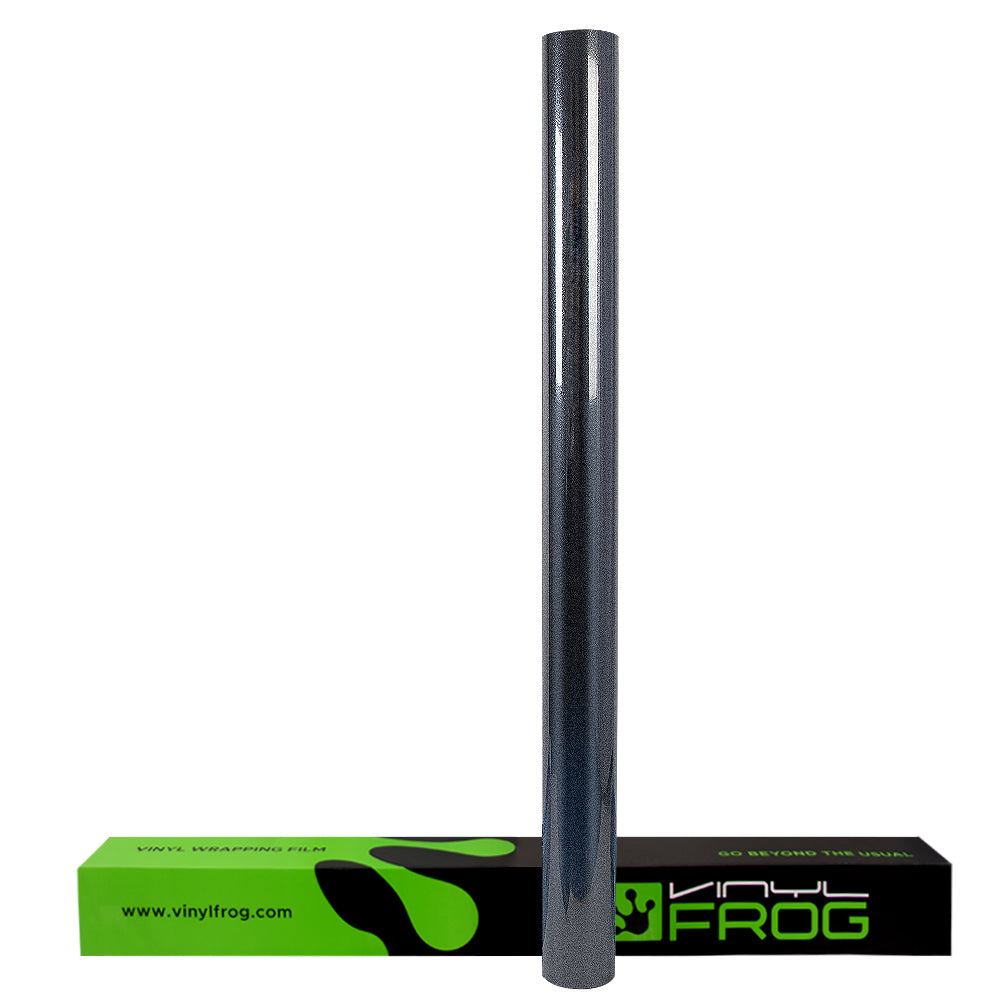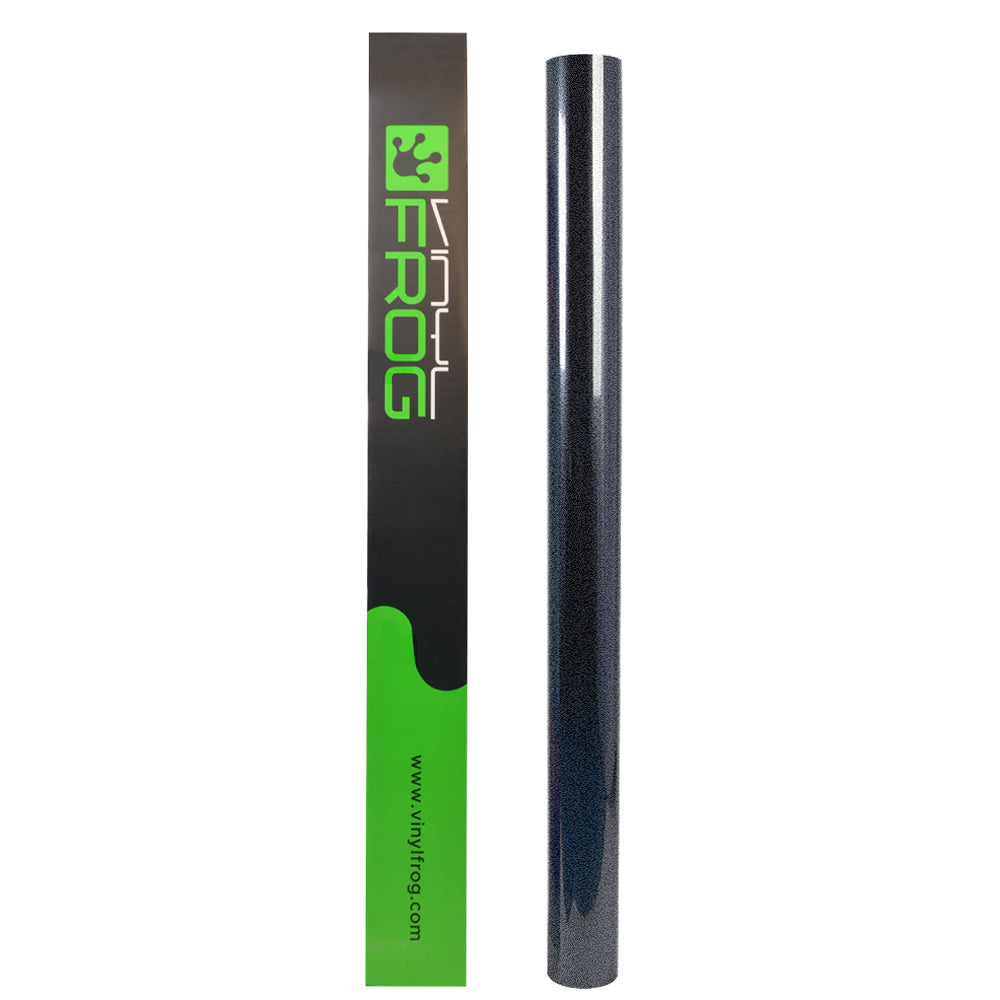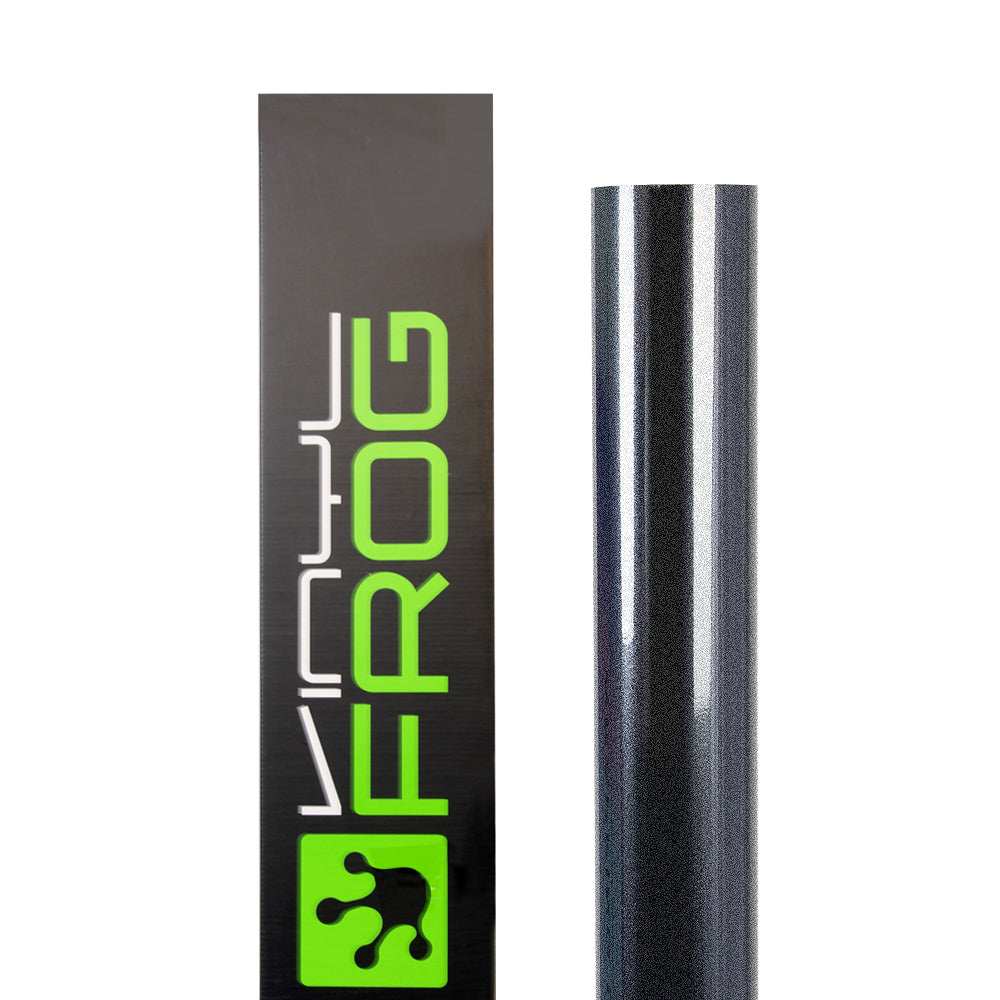 Glossy Metallic Metal Black Vinyl Wrap
Give your vehicle a luxurious look and extra shine with our glossy metallic vinyl wrap. Metal black is a unique shade that looks chic and glamorous. The glossy metallized smooth vinyl, when applied as a full car wrap, charms the onlooker.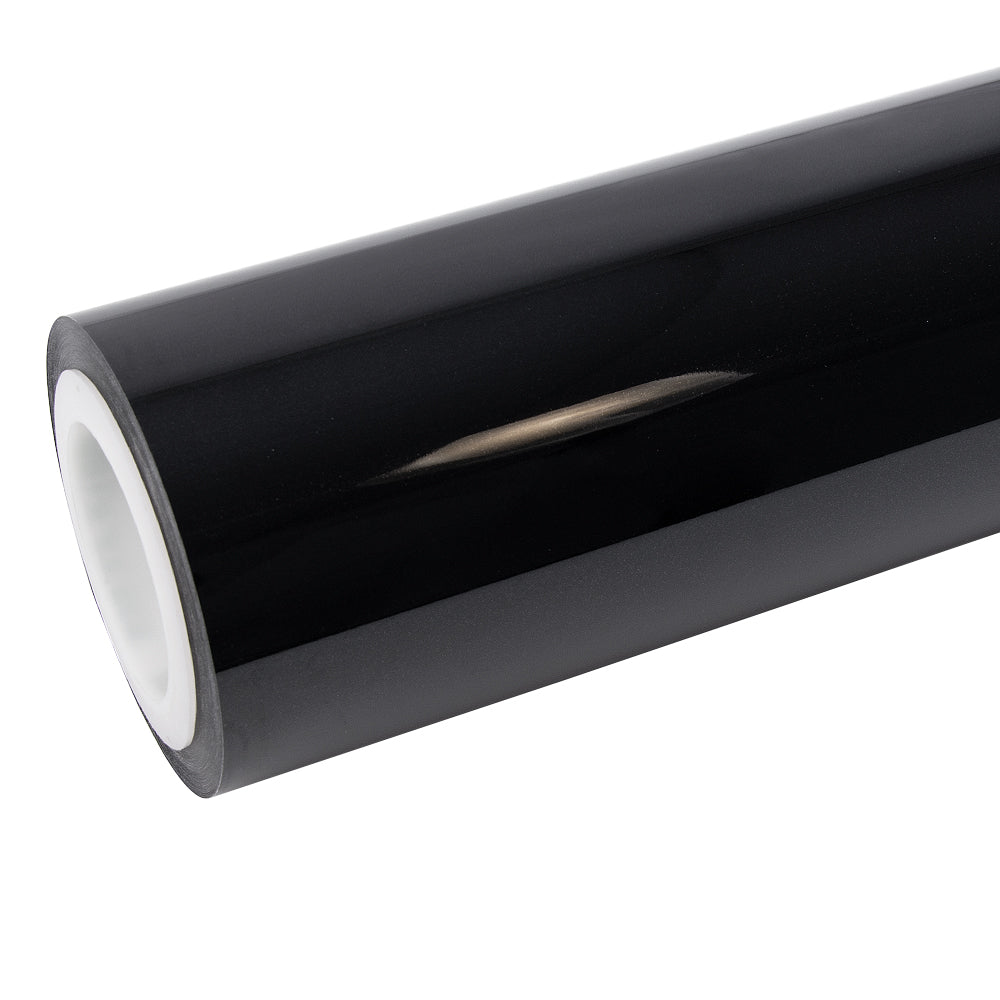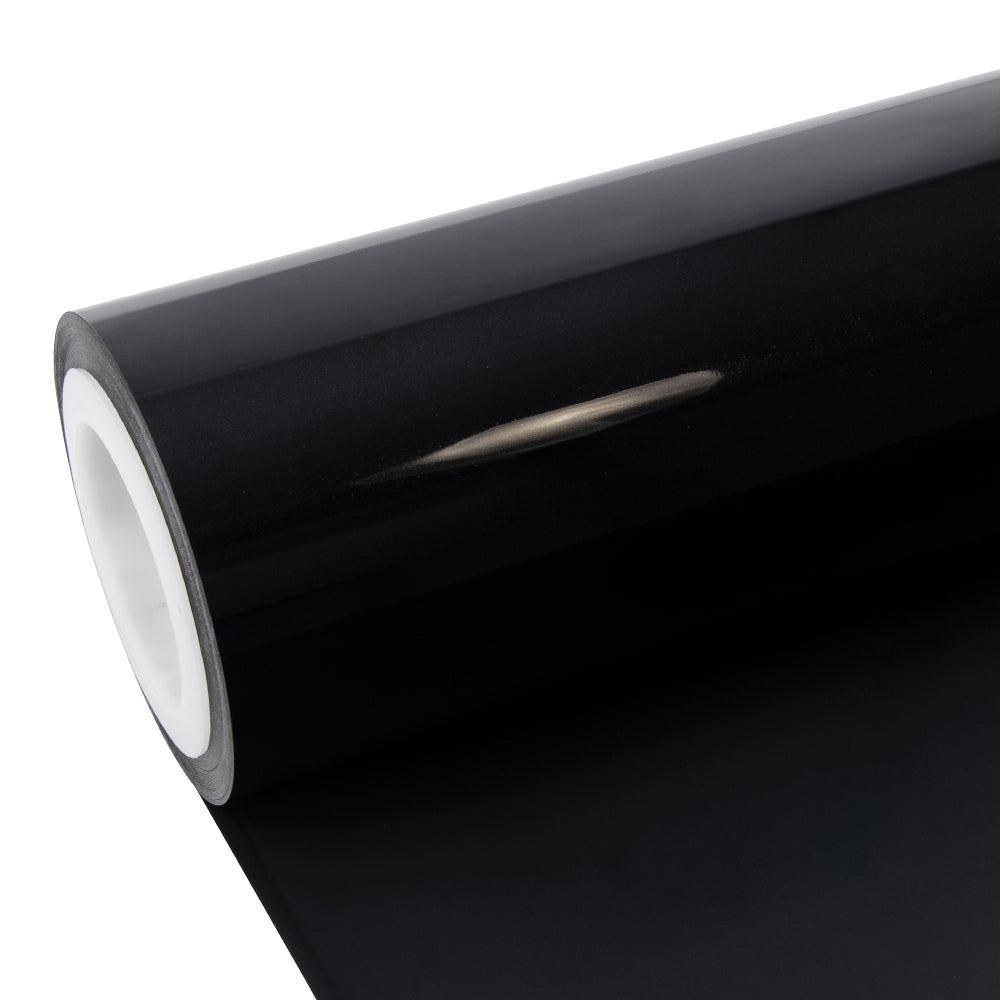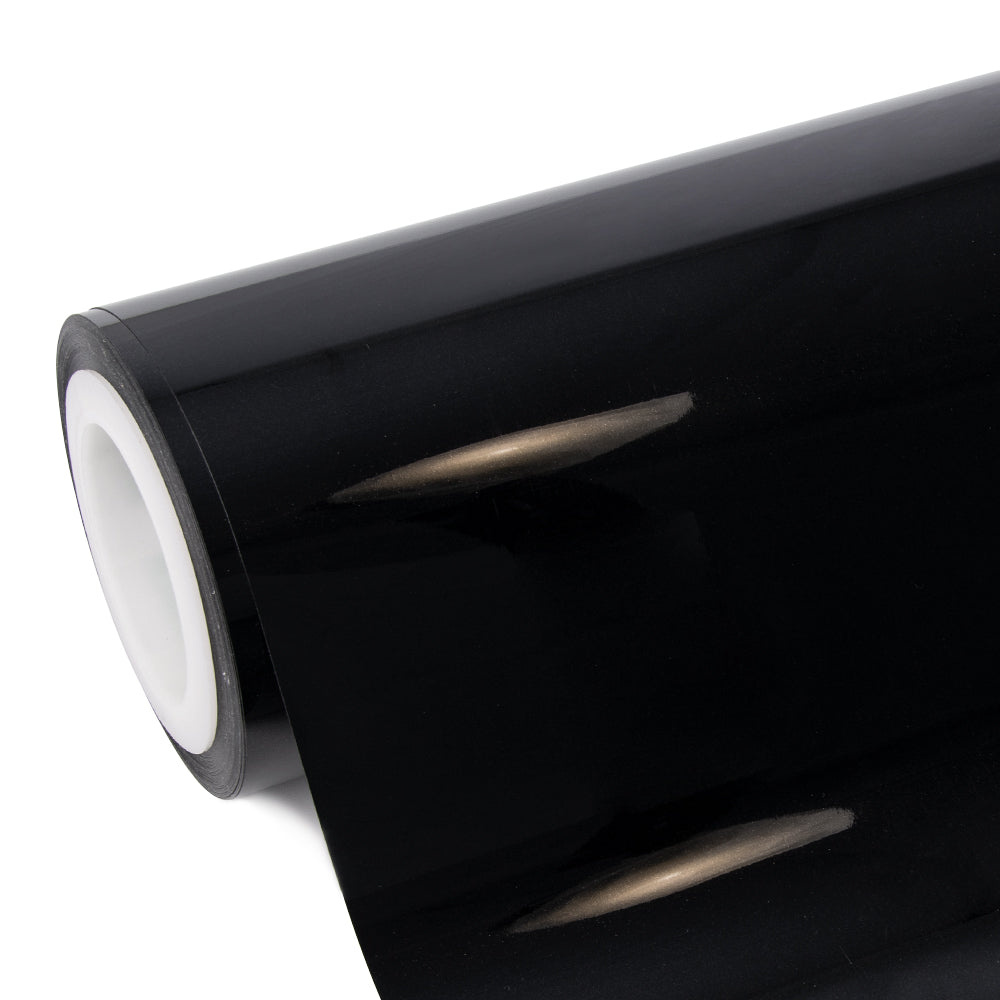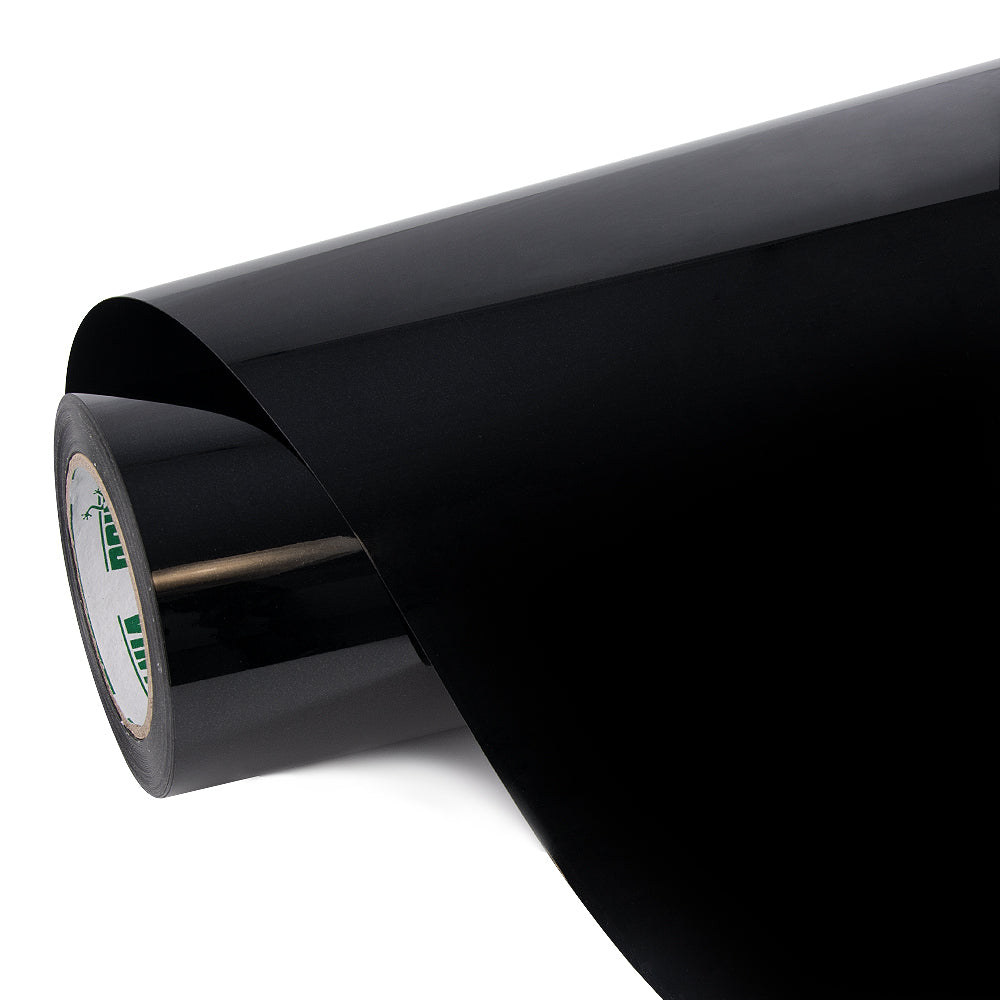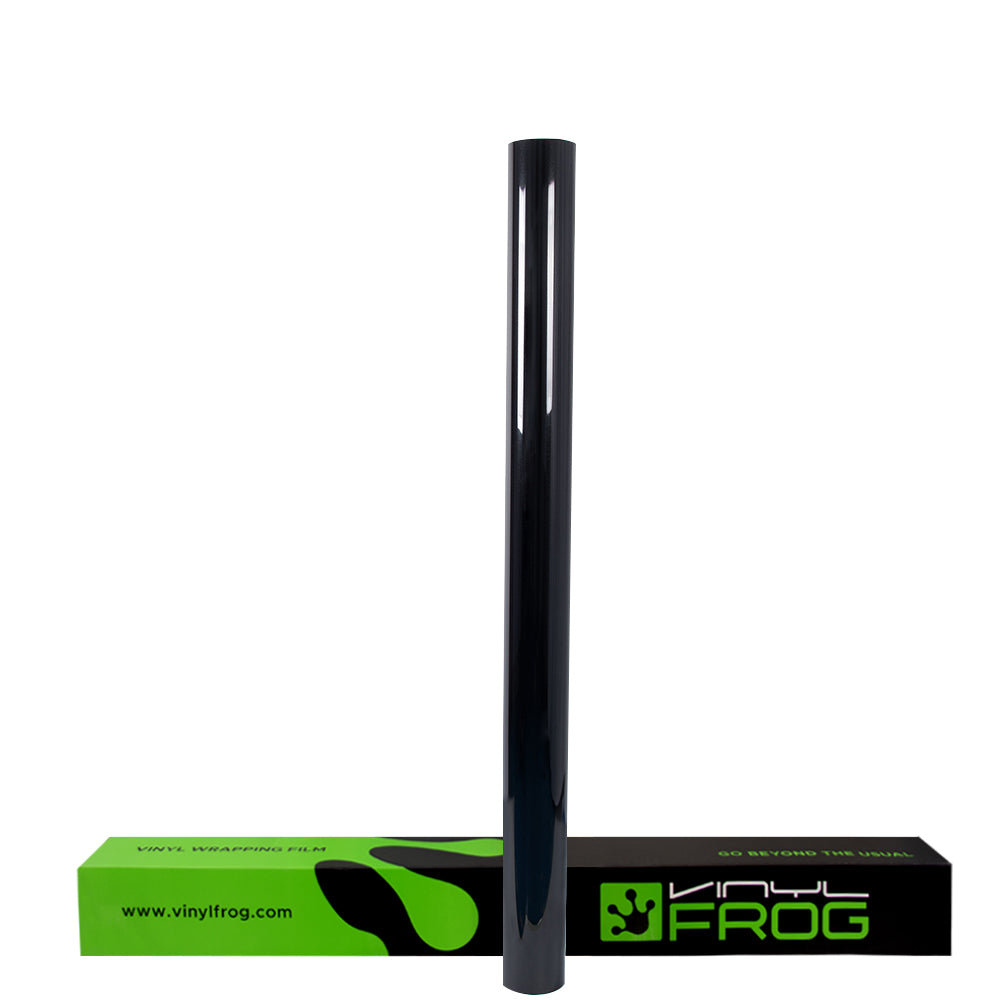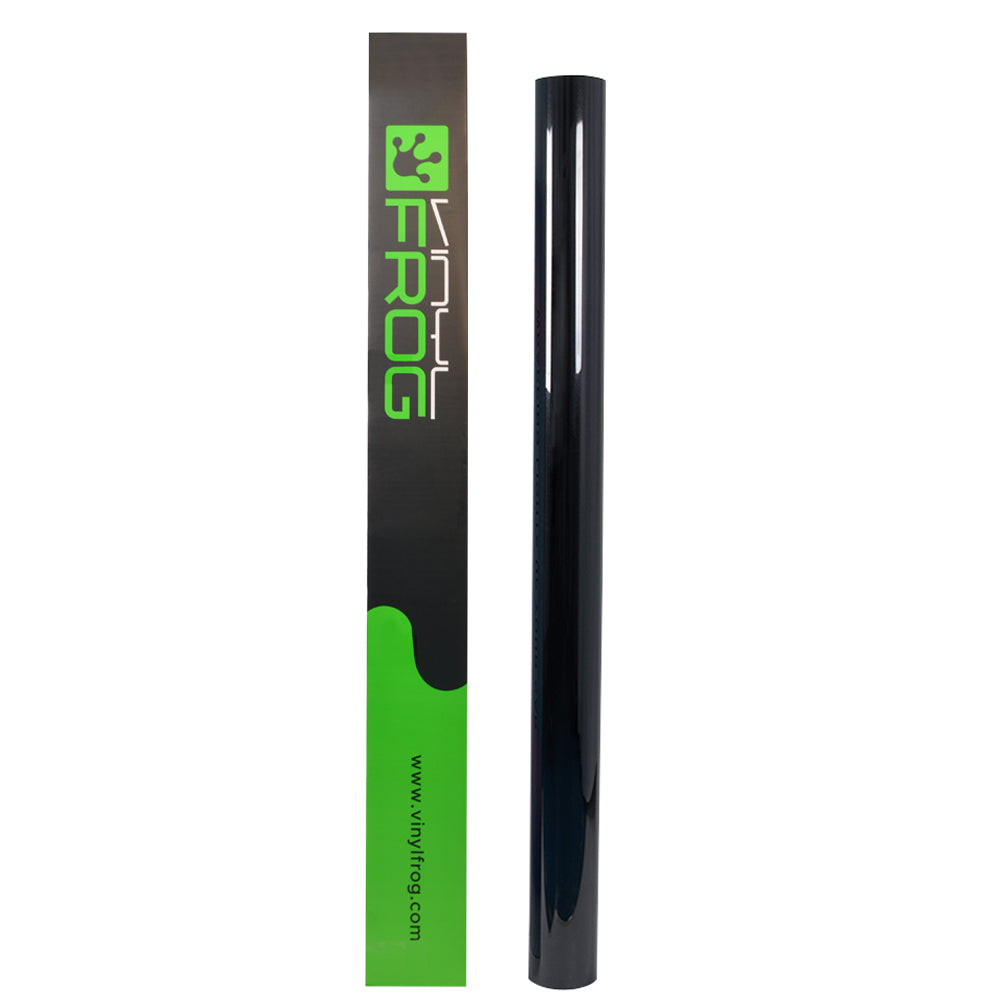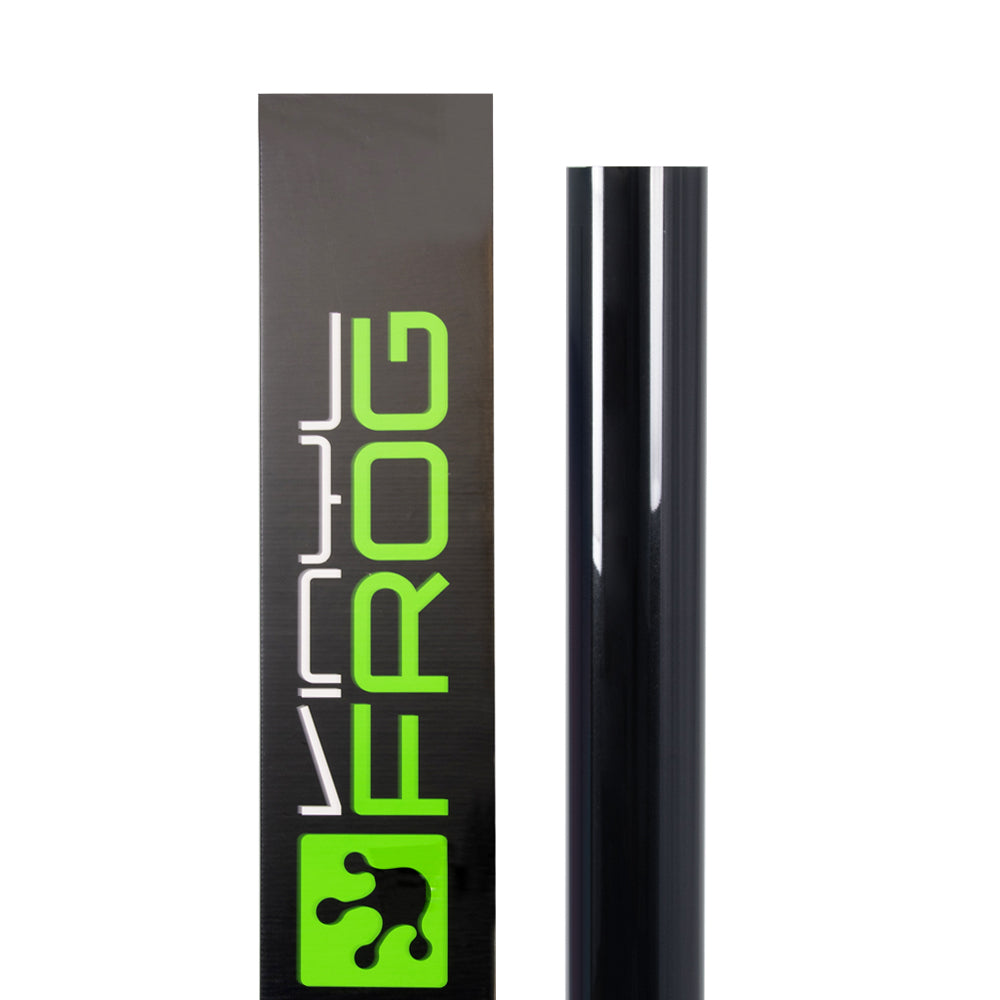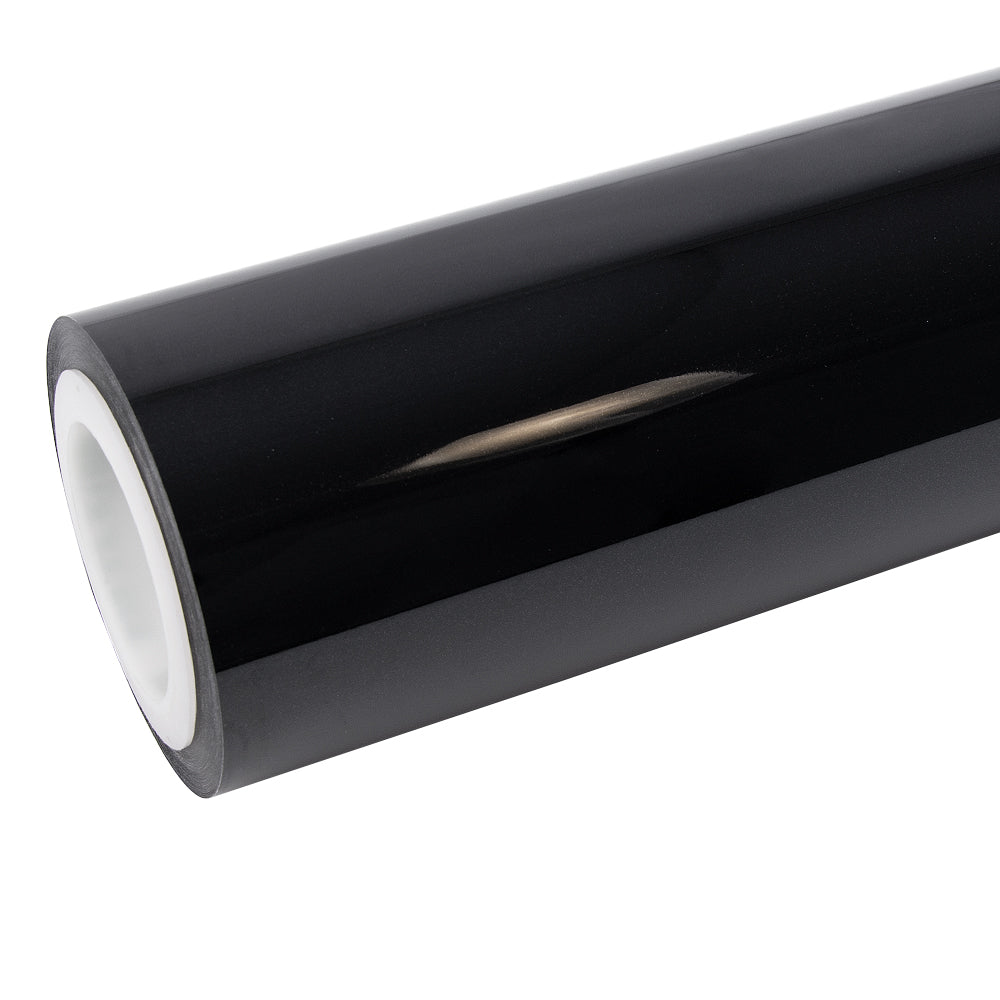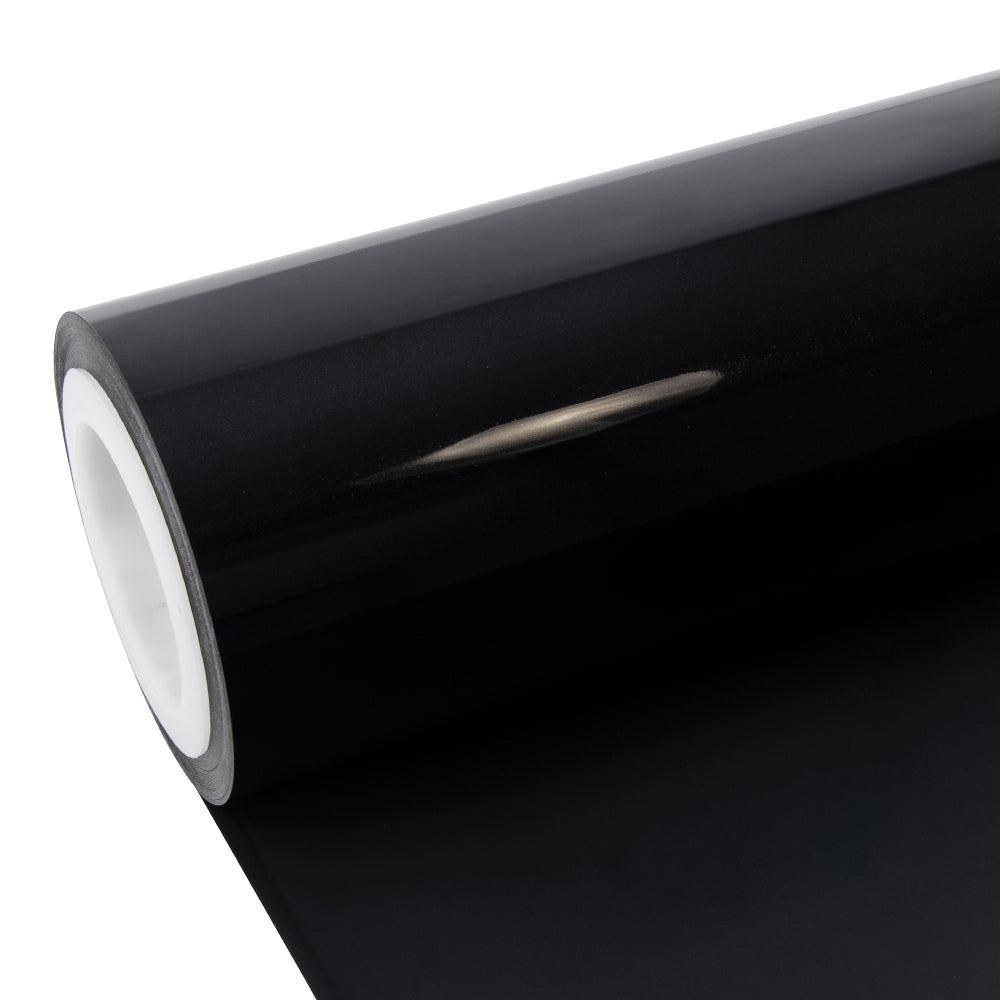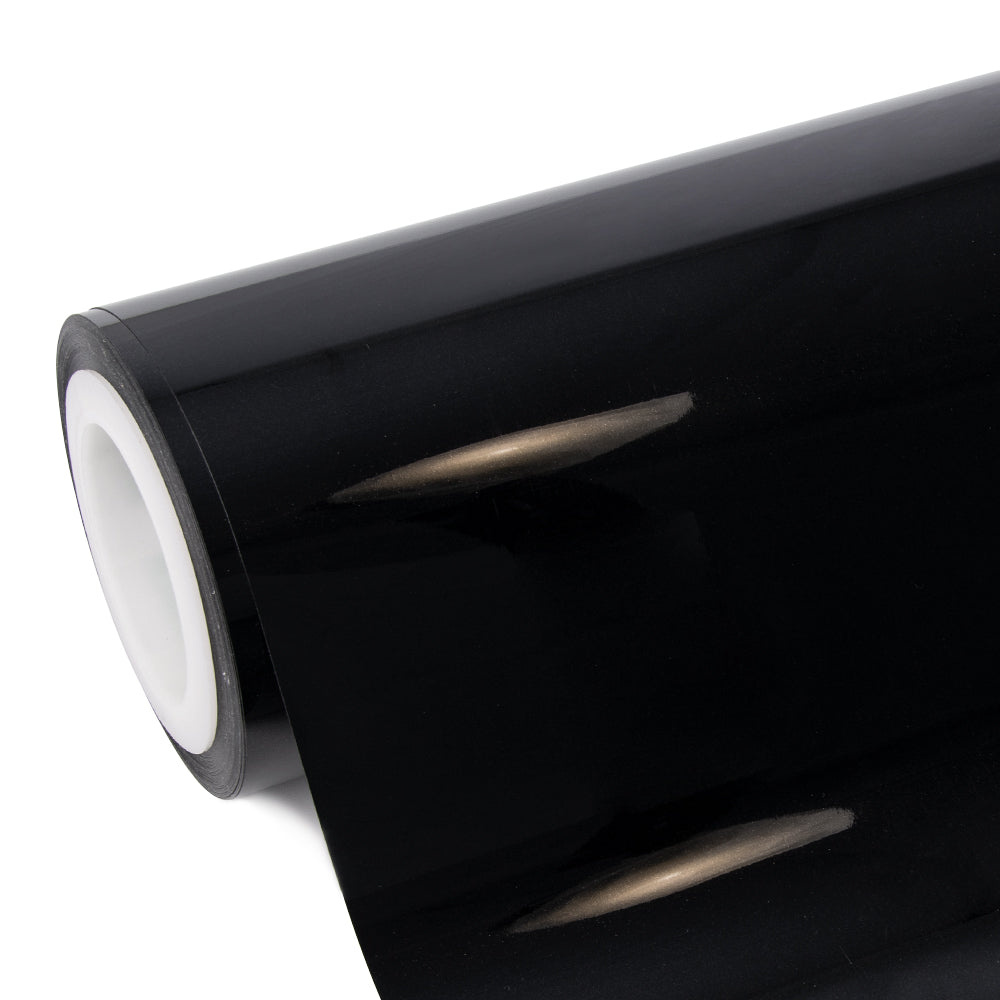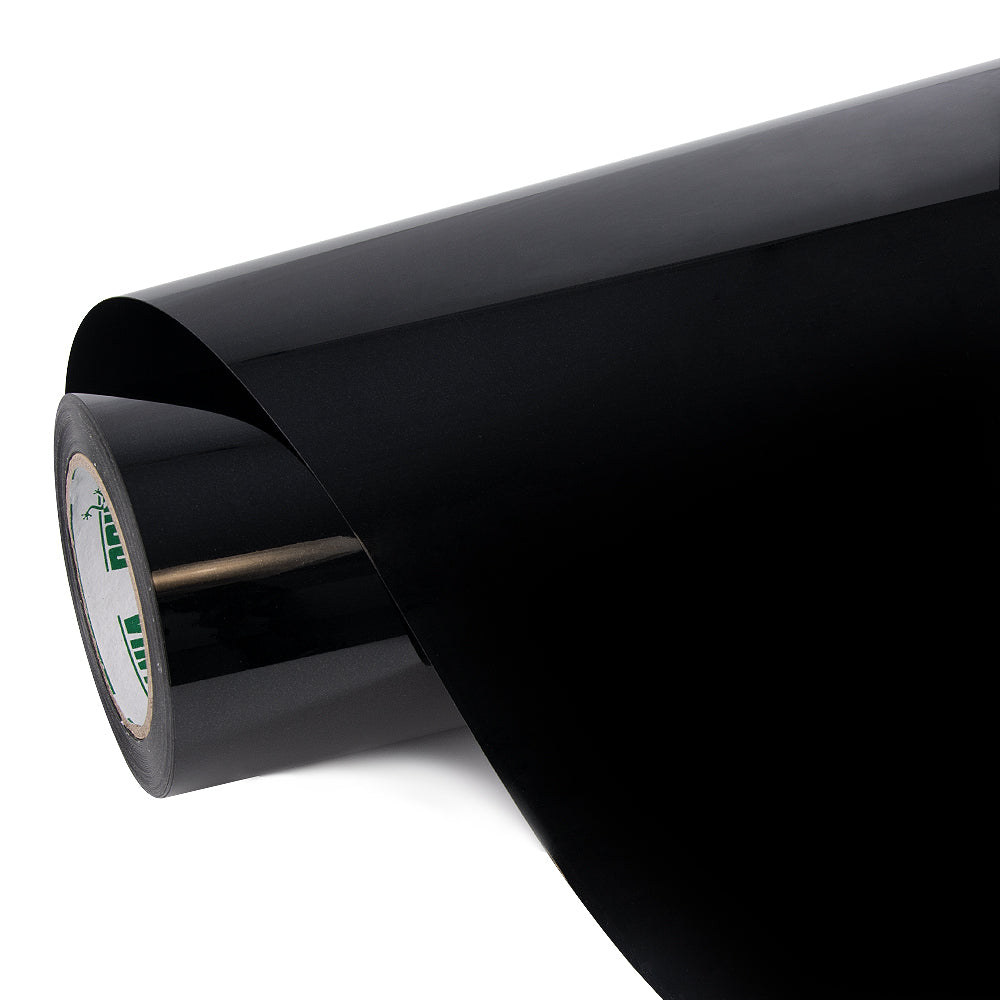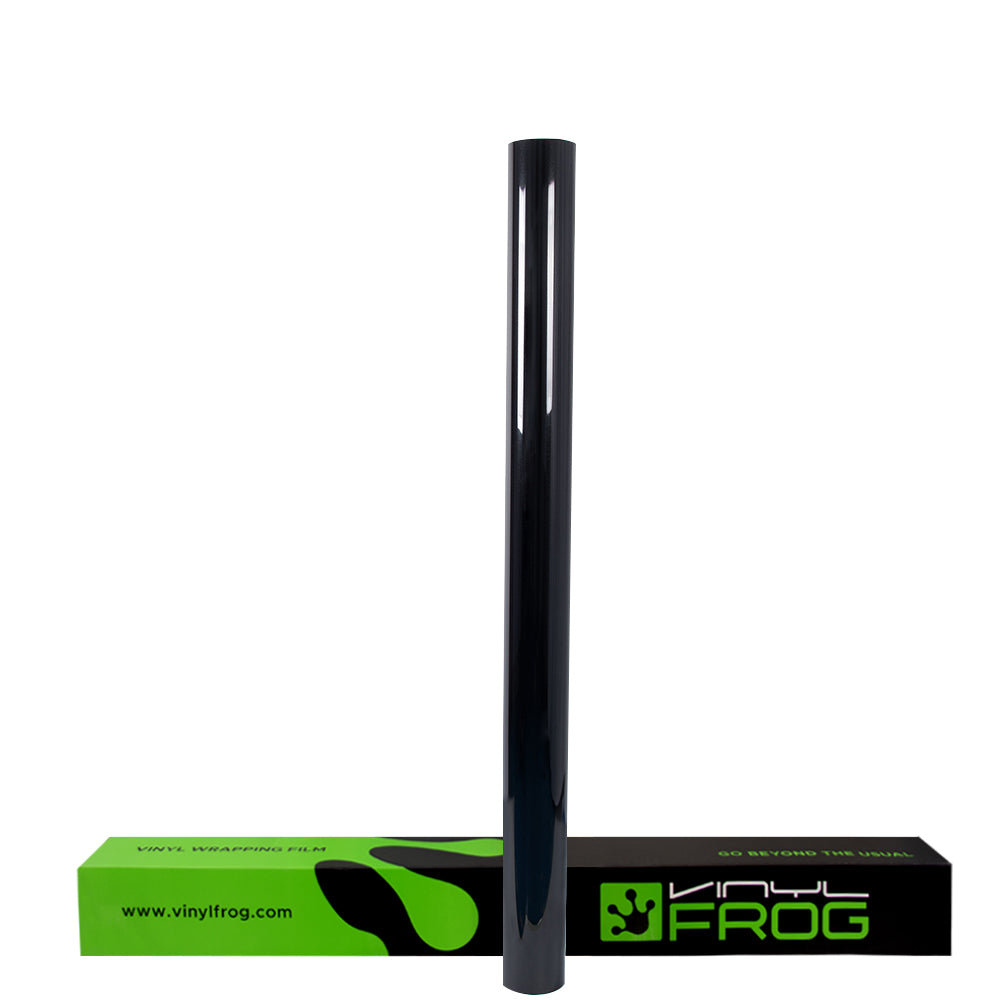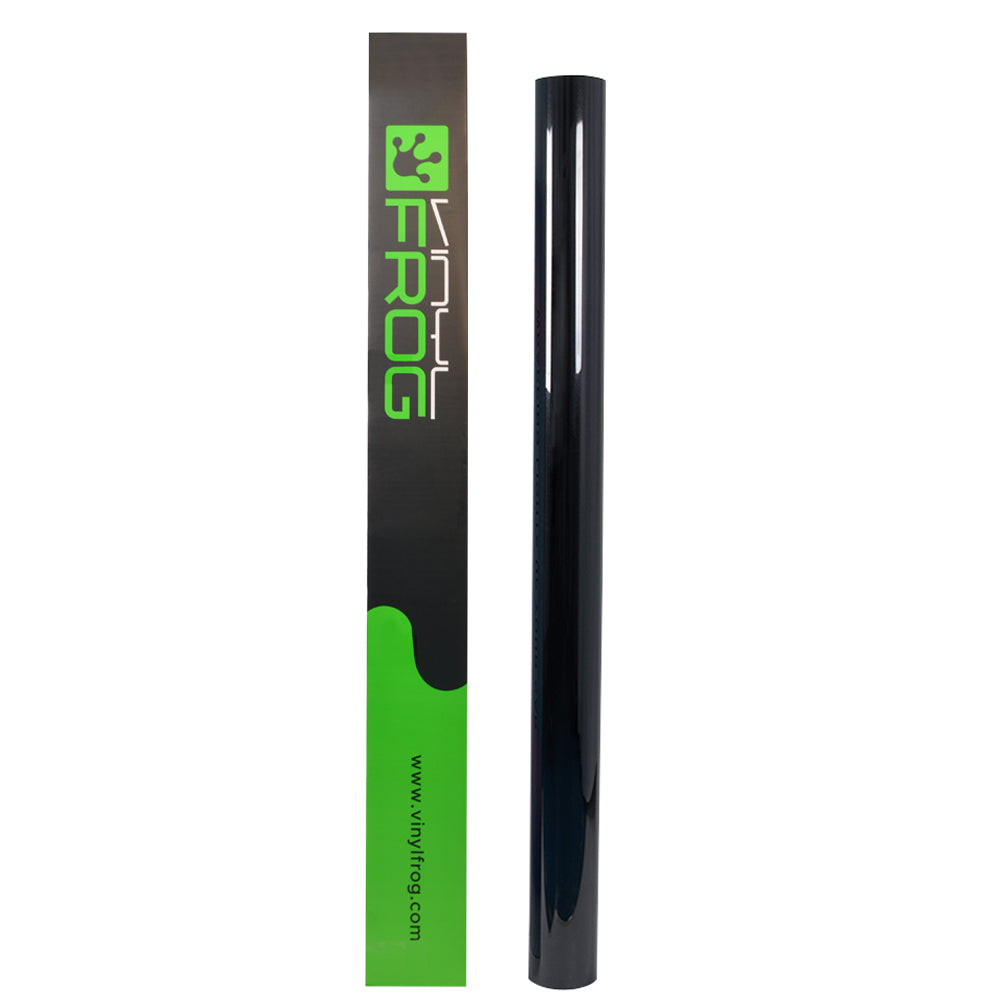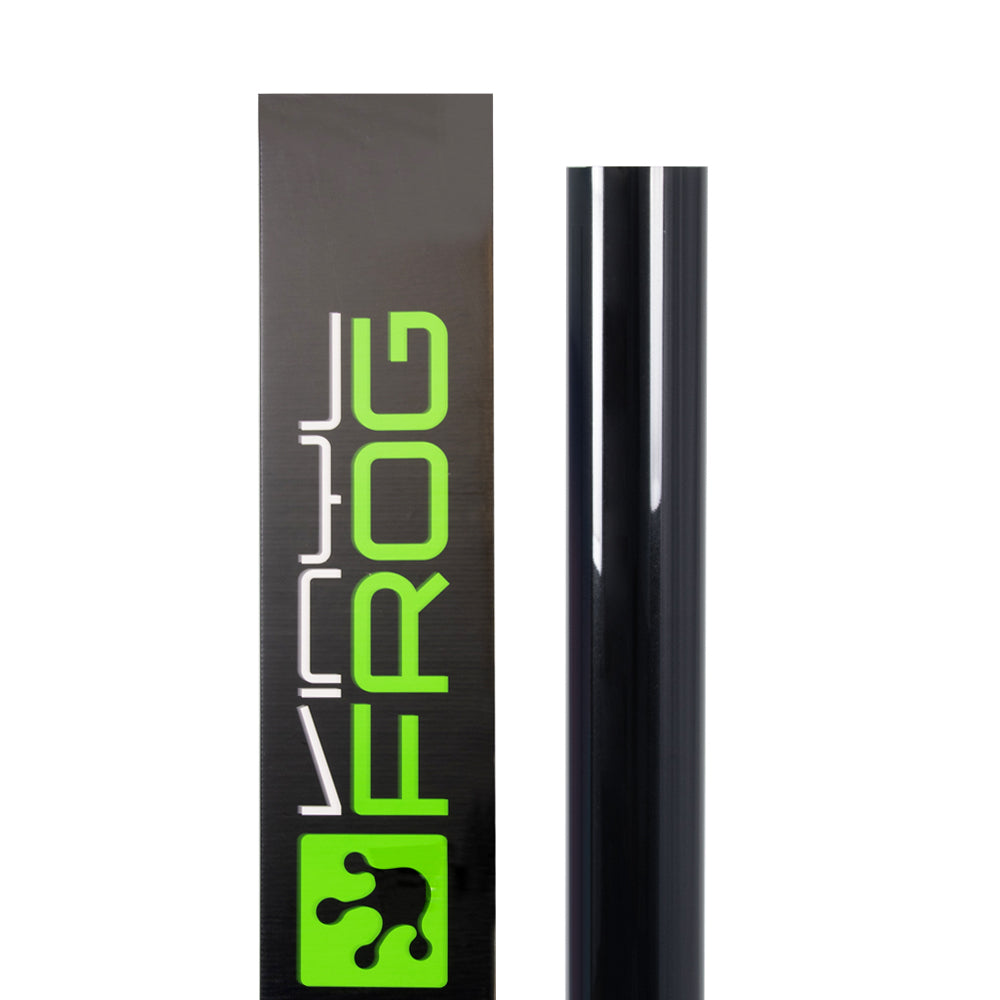 Rainbow Metallic Majestic Black Vinyl Wrap
Black shade with a rainbow effect - a spectrum of different hues appears on its surface when light falls on it at certain angles. Your set of wheels becomes a spectacular sight on the road.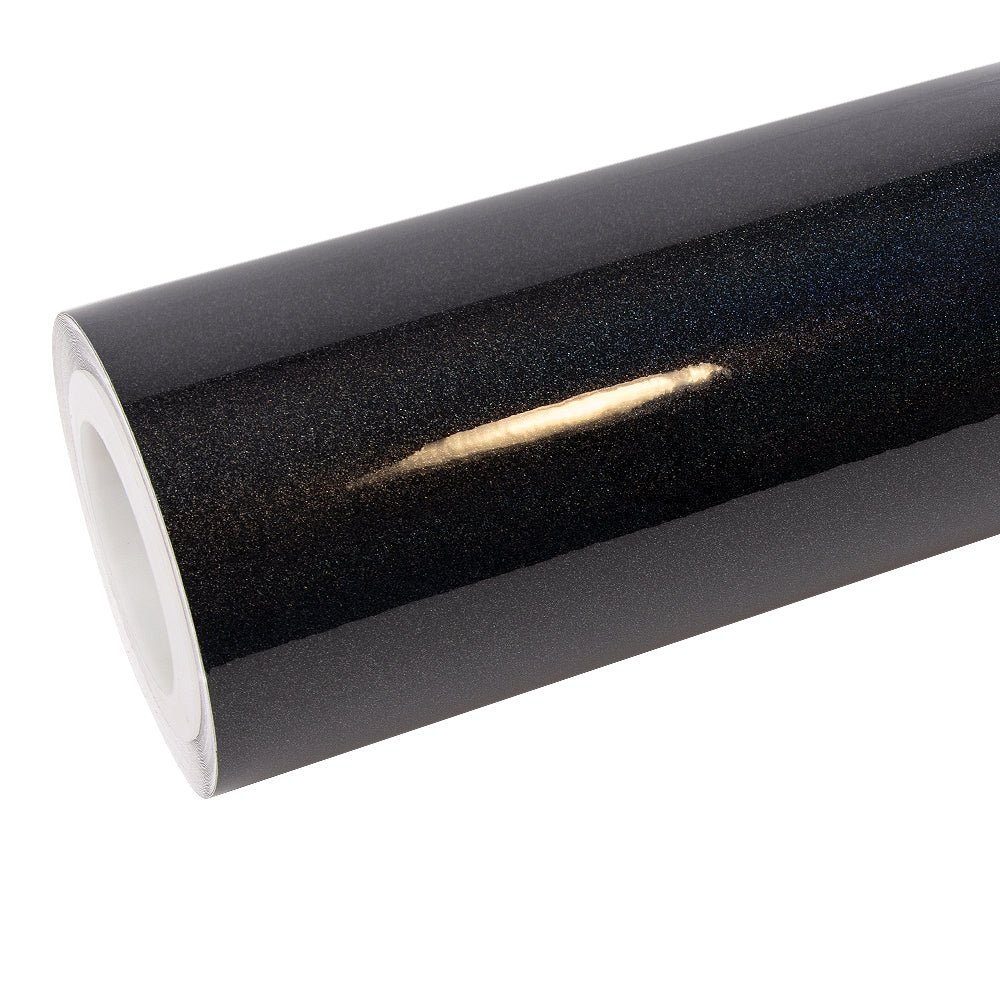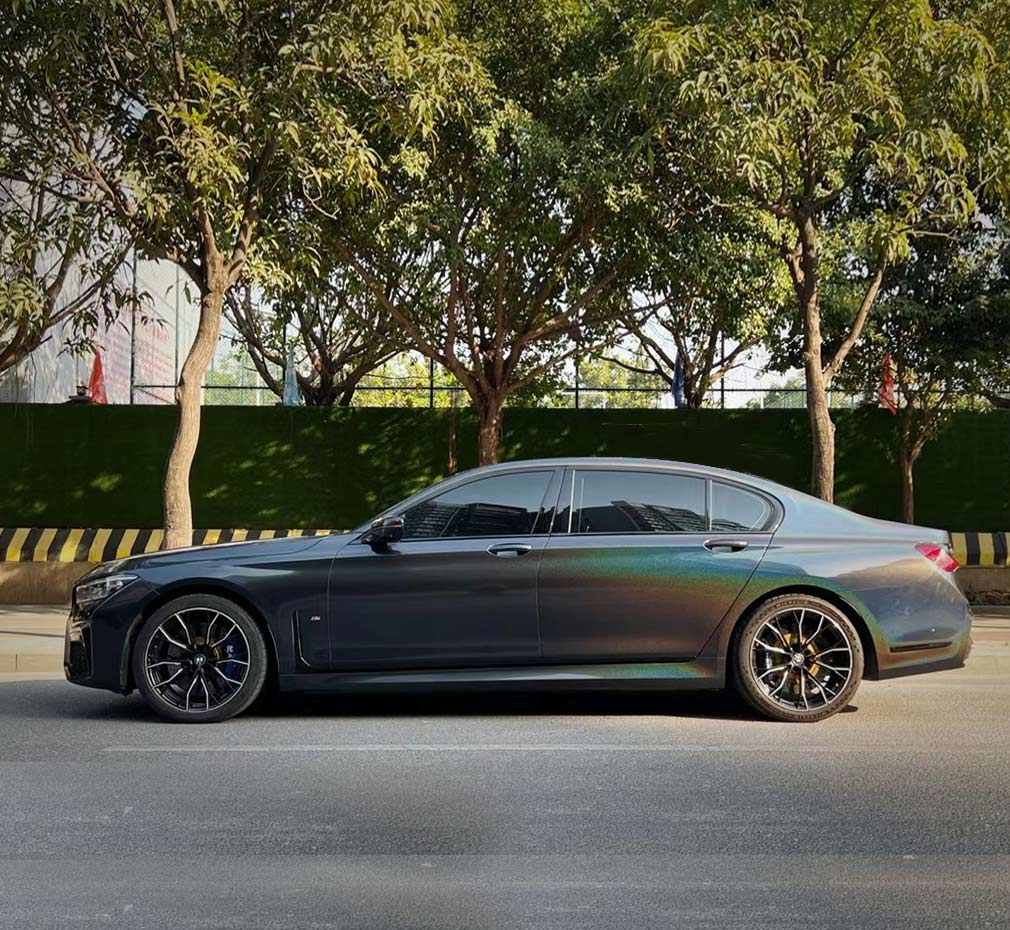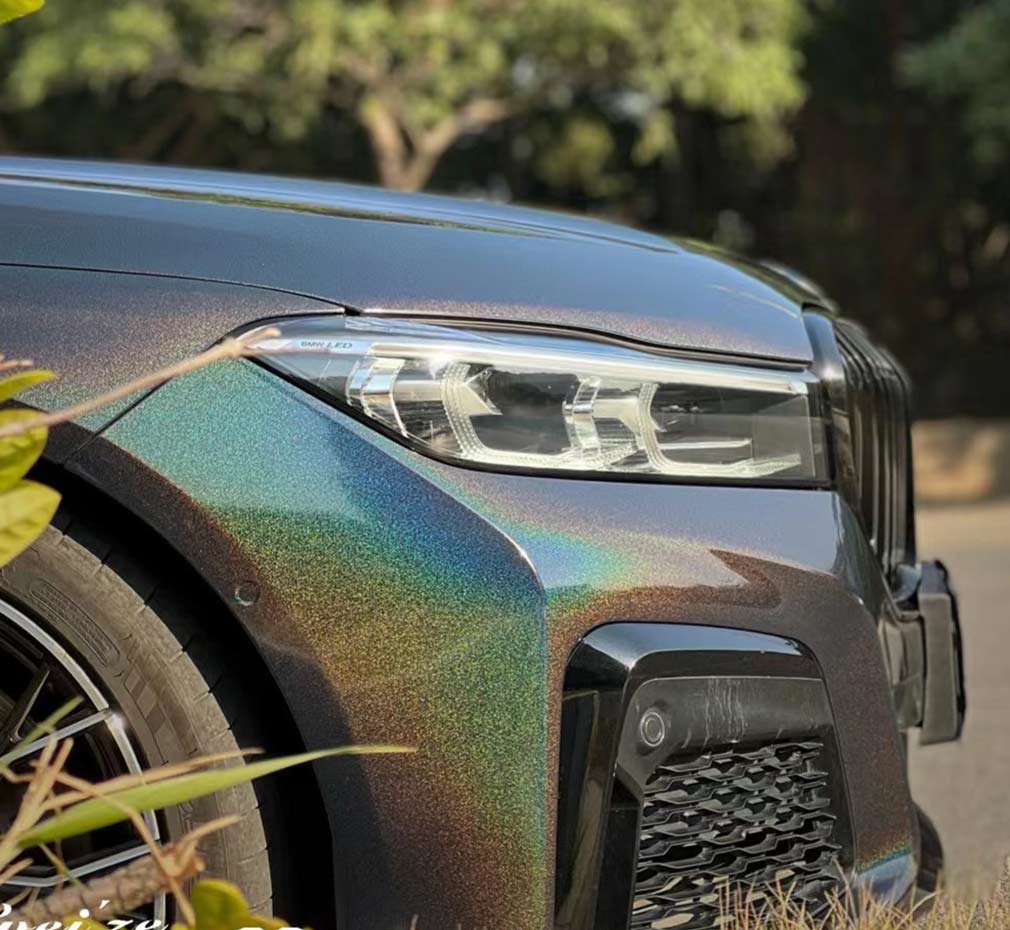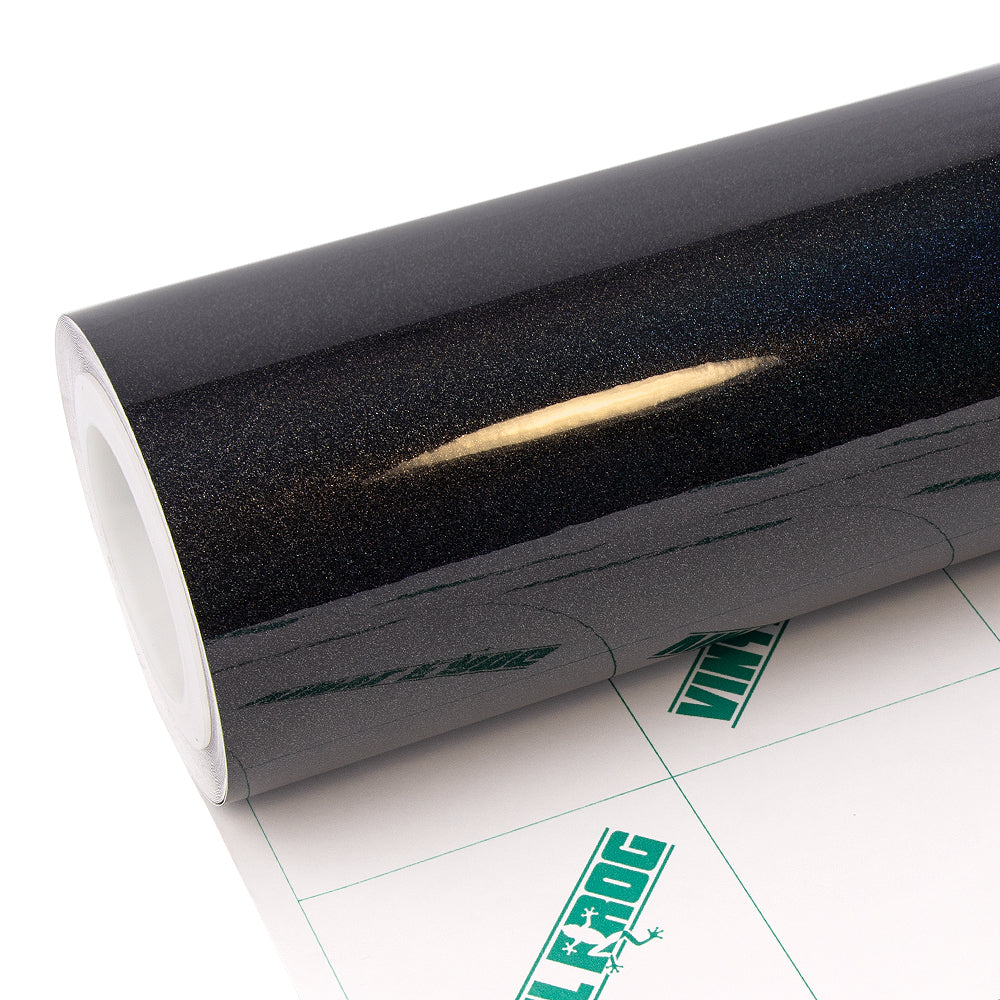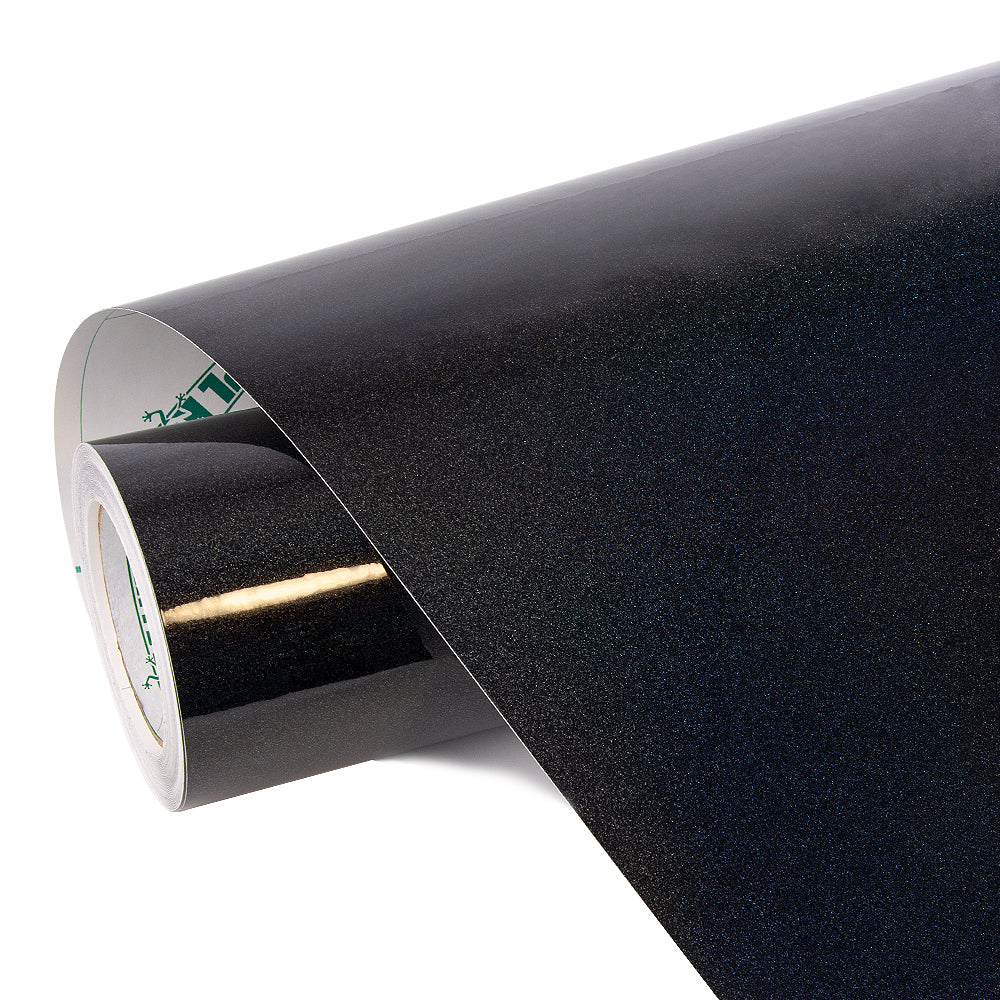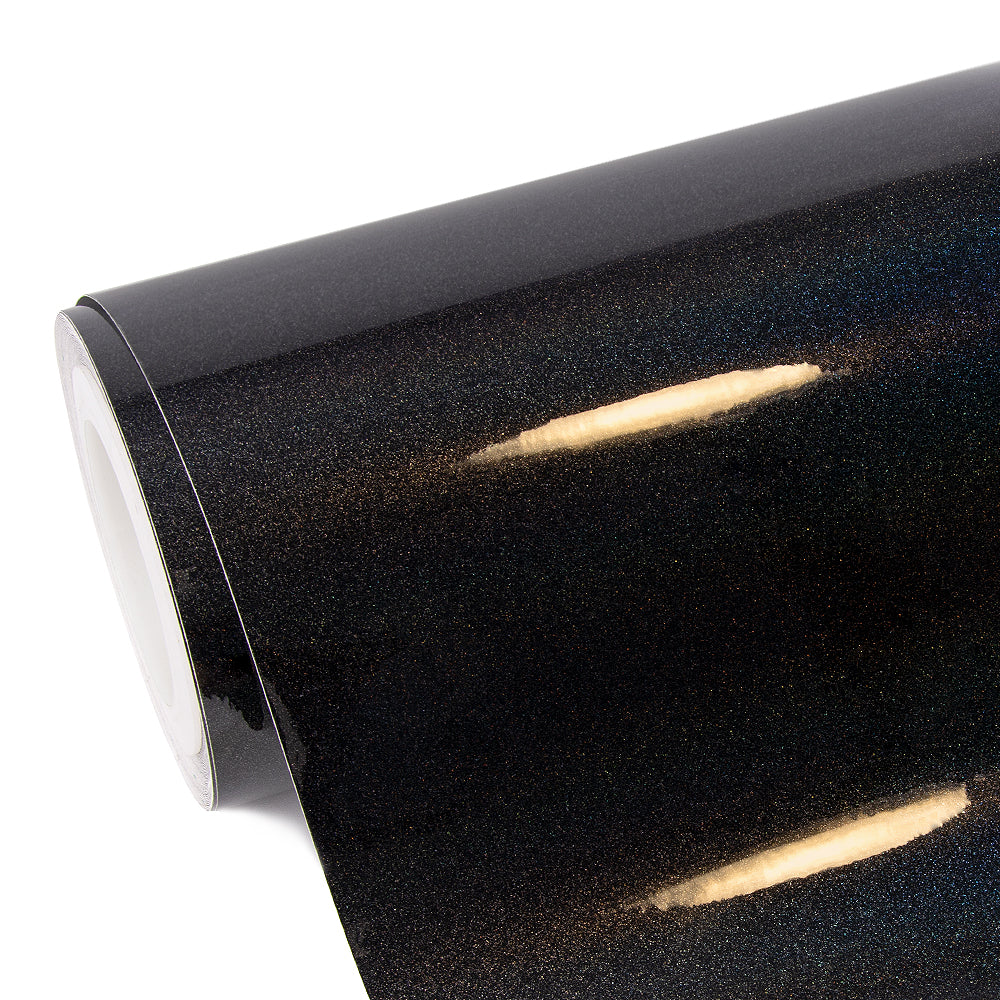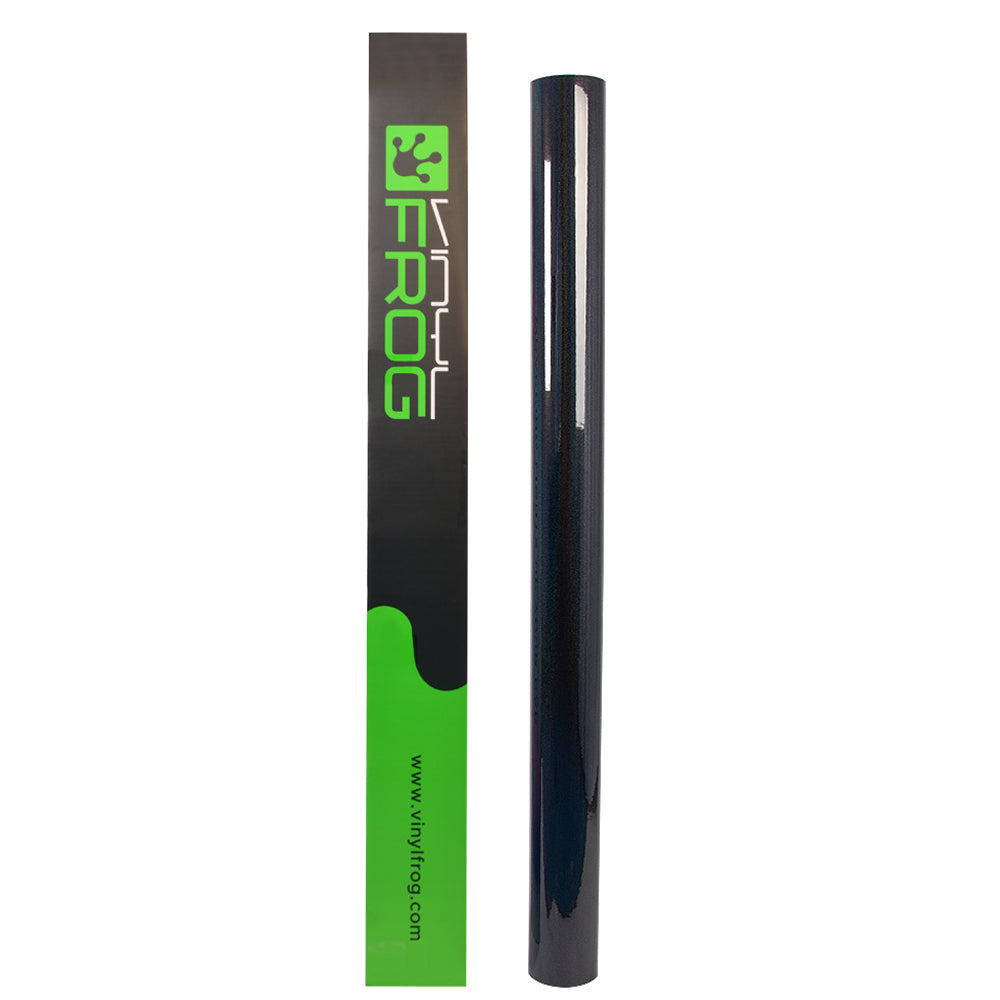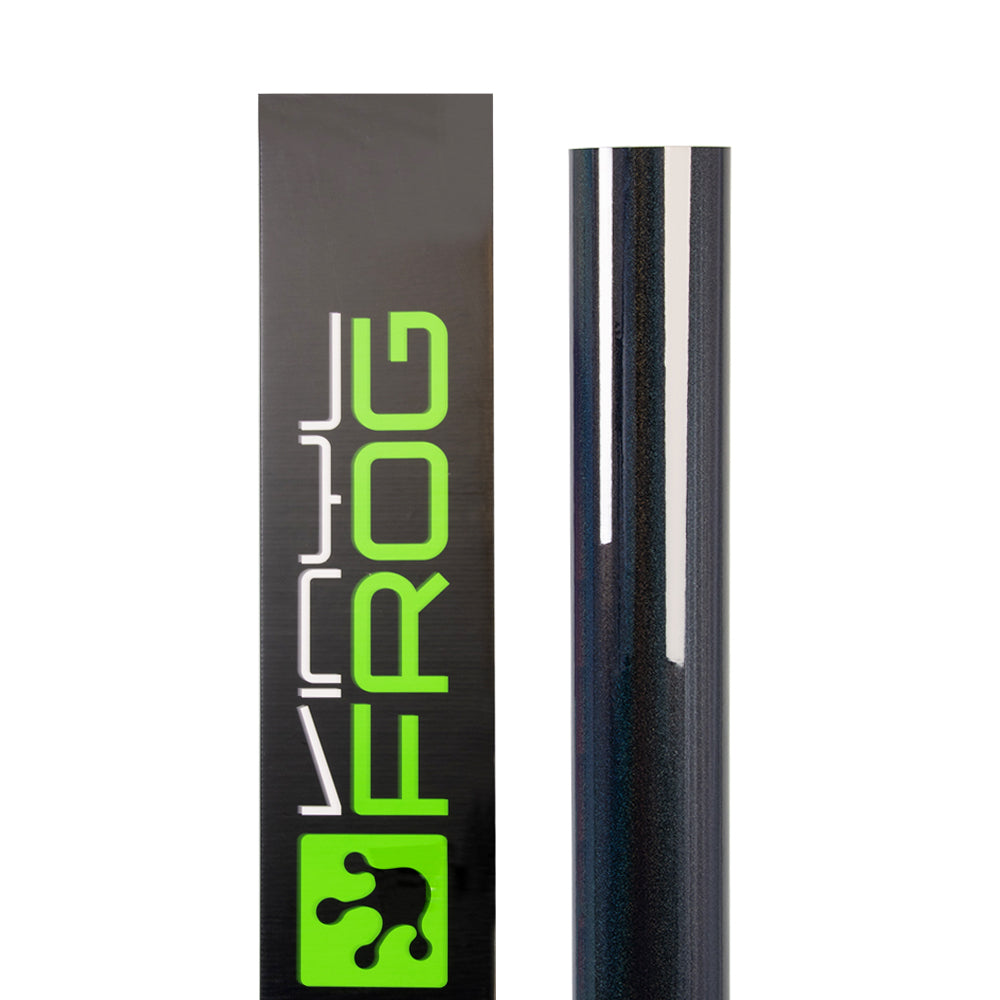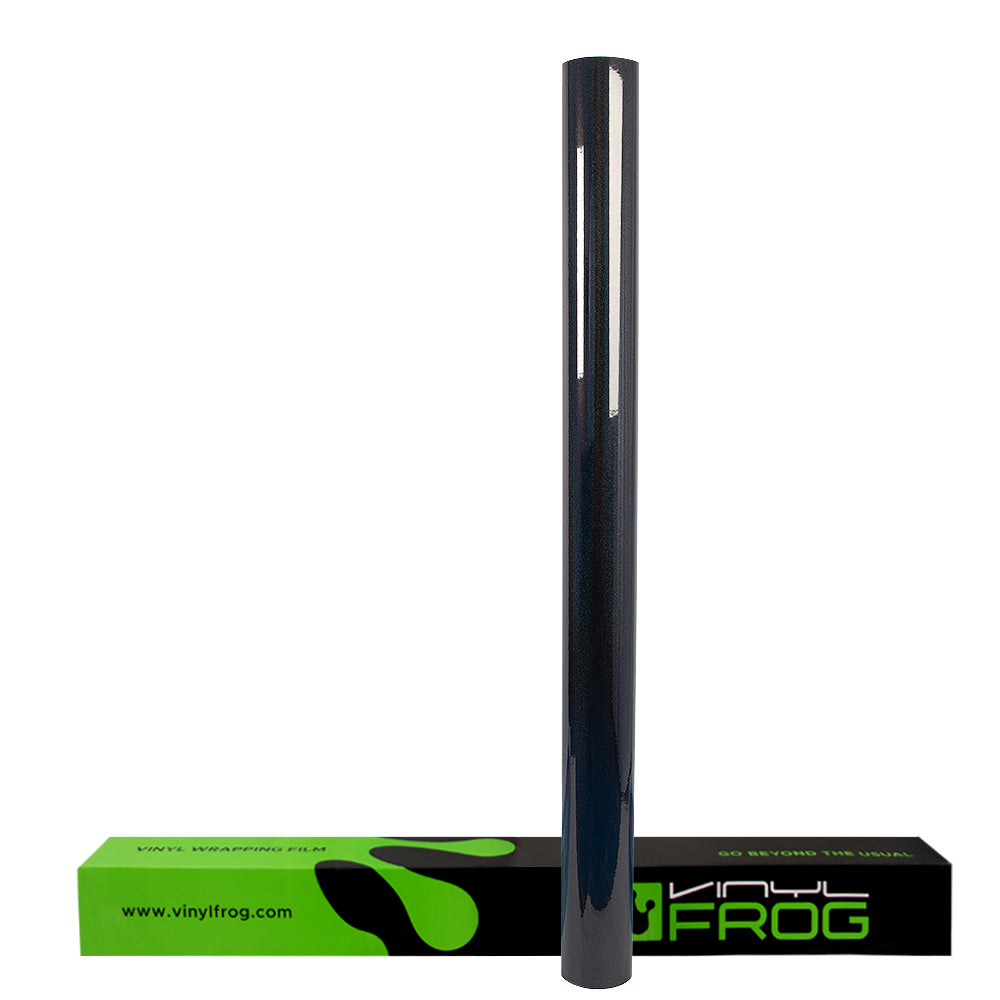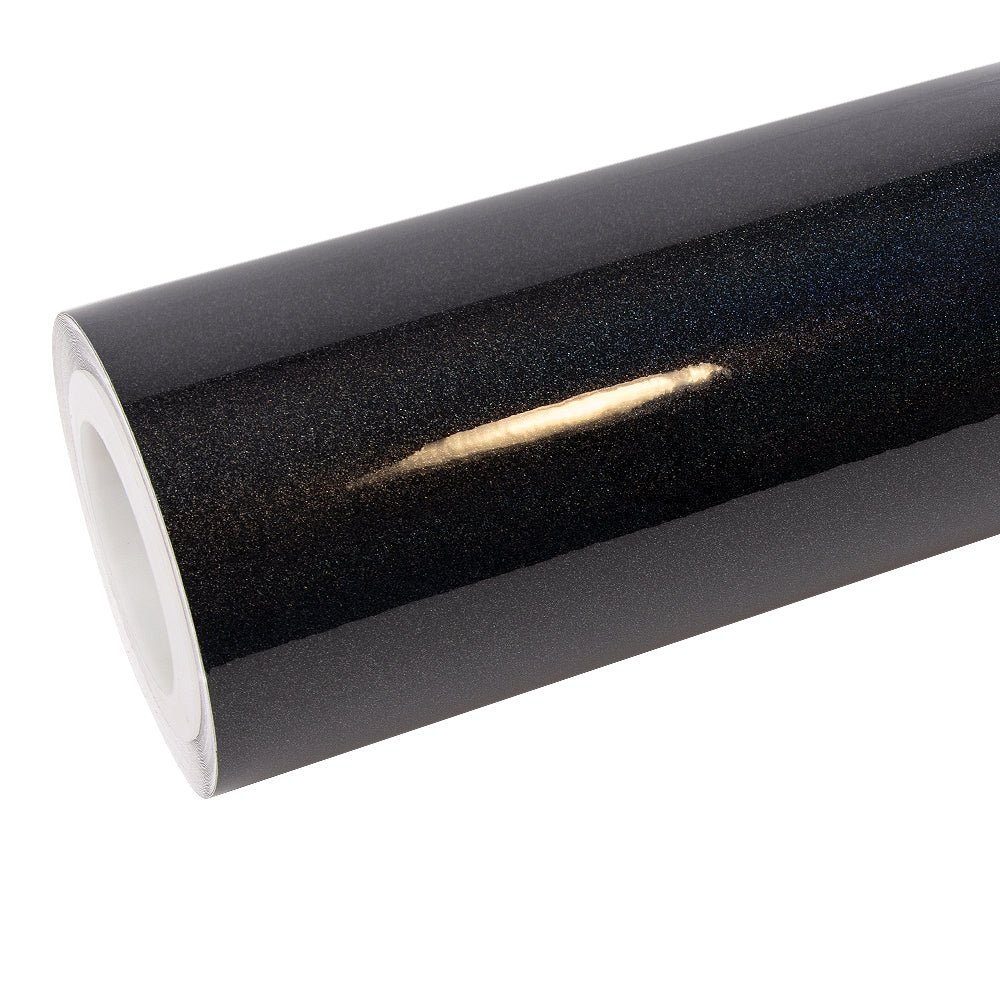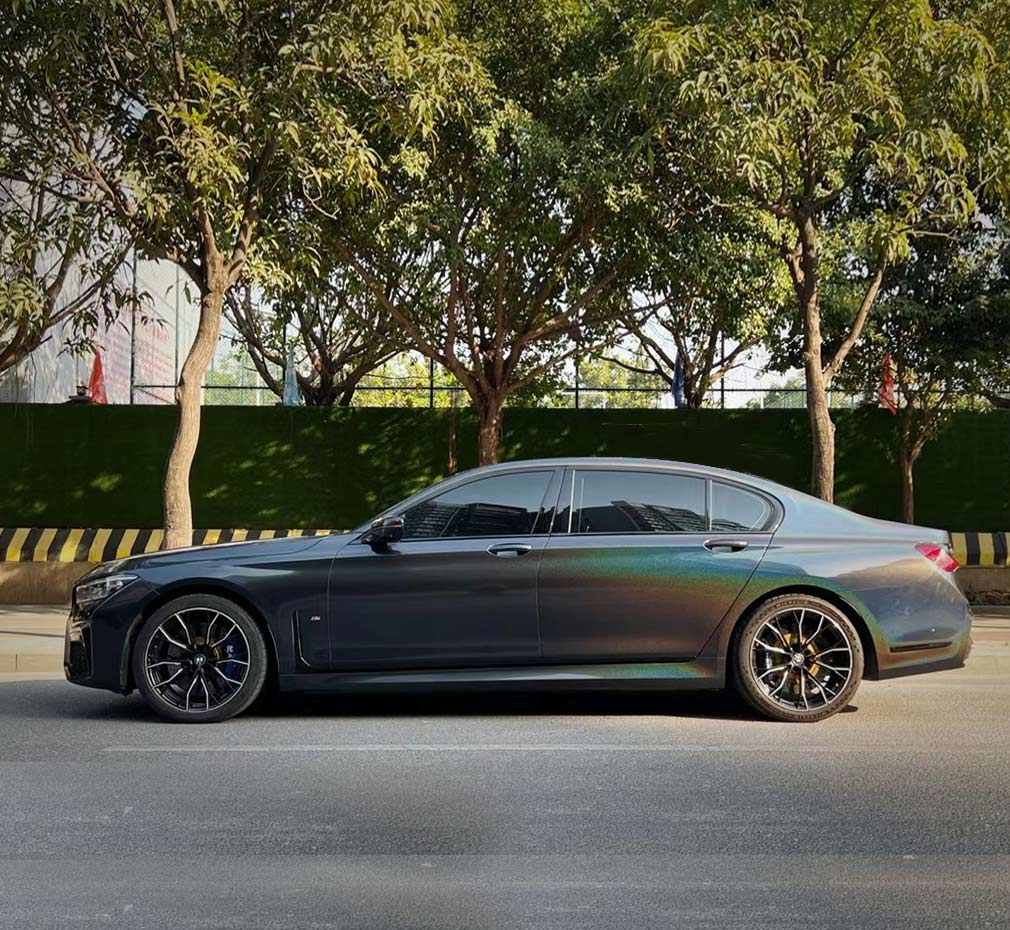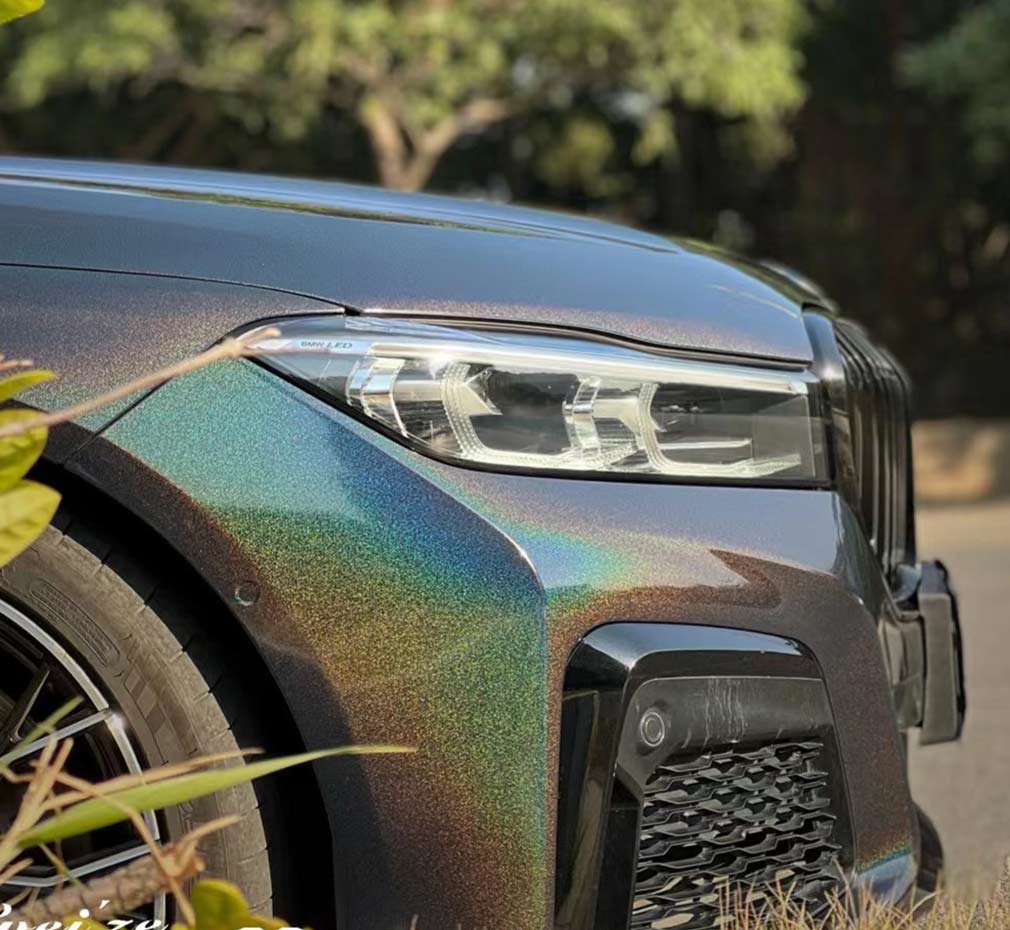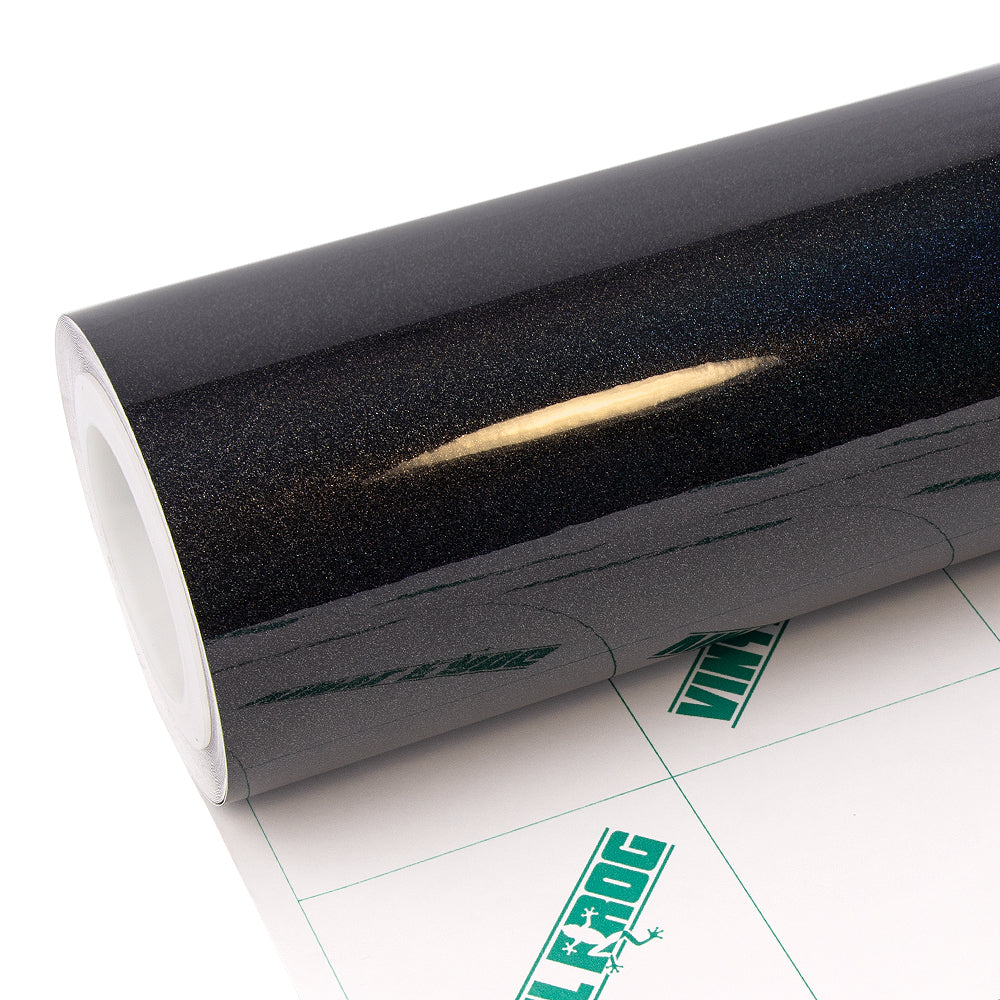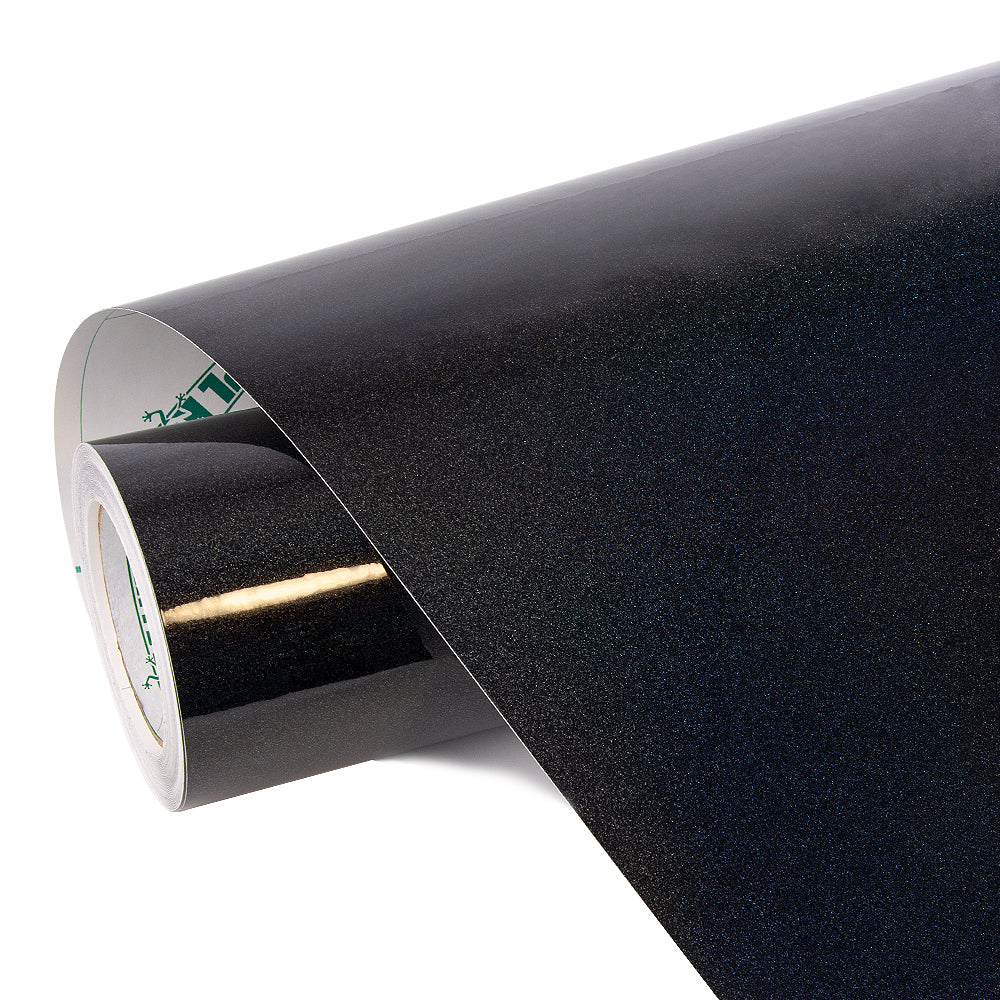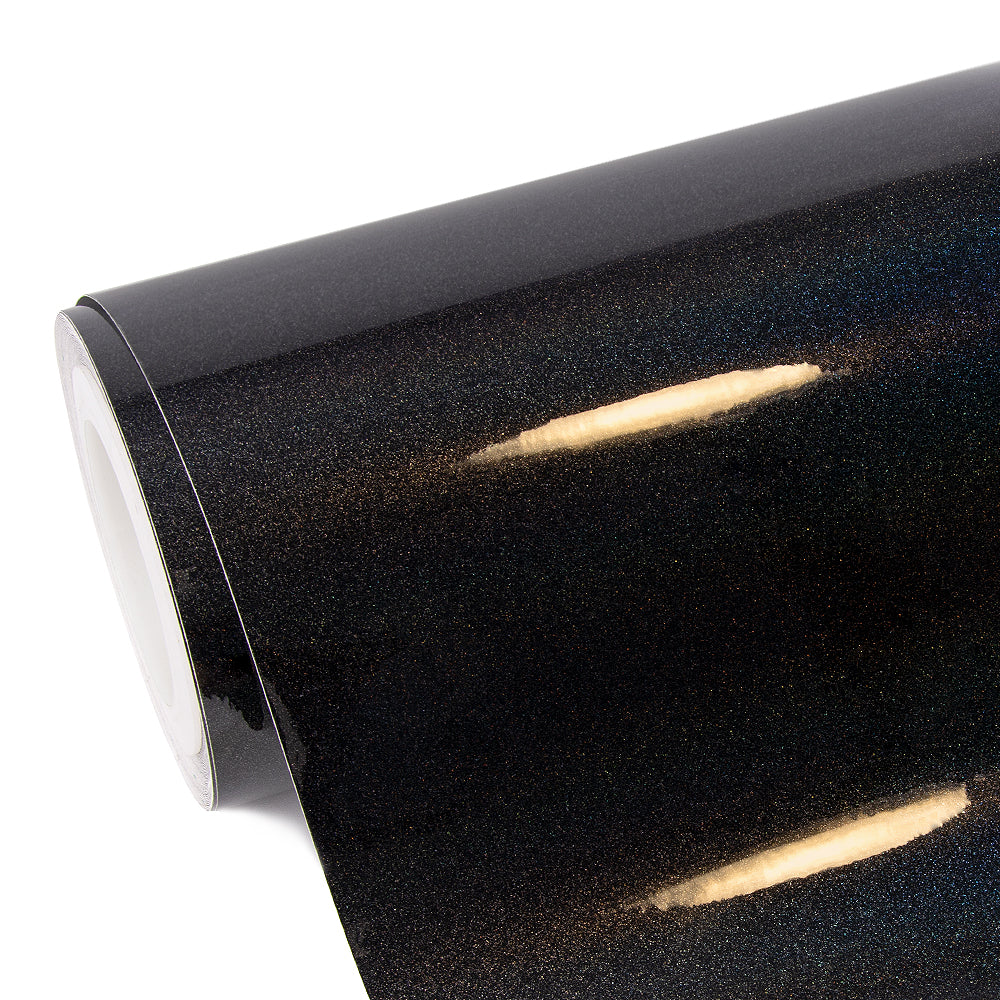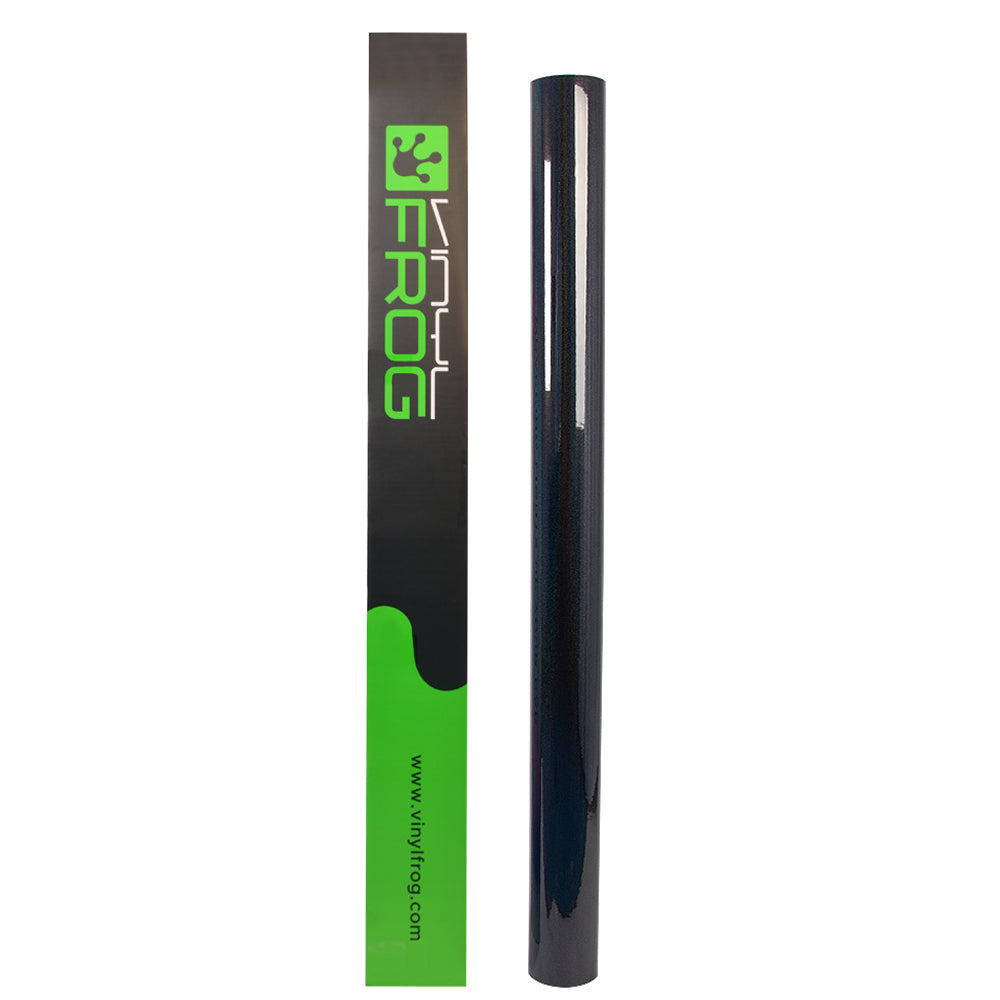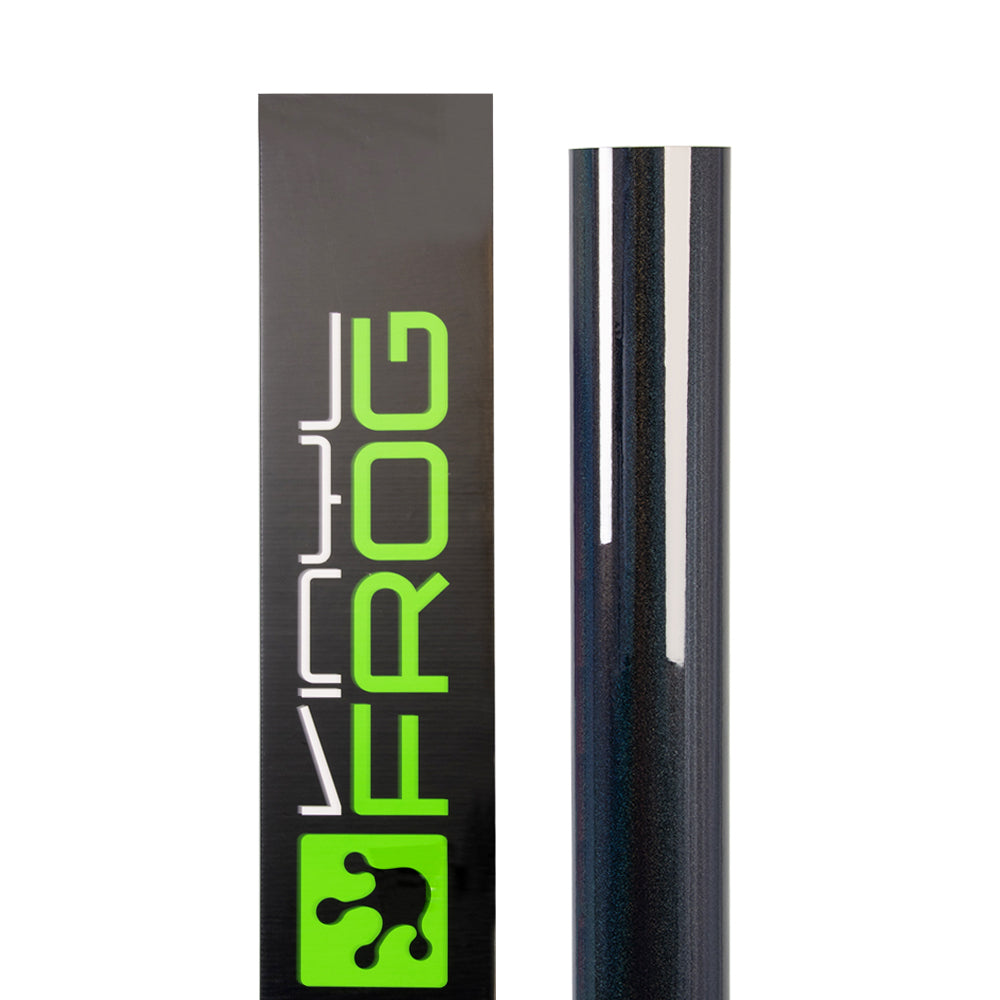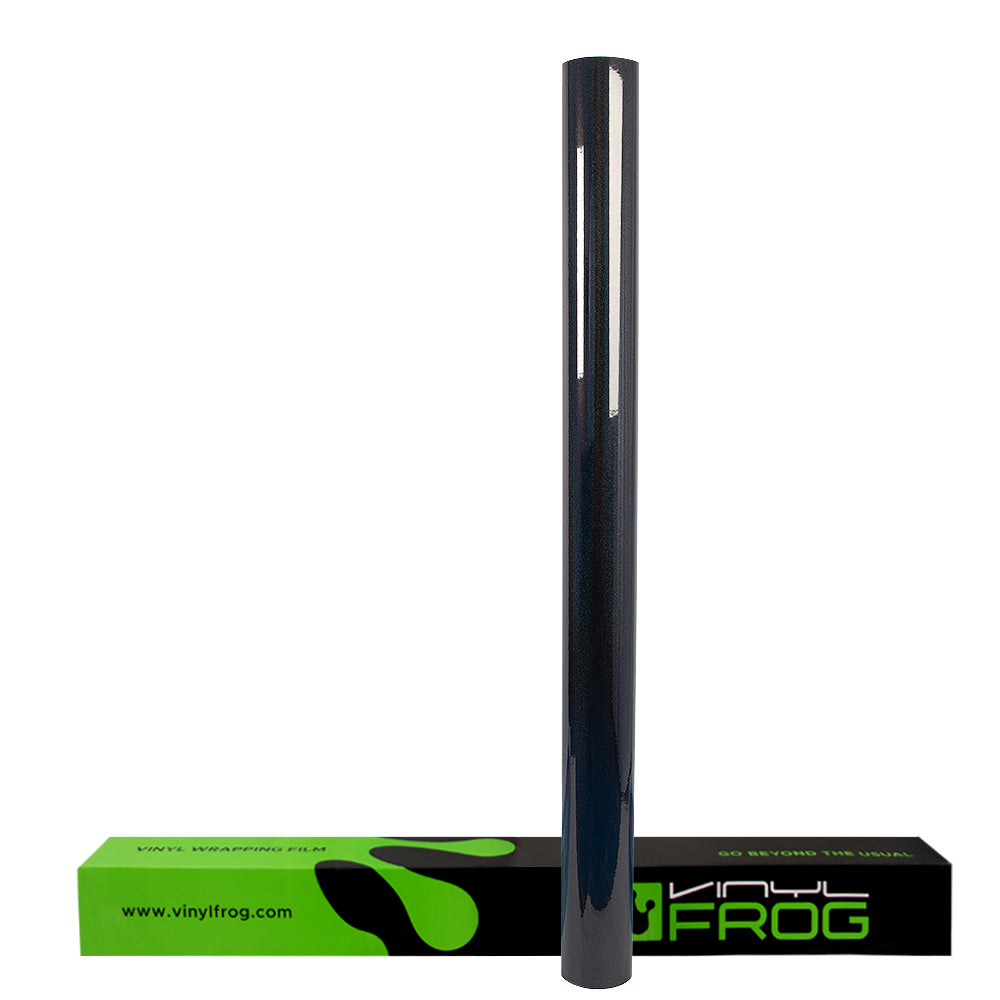 Satin Black Vinyl Wrap
Satin black wrap defines sophistication. It is neither super shiny like the metallic finish nor completely muted like a matte black wrap. It has a soft satiny shine that exudes pure elegance. It promises to provide dimensional stability and looks best on a full vehicle wrap. It costs around $58 for a 5ft roll.
Satin Black Vinyl Wrap
An exquisite vinyl that neither has the glare of the glossy finish nor the completely toned down look of a matte wrap – just the right amount of shine with a soft texture as if your car is wrapped in silk.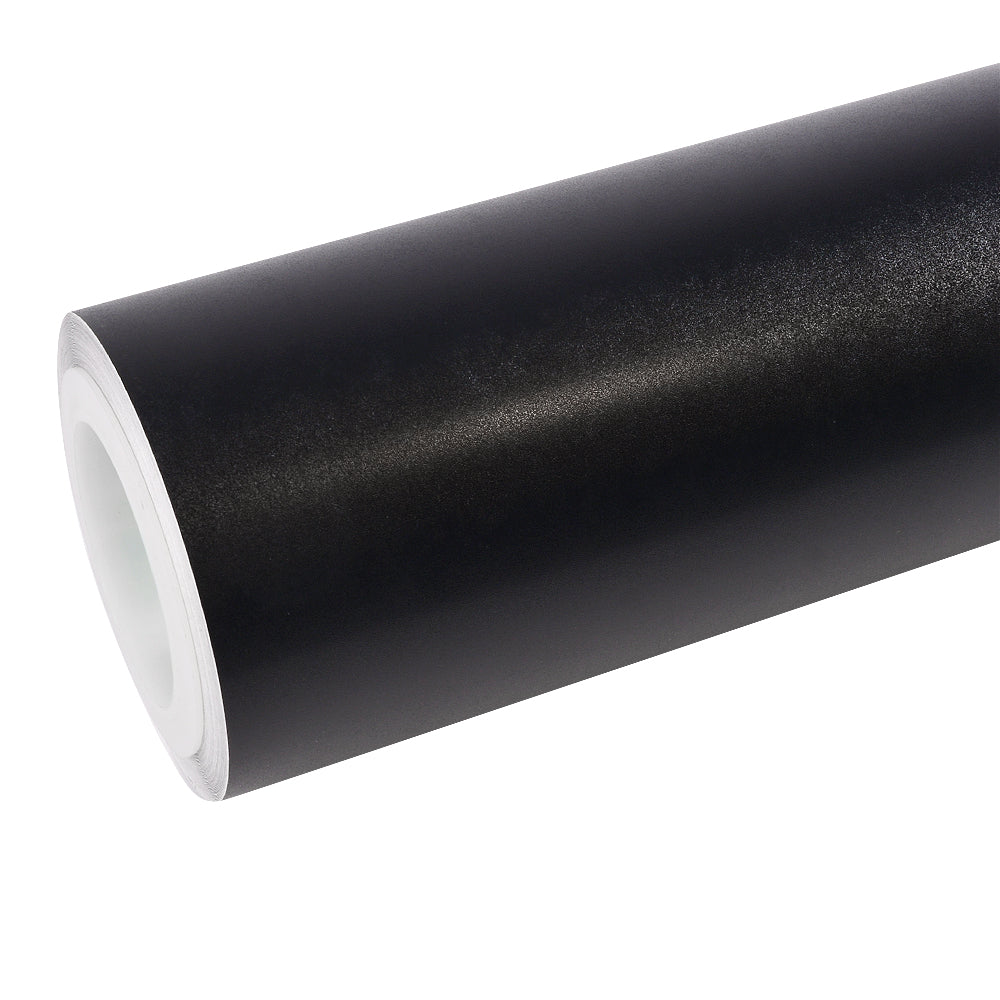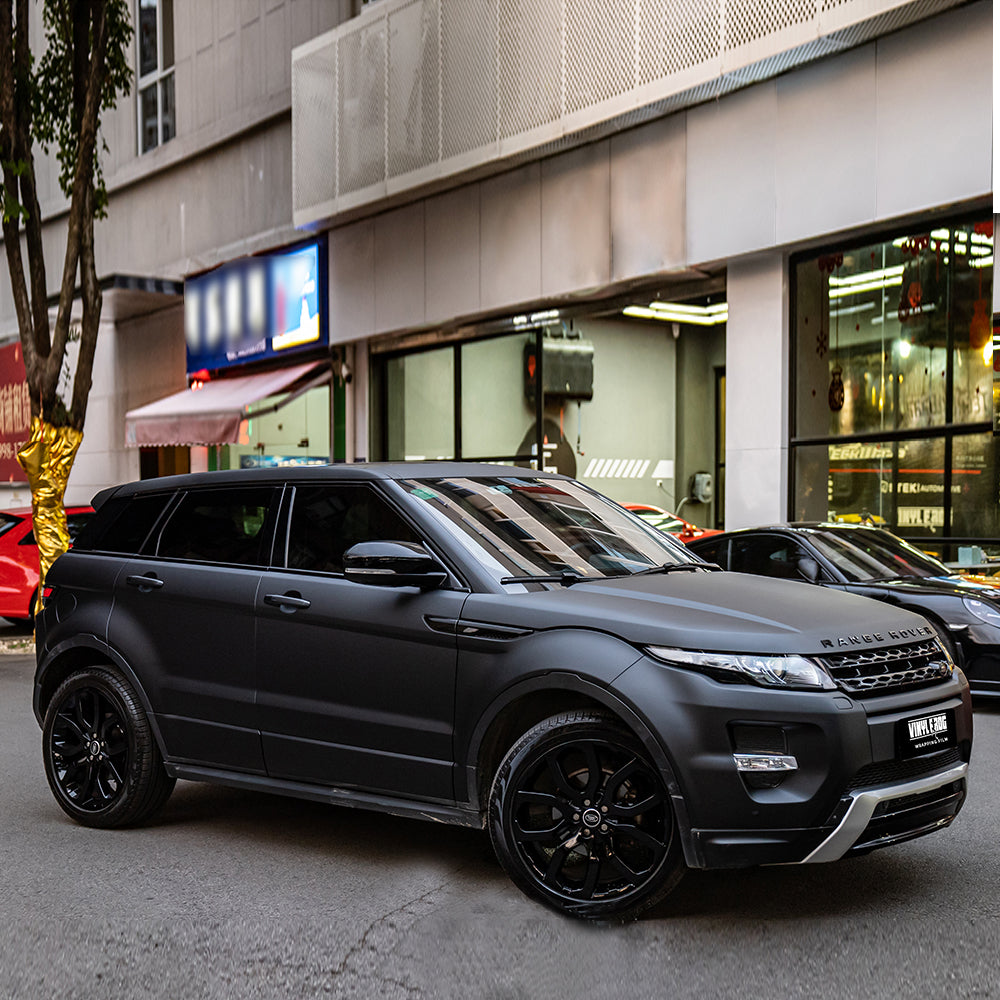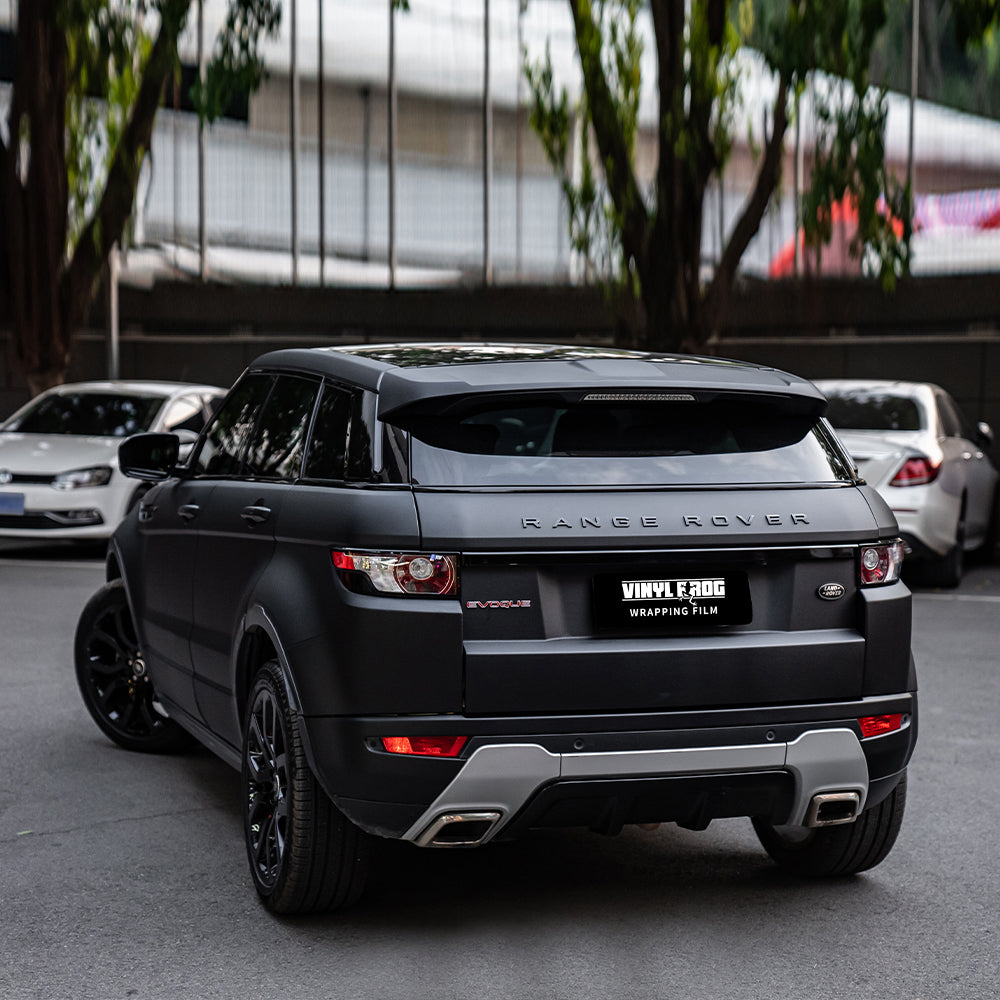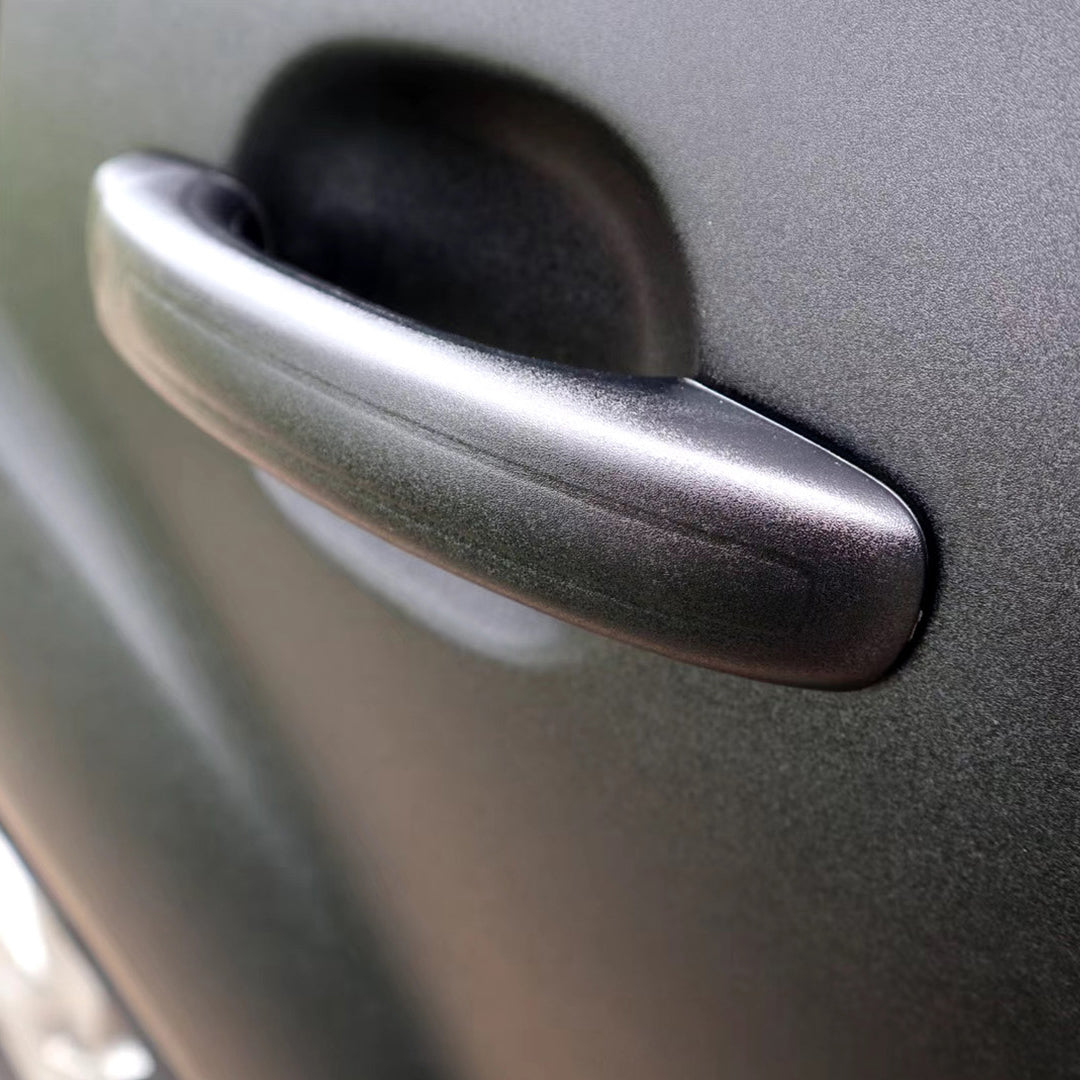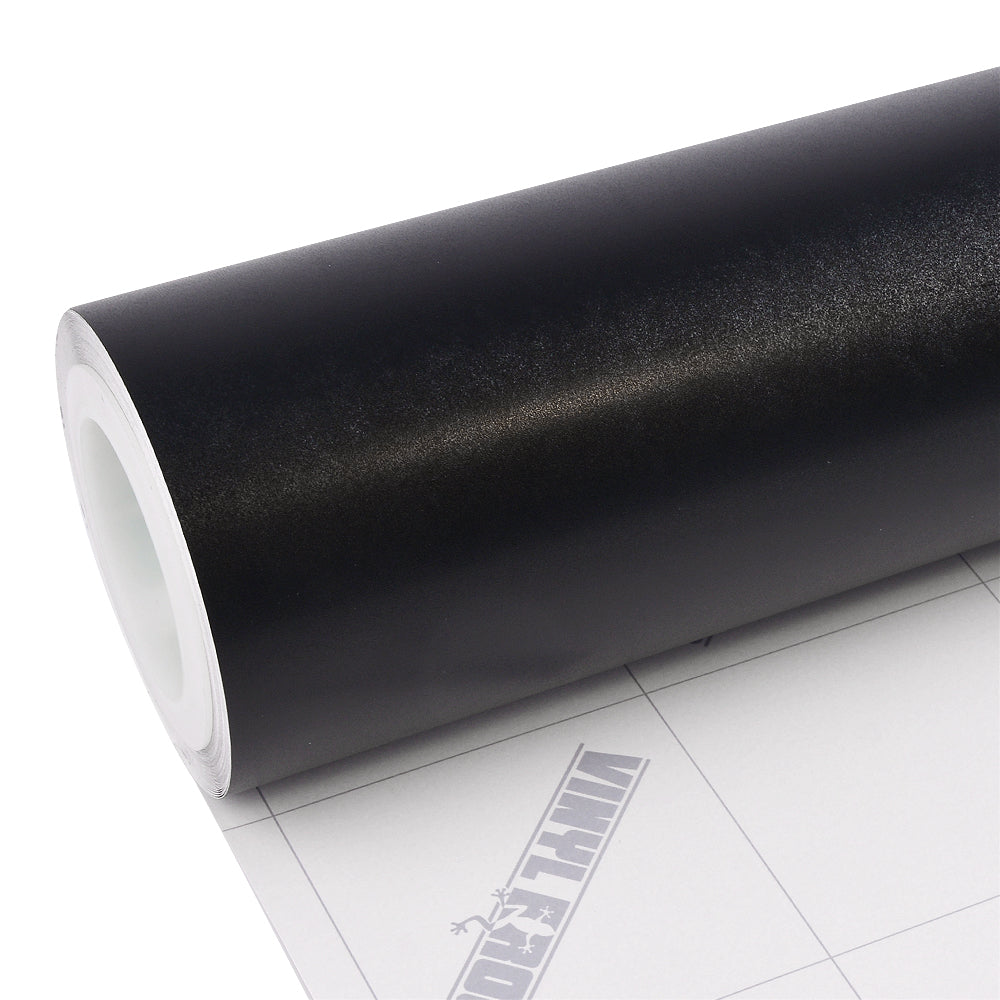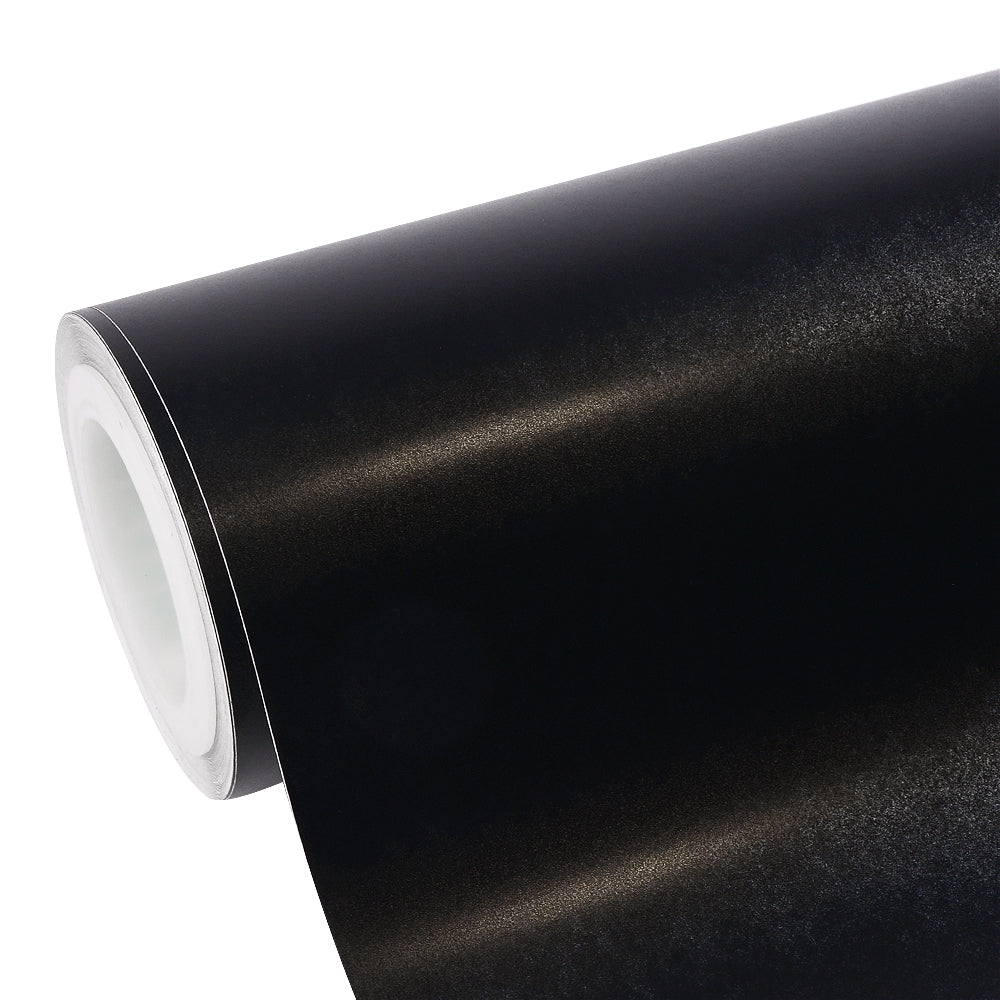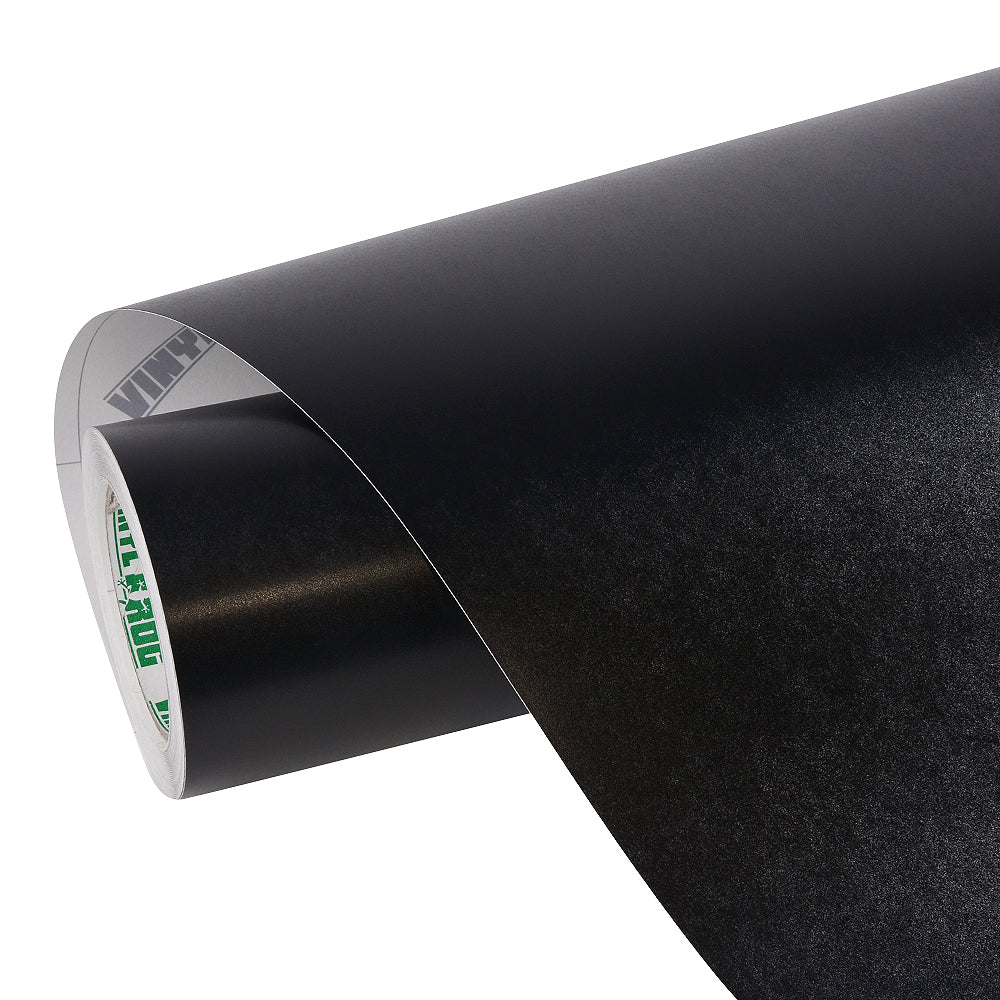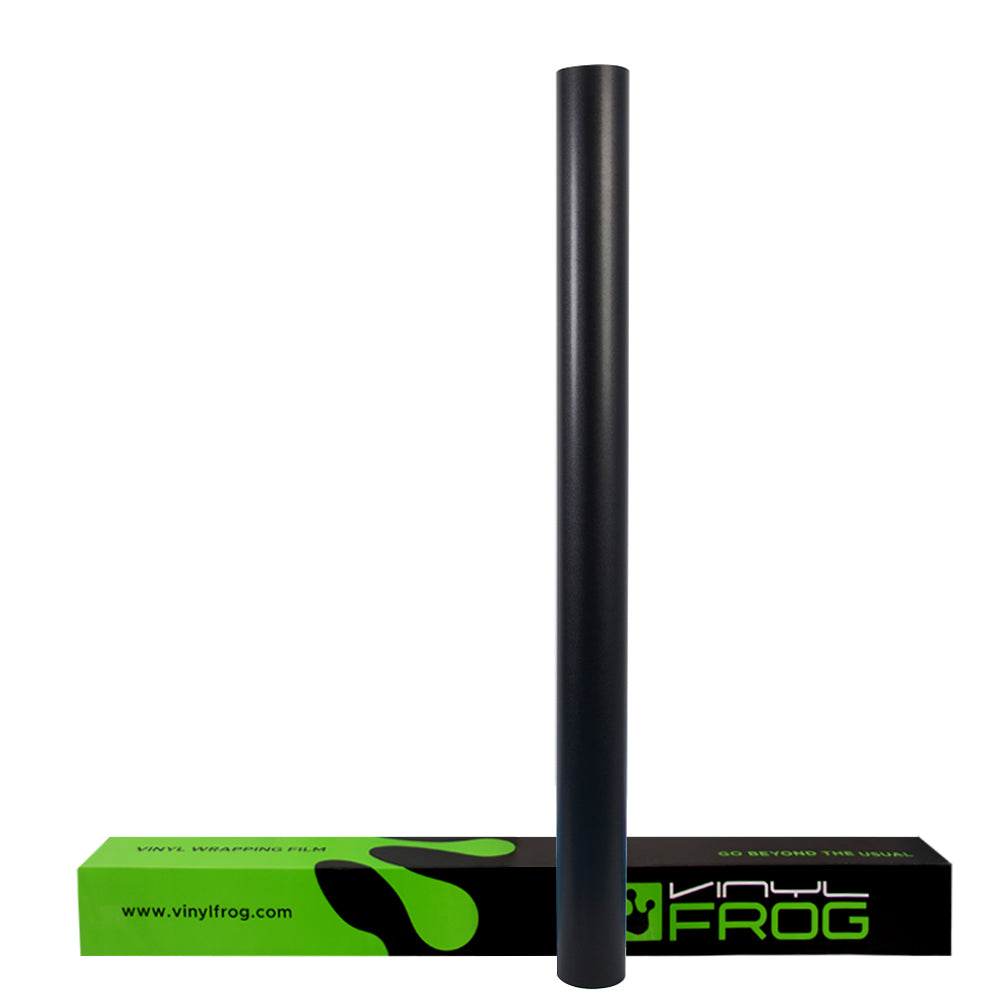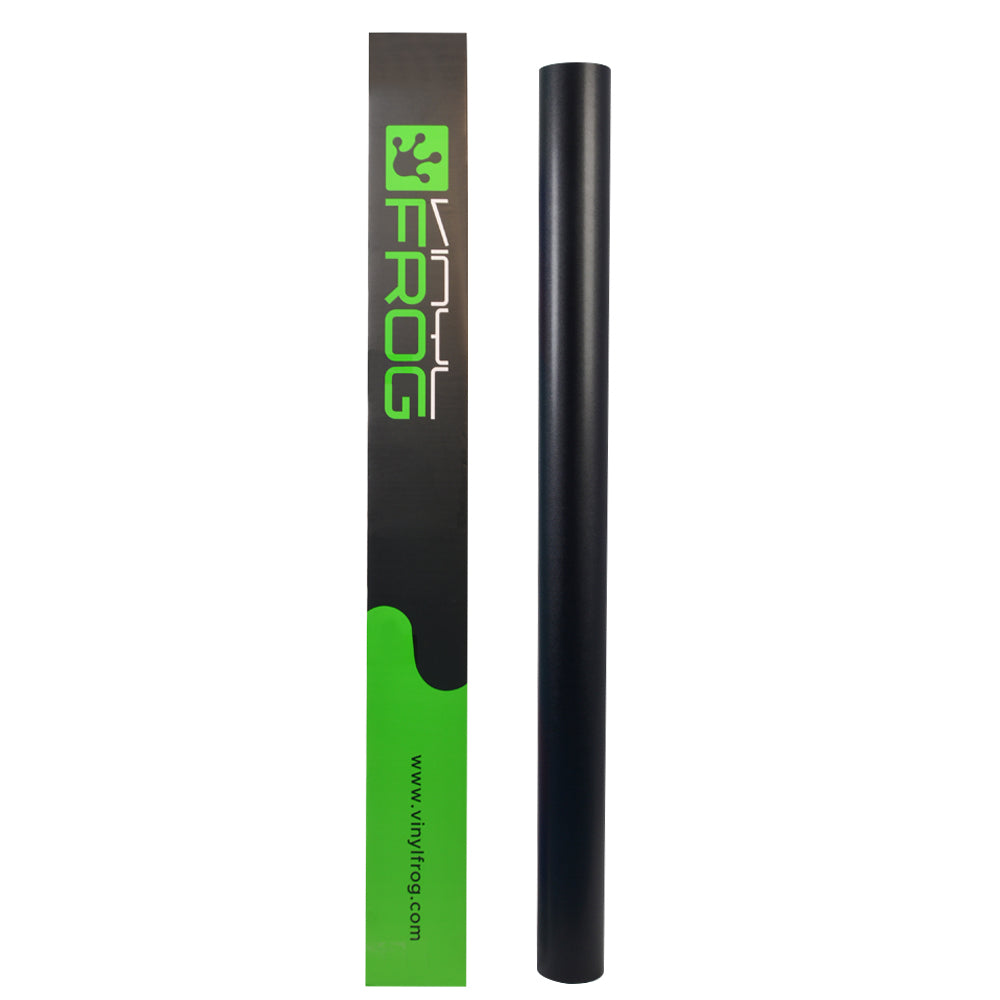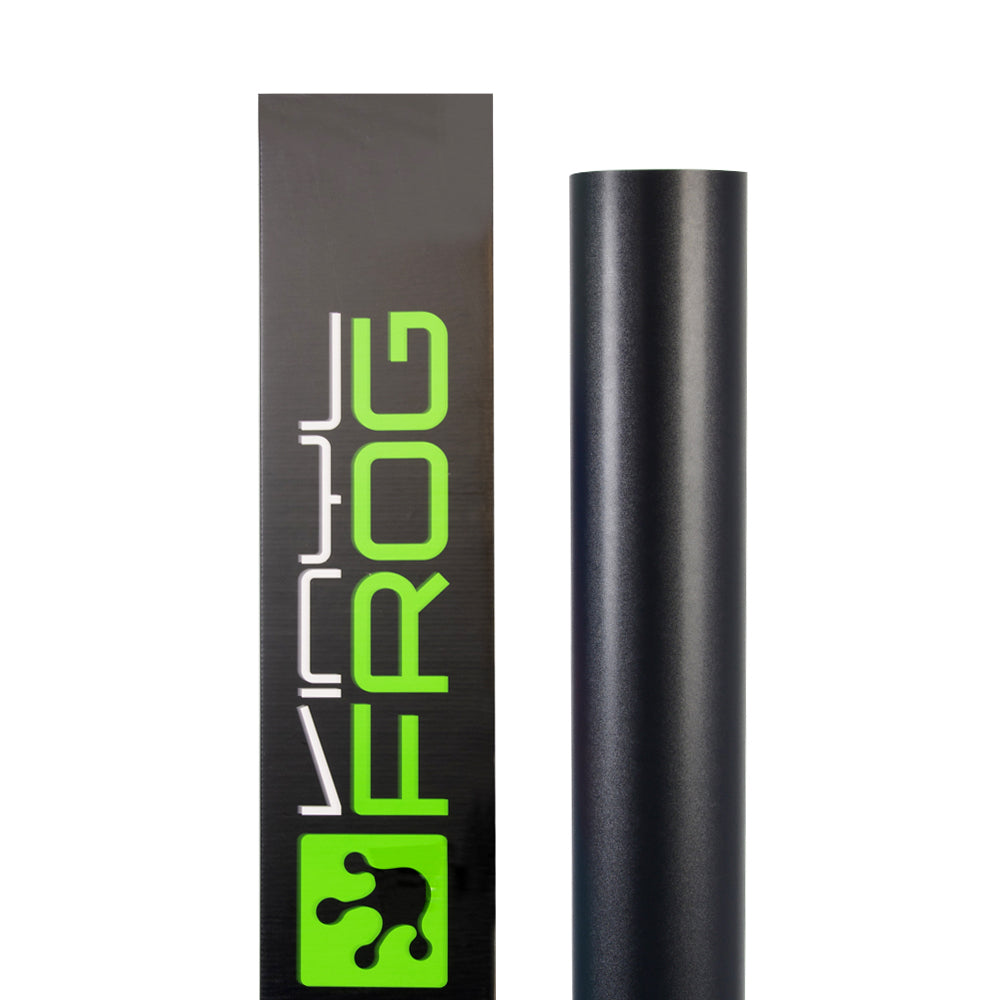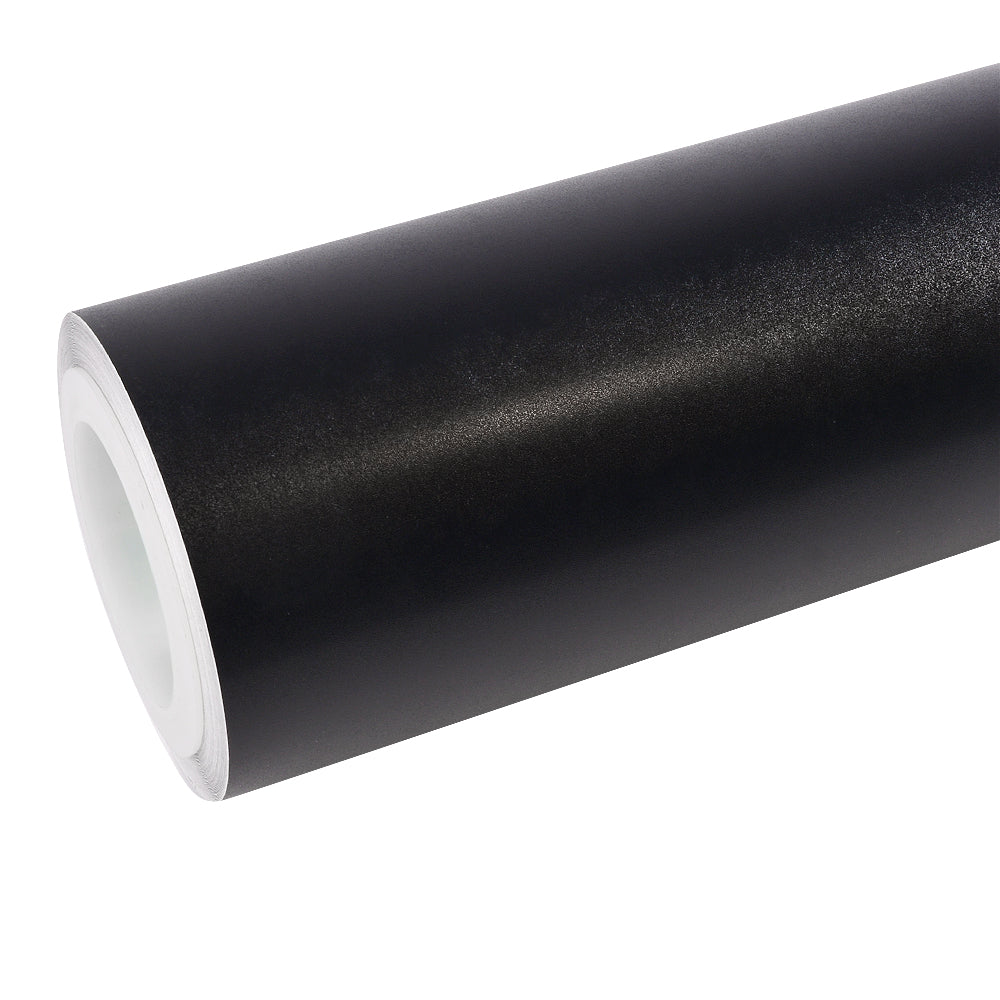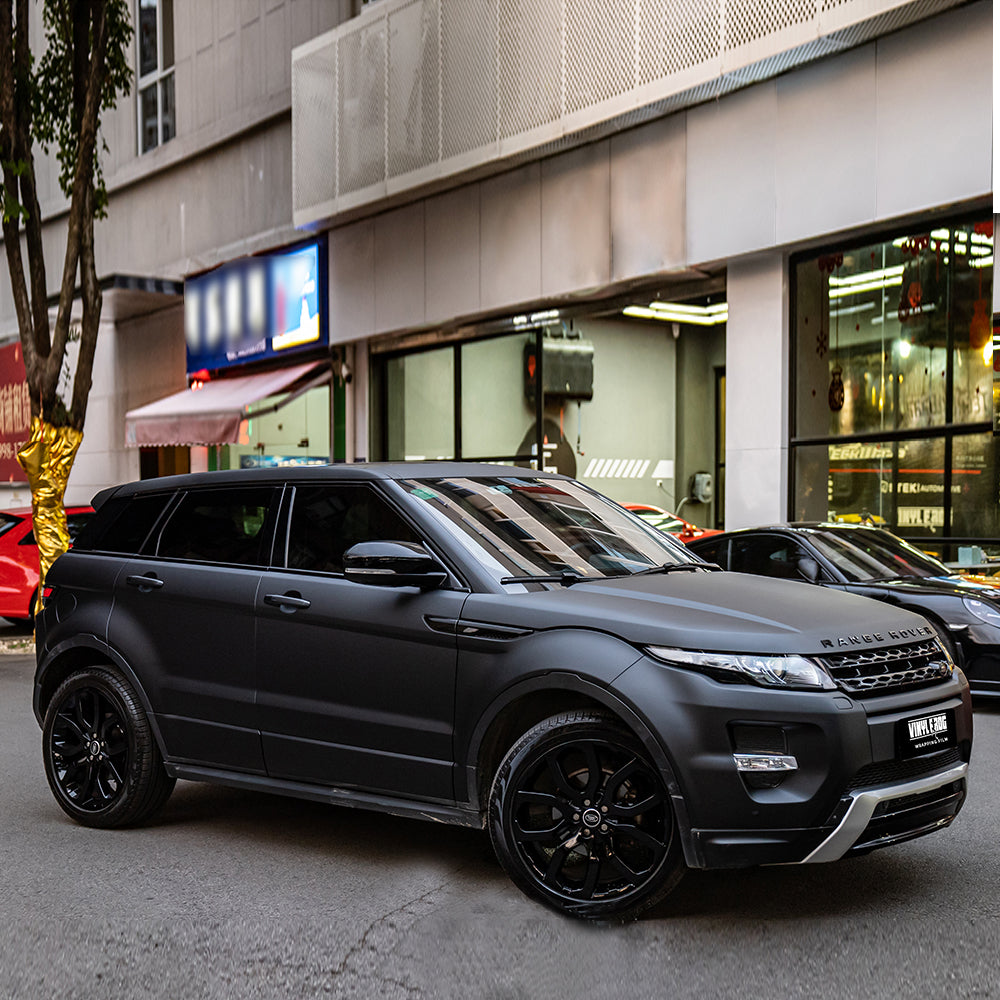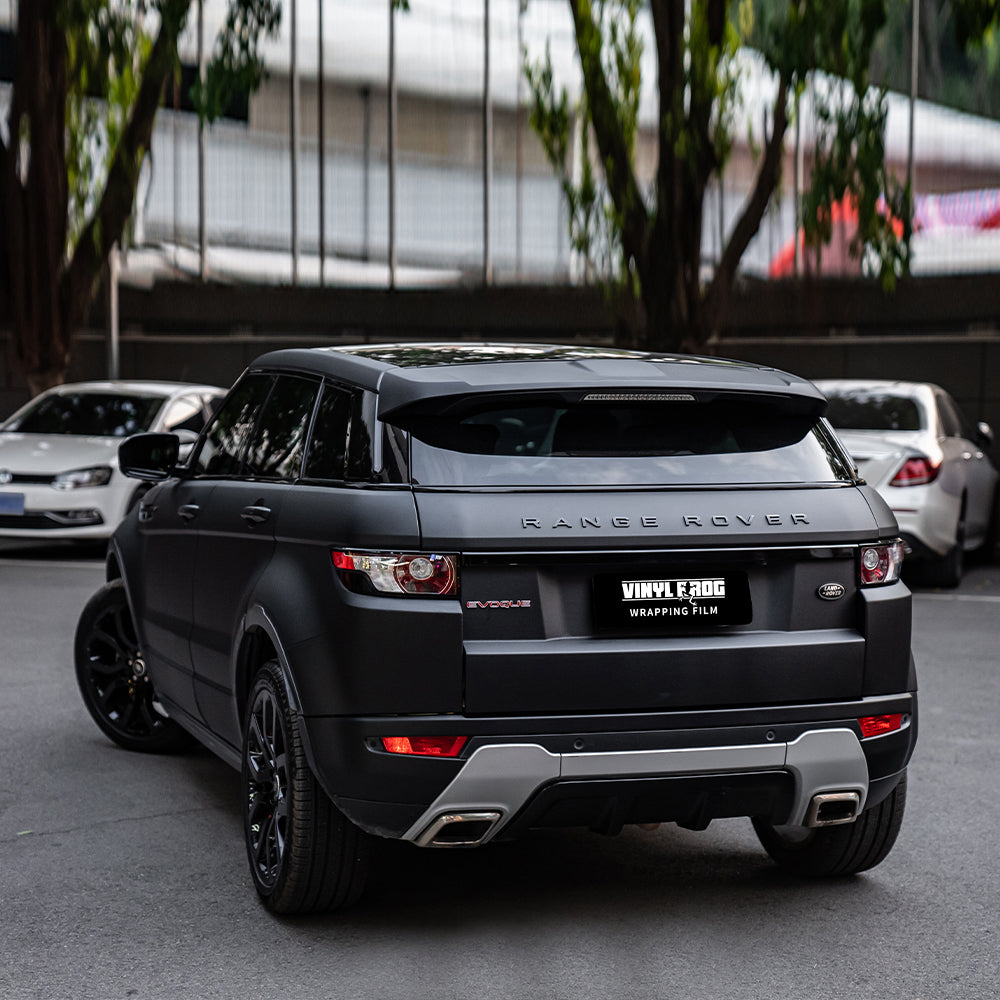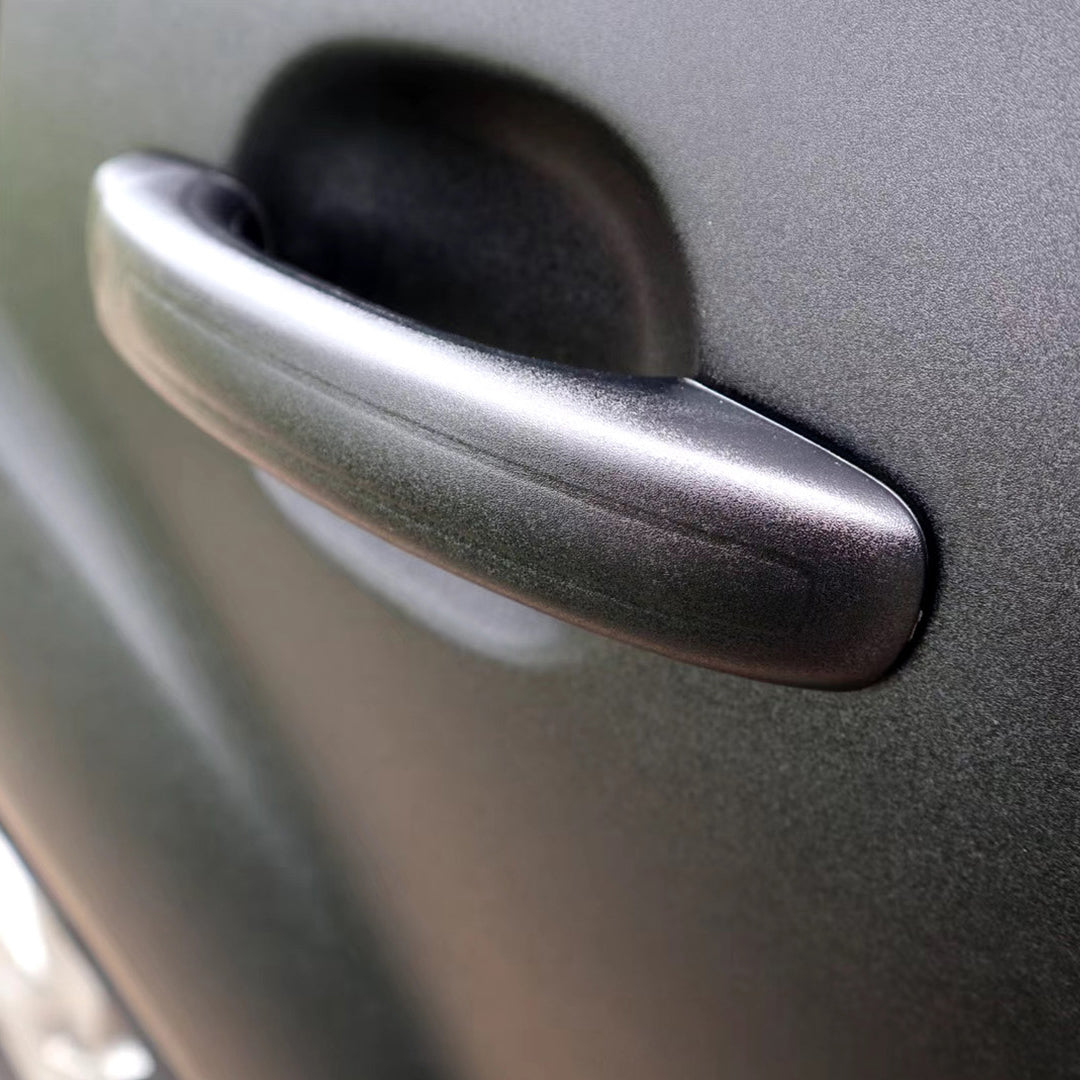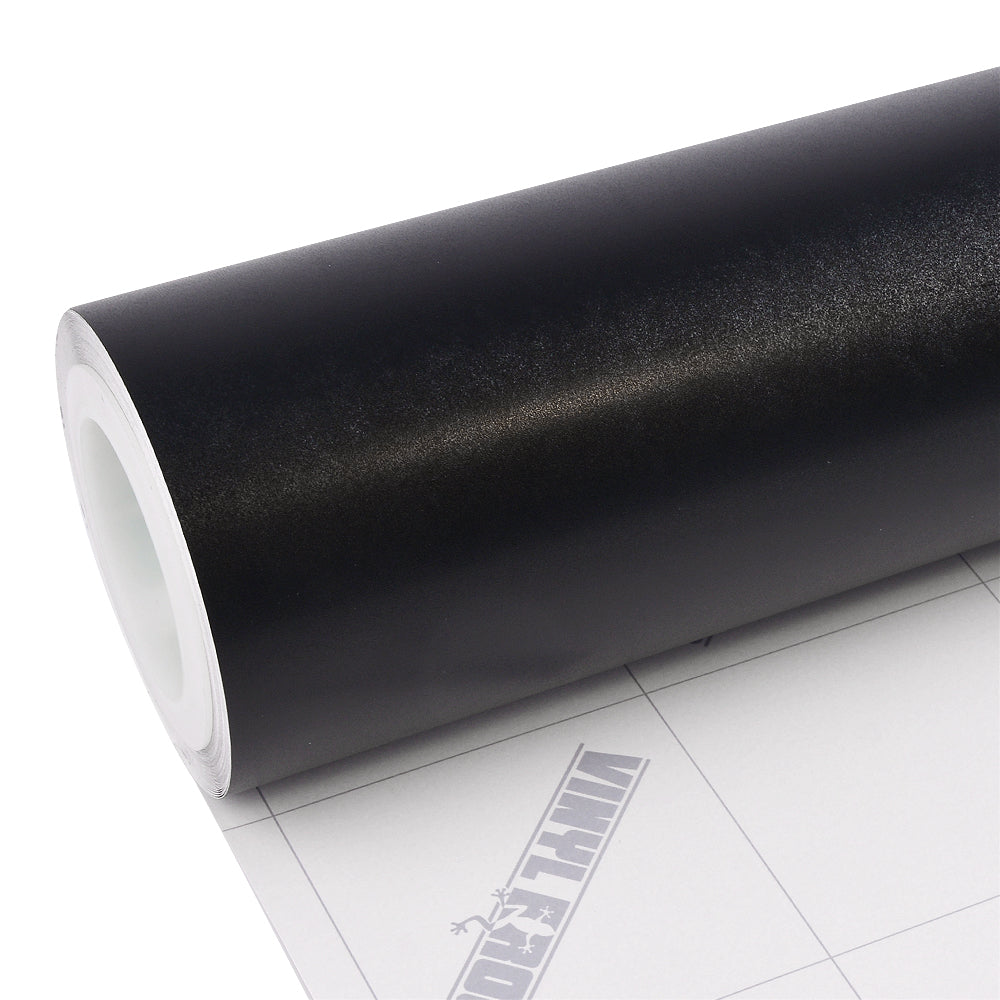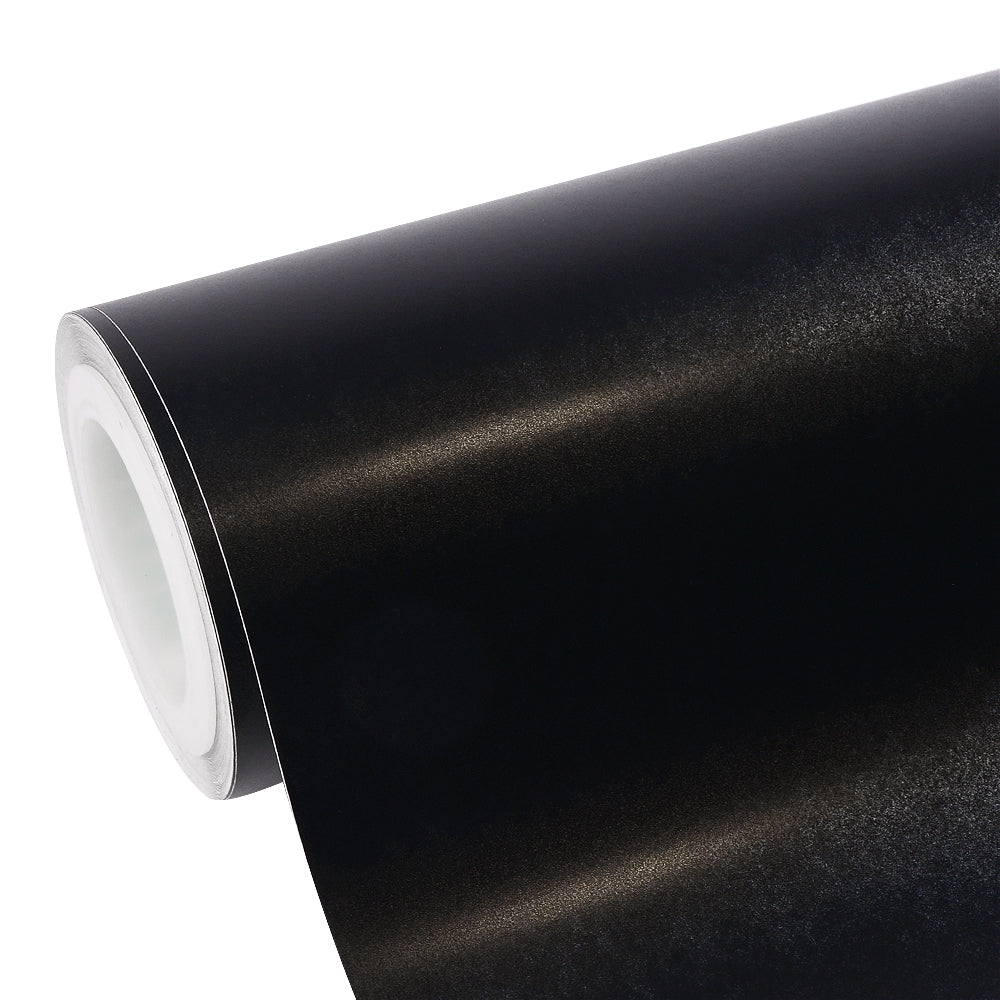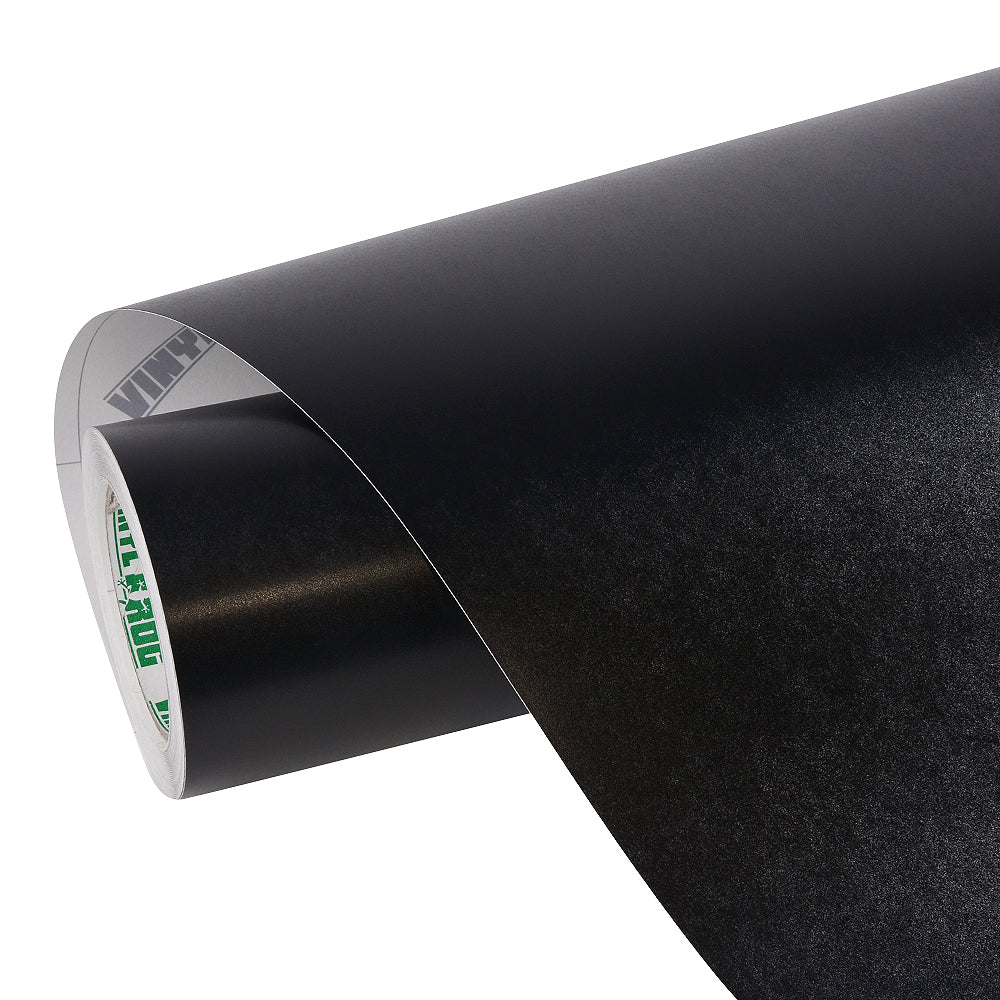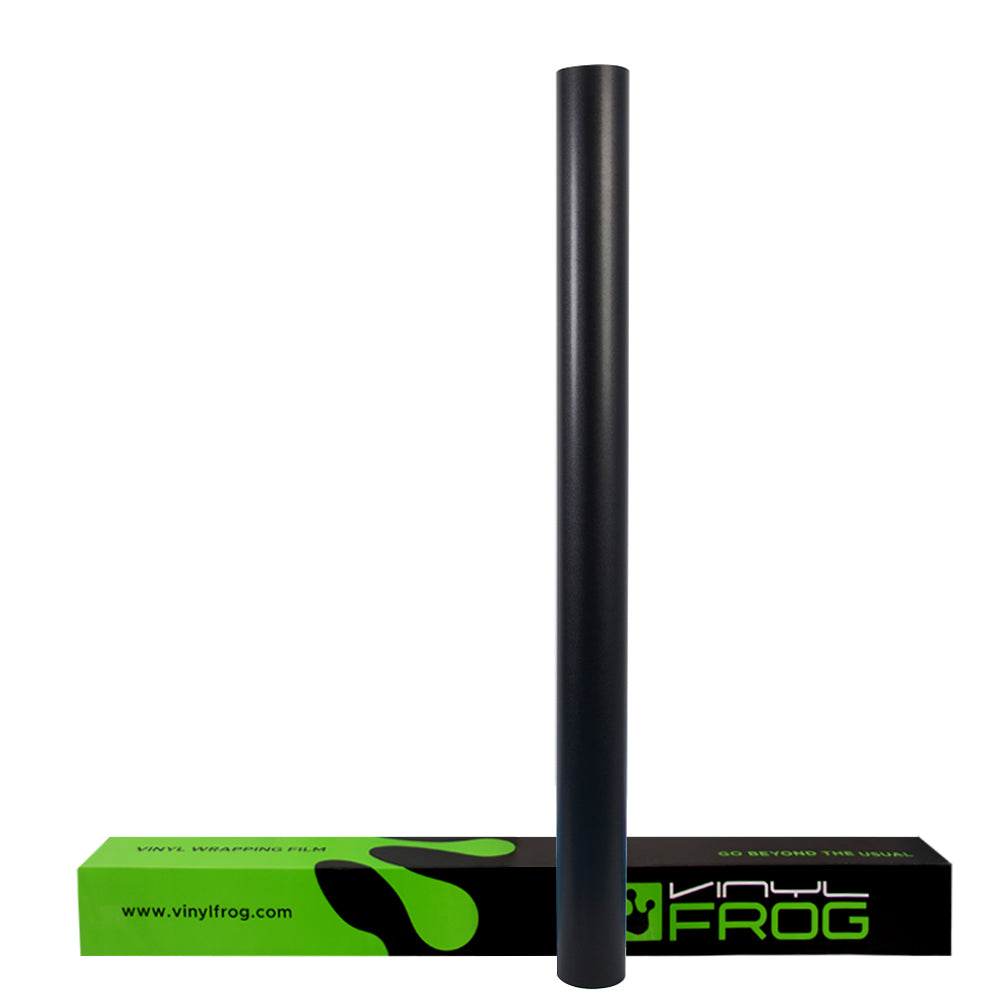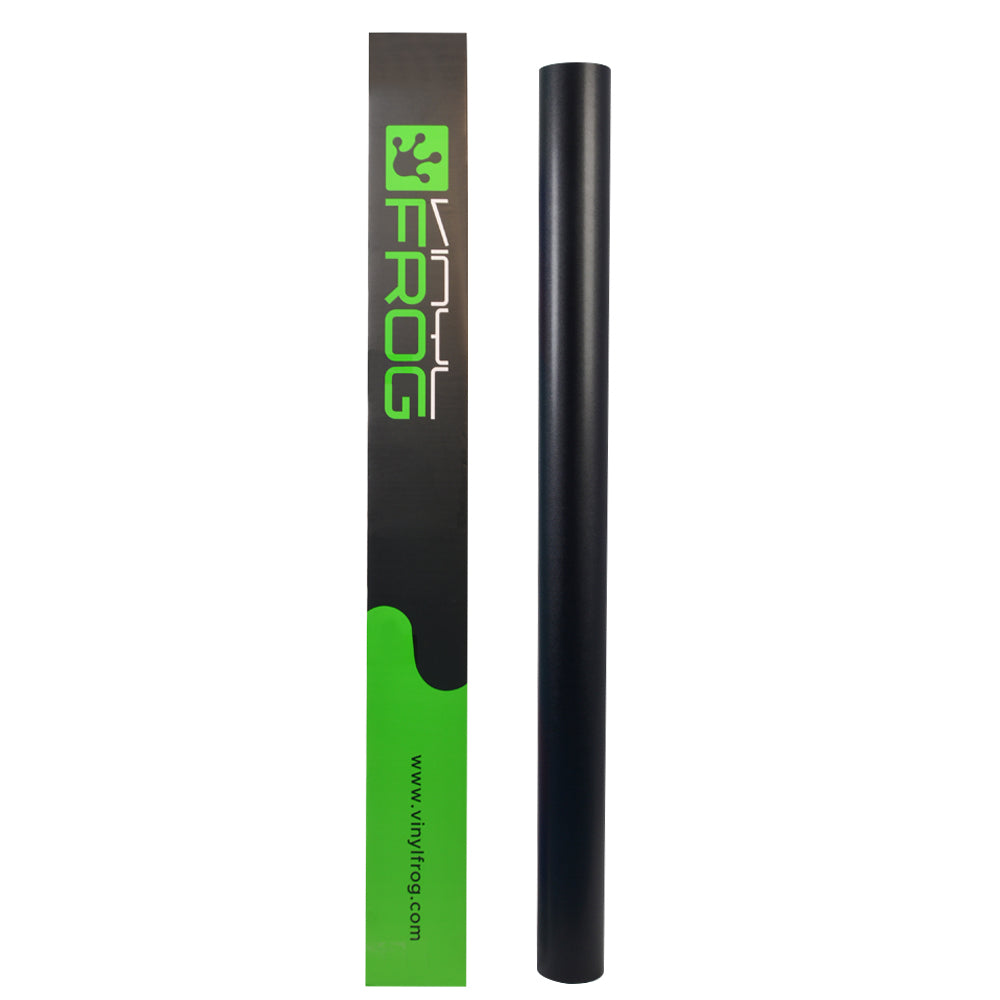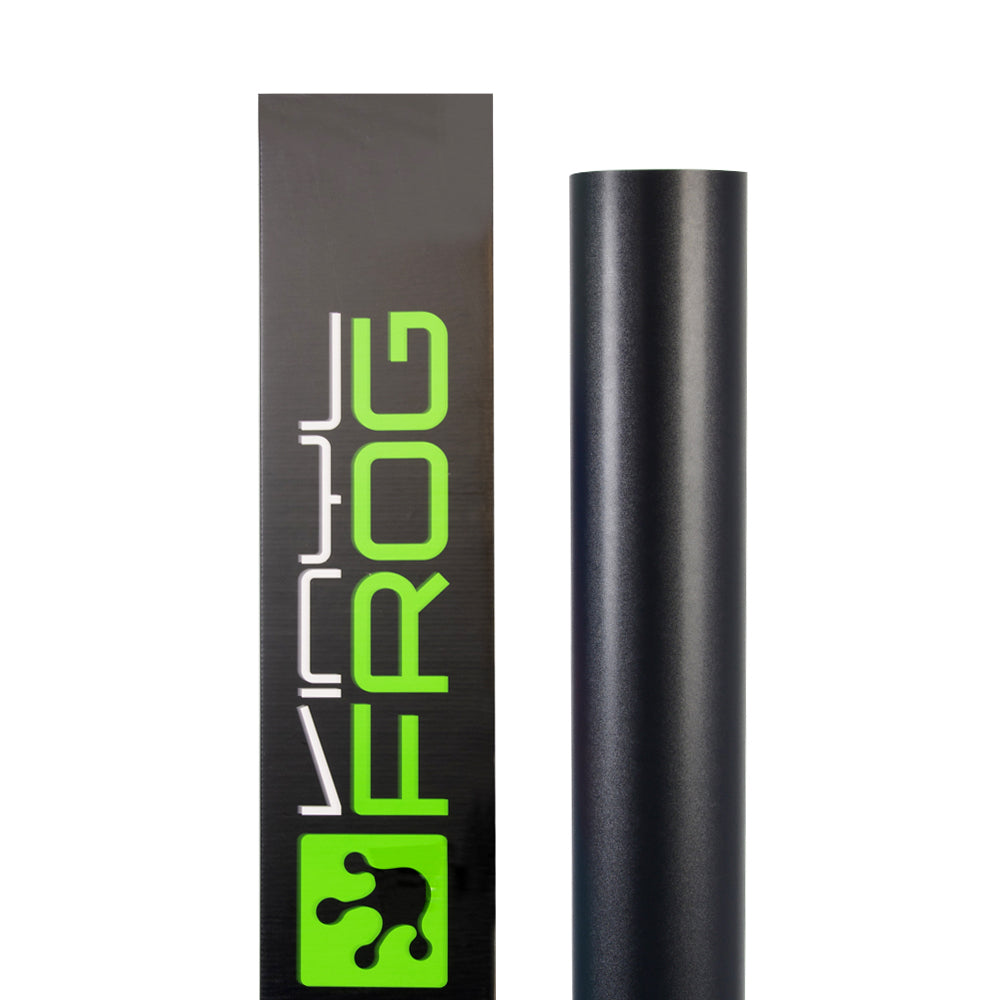 Brushed Metallic Black Vinyl Wrap
This is a magnificent textured vinyl wrap that has the look and feel of brushed metal. The premium quality vinyl with built-in air channels conforms to the most challenging contours and curves, and can easily be repositioned. The brushed metallic look combines elegance and a subtle shine. It is easily available at Vinyl Frog with the price starting from $61 for 5ft x 3.28ft. Whether you fully wrap your vehicle with it or partially, it will surely make it a hot, raving set of wheels.
Brushed Metallic Black Vinyl Wrap
Alluring, textured appearance, and super luxurious feel, the brushed metallic car wrap at Vinyl Frog will give your vehicle an exotic look. You can wrap both the exterior and interior of your vehicle with this exquisite vinyl.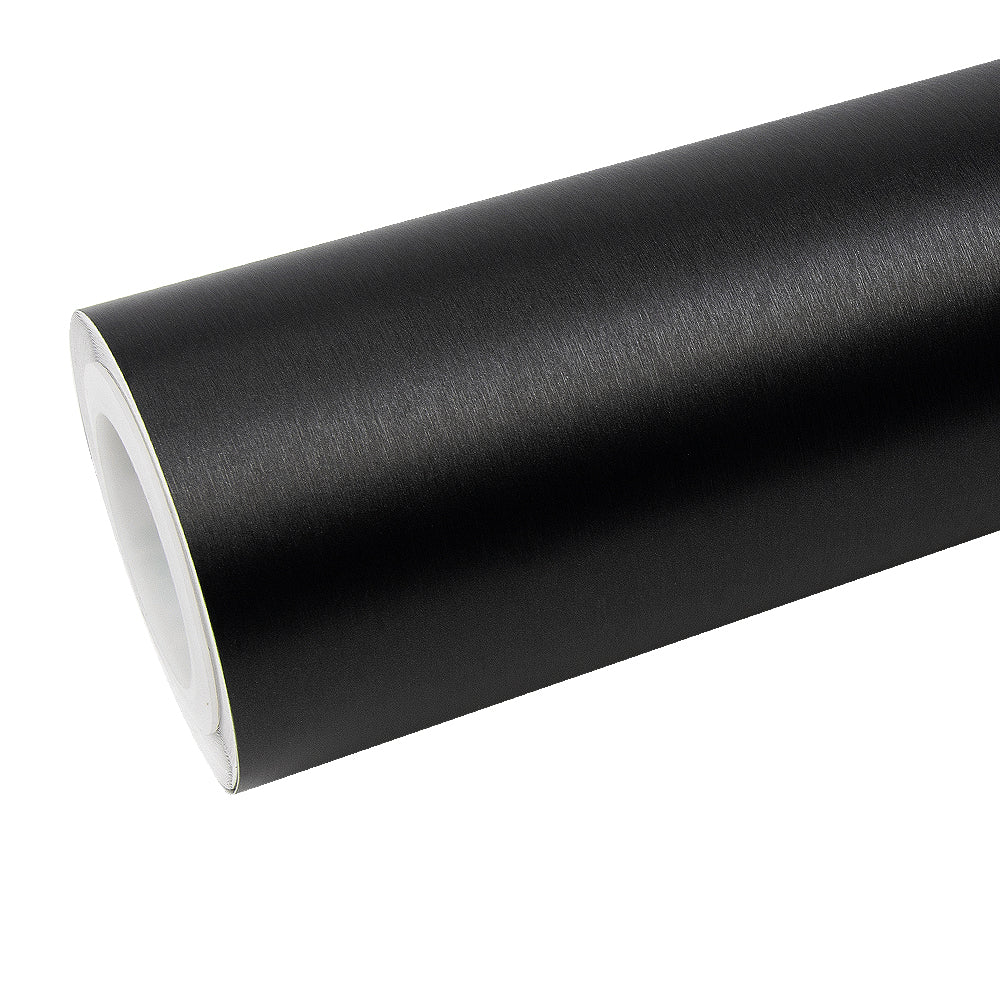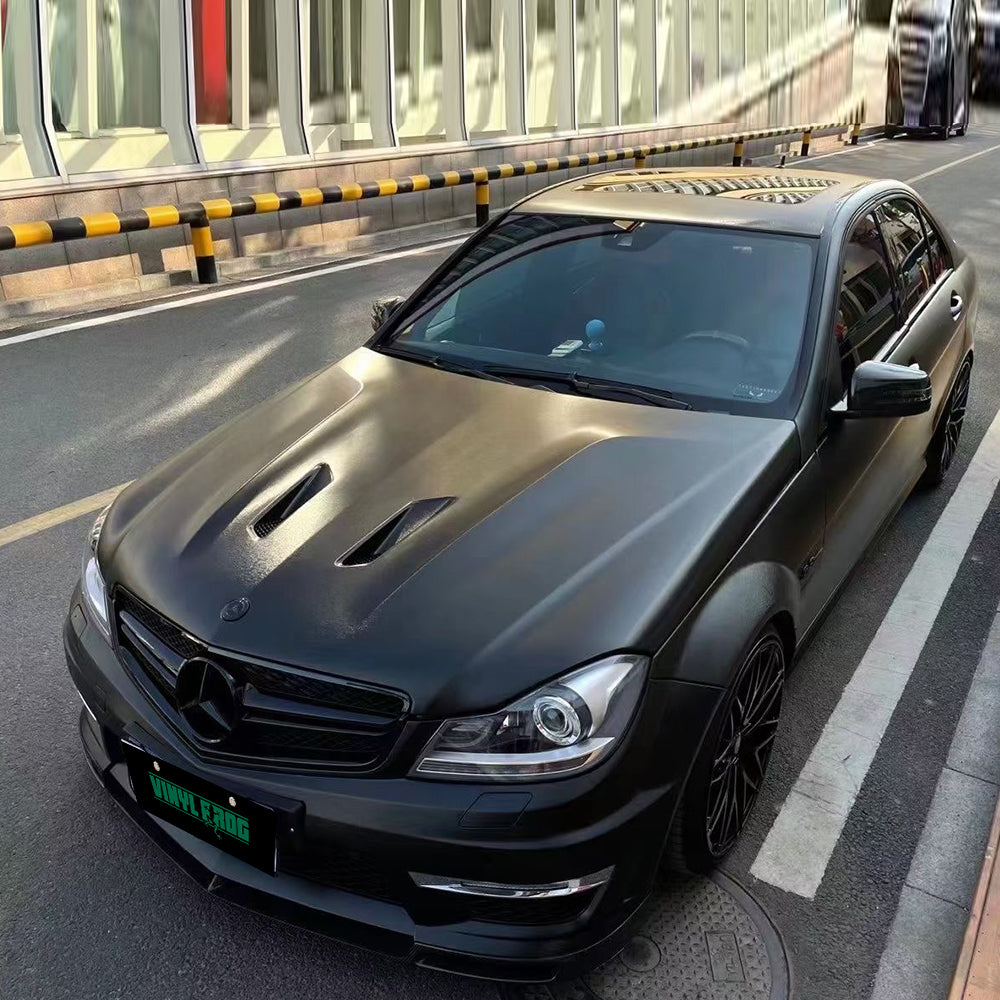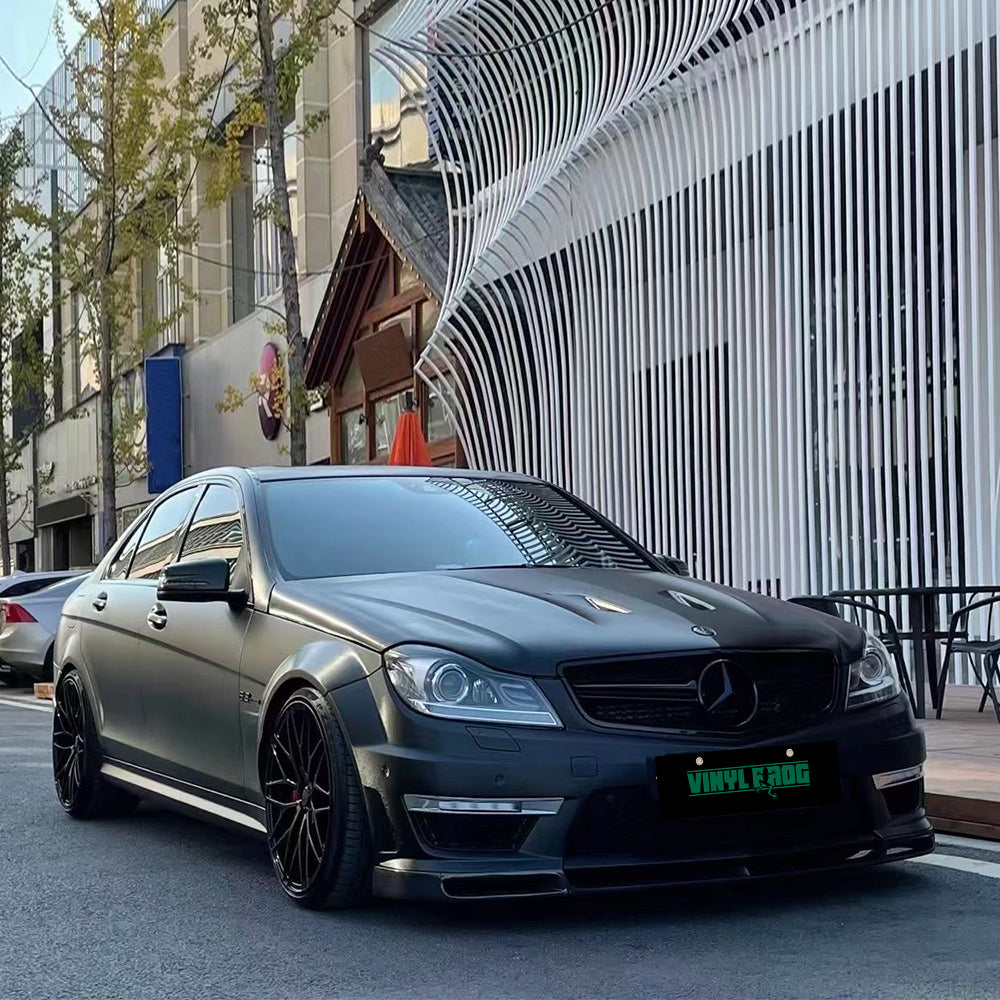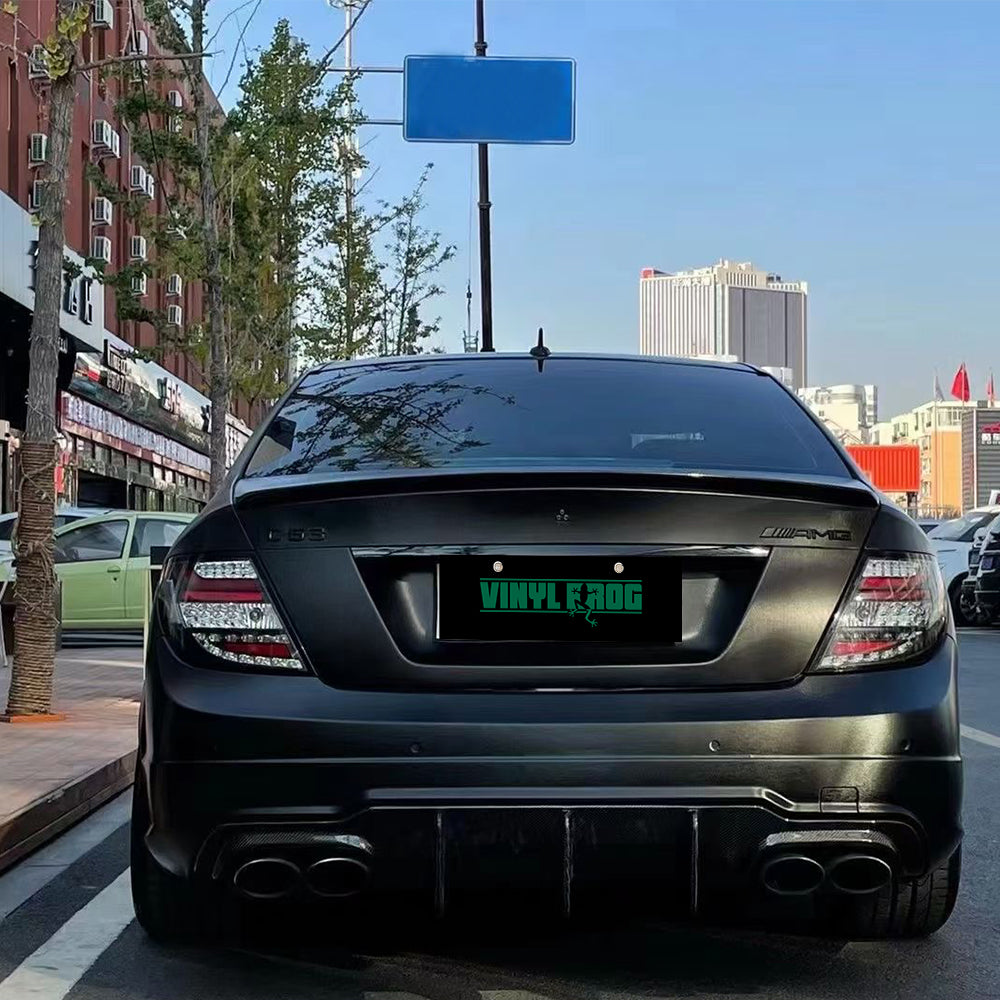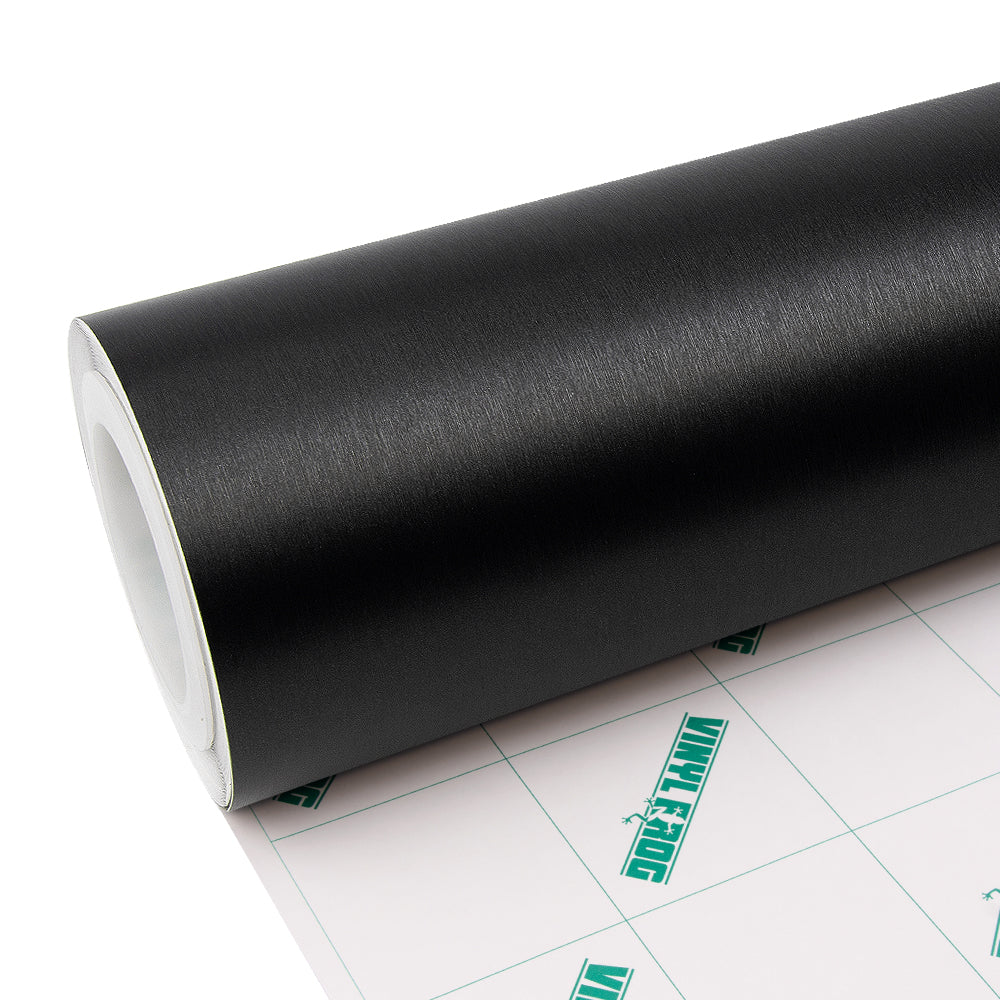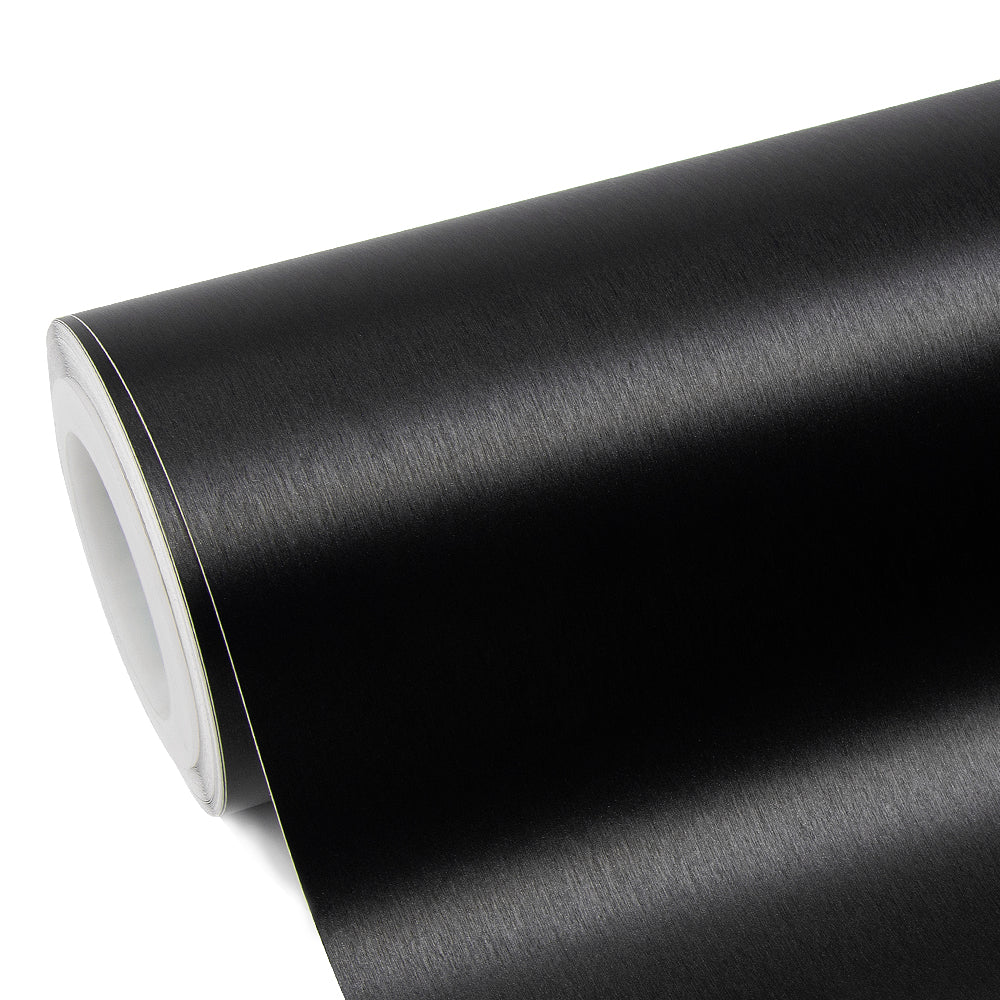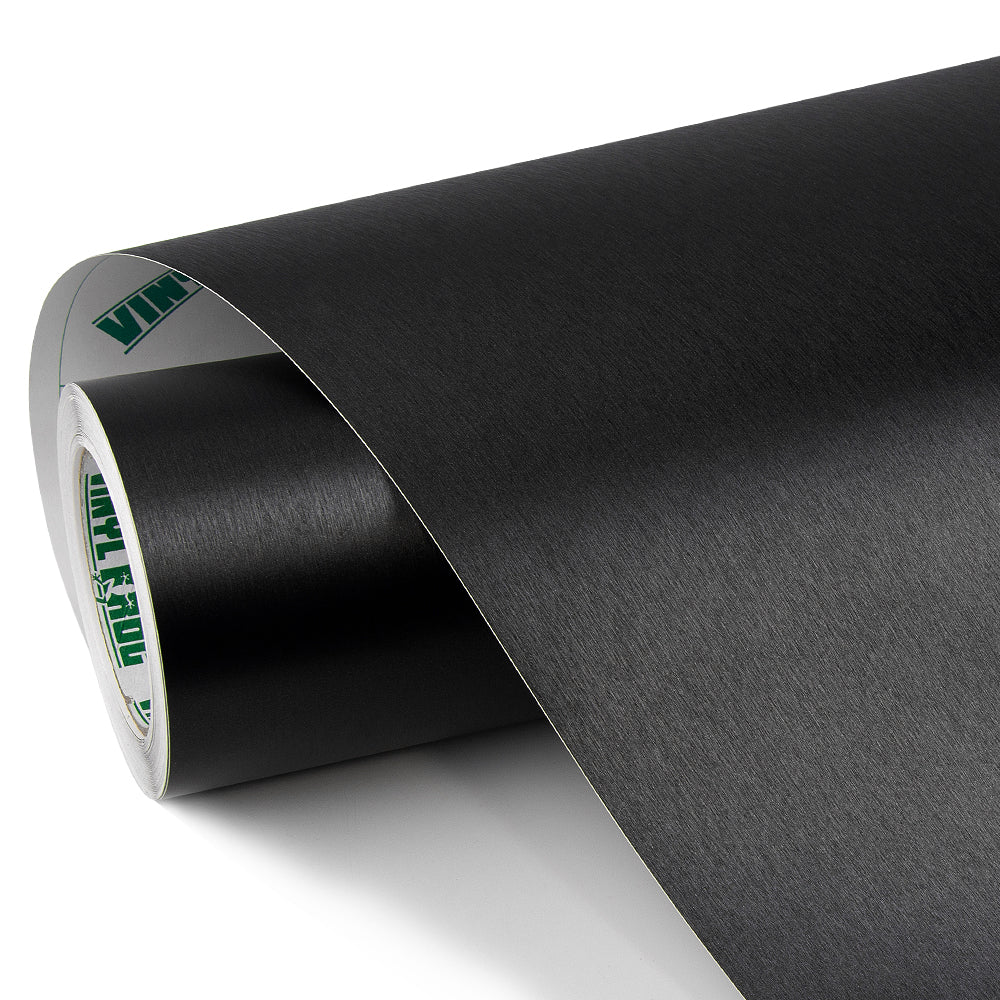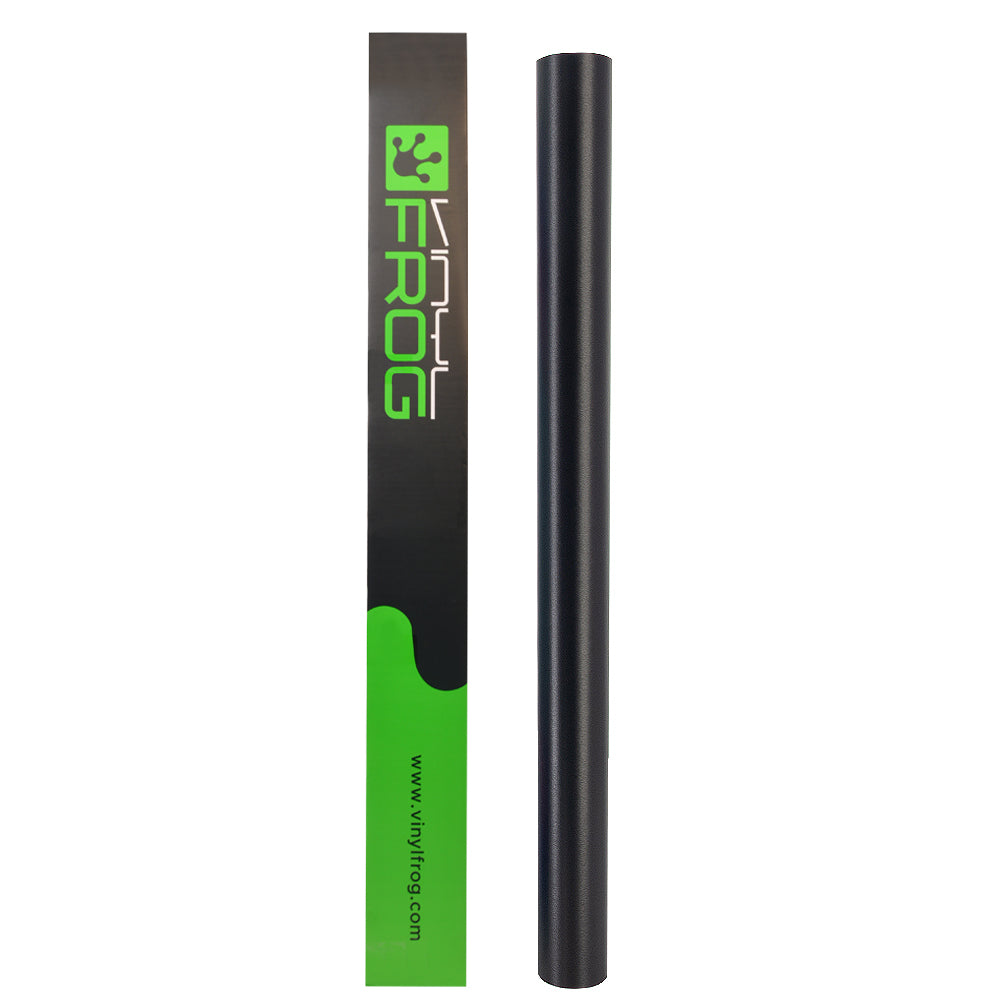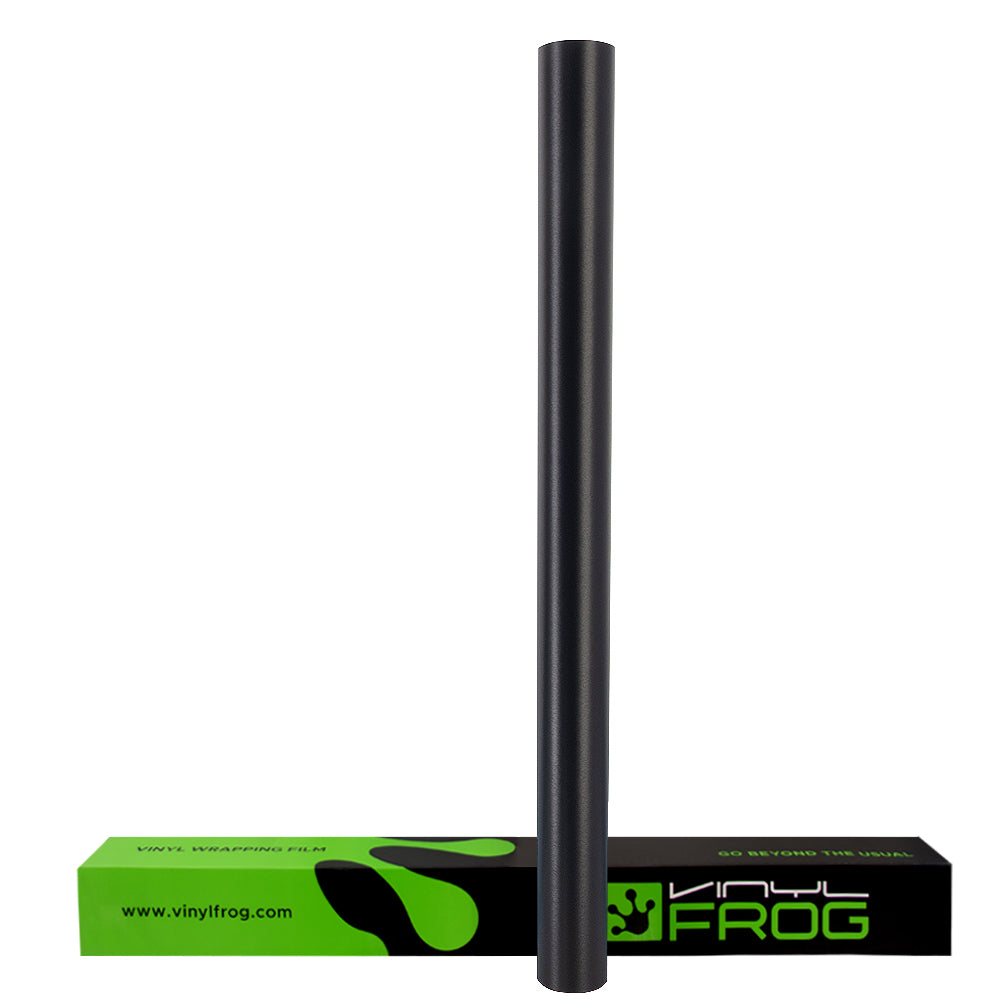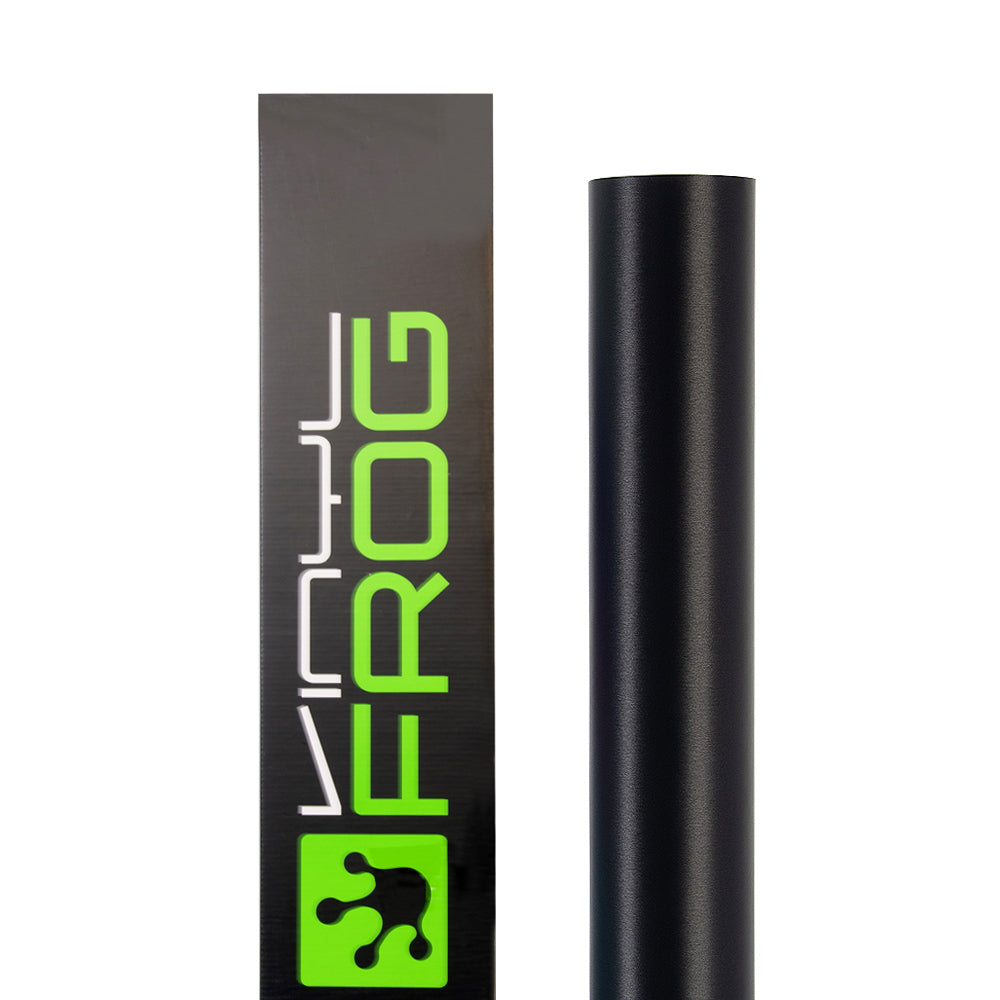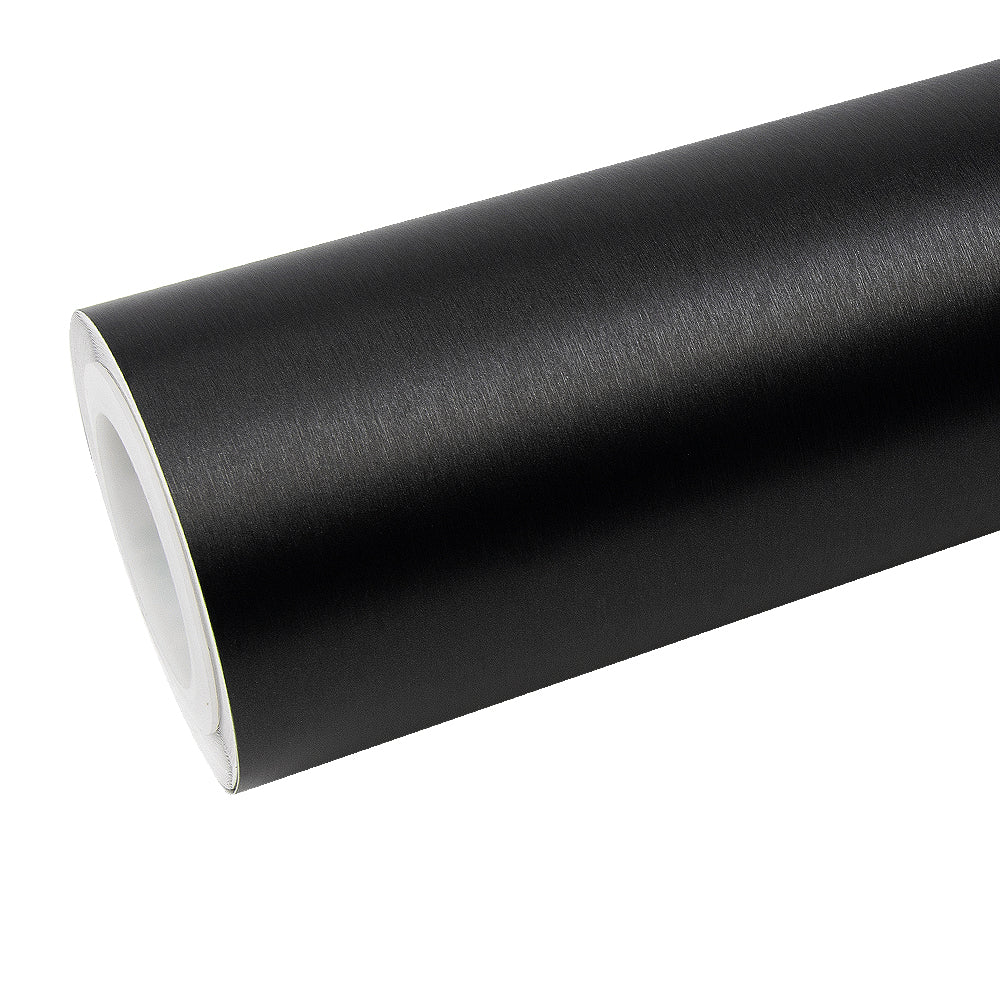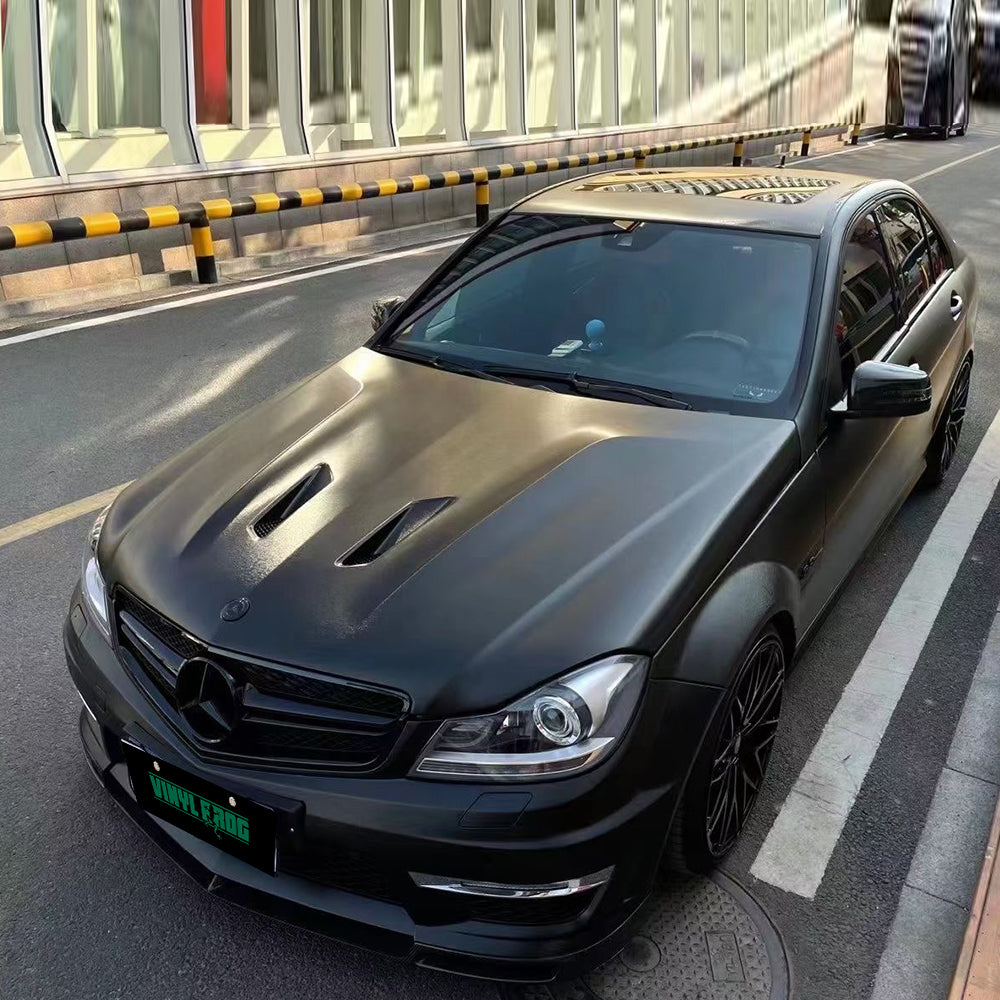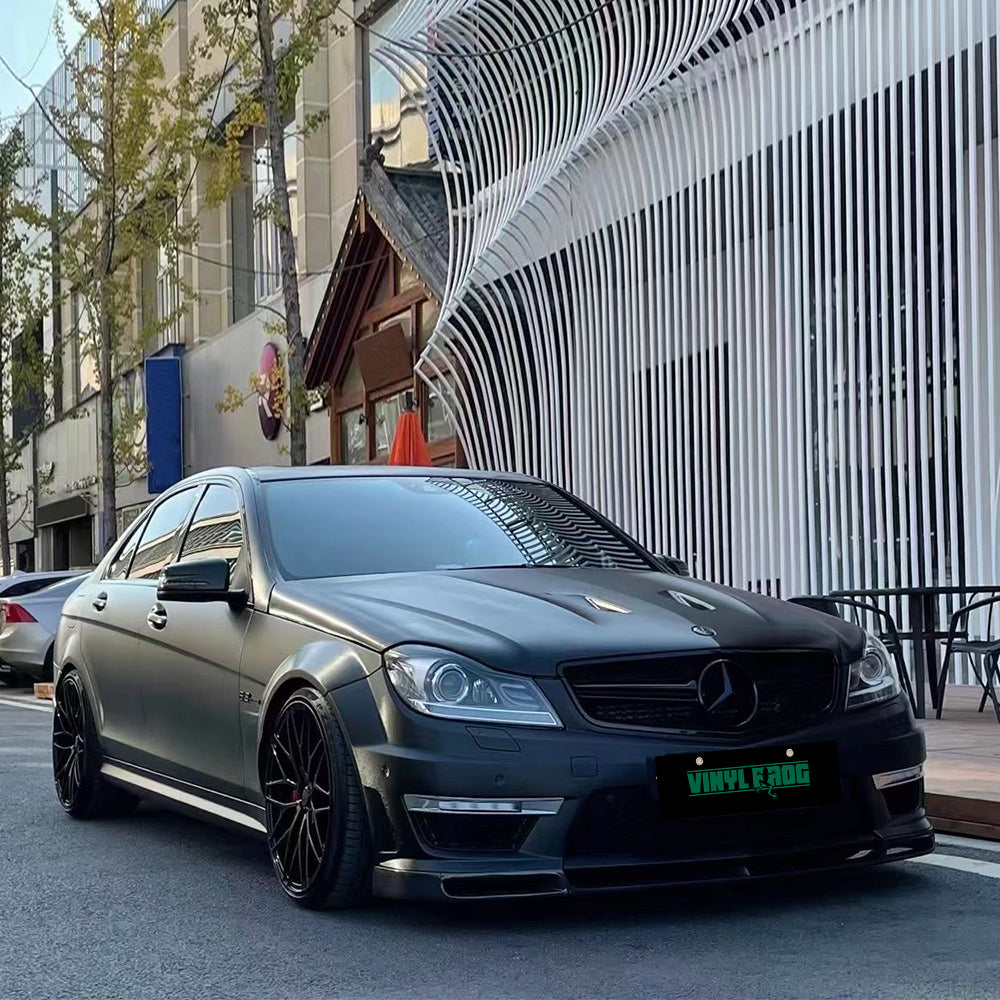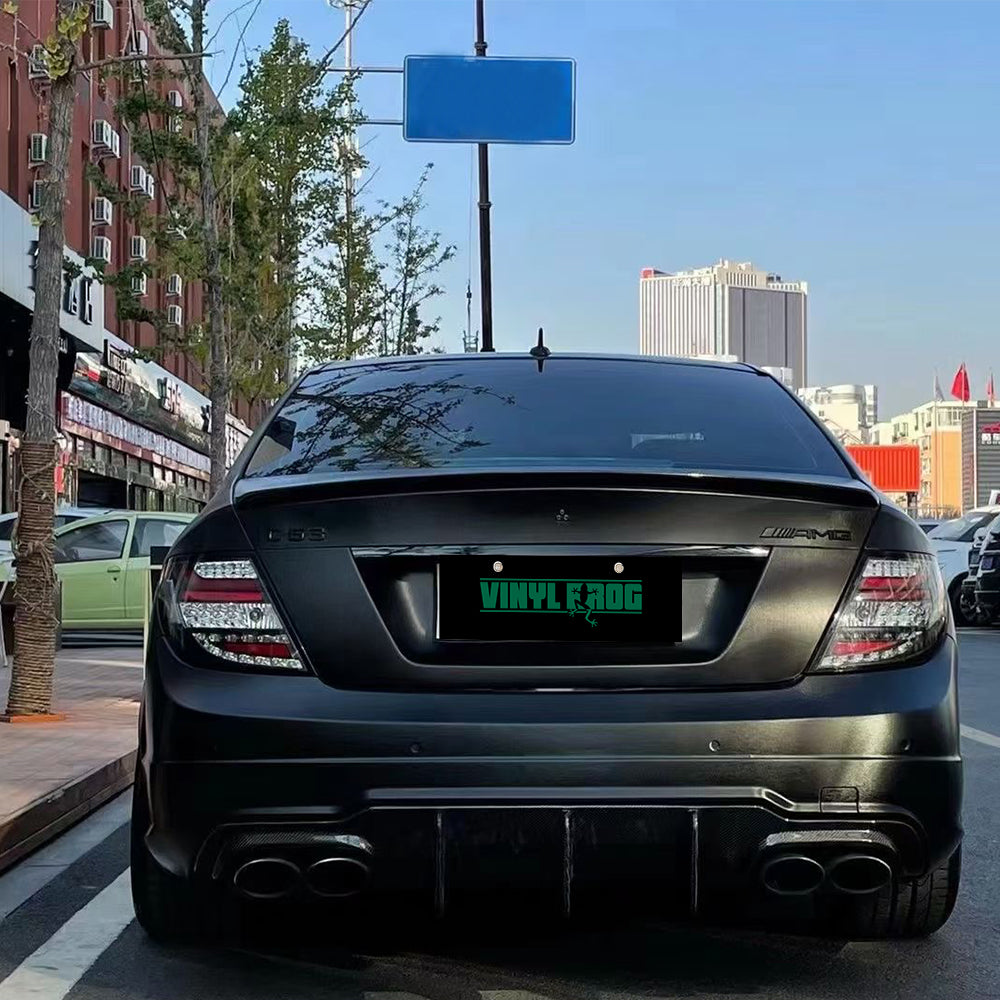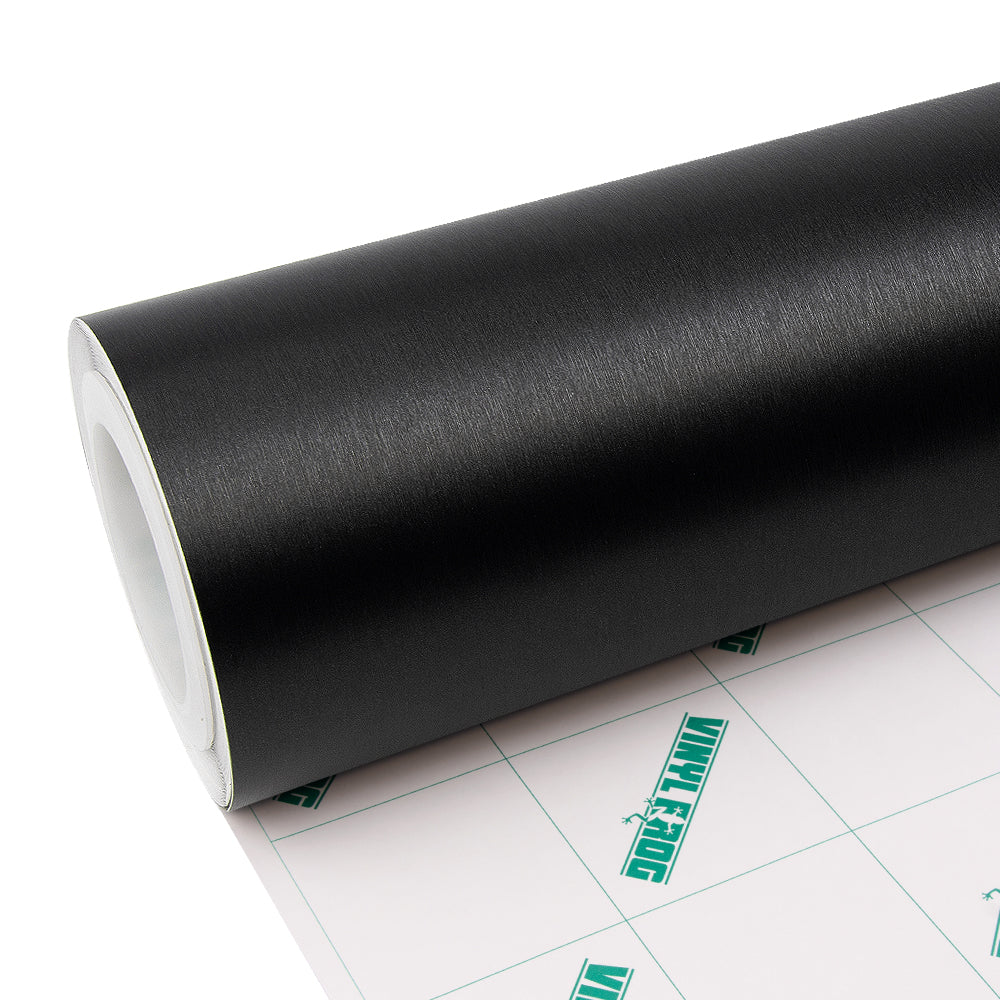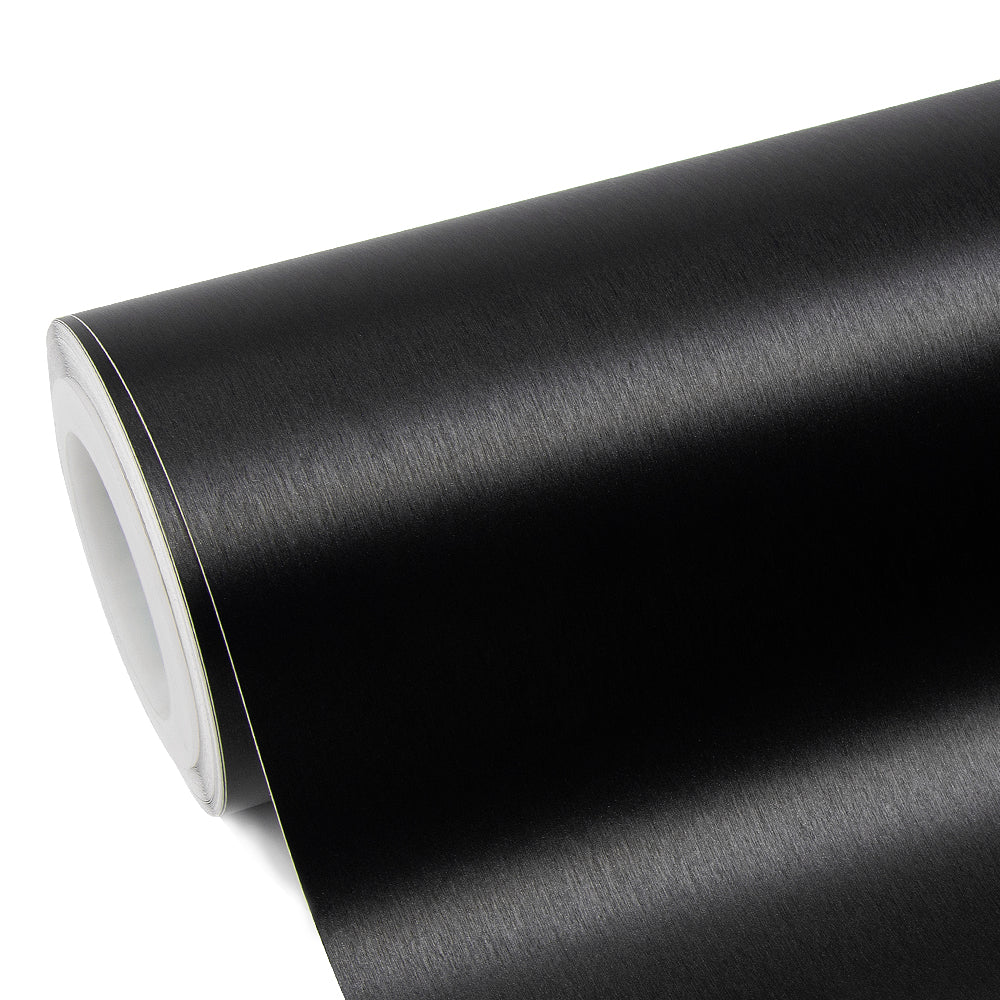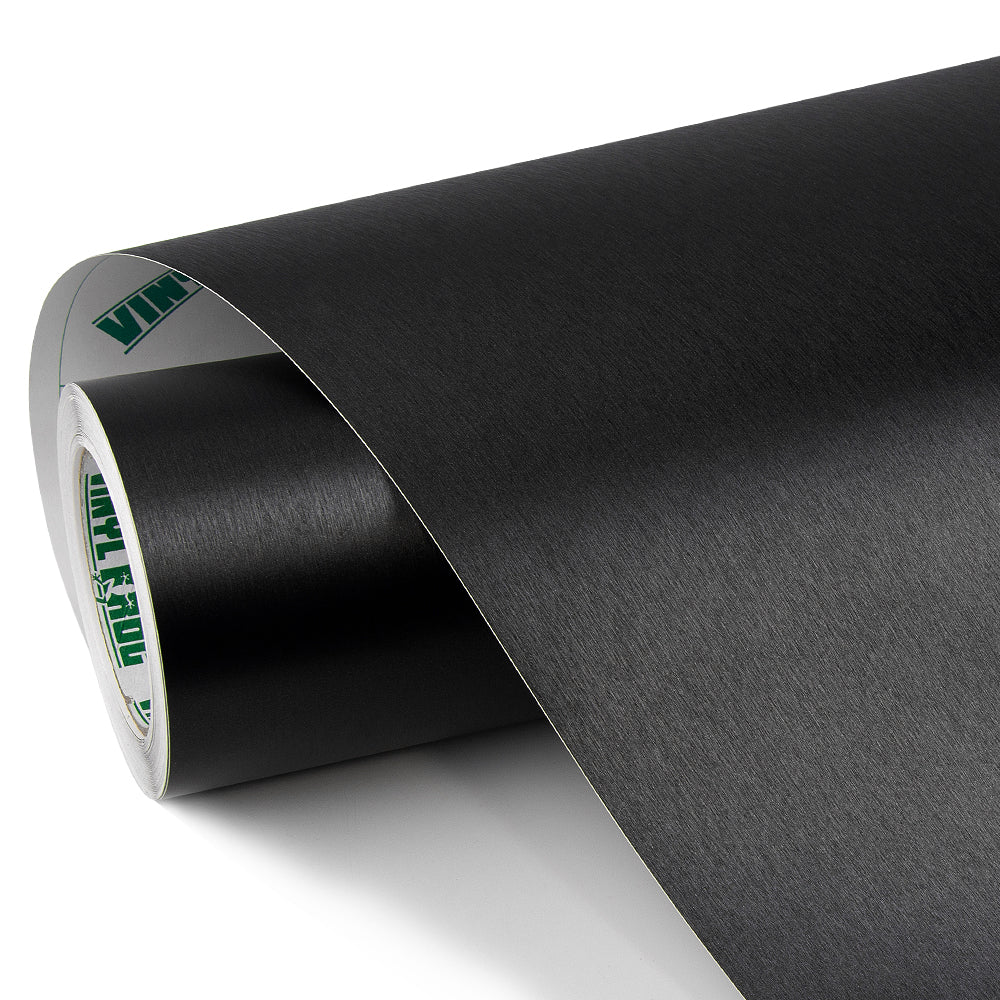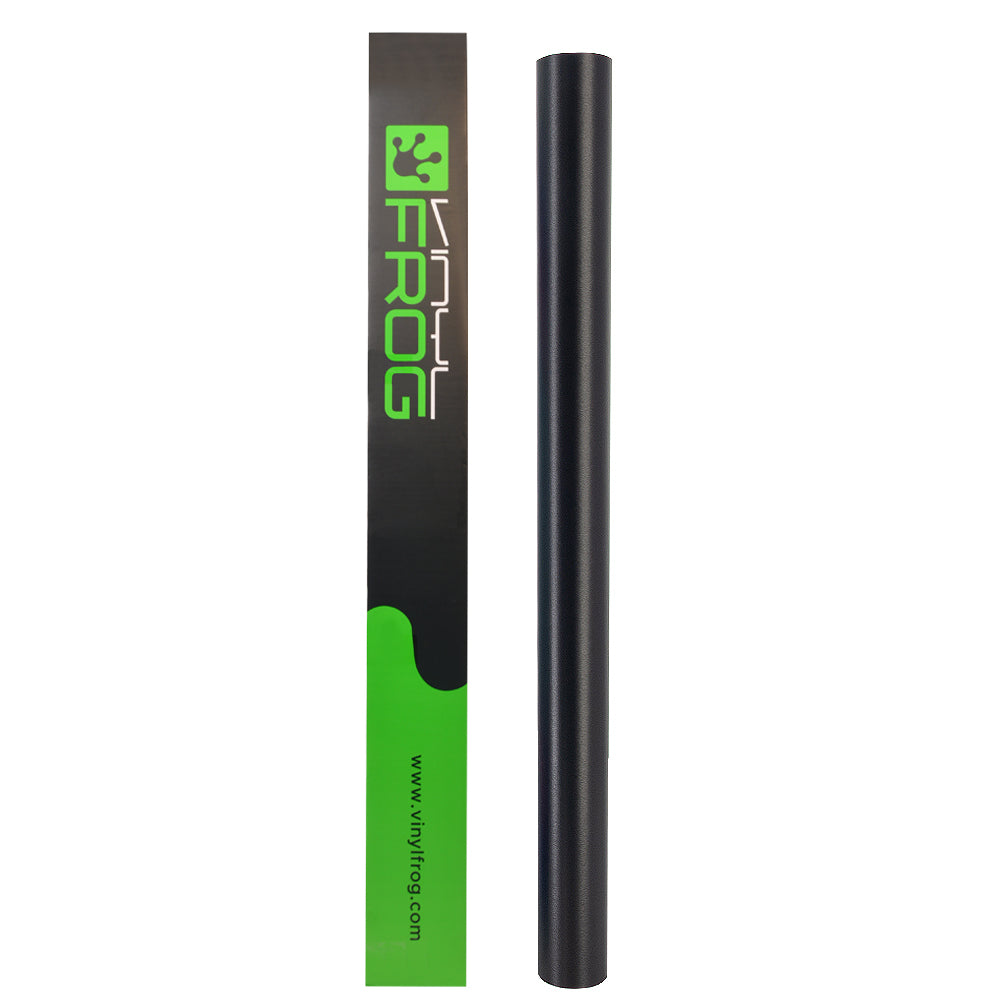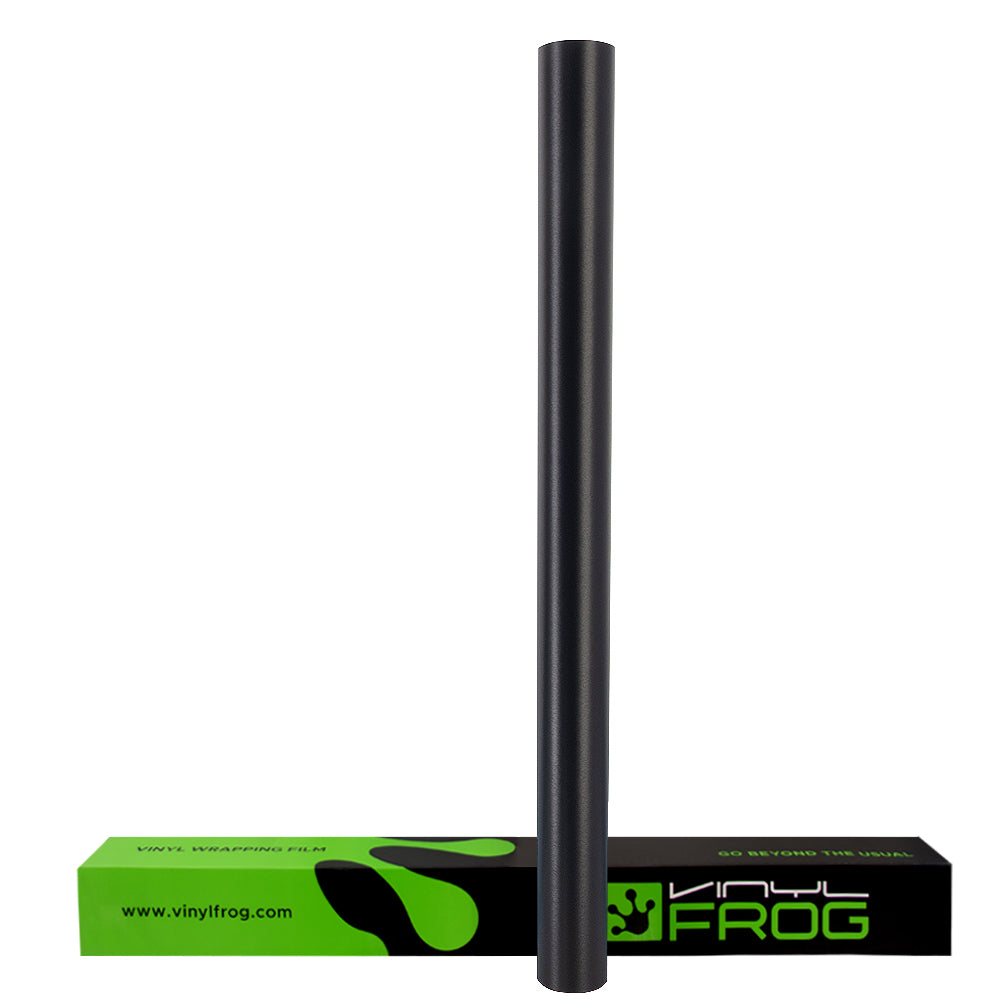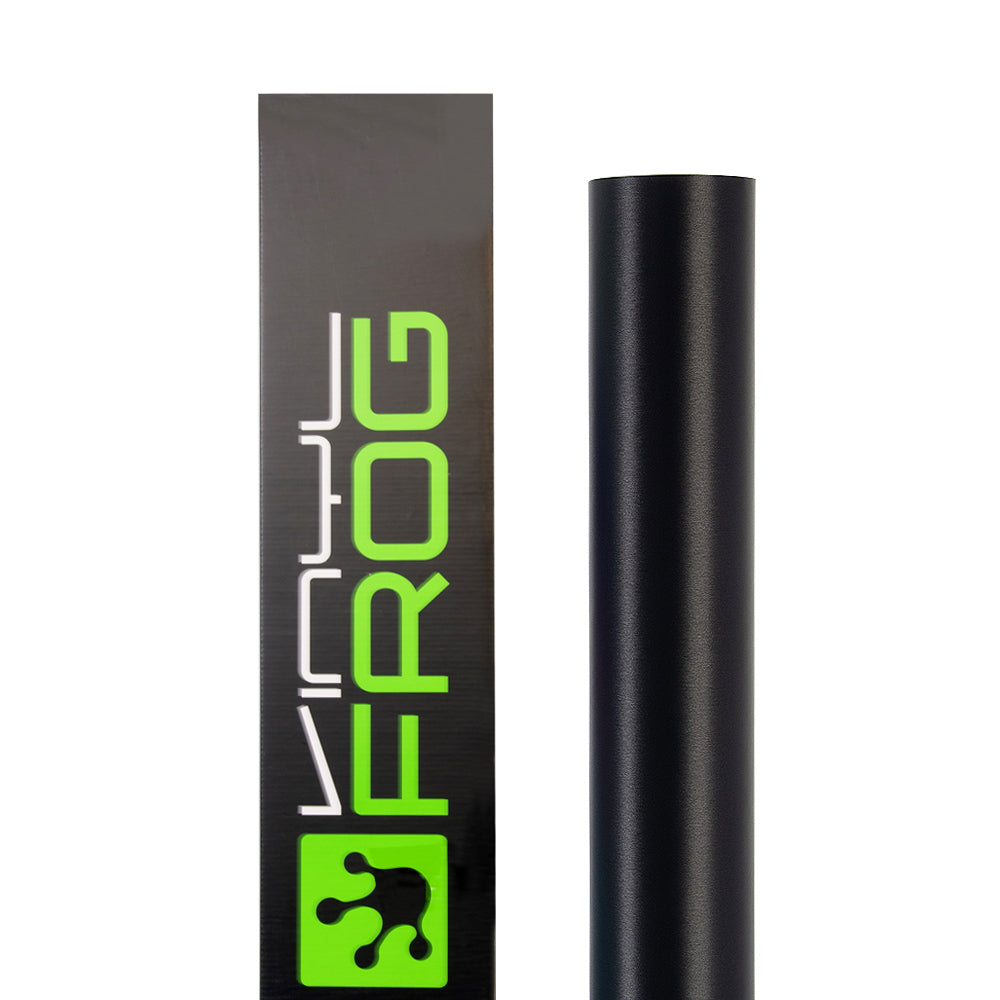 Matte Metallic Black Vinyl Wrap
Matte Metallic Vinyl presents a kind of oxymoron by being matte and metallic at the same time. The very fact is testimony for its being distinctive from the rest available in the market. It is a deluxe item that absorbs light and is relatively non-reflective. However, it is not completely matte in appearance. It accentuates the body line and brings out the shape of your vehicle. At Vinyl Frog, we have the best quality Matte Metallic available starting from $59 for 5ft x 3.28ft.
Matte Metallic Pearl Black Vinyl Wrap
This vinyl has a pearly matte superior finish with a mellowed sheen. It is not overly ostentatious and exudes charm and sophistication. Flexible and stretchable, it gives smooth coverage making your vehicle a captivating sight.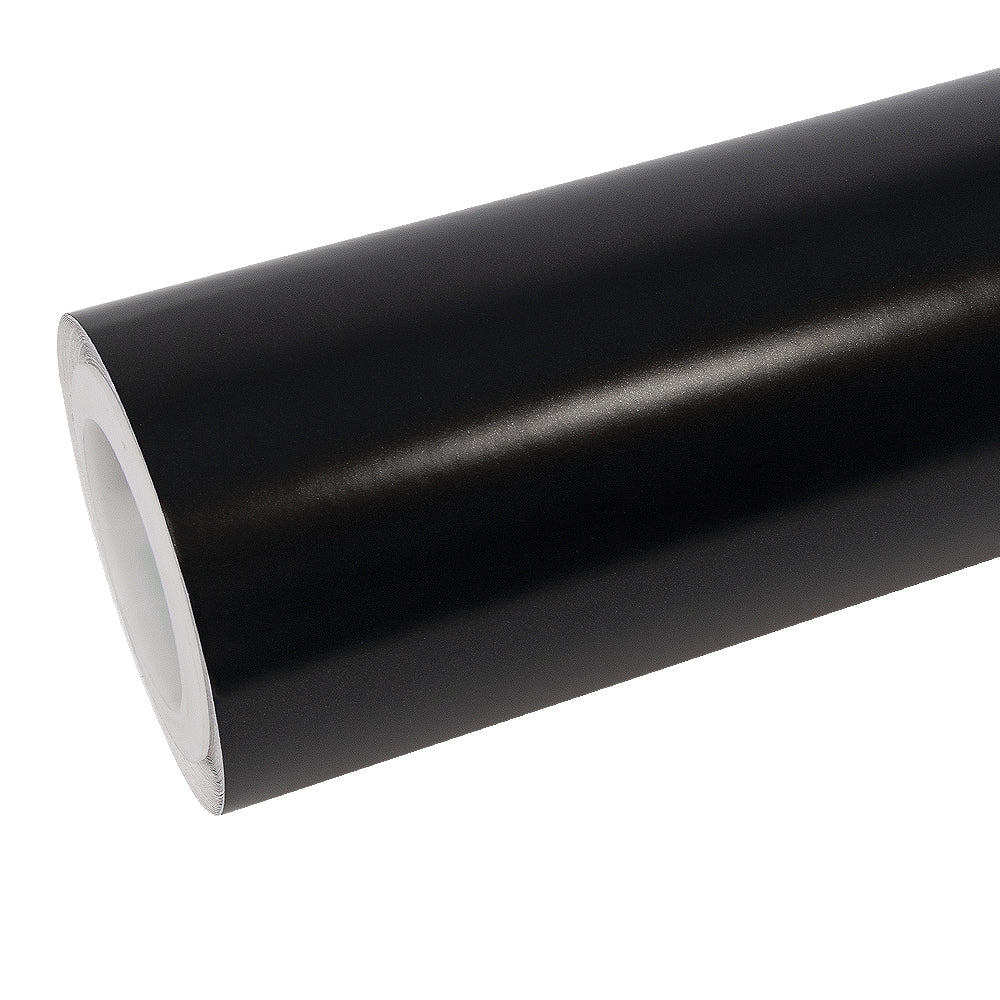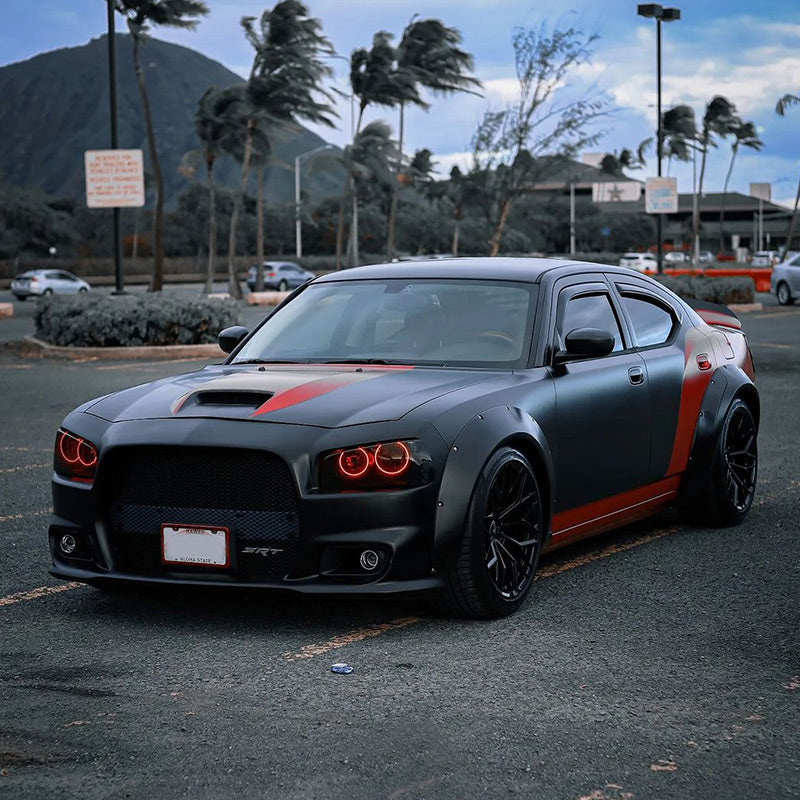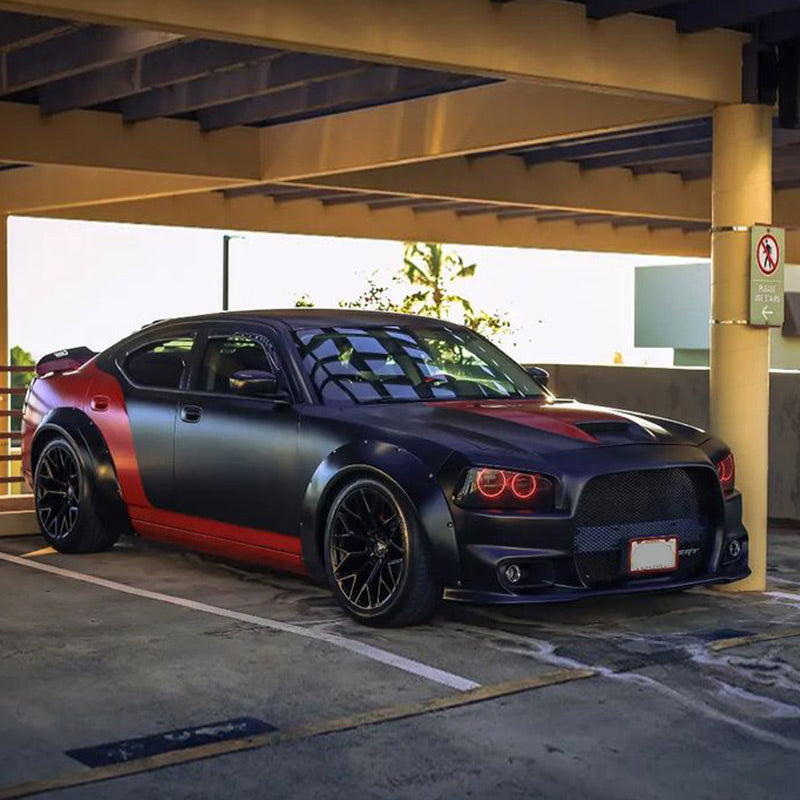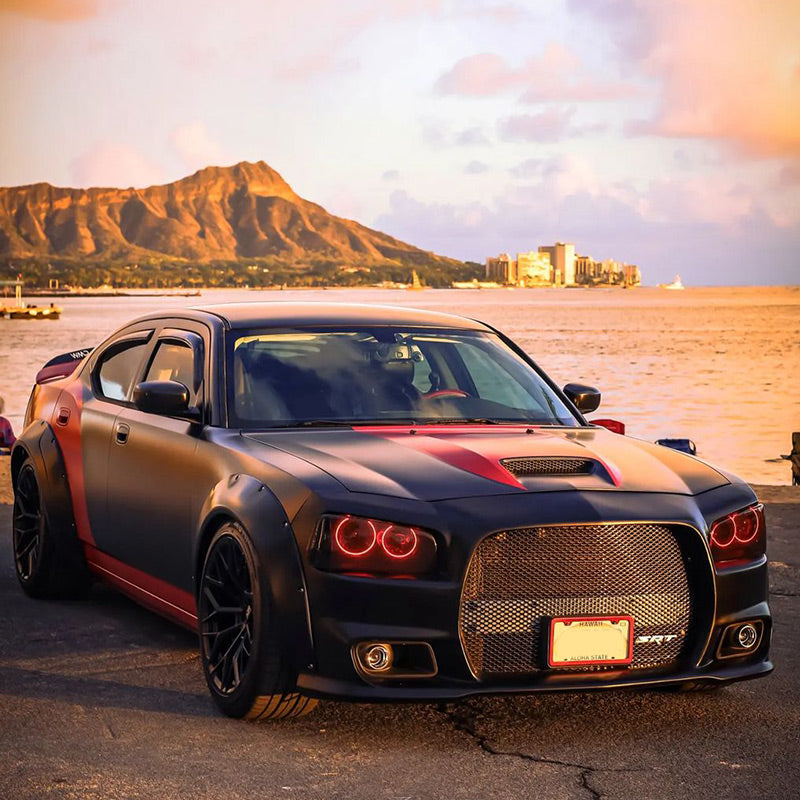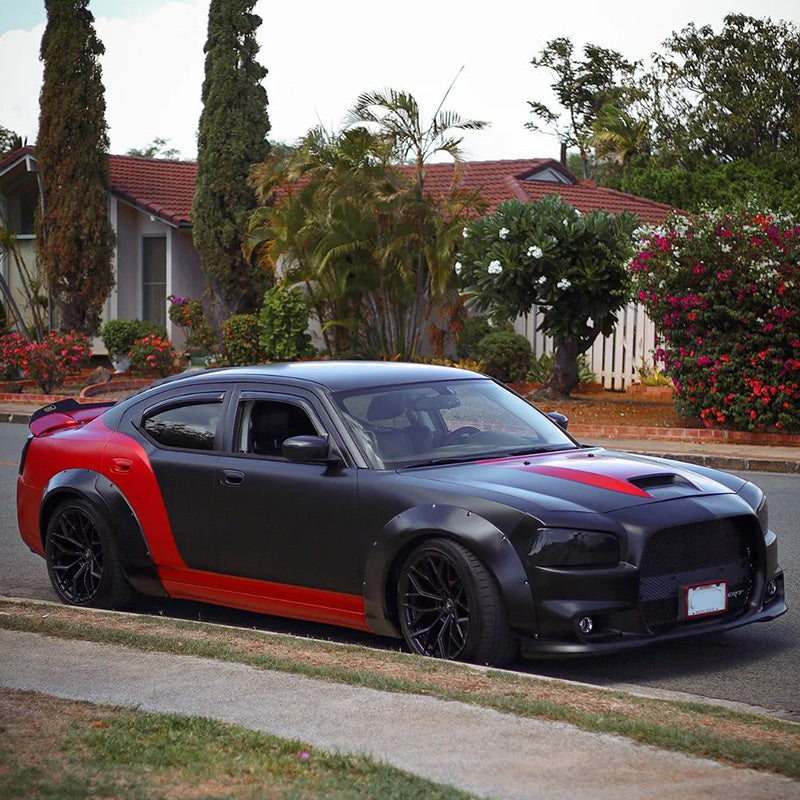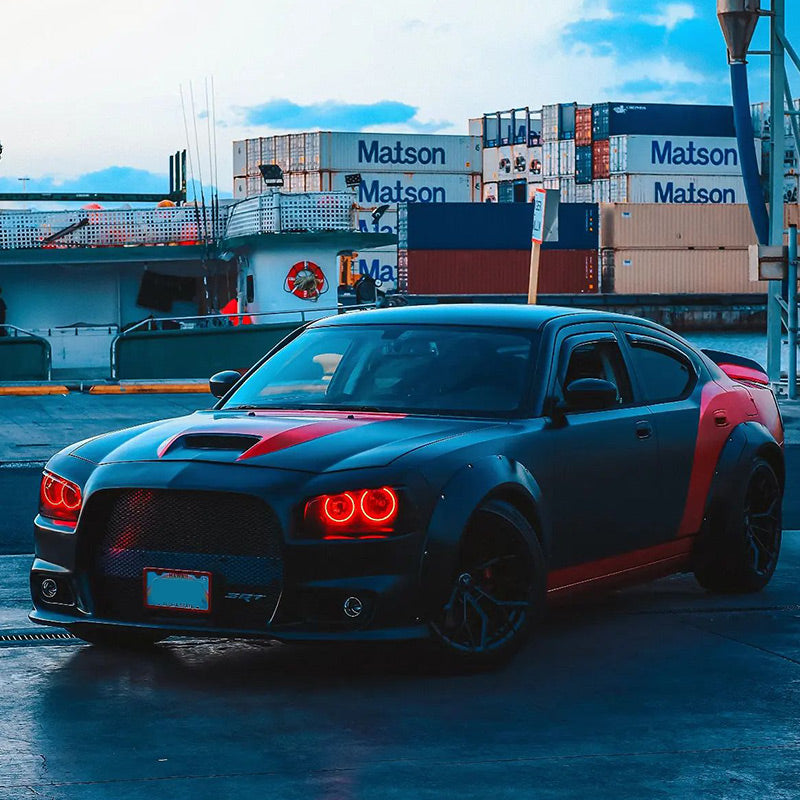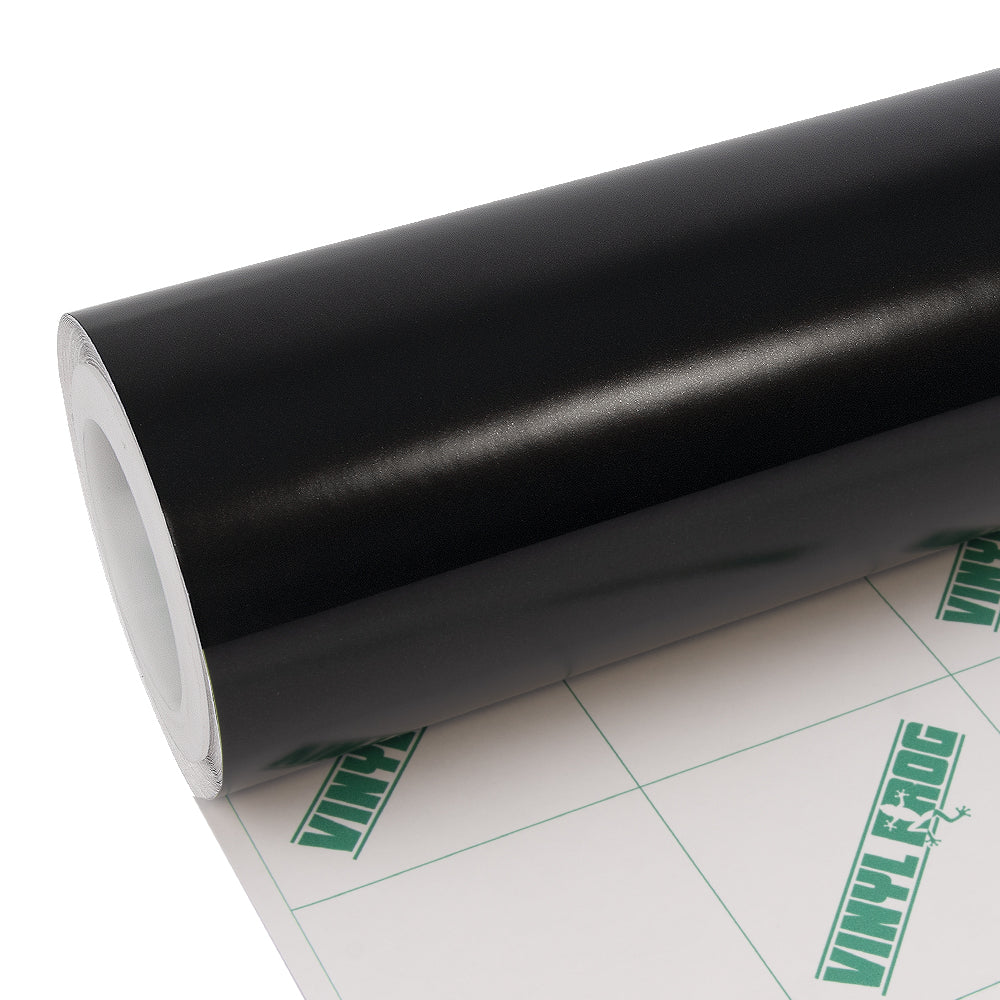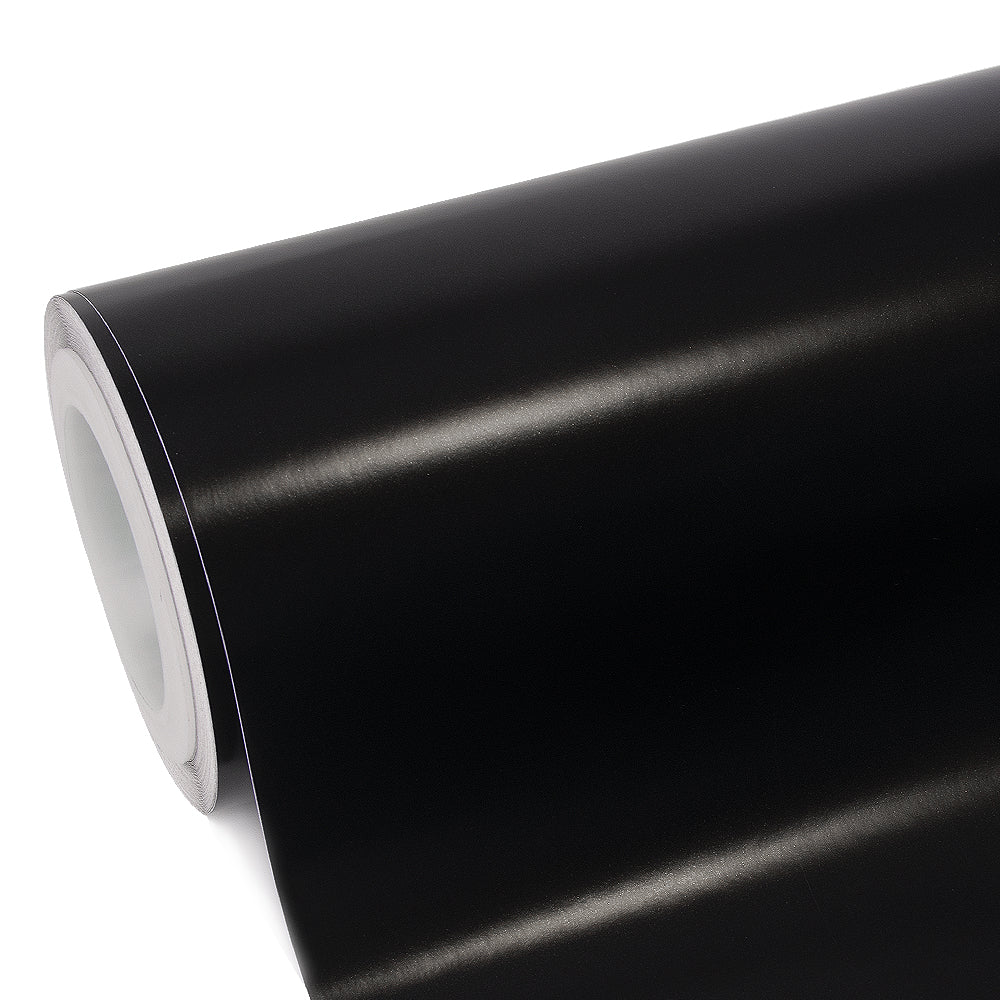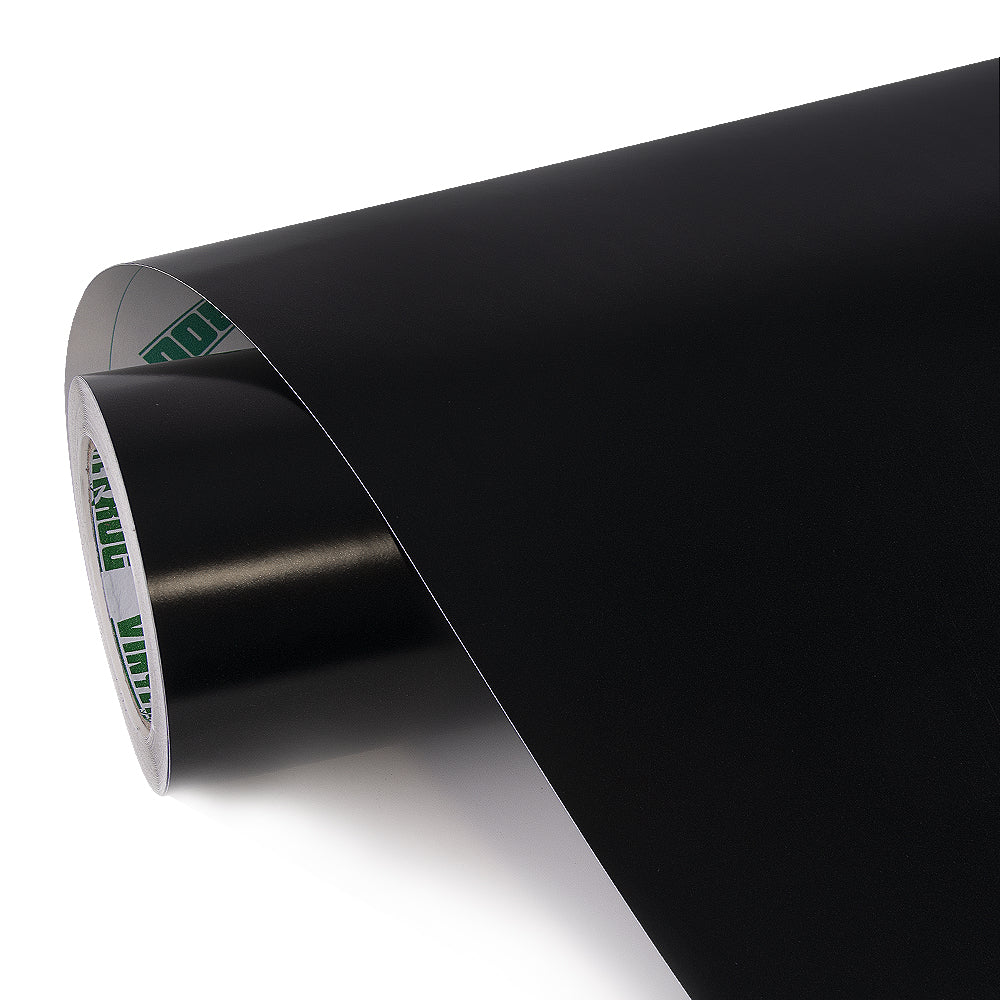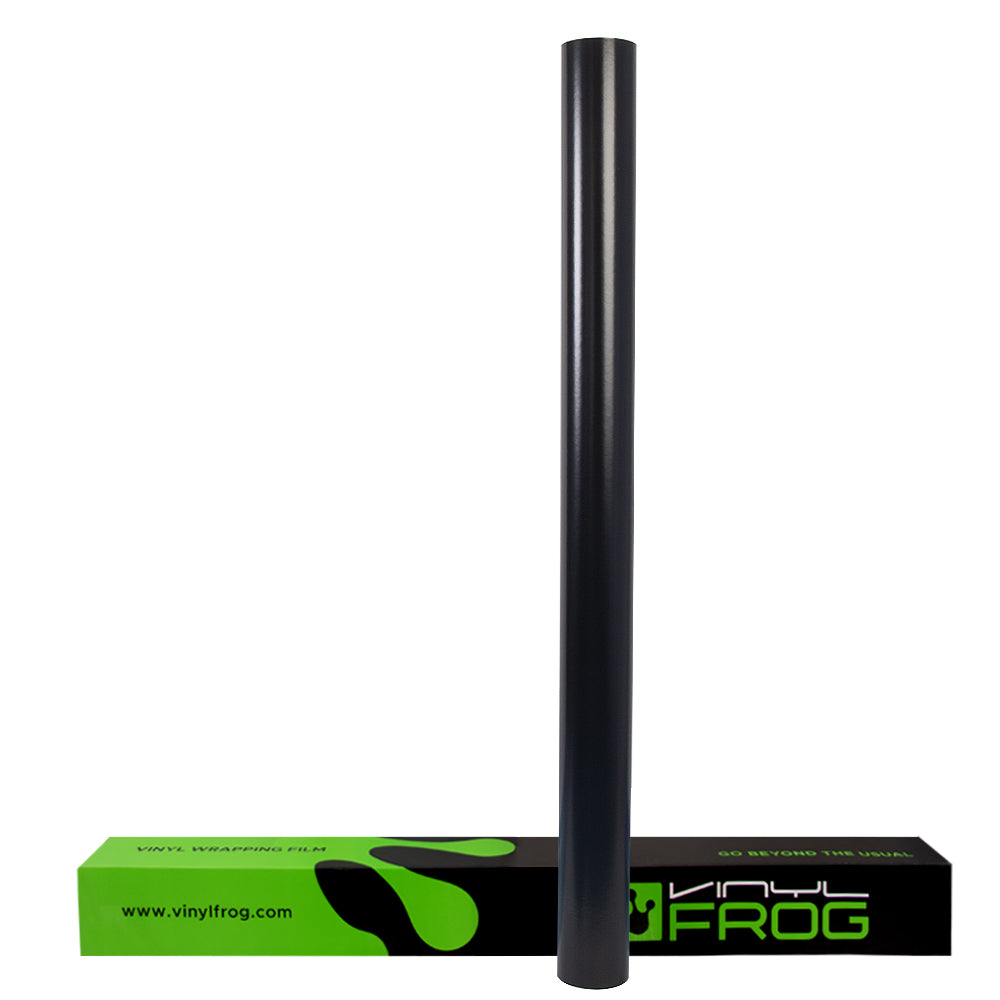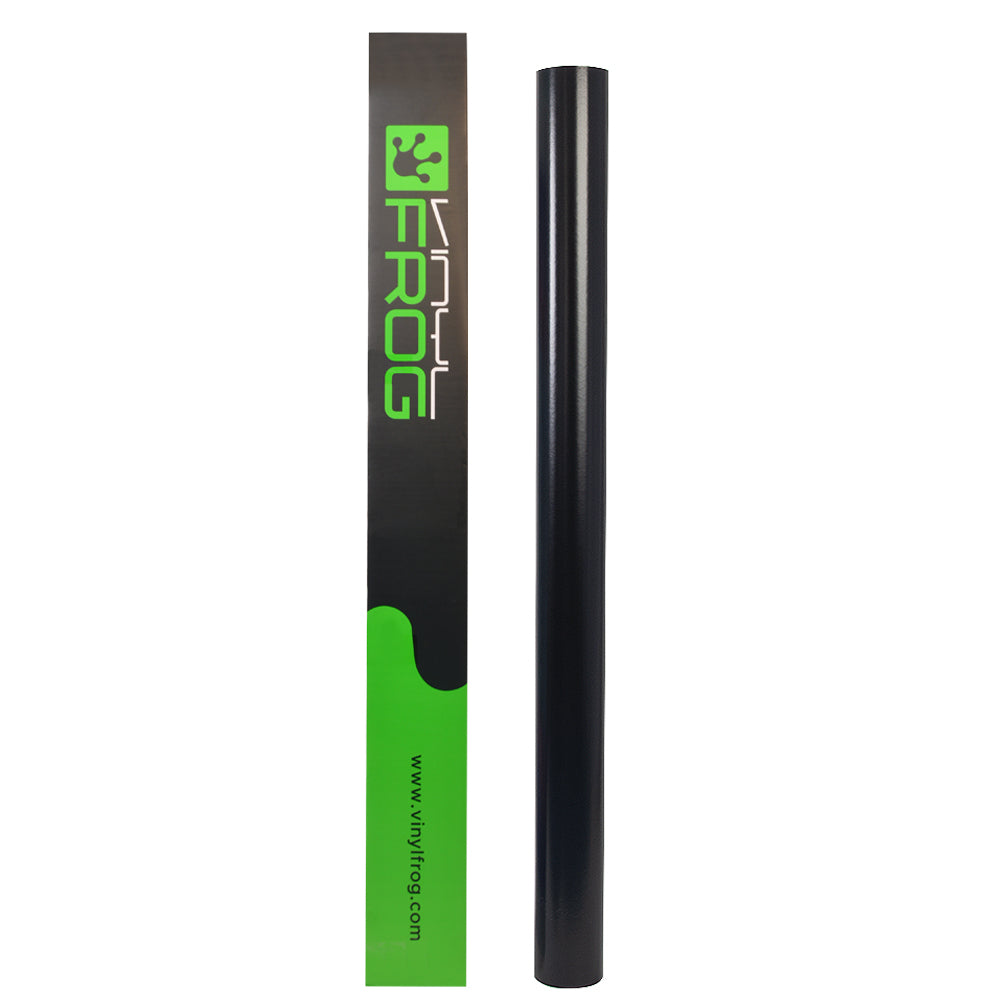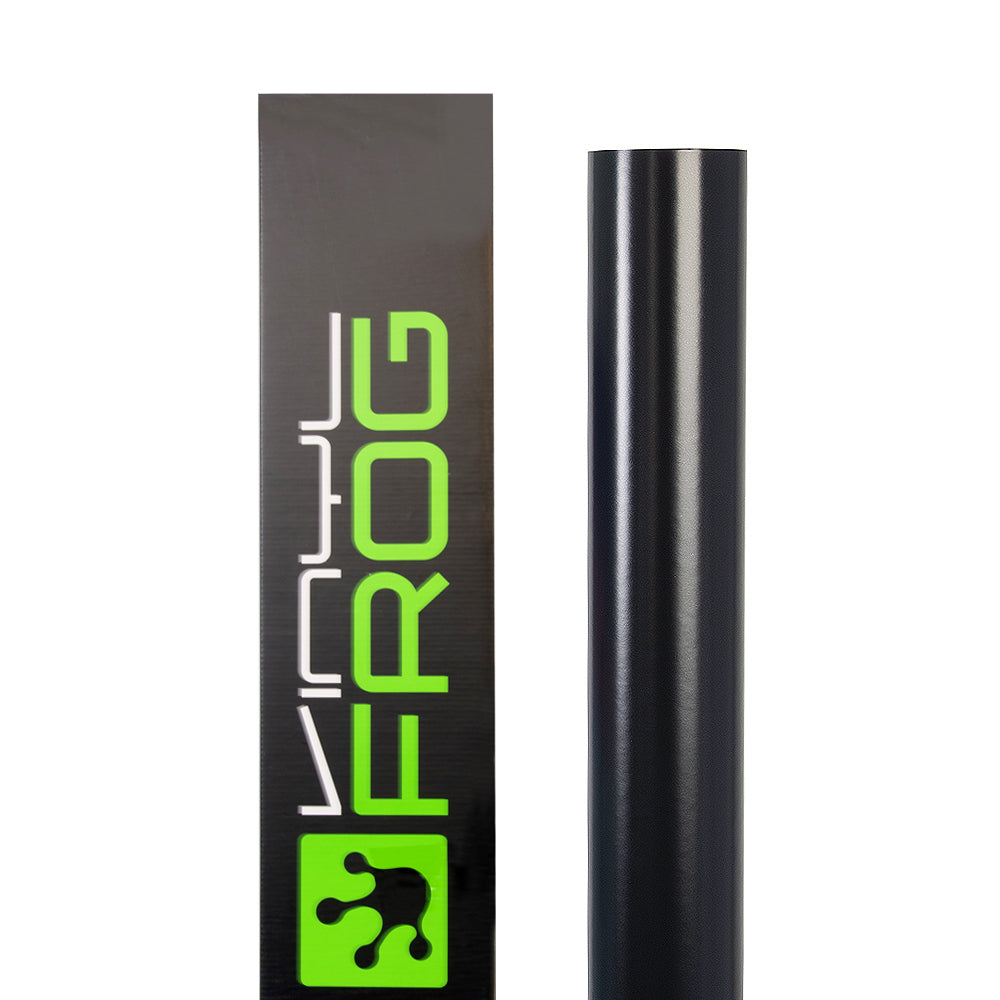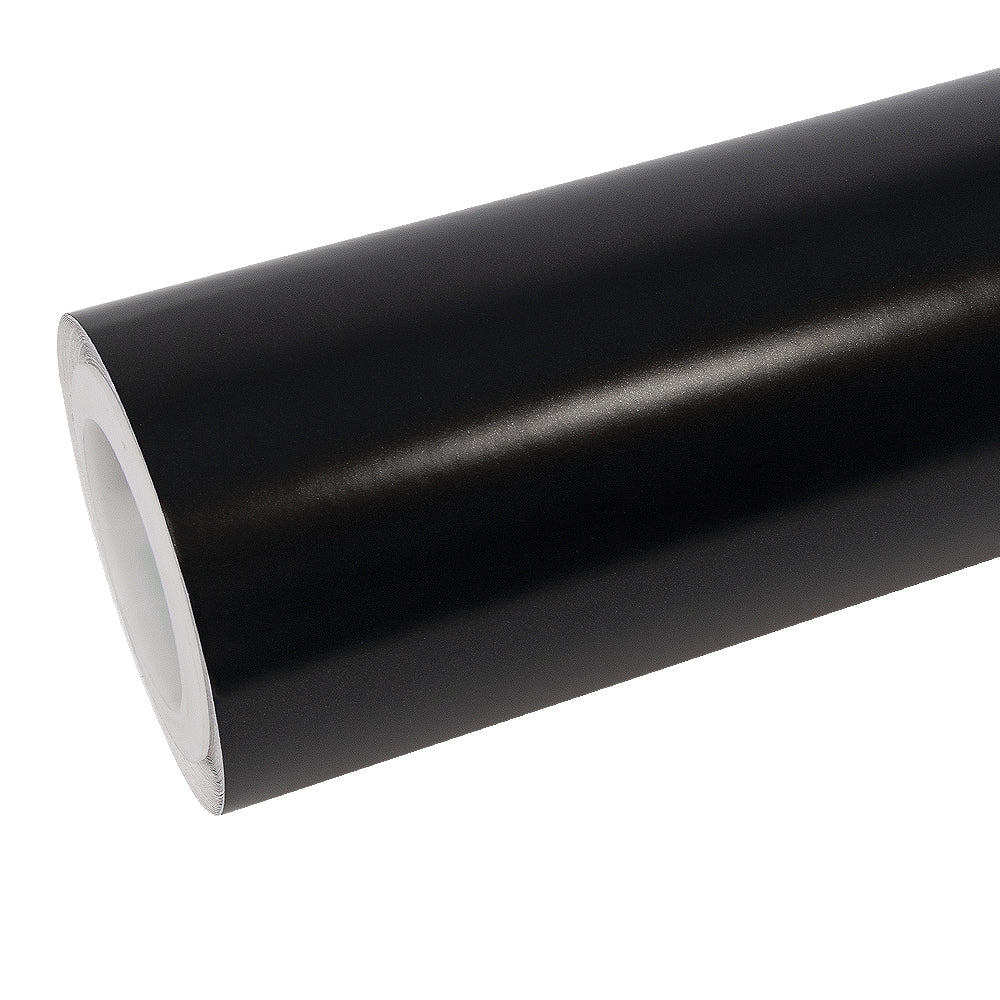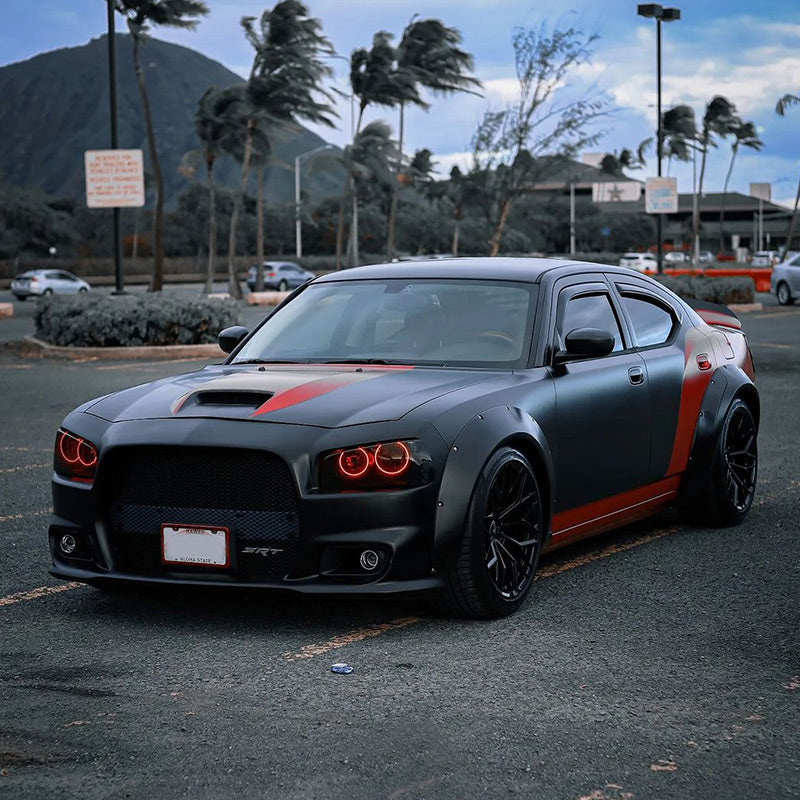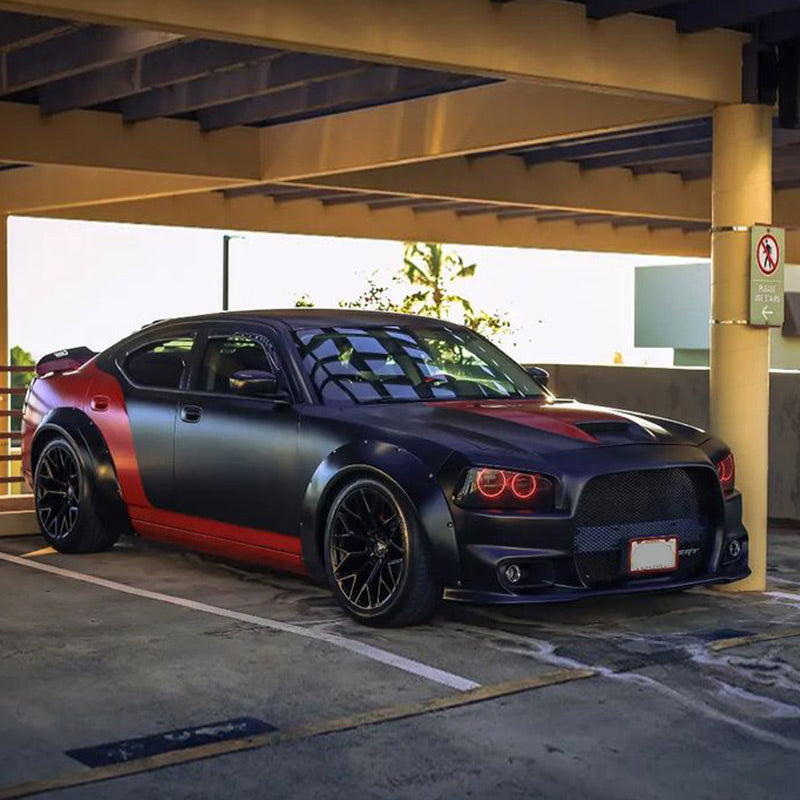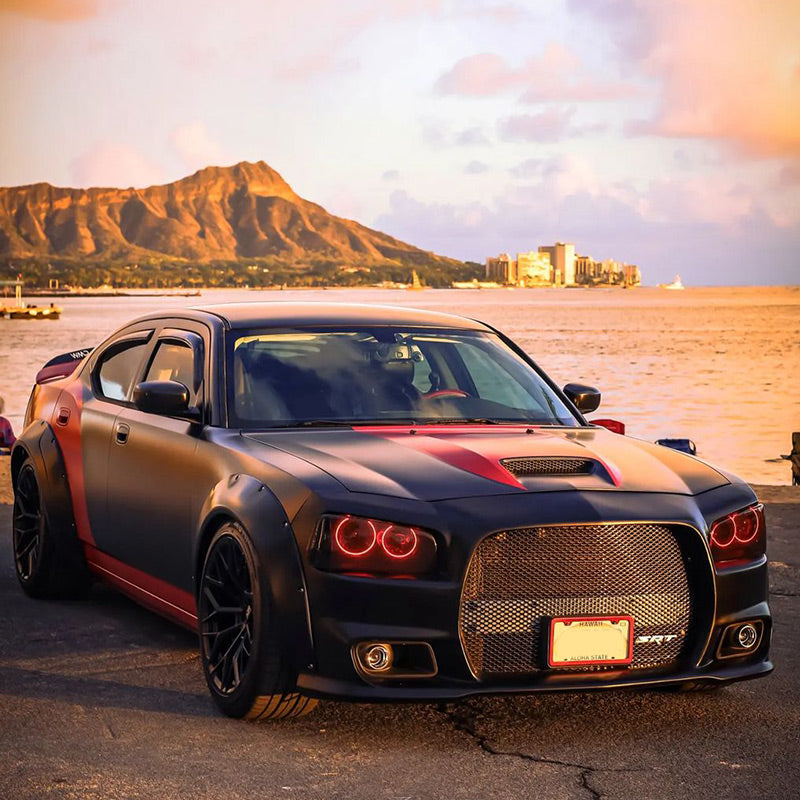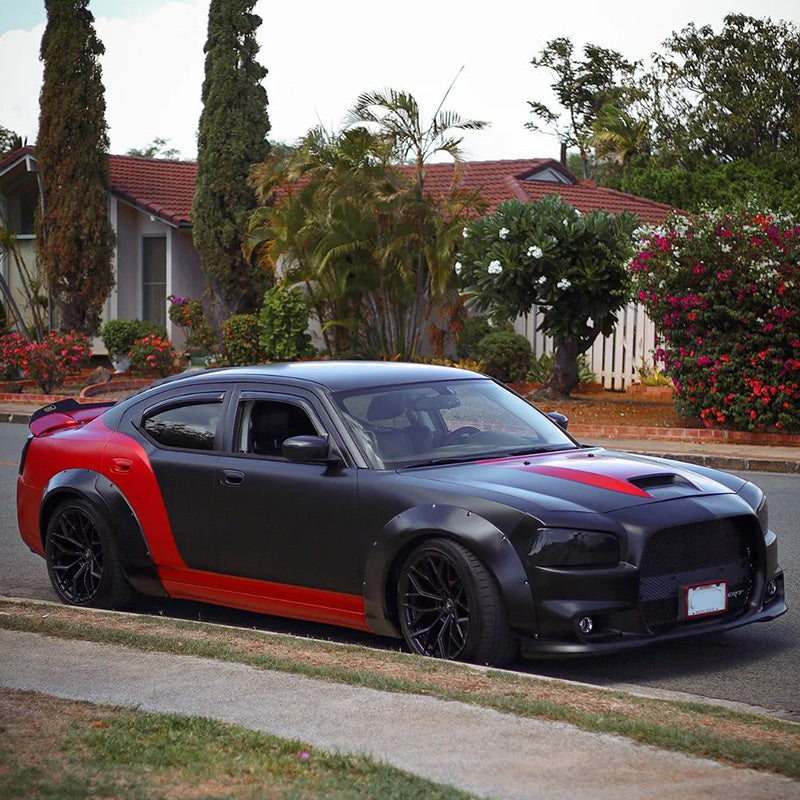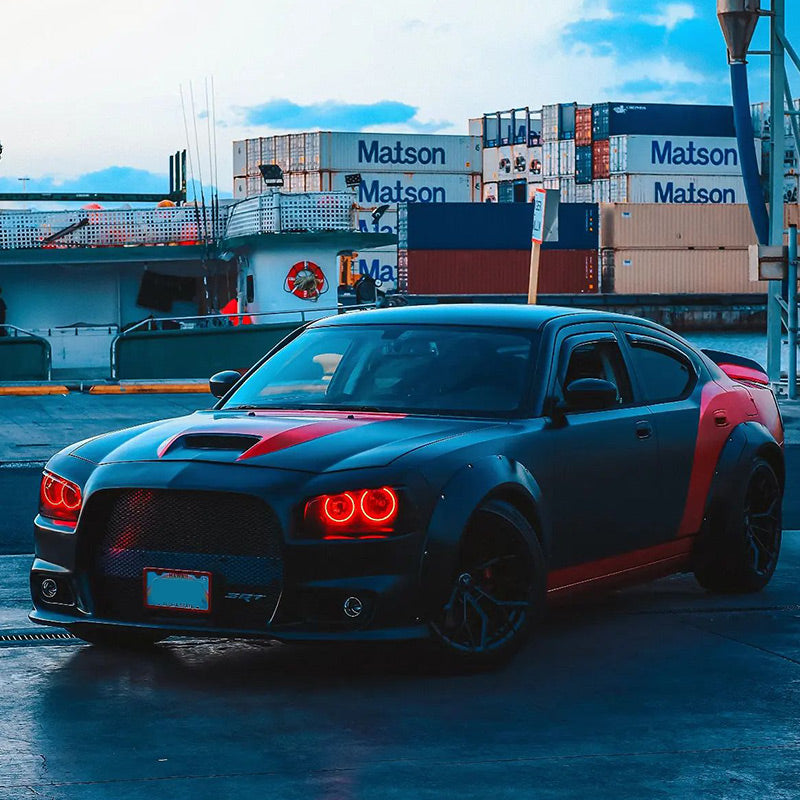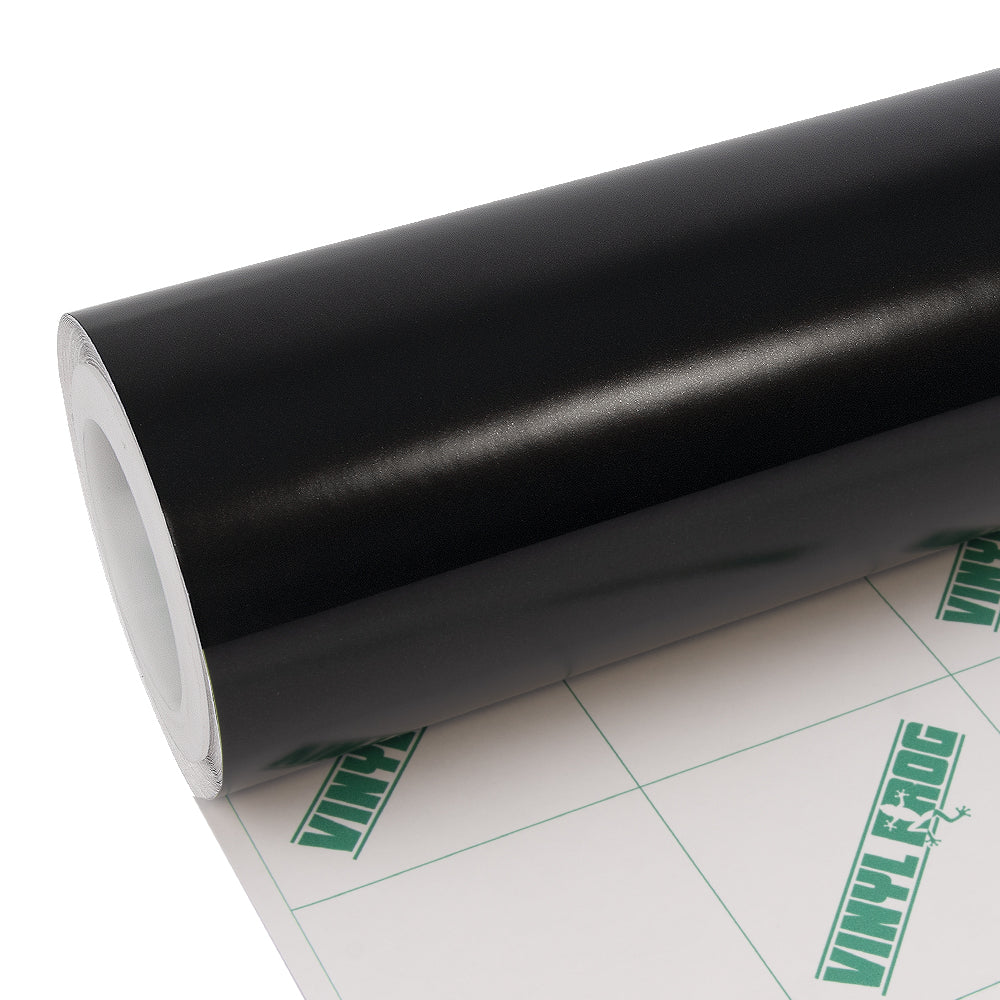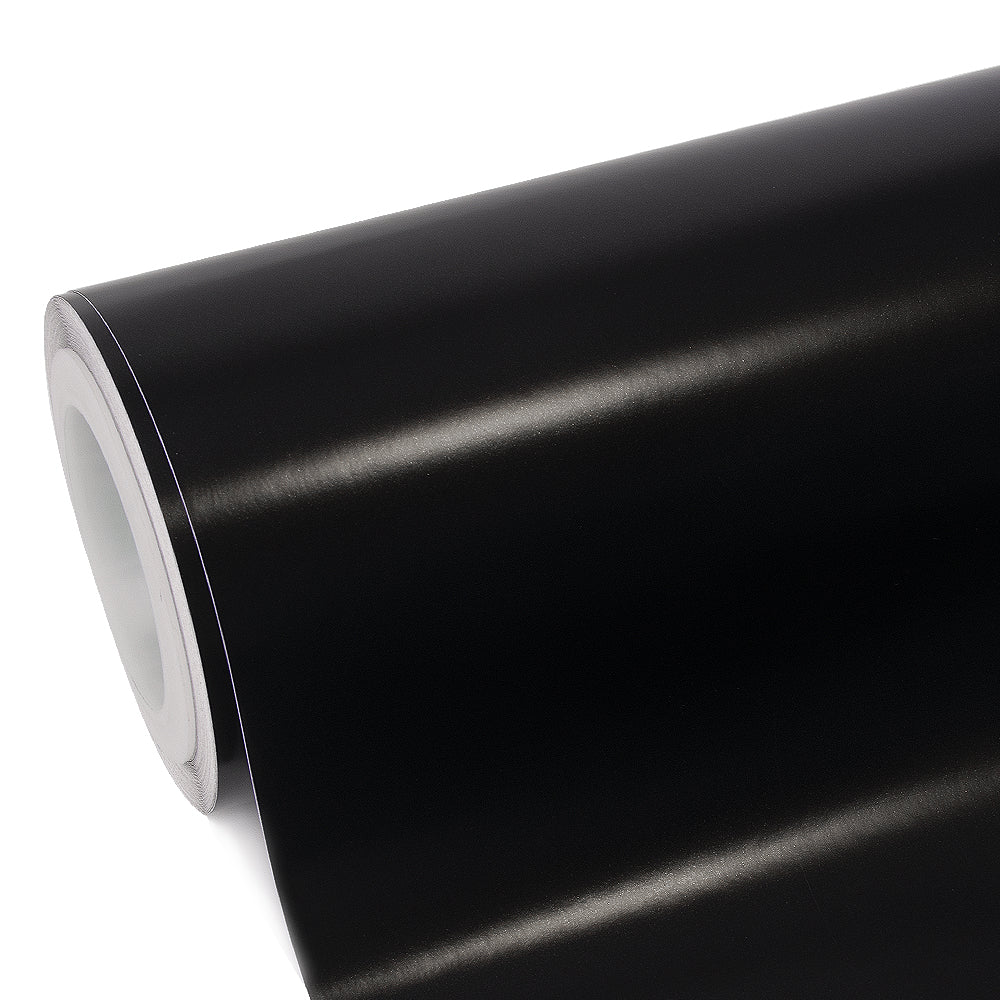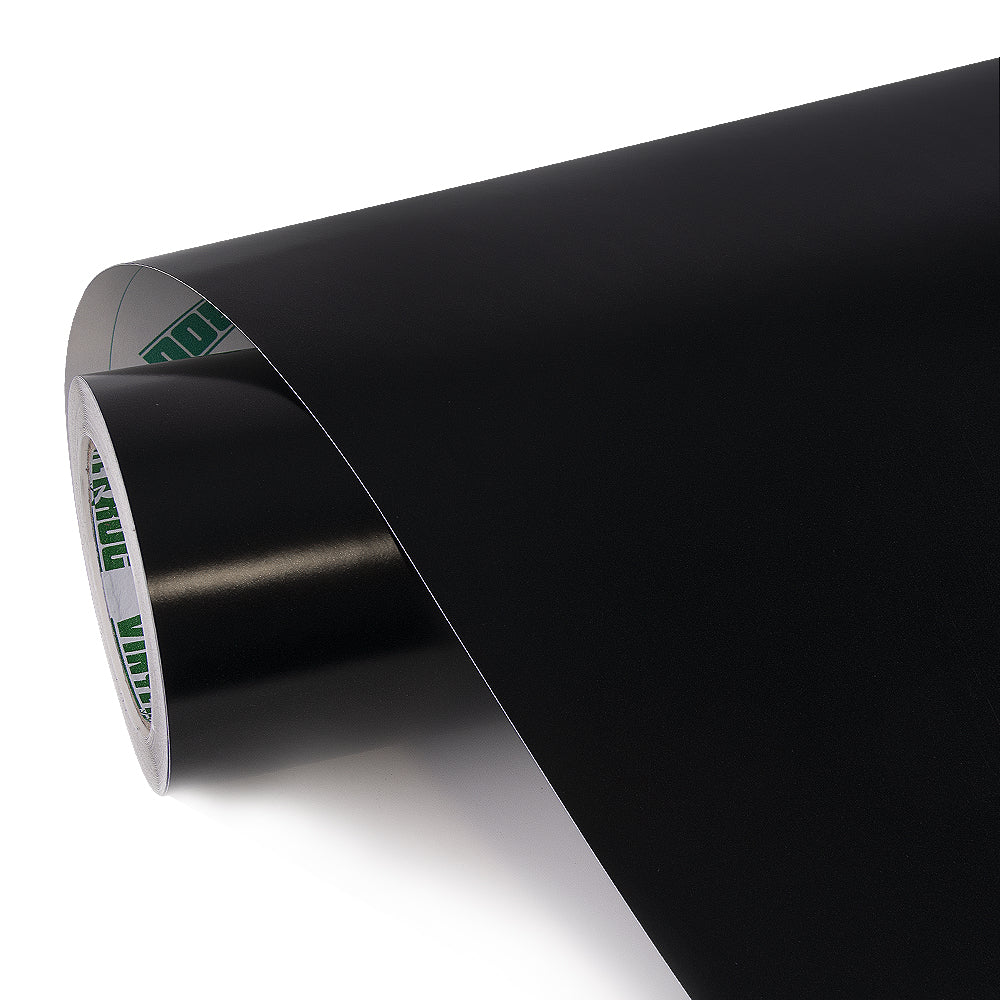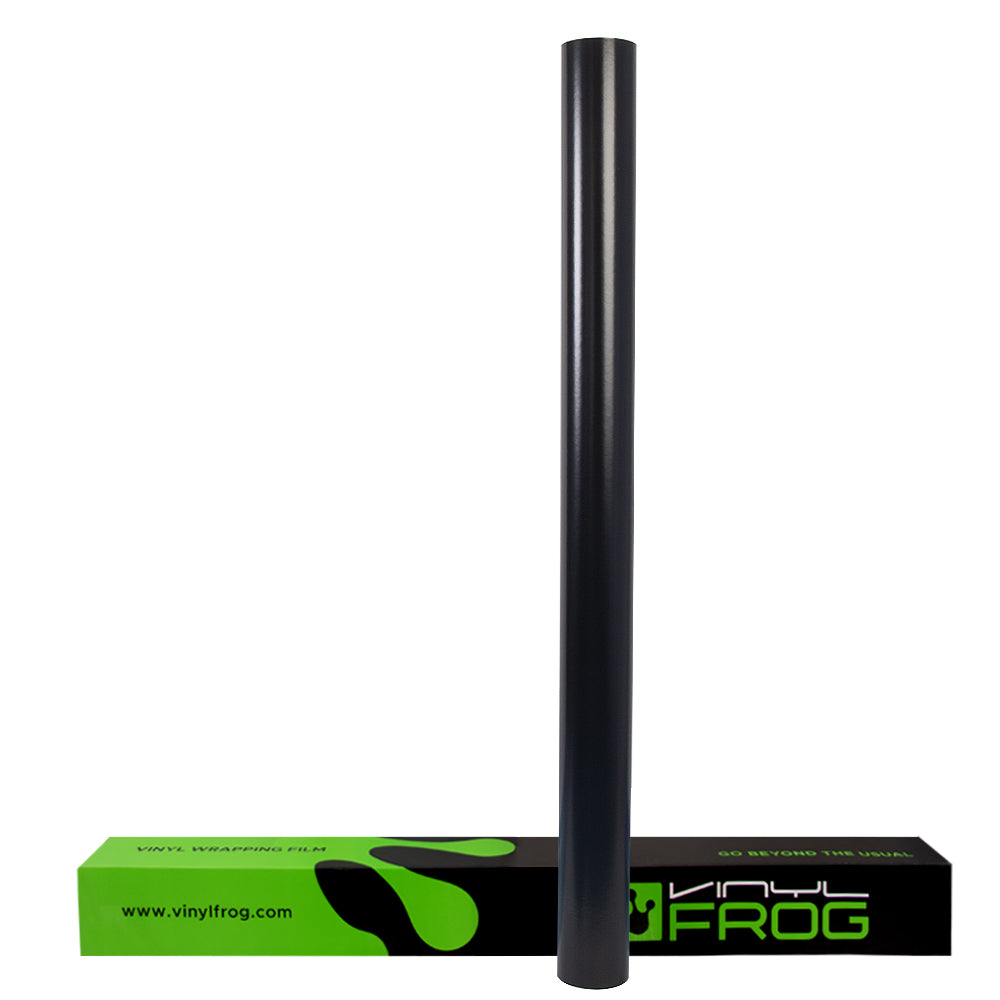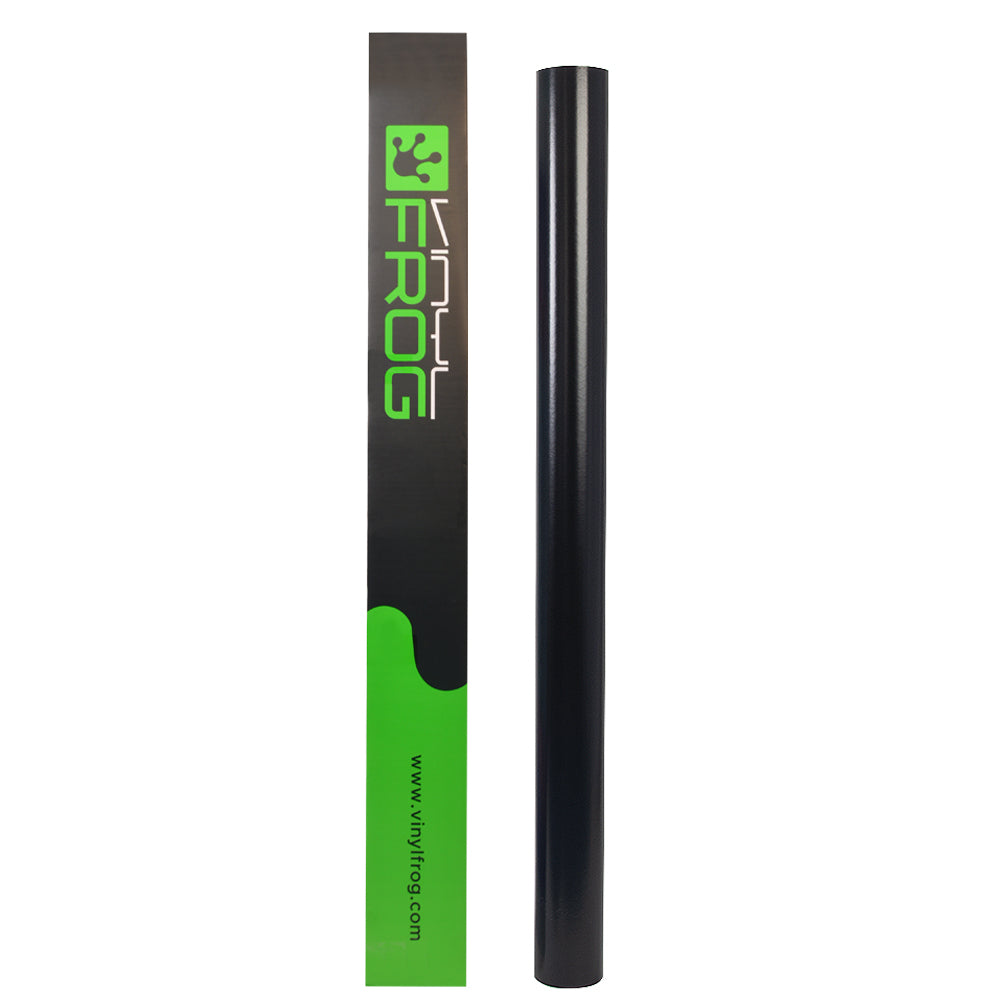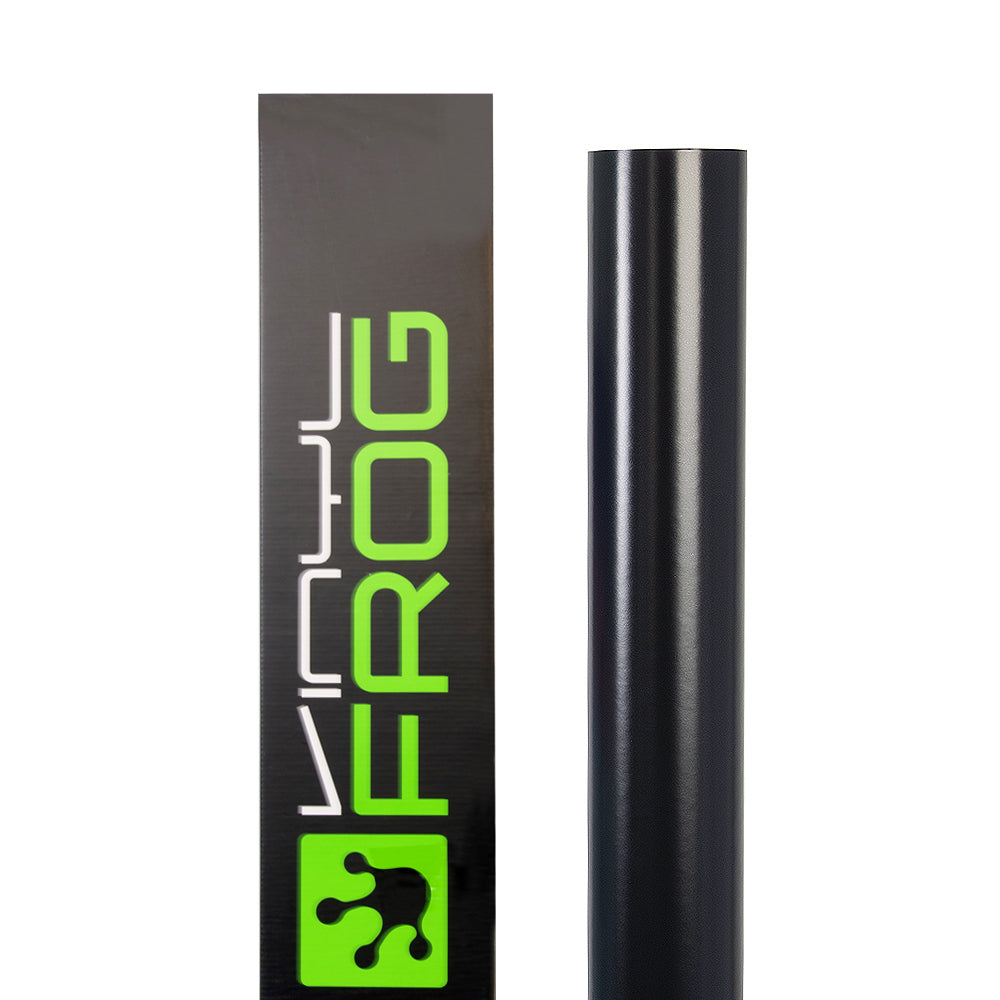 Gloss Metallic Black Vinyl Wrap
As is evident from the name, this vinyl film has a high gloss, metallic finish. It vividly exhibits its allure and beauty in full vehicle wrap, though you can go for partial accents as well. It gives your vehicle a wet, sanded appearance bringing out its pronounced body lines. At Vinyl Frog, the price for a 5ft x 3.28ft starts from $61.
Glossy Metallic Galaxy Black Vinyl Wrap
Galaxy black is an exotic color that looks as if the constellation has descended to engulf your vehicle. With an overlay of minutest of white specks and the glossy metallic shine, it simply looks other-worldly in its immense beauty.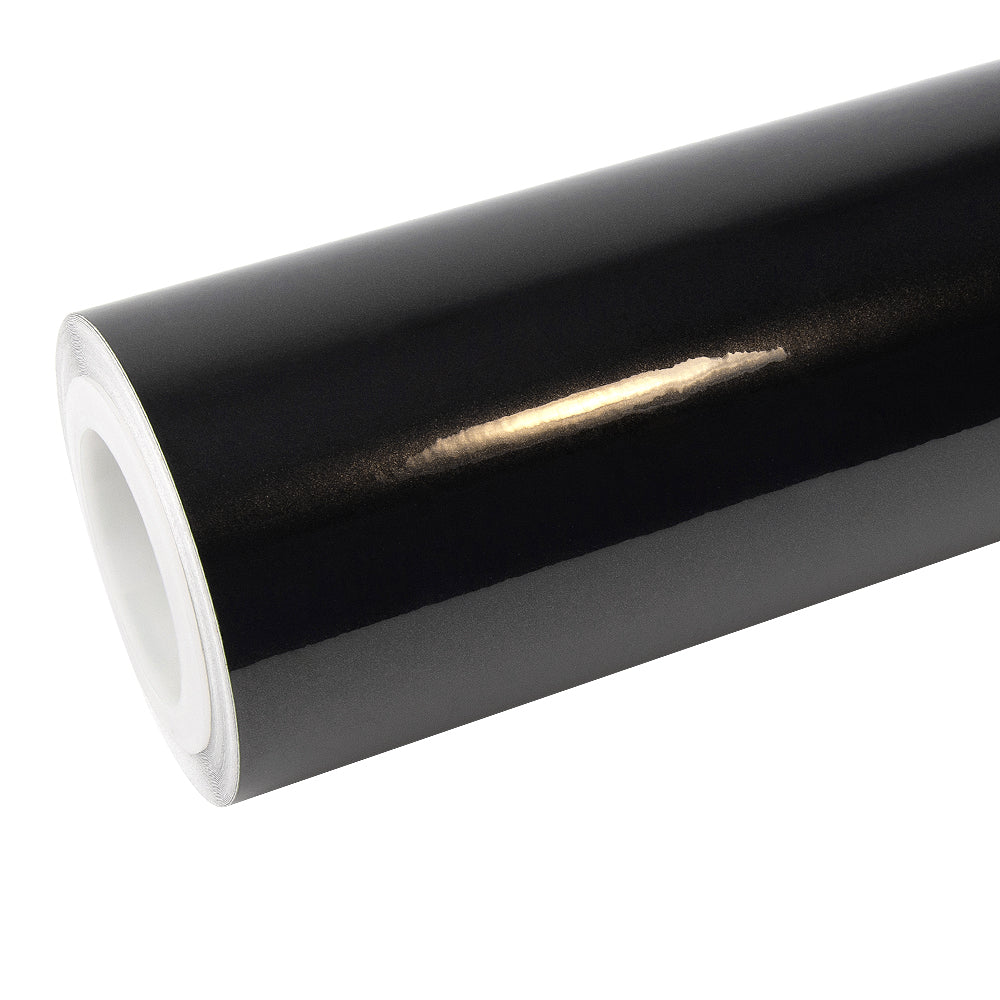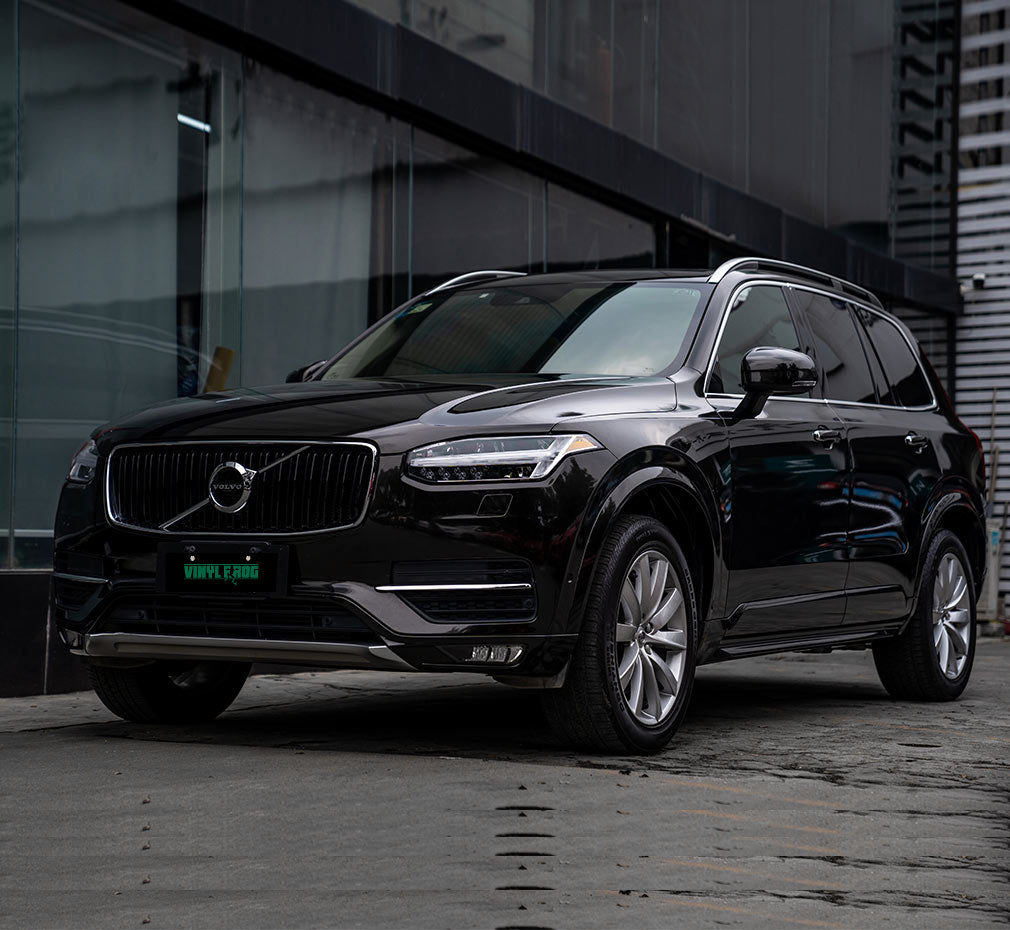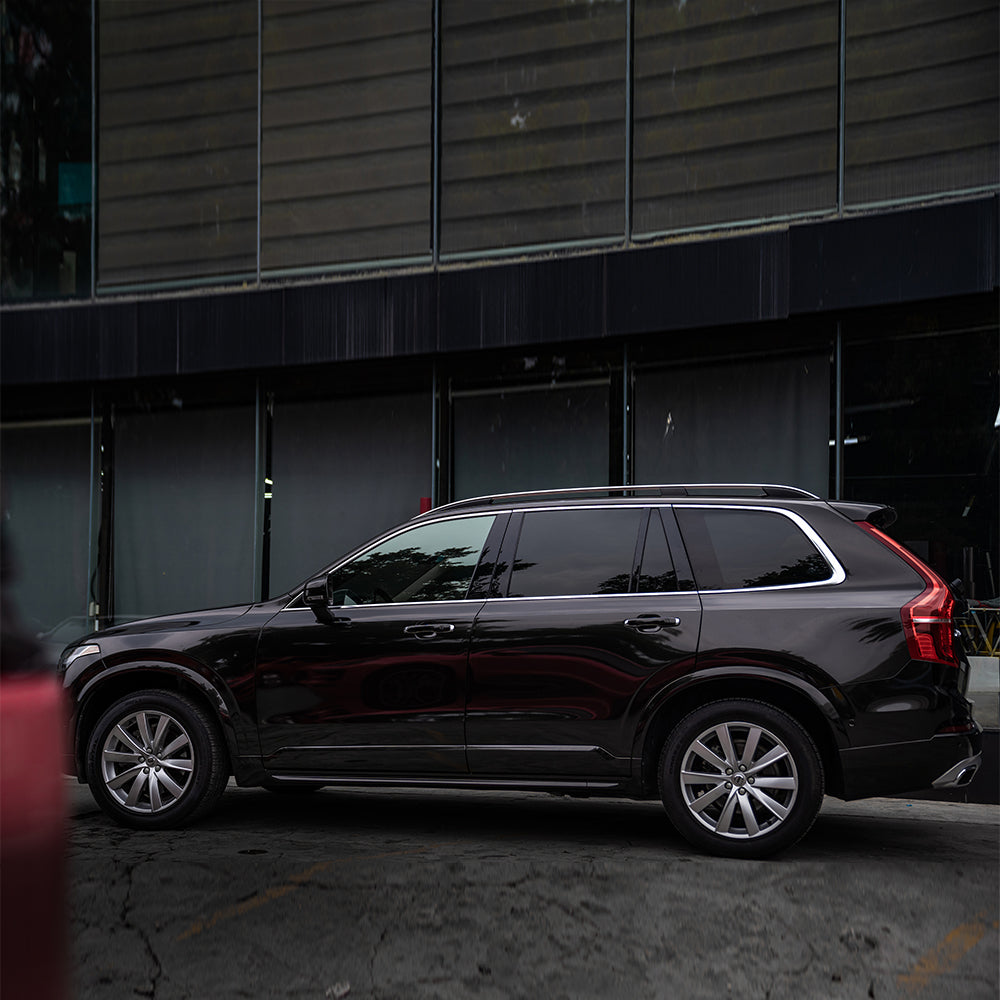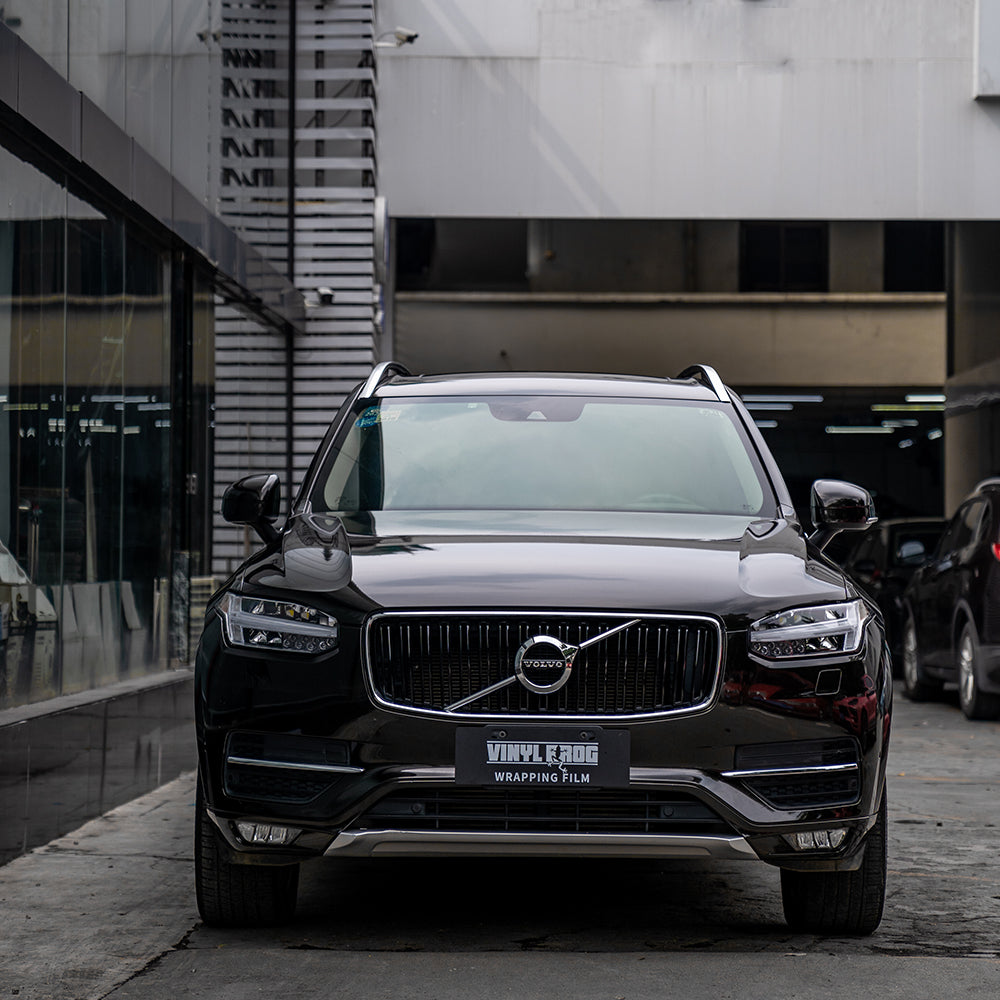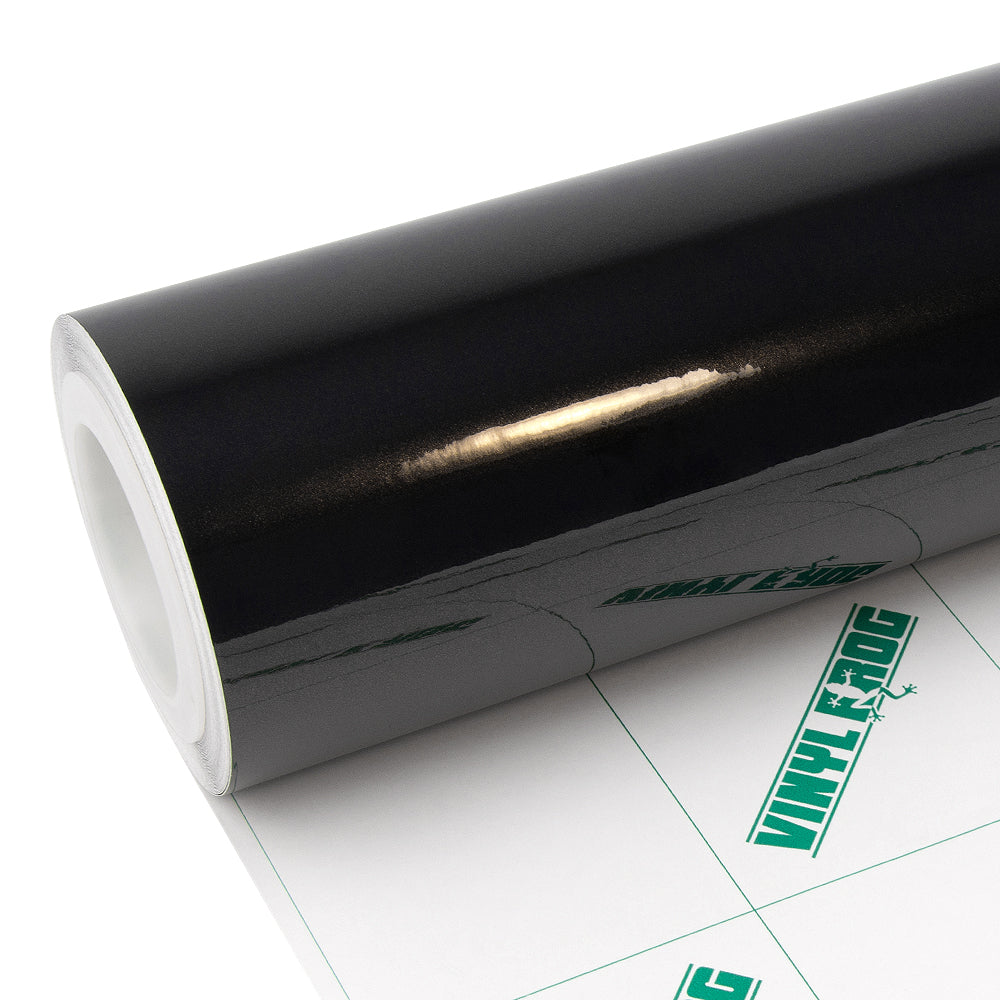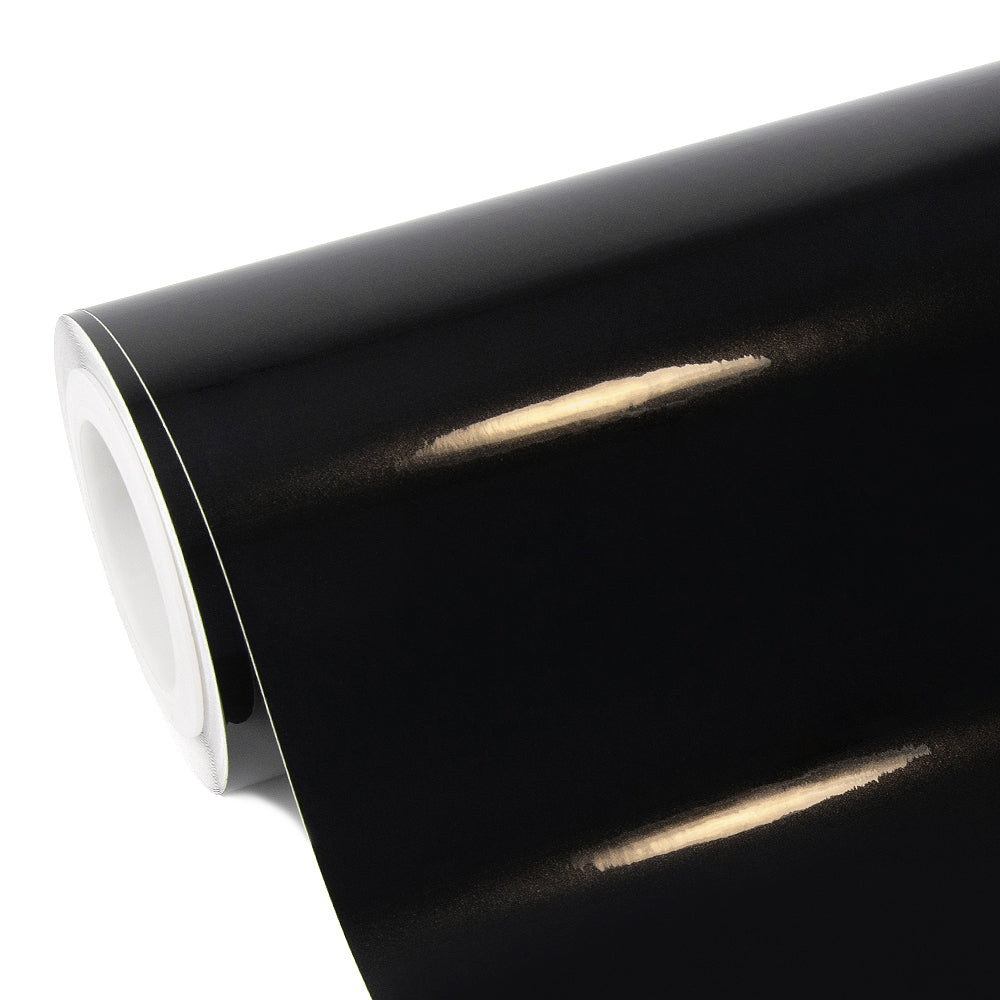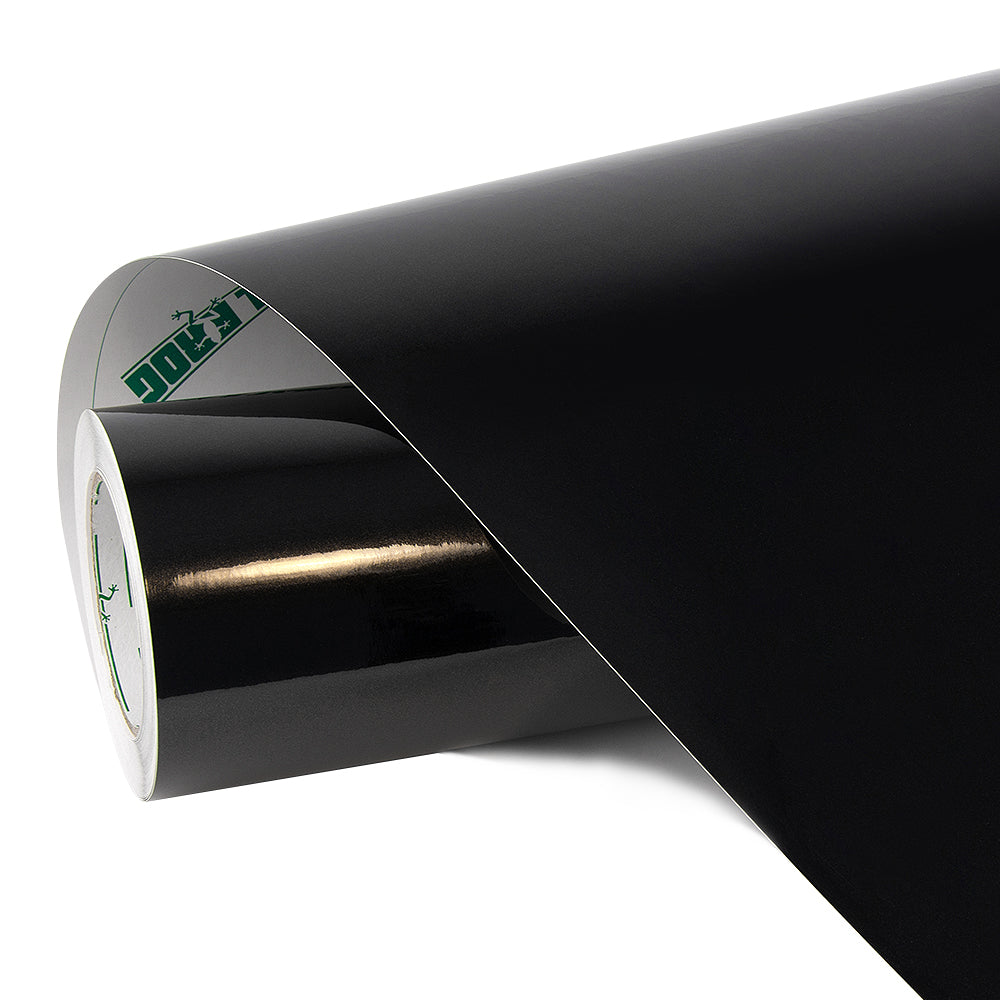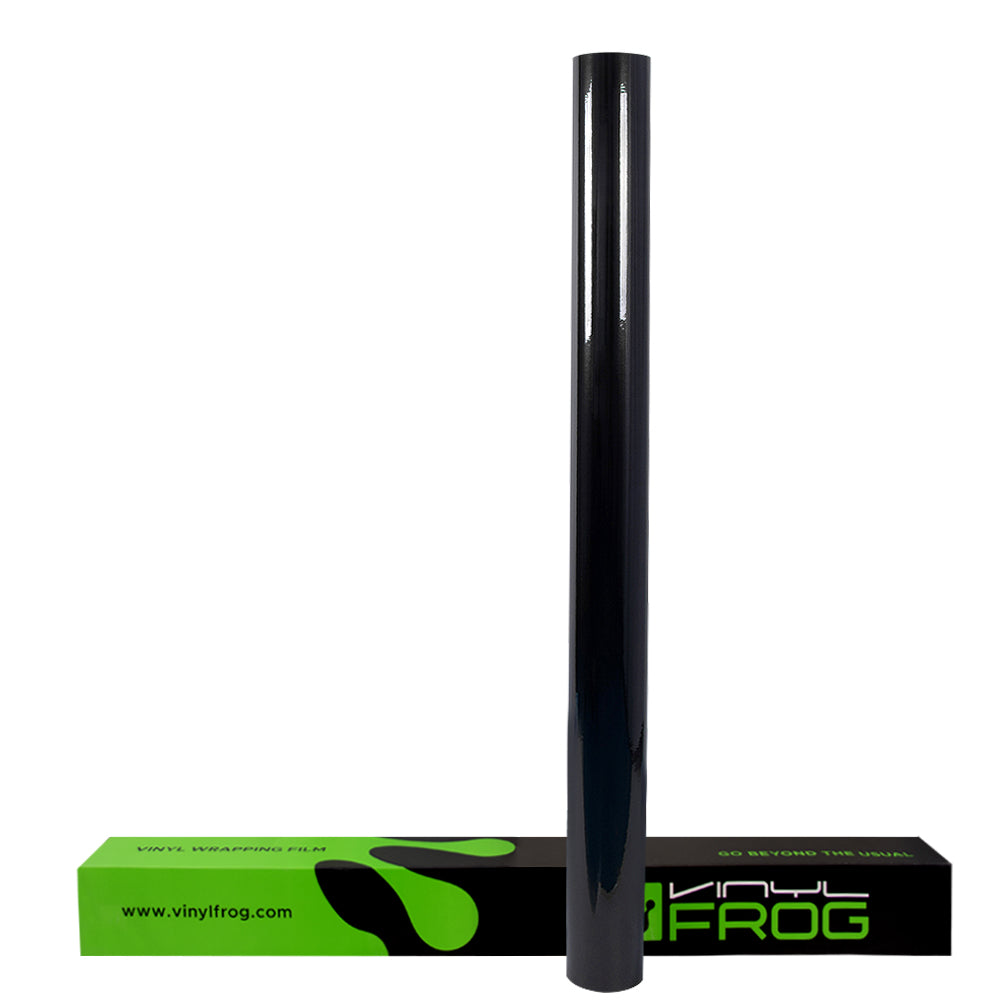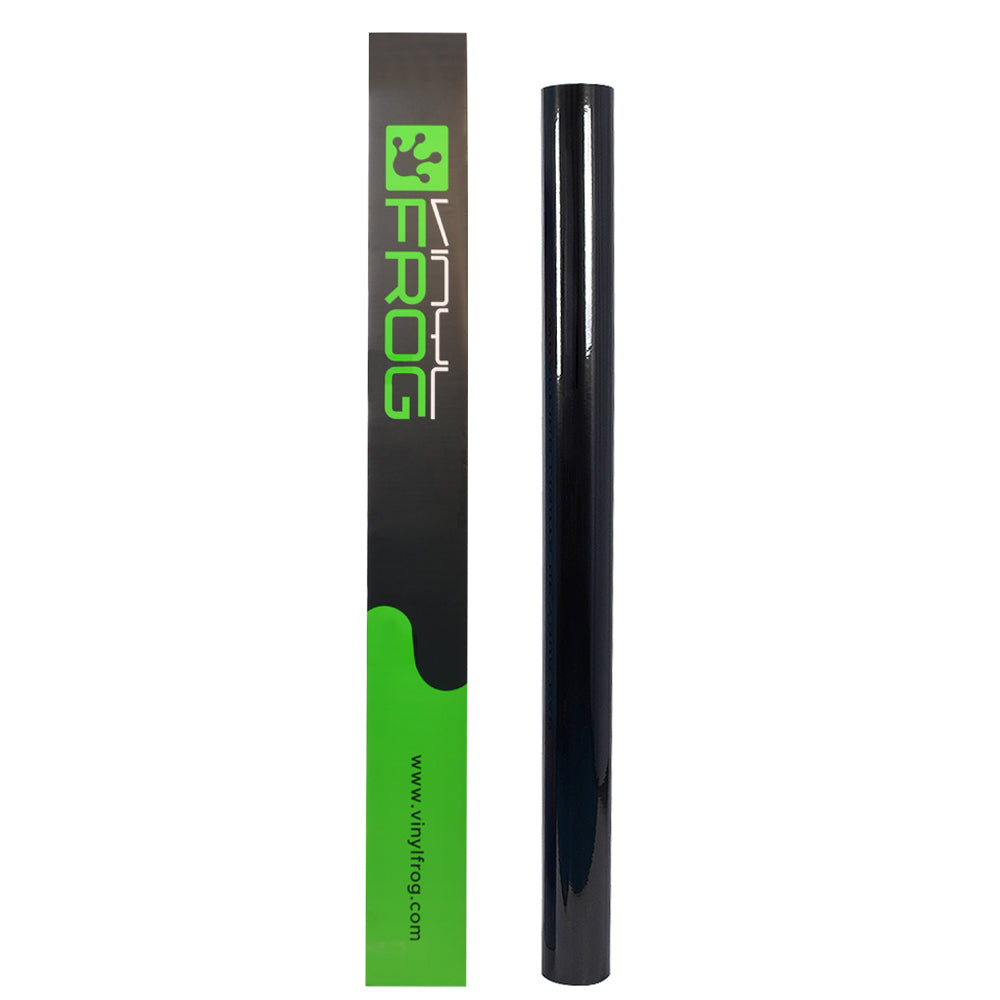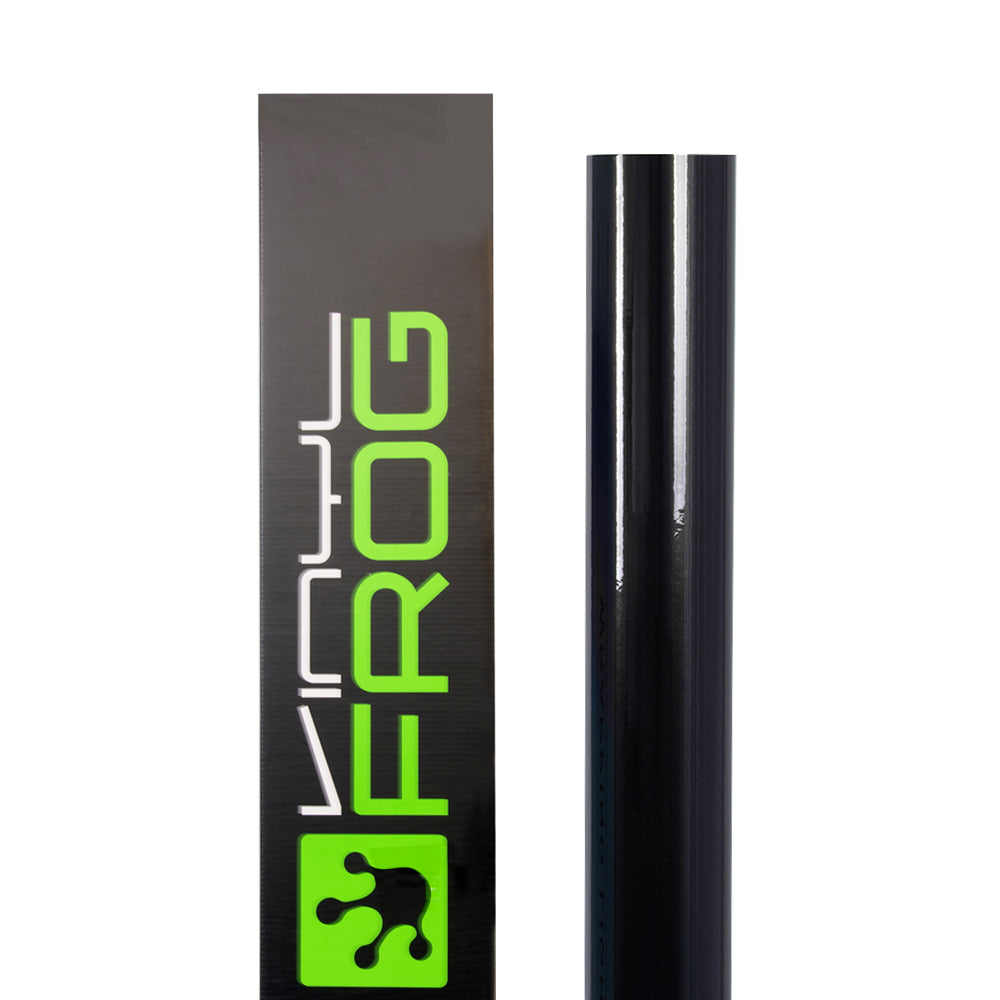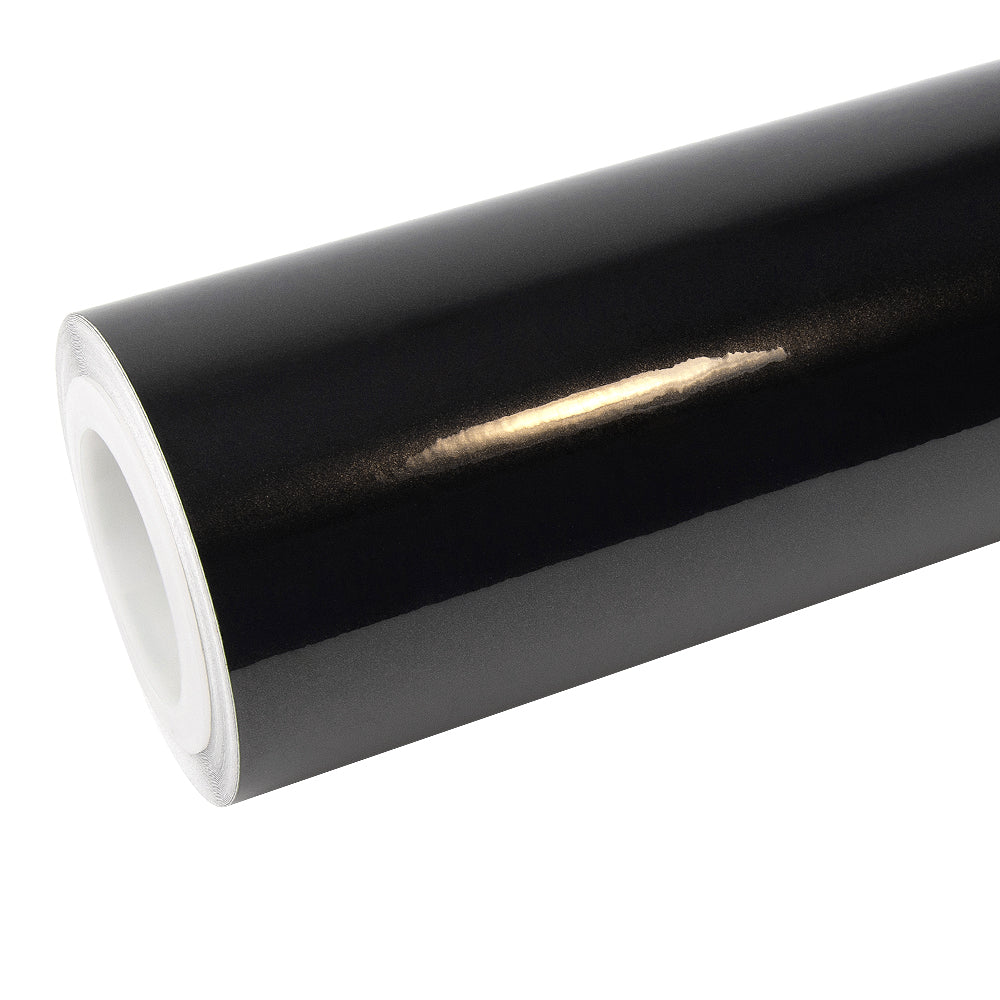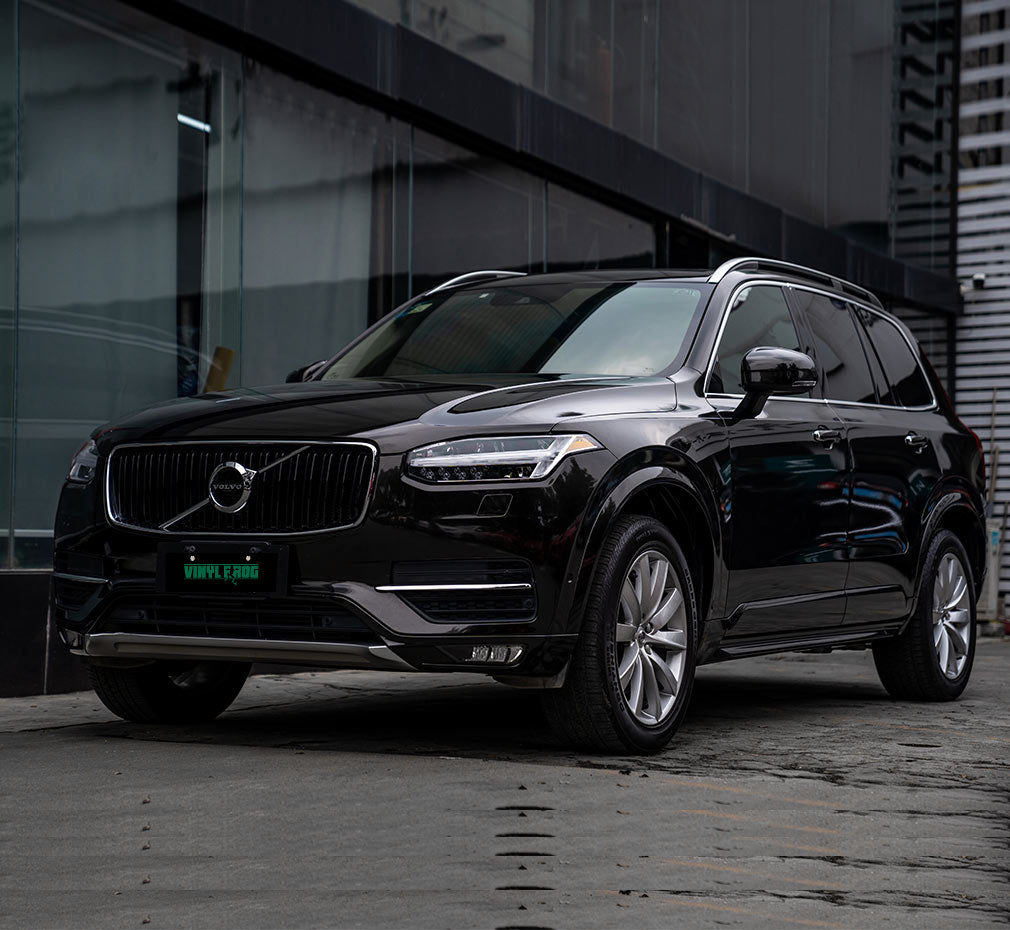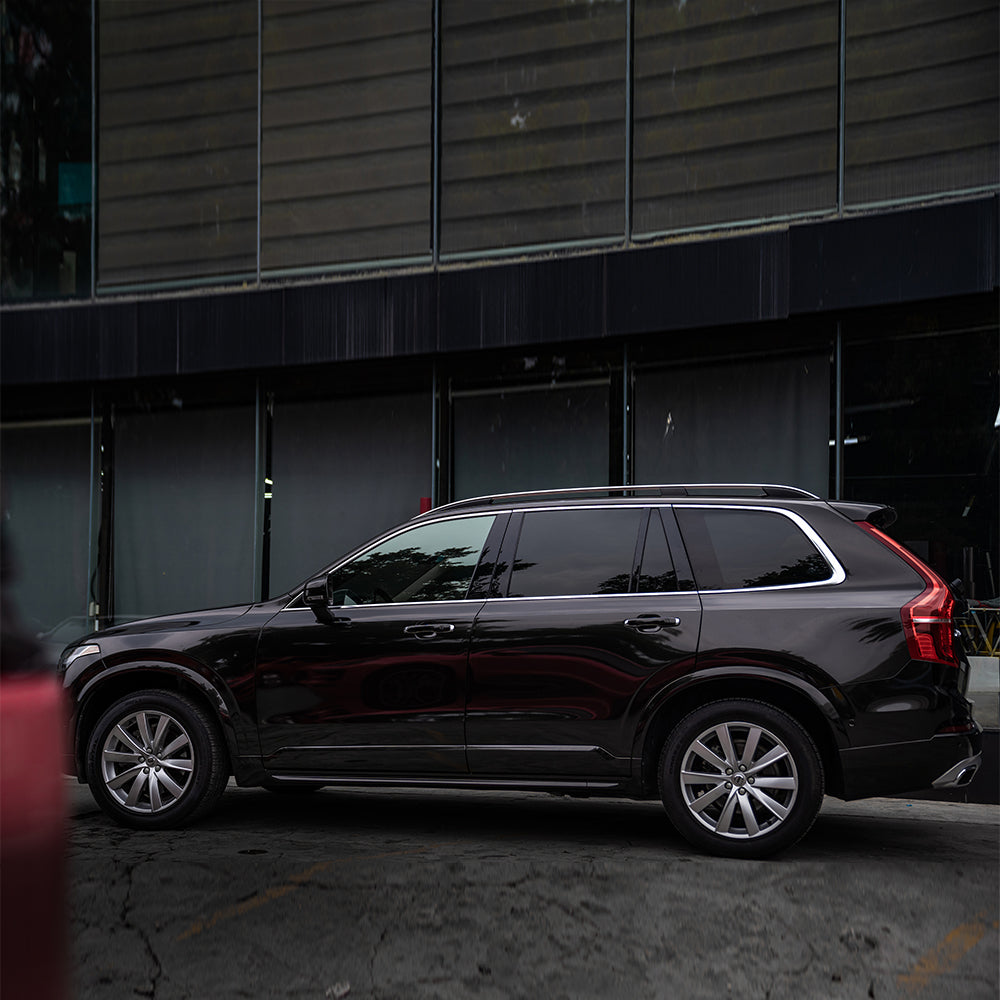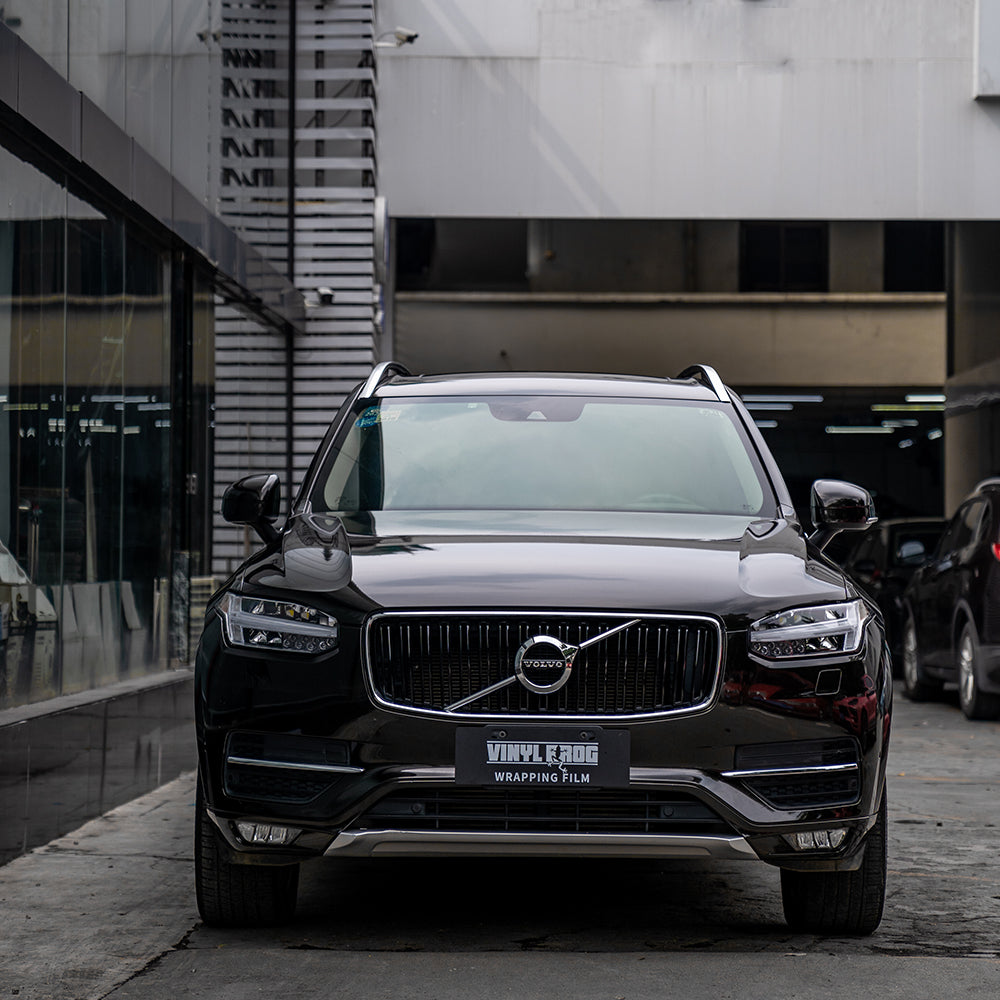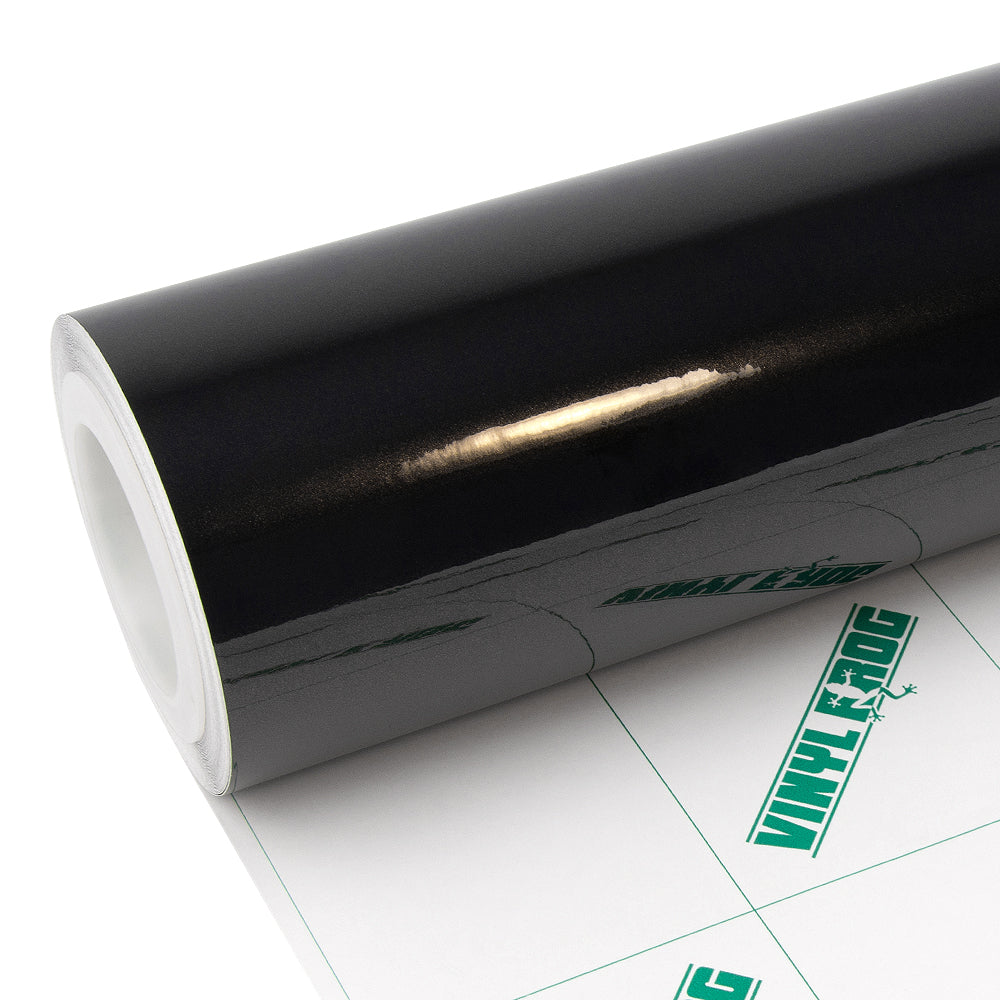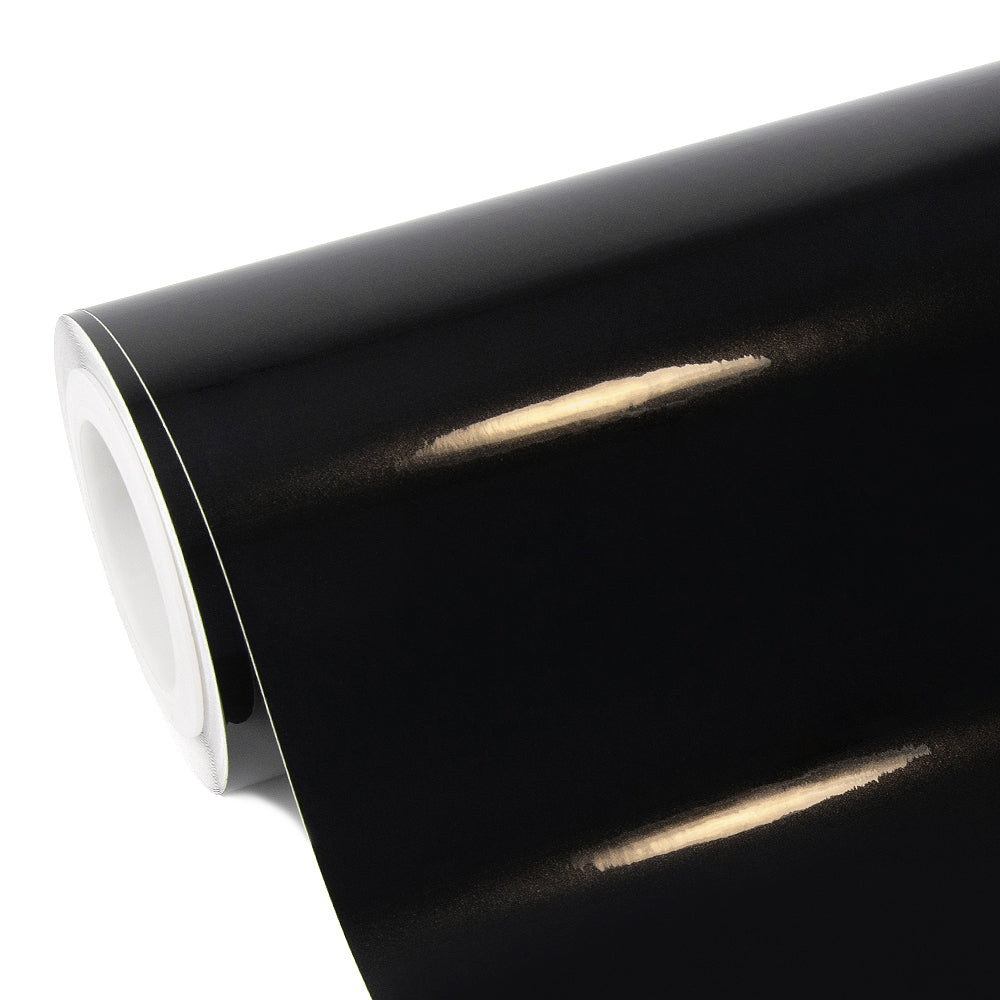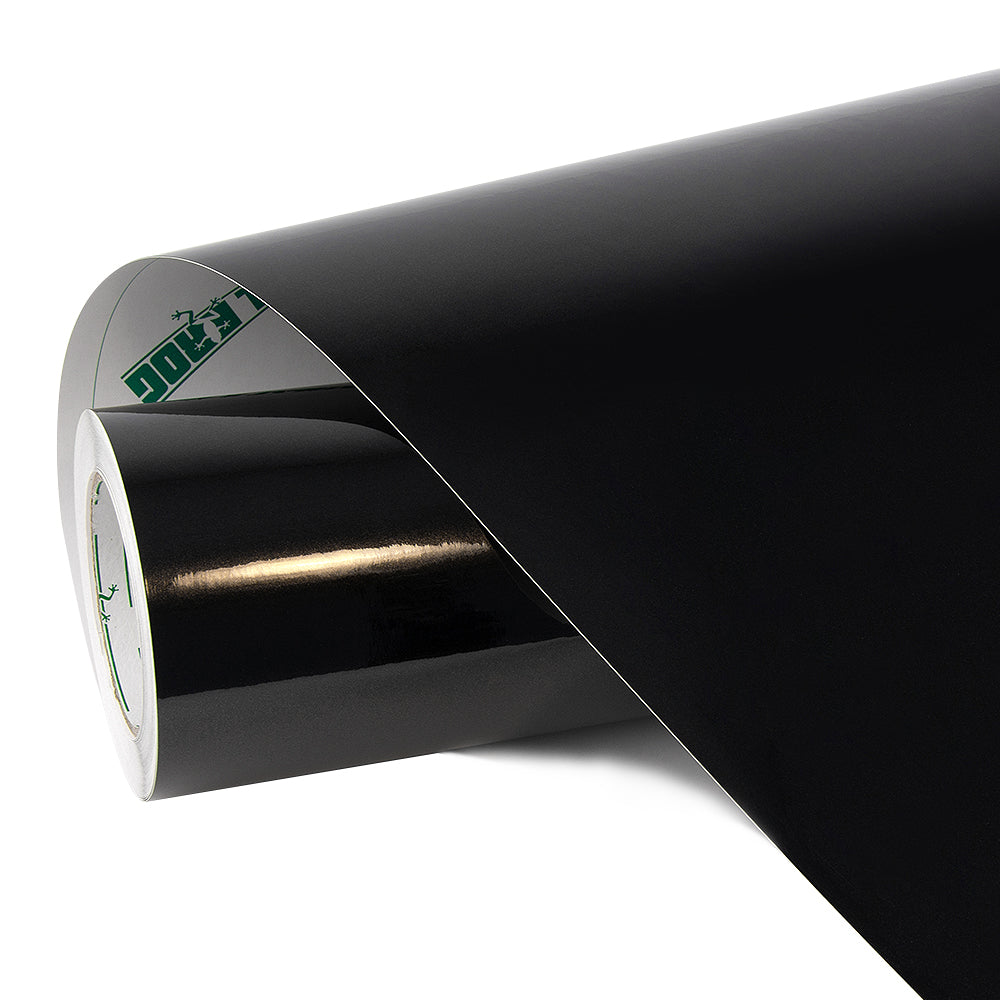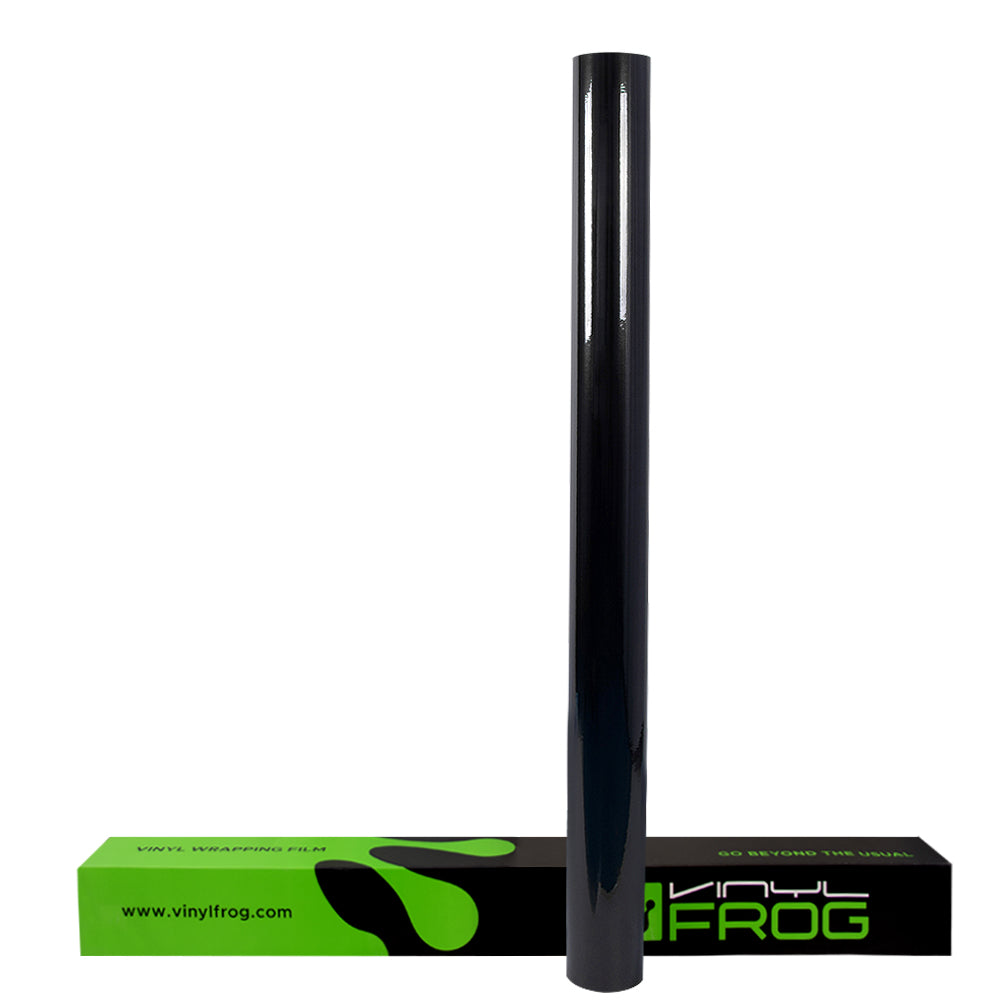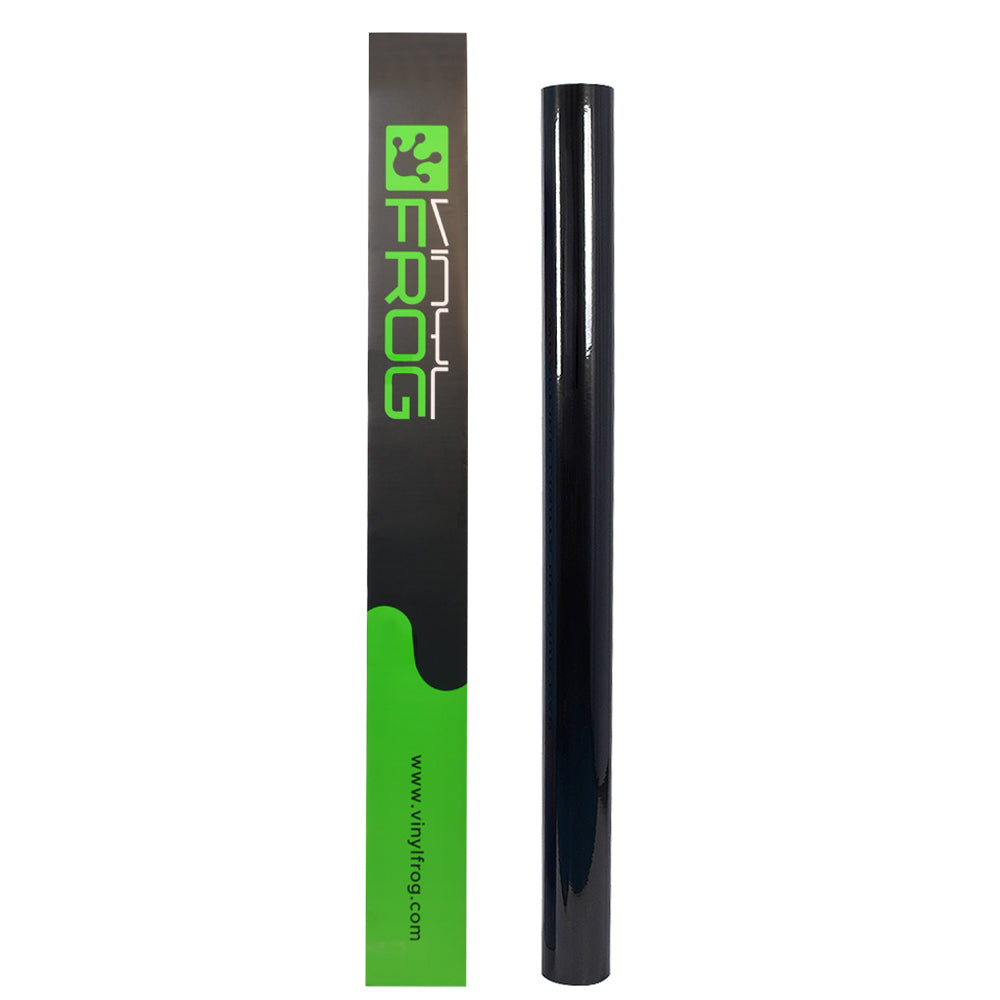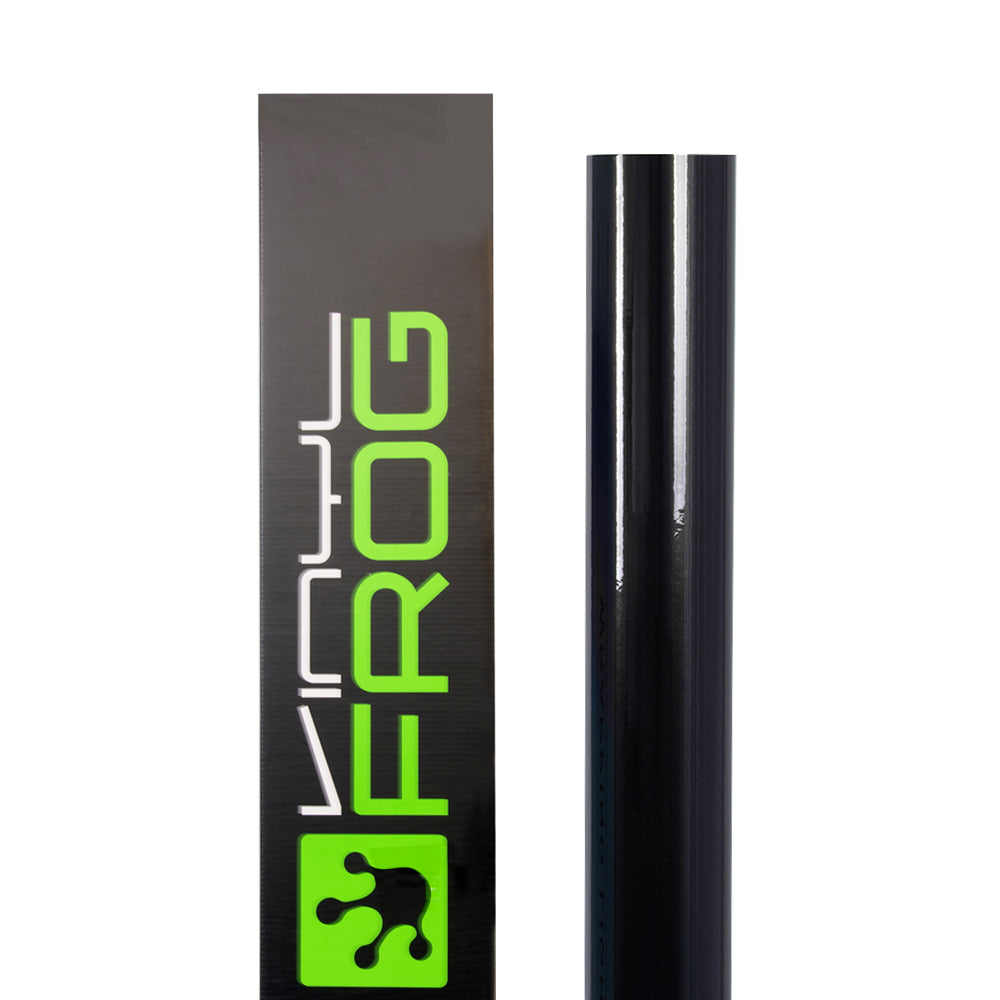 Partial Wrapping with Black Vinyl
If you do not want to fully wrap your car, you can still make a big impact with partial coverage. Black is the ideal color for partial wrapping. Here is how you can make your vehicle be a stunner with a partial black wrap:
Black or carbon fiber is the ultimate choice in partial wrapping. The black roof wrap can even extend to the hood giving the car a sleek, dynamic look.
Wrapping the hood matte black proves to be a great accent. You can opt for black carbon fiber wrap as well. It adds sportiness and has a high visual appeal. Wrapping the hood is neither time consuming nor expensive.
Vehicle modders love to wrap the wing mirrors glossy black. They add a major style boost to your car when done in combination with other contrasting wrap colors on the body.
Try the terrific two tones
Create a bespoke design with striking two tones using any kind of black vinyl wrap in contrast with other colors. Black works well with almost all shades and the unique design will make your vehicle stand out.
FREQUENTLY ASKED QUESTION
HAVE ANY OTHER QUESTIONS?
Feel free to leave your questions to us. We will reply you within 24 hours!
All in all, black vinyl wrap rules the roost! It appeals to masses and gives your vehicle a stunning transformation. There are many options available in it as far as texture and finish is concerned, and each one commands glitz and glamour. Visit the Vinyl Frog online store now and choose the one that best suits your personality!